Commentary
The September story of Steve Delabar
Originally Published:
September 14, 2011
By
Jim Caple
| Page 2
When this season began way back in late March, Steve Delabar was earning $75 a day as a substitute teacher in Elizabethtown, Ky. He was a couple of months shy of turning 28, had a steel plate and screws in his right arm, an ugly scar from Tommy John surgery and had been out of baseball for two years. He had never pitched higher than Class A ball and his last pro baseball game was in the independent Canadian-American League for the Brockton Rox. His most recent competitive action on a field, however, had been playing softball -- slow-pitch softball.
Now we're in the middle of September, and barely five months removed from coaching a high school team, Delabar is pitching in the major leagues for the Seattle Mariners. And Wednesday night he earned his first major league victory by pitching a scoreless inning against the New York Yankees on national TV. Dennis Quaid, call your agent.
"It's the coolest thing ever,'' said Seattle teammate Tom Wilhelmsen, who has his own amazing backstory. "The guy was teaching last year and he comes in and gets a win against the Yankees! Maybe they should make a movie. Or just watch a Mariners game -- then you'll have it live for you there.''
Delabar is still signed up to substitute-teach this fall but isn't sure what he'll do after the season ends. If he does return to the classroom, this is what he will tell his students.
"Whatever they want to do, stick with it," Delabar said this week in the Mariners' dugout while watching Derek Jeter and the Yankees take batting practice. "If their hearts are in it and that's what they really want to do, then they have to stick with it. This is something I always wanted to do since I was little. I even grew up a Mariners fan. For it to go the way it has, I just tell people it's awesome. That's the word I tell people -- awesome, great, amazing. I love it."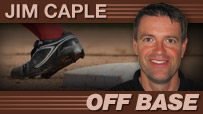 September is the month when the regular season ends and interest wanes for fans of teams out of contention. Which is a shame, because September is also the month filled with rewarding stories.
Consider Seattle infielder Alex Liddi. He also made his big league debut this month and in doing so became the first player born and raised in Italy in major league history. Soccer is the sport of choice in Italy, of course, but not for Liddi. He chose baseball, which is growing in Europe, but is still in its infancy. "It was like a family thing," he said. "My dad played baseball, and my mom played softball. I was kind of directed to that sport."
Liddi's father grew up in America but moved back to Italy, where he and his wife raised Alex in San Remo. Liddi said he played baseball games only on Sundays -- and even then, a drive of one to two hours was required to find another team. "Sometimes, we had to play on soccer fields," Liddi said. "But we didn't care. We just wanted to play."
Signed by the Mariners in 2005 at age 17, Liddi led the minor leagues in batting with a .345 average at Class A in 2009 and played in the Futures Game three times, including this past July. "I was hoping it was the last one," he said. "I was getting to be too much of a veteran there."
The Mariners called him up after rosters expanded, and his parents flew to the United States to watch him in his debut. "I hope a lot of young kids start playing baseball and try to be where I am now and see it is possible," he said.
Yankees catcher Austin Romine, 22, always knew a major league career was possible. He is the son of former major leaguer Kevin Romine, who played seven seasons with the Red Sox. He is also the brother of Angels infielder Andrew Romine. With the minor league season completed, Austin was shopping at a Wal-Mart in Kentucky with his girlfriend on Saturday when her cell phone rang. She answered the phone, then handed it to Romine. "It's Joe Girardi," she told him. "He wants to talk to you."
[+] Enlarge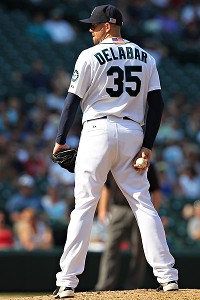 Otto Greule Jr/Getty ImagesDelabar pitched a scoreless inning versus the Royals in his MLB debut.
"I'm like, 'What? Why is he calling you?'" Romine said.
Girardi was calling her because New York catcher Francisco Cervelli had suffered a concussion, and the Yankees manager needed a replacement. The Yankees were playing in Anaheim that day, and when the team couldn't reach Austin, Girardi asked Andrew whether he could help track down his brother. The next morning, Austin rushed to join the team, in such a hurry that he had no choice but to leave his car in the airport parking lot.
"I left at nine in the morning, got into LAX, got a car service that drove me to the game, got there at 12:30, put the uniform on, got a crash course on the big leagues and how to pitch their guys and got into the game in the seventh," he said. "It was like I didn't have time to breathe."
Going from Wal-Mart to the Yankees in 24 hours can be a little overwhelming.
"I'm sure I'll be exhausted tonight," Romine said after getting his first big league hit Monday night against Felix Hernandez. "I haven't had time to let it set in. I've been going at a hundred miles an hour. It really hasn't processed yet. And I kind of don't want it to. It keeps me going, that energy. I'm sure it will sink in tonight."
Delabar originally signed with the Padres in 2003 as their 29th-round draft pick. He climbed as high as the Class A Midwest League before San Diego released him. He pitched in two independent leagues the following two seasons until he broke a bone in his right elbow in 2009. He didn't pitch anywhere last year and was teaching, taking college classes, coaching and working as a pitching instructor at an indoor baseball facility. He tested a velocity-improvement program during the winter and found that his fastball rose to 94-96 mph -- higher than it had been before the injury. A Mariners scout heard about him and gave him a tryout with Delabar throwing to a high school catcher. (Did Quaid have to do this?)
Impressed, the Mariners sent him to extended spring training, then assigned him to Class A. Then they moved him up to Double-A. And then Triple-A. After he struck out 18 in 13 innings at Triple-A, Seattle called him up to the majors.
Delabar said, "I told the [Mariners'] scout, 'I know that the major league window is closing. It's not slammed down and shut, but I know it's closing. I want to do everything I can to jump through that little window I have. And if I have to play until I'm 40 and it happens then, that's what I'll do.' Because this is what I love to do. It's a cliché thing to say: 'I really love this game.' But I do. People say they would play for free, but they won't let us. So I can't turn the money down."
He struck out two batters in a scoreless inning in his debut Sunday afternoon, then took over Wednesday night in relief of Wilhelmsen, who was tending bar as recently as last December after being out of baseball for five years.
A bartender followed by a schoolteacher. Talk about a team exploiting inefficiencies in the market. Even as you read this, scouts may have radar guns pointed at a left-handed barista somewhere in Seattle. Or perhaps Milan.
"Good for him. Anything is possible,'' Seattle manager Eric Wedge said of Delabar. "It's real stuff. He's running it up there and has a nice splitter to go along with it. And he obviously has a sense of maturity to go along with it, seeing as how he was school teacher."
September baseball can be a wonderful thing, even without pennant races. Delabar was born in Fort Knox, Ky. Liddi grew up in Italy. Romine was shopping at Wal-Mart this past weekend. And they all have struck gold in the majors this month.
CSI: BOX SCORE
You know the rules. You get a fragment from an old box score and the challenge of determining what game it is from and why it is significant. I give this one a difficulty rating of 7.0. (Hint: I'm featuring late-season games this month.)

Kurt Snibbe/ESPN.com
BASEBALL CARD OF THE WEEK
[+] Enlarge
Donruss
The only thing that could improve this card (1989 Donruss, No. 648) is if Hershiser were juggling 59 baseballs at once -- and with some of the baseballs on fire -- to represent his record scoreless-innings streak (which was intact when the card was printed). By the way, this card was not Photoshopped -- Orel really can juggle.
BALLPARK RANKINGS
Angel Stadium, Anaheim:
Few ballparks fit their surroundings better than this one. I always feel as though I'm at a special baseball branch of Disneyland here, what with the pseudo-Big Thunder Mountain Railroad vista in center field, the Rally Monkey jumping around and Torii Hunter and Peter Bourjos covering the outfield as though their shoes were made of flubber. But Angel Stadium may be even better than Tomorrowland because you can buy beer here. A night game on a warm evening here can be sublime, and I would gladly stand in a Space Mountain-length line to watch a game -- especially if
Enrico Pallazzo
sang the national anthem.
Score: 89.
Current rankings:
1. PNC Park, Pittsburgh, 98
2. AT&T Park, San Francisco, 94
3. Camden Yards, Baltimore, 92
4. Target Field, Minnesota, 91
5. Wrigley Field, Chicago, 90
6. Angel Stadium, Anaheim, 89

[+] Enlarge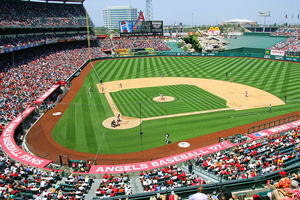 Paul Spinelli/MLB Photos via Getty ImagesA day in the sun at Angel Stadium is a good day.
7. Dodger Stadium, Los Angeles, 88
T8. Safeco Field, Seattle, 87
T8. Comerica Park, Detroit, 87
T8. Coors Field, Colorado, 87
11. Kauffman Stadium, Kansas City, 86
12. U.S. Cellular Field, Chicago, 83
13. Progressive Field, Cleveland, 82
14. Citi Field, New York, 81
15. Minute Maid Park, Houston, 80
16. Yankee Stadium, New York, 79
17. Busch Stadium, St. Louis, 78
18. Rangers Ballpark in Arlington, 77
19. Miller Park, Milwaukee, 77
20. Chase Field, Arizona, 76.5
21. Nationals Park, D.C., 76
22. Rogers Centre, Toronto, 75
23. Oakland-Alameda County Coliseum, 74
24. This Space For Rent, Florida, 73
25. Tropicana Field, Tampa Bay, 68
CSI: BOX SCORE ANSWER
This was a tough one. The key clues were the "L, 18-7" next to Bunning, the Philadelphia starter. That meant that the game was pretty late in the season (it was) and that Bunning pitched poorly (he did). The rest requires some educated guesswork to determine that this was one of the games during the Phillies' epic collapse in 1964. Leading the National League by 6½ games on Sept. 20, the Phillies lost nine games in a row. With the team collapsing, manager Gene Mauch decided to start Jim Bunning and Bob Short on short rest with disastrous results. Bunning started three games on two days' rest, including this Sept. 27 game against Milwaukee that knocked Philadelphia out of first place for good. If a manager started a pitcher on two days rest like that today, he would be sued for abuse by everyone from the players' association to PETA.
Jim Caple is a senior writer for ESPN.com. You can follow him on Twitter at jimcaple.