Commentary
Howie Long discusses Raiders, Alzado
Football fans under the age of 25 probably don't realize how dominant Howie Long was on the football field.
They might know he's a member of the Pro Football Hall of Fame, but it's just as likely they know him better as a studio analyst ... or even as the guy who did all those Radio Shack commercials with Teri Hatcher.
[+] Enlarge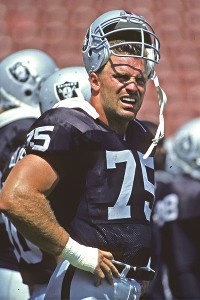 Al Messerschmidt/Getty ImagesHowie Long wasn't confident early on as a pro, but he later developed into one of the most feared defensive linemen of his era.
So in case you fall into that category, here's Long's playing career in a nutshell: played 13 seasons on the Raiders' defensive line; was a starter for the Super Bowl XVIII champions; selected to eight Pro Bowls; compiled 84 official career sacks; inducted into Hall of Fame in 2000. He was a disruptive force despite often being double- or even triple-teamed by opponents.
Regardless of age, football fans should be interested in what Long had to say about the Raiders, fellow analyst Terry Bradshaw and former teammate Lyle Alzado during a recent conversation with Page 2. Here's what transpired:
Page 2: Fans often think of pro athletes as supremely secure and emotionally invincible, but you actually struggled with confidence early in your career. What was the turning point for you in that regard?
Long: I don't know that you ever really turn the corner on that. It's not a lack of confidence as much as it's an insecurity. I think it's what drives a lot of great players -- the concern that that play, that series, that game wasn't good enough.
If you hadn't succeeded in football, what line of work would you have pursued?
Most people would say they'd be a teacher or something like that. I'd be lying to you [if I said that]. You know, I'm not sure. ... Maybe law enforcement. Maybe work in what was at that point the family business, which was working at Boston Housing Authority. Who knows? It's not like I'm a Buddhist or anything, but I think we've all got, to a certain extent, a predestined life. My journey took me from Boston to Philadelphia to Oakland to Los Angeles and then as a broadcaster. I've been fortunate. ... This is my 31st year as part of the NFL, and it's been a great ride.
What do the Raiders need to do to return to greatness?
I think, like a lot of teams, you have to have a franchise quarterback -- a quarterback that [a team] can really compete for a championship with. I think the last time they were legitimately in contention for a championship, they had Rich Gannon. When I played, it was Jim Plunkett. More so today than ever, if you don't have one of those that can give you a legitimate shot, you're not going to be competing for a championship.
What's the most ridiculous thing you've ever heard Terry Bradshaw say?
I've heard a lot of ridiculous things. ... We were on our way to an aircraft carrier in Italy. We landed in Italy, and we were in a van going down to Naples to hop on a helicopter to take us out to a boat to take us out to an aircraft carrier out in the Mediterranean. He had to go to the bathroom, and the driver speaks nothing but Italian. Him trying to explain to the driver that he had to go to the bathroom, and Terry thinking that -- and really thinking this -- that if you just add a vowel to the end of every word, it automatically becomes Italian. Then finally, having to start to pull his zipper down for the guy to get the point that we had to pull over for him to go to the bathroom.
[+] Enlarge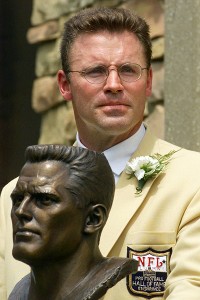 AP Photo/Mark DuncanLong is the only Villanova alum enshrined in the Hall of Fame.
Do you ever just strut around town in your yellow Pro Football Hall of Fame blazer?
Uhh ... no. I'm quite proud of the blazer, but it's hard to find things to go with it. How's that?
But it's always in style in Canton, Ohio, right?
One weekend a year, it's all the rage.
You were once roommates with Lyle Alzado. What's your most enduring memory of him?
There are a lot -- some good, some not so good. But I would say with the clock winding down in Tampa at the Super Bowl [in January 1984]. Here I am at 23 years old, and here's this guy who's 34 and he's never won a championship and the realization that all that struggle, all the years, all the injuries, the three different organizations he played for ... he's finally going to be a world champion and what that meant to him at that time. That's probably my most enduring memory.
Alzado blamed his use of steroids for the brain tumor that killed him at age 43. How prevalent were steroids, in terms of being out in the open, in those days of the NFL?
Not really. I knew about Lyle because I knew Lyle, and I lived with him in a hotel room in 1982, when we were practicing in Oakland and playing in LA. So I was aware of what he was doing. But beyond that, it was never a topic of conversation. You always had your ideas of who might be on something, but it was never really talked about. Then fortunately, in 1988, the league passed the new policy on testing for steroids, which I think started the process of changing the league.
The college football landscape is rapidly changing these days. Do you foresee your alma mater, Villanova, joining the Big East in football?
I'm not sure. There's a lot that goes into that decision. Where do you play? The stadium that they have on campus is a very small stadium. There's limited parking. Do you build a stadium? If so, do you have the room for it? Will you be able to get the parking that you want? I don't think that's going to happen at Villanova. So then you start to look at alternative sites. I'm not sure what works for Villanova. In order for them to compete at that level they'd have to be in a stadium that seats 40,000-plus. Where that is, I'm not sure. There was talk of a soccer facility in Chester [Pa.]. Sharing [Lincoln Financial Field] is not a doable thing, and do people want to drive off campus and go to a football game 15, 20 miles away -- 30 minutes away by car?
[+] Enlarge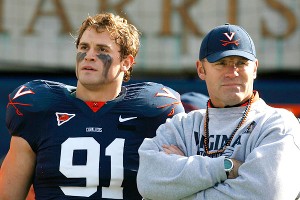 Kevin C. Cox/Getty ImagesLong's son Chris was an All-America pick at Virginia and the No. 2 overall pick in the 2008 NFL draft.
Is it true you watched a football game on a black-and-white TV on the first date with your future wife?
Probably. My poor wife, we stopped on the way back to the suite after our wedding reception so I could pick up a jar of peanut butter and a loaf of bread. I mean, I'm not a real exciting guy. We've been married going on 30 years now. I'm sure she's had her moments of wondering why.
Where do you spend most of your time and how do you spend your free time?
Charlottesville [Va.] and Montana are my two main residences. ... Free time? [Laughs.] I really enjoy my time in Montana. It's my favorite time of the year, probably mid-June through the end of August. It's a special place for my family, and our kids have kind of grown up going there. Now to have the kids come back, that they're older, and down the road when they get married and have kids, hopefully they'll be bringing their kids there, too.
Considering that your son, Chris, plays for the Rams, are you ever privy to inside information that you have to be careful not to let it slip out on the air? Is it difficult to draw a strict line between personal and professional topics?
In regard to the Rams, I can tell you that Chris and I never, ever have discussions regarding game plan, coaching staff or injuries. We don't talk about anything that's not specific to him. So the irony of it is that the two teams that I'm the least informed on are the Raiders and the Rams, the team that I played for and the team that my son plays for. ... With the Raiders, you walk a little bit of a fine line. It's hard to be objective, and it's hard to be critical. In terms of where my son plays ... I would never want to put him in a position to be uncomfortable.
Howie Long is the first honoree of the Hometown Hall of Famers program, a joint venture of Allstate and the Pro Football Hall of Fame, which honors the roots of pro football's greatest players in local communities. The program will honor 10 Hall of Fame members this fall, and as many as 50 in 2012.
Thomas Neumann is an editor for Page 2.