Commentary
Is Cam Newton already a football god?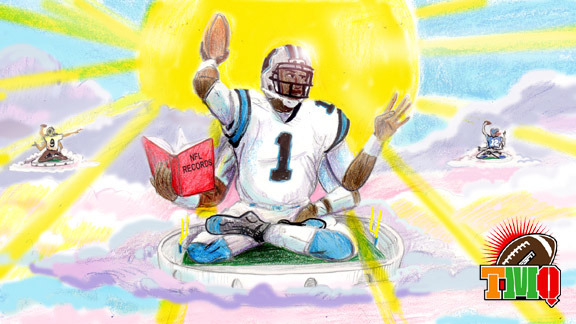 Kurt Snibbe/ESPN.com
Rookie quarterback Cam Newton, who came into the league regarded as a runner with a suspect arm, has thrown for 854 yards in just two games. That is a pace to throw for 6,832 yards on the season -- and the NFL single-season passing record, by Dan Marino, is 5,084 yards.
Perhaps this means Newton should ascend directly to Asgard, to dwell with the football gods. Perhaps Newton is a celestial being walking amongst mortals. Perhaps he is the latest reincarnation of Balrama, the Hindu god of strength, duty and upright behavior.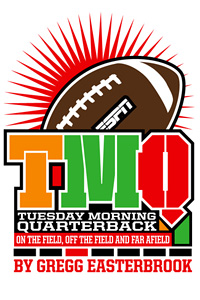 And he has company. Tony Romo is on a pace to throw for a record 5,496 yards. Drew Brees is on a pace to throw for a record 5,512 yards. Philip Rivers is on a pace to throw for a record 5,592 yards. And Tom Brady -- who with his glowing hair makes TMQ exclaim, "Hey, isn't that Vishnu in the pocket?" -- is on a pace to throw for an incredible 7,520 yards.
The first two weeks of season have been characterized by lots of scoring, and pinball-machine totals for passing yards. Does this mean tough-guy football is being replaced by basketball on grass? People didn't push the panic button about football toughness in 1984, when Marino threw for the record. But because this season there is officiating emphasis on protecting receivers from helmet-to-helmet hits, and because the rules have gotten even stricture about hitting quarterbacks, there's a sense that passing yards are the result of the league babying offenses. ESPN columnist Michael Wilbon lays out that notion here.
Tuesday Morning Quarterback isn't ready to buy into this. Defensive backs seem to be hitting as hard as ever, though in at least some cases, finally trying to avoid the head. Safety Nick Collins of the Green Bay Packers was taken off the field on a stretcher after a monster hit. Cornerback Dunta Robinson of the Atlanta Falcons should have been ejected from the Atlanta-Philadelphia game for a vicious lead-with-the-helmet hit.
TMQ thinks the culprit in all these passing yards is blown coverages.
Nobody at all was covering Jeremy Maclin on his first touchdown reception against the Falcons. Nobody at all was covering David Nelson when he caught the game-winner against the Oakland Raiders. Two defensive backs just watched as Devery Henderson ran deep for a 79-yard touchdown catch against the Chicago Bears. Two defensive backs just watched as Jesse Holley ran deep for the 77-yard reception that proved the decisive play against the San Francisco 49ers in overtime.
Sometimes plays are so well-designed that the result is an uncovered primary receiver. But usually when a receiver isn't guarded by anyone, the reason is a blown coverage. And there's been an epidemic of blown coverages in the first two weeks of NFL play.
Why? The missing offseason. The missing offseason is a more likely explanation for defensive mistakes than the latest set of rules tweaks.
With NFL teams often fielding five or six defensive backs, and often rotating coverages in hopes of confusing quarterbacks, it can take time for a secondary to jell. Because there was no offseason, secondaries haven't yet jelled. In football, receivers generally worry about only their own assignments. But defensive backs must worry about each other's assignments, because from snap to snap, who covers whom varies. Hours of practice are required.
When an open receiver catches a touchdown pass and the camera shows the two nearest defensive backs gesturing angrily at each other, this is not because they don't know how to play football. It's because they were confused about who covers whom. Because there was no offseason in which for secondaries to jell, the blown coverage is happening more often. Also, lots of defensive backs changed teams in free agency, while lots were drafted. In the past decade, defensive back has been the most-chosen position in the draft. That means lots of green players who must learn assignments. And this year, there were no minicamps in which they could learn.
As the season progresses, pass coverages should get better and passing yards decline. If it's still like this in November, then perhaps rule changes can be blamed. But TMQ is betting it won't still be like this in November -- and that none of the quarterbacks now on a pace to break Marino's record will in fact break it.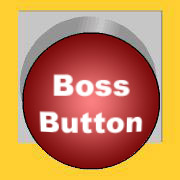 In other football news, this column reserves its most love for "all-unwanted" players -- those who were not drafted, or were let go, or who in college played below the testosterone-pumped level of Division I. In Buffalo's 35-point, second-half comeback that led to a last-second victory against Oakland, the offensive starters included Fred Jackson (undrafted out of Division III Coe College), Donald Jones (undrafted out of Division I-AA Youngstown); David Nelson (undrafted) and Erik Pears (undrafted, waived by three teams). Also starting were Ryan Fitzpatrick (played at Harvard, let go by two NFL teams) and Scott Chandler (let go by four NFL teams). Seventh-round draft choices Demetrius Bell and Stevie Johnson performed well, as did Chad Rinehart and Kraig Urbik (both waived twice). The head coach for Buffalo was Chan Gailey, who's been fired twice in the past five years and was OOF -- out of football -- all of 2009.
Already in the young season, the oft-unwanted Fitzpatrick has seven touchdown passes against one interception. TMQ can't wait for Week 10, when then Bills, led by Harvard quarterback Fitzpatrick, face the Cowboys, coached by Princeton quarterback Jason Garrett. Pip pip! Cheerio! For that contest, tailgaters will serve fino sherry and prosciutto with melon.
Jackson, who suited up for the Sioux City Bandits and Rhein Fire after going undrafted, and did not take his first NFL snap till age 25, has become one of the league's best running backs. He led rushers in the Oakland-Buffalo game with 117 yards. That means the undrafted tailback from tiny liberal-arts Coe College outperformed two other tailbacks on the field -- Darren McFadden and C.J. Spiller, both high first-round draft choices from enormous football-factory universities.
In other news of undrafted players, on Sunday night undrafted offensive tackle Jason Peters had a fabulous game for the Eagles, including four "syrup" blocks in which he flattened his man to the ground and then jumped atop him so the man could not get up. (Putting syrup on a pancake.) Undrafted offensive tackle Tyson Clabo, waived by three teams, had a fabulous game for Atlanta, including a downfield pull block on the touchdown run that gave the Falcons their winning points.
Perhaps you've seen the highlight of the Dallas Cowboys' Jesse Holley making his reception against San Francisco in overtime, then starting to wave the ball before reaching the end zone and nearly losing possession. Who is Holley? An undrafted wide receiver who was waived by the BC Lions of the CFL. Undrafted Holley had the game's decisive play, while Dallas' undrafted Miles Austin caught nine passes for 143 yards and three touchdowns. On the losing side were Ted Ginn and Vernon Davis, two receivers who were high first-round draft choices.
Stats of the Week No. 1: As a starter in home games, Tom Brady is on a 29-0 streak in the regular season and a 0-2 streak in the postseason.
Stats of the Week No. 2: At halftime, the Minnesota Vikings held a 222 yards-gained edge over the Tampa Bay Buccaneers. The Buccaneers won.
Stats of the Week No. 3: The Seattle Seahawks, who have yet to score in the first half, are on a 1-12 streak in games played in the Eastern time zone.
Stats of the Week No. 4: The Washington Redskins are on a 8-0 streak against the St. Louis Cardinals.
Stats of the Week No. 5: The New York Giants, who visit the Philadelphia Eagles on Sunday, have lost six straight to Philadelphia.
Stats of the Week No. 6: The Miami Dolphins are on a 1-11 streak at home.
Stats of the Week No. 7: Since clinching a home-field playoff game, the Kansas City Chiefs are 0-4 and have been outscored 150-27.
Stats of the Week No. 8: The Buffalo Bills' second-half possession results: touchdown, touchdown, touchdown, touchdown, touchdown.
Stats of the Week No. 9(College bonus): Morehead State gained 651 yards on offense, held a 49-31 fourth quarter lead -- and lost. See below.
Stats of the Week No. 10: In the Philadelphia-at-Atlanta game, the Atlanta Falcons' Tony Gonzalez had two touchdowns in seven offensive snaps, while the Eagles' Michael Vick had three turnovers in five offensive snaps.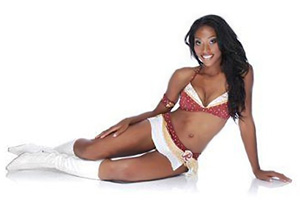 Washington Redskins Emerald of the Redskins cheerleaders. Page 2 staff wishes she'd plan our events.
Cheerleader of the Week: Emerald of the Washington Redskins, who according to her team bio works as an event planner and is a graduate of prestigious Howard University. Tuesday Morning Quarterback has penned several columns over the years noting that while all men involved in professional football are showered with money, the cheerleaders are expected to train, rehearse and dance for peanuts, usually $100 per week, Here, Amanda Hess of the independent website TBD details the mistreatment of Redskins cheerleaders, in an account that could be applied to most NFL dancers.
Sweet Play of the Week: The New Orleans Saints, defending champions from the 2009 season, have not been themselves, on a 1-4 run with the offense looking sluggish. Trailing the Chicago Bears 7-3 in the second quarter and facing third-and-12 on its 21, New Orleans seemed to be getting off to another slow start. Pass blocking was perfect; Drew Brees hit Devery Henderson with a 79-yard touchdown strike. Suddenly the Saints were on their way to a 30-13 victory over one of the game's top defenses. Henderson benefitted from a blown coverages -- nickelback Major Wright just let Henderson roar past, though the man guarding the deep routes on his side was middle linebacker Brian Urlacher.
The game featured several "What the Martz!" moments. Trailing 13-7, Chicago faced third-and-2 on its 27, and Bears offensive coordinator Mike Martz called a pass -- not a home-run attempt but a junky little turn-out thing. Incompletion, punt, soon New Orleans leads 16-7. Trailing 30-13 in the fourth quarter, the Bears' offense went incompletion, incompletion, sack, punt.
Sweet Special Teams Play of the Week: City of Tampa trailed 17-0 at intermission at Minnesota. Scoring to pull within 17-7 in the third quarter, the visitors executed a sweet onside kick. Tampa did not score on the possession, but the play set the tone for a comeback that led to a Buccaneers' winning touchdown with 35 seconds remaining. Tampa played the second half with far more enthusiasm than Minnesota, which has gone 6-13 since taking the field for the NFC championship against New Orleans.
Sour Play of the Week: Trailing 7-0 early at Jersey/B, the Jaguars faced third-and-9 on their 10. Jacksonville had six to block four rushers; rookie defensive lineman Muhammad Wilkerson bull-rushed guard Will Rackley, threw him aside and dropped Luke McCown for a safety; contest would end with the Jets winning 32-3. When six can't stop four near your own end zone, that is sour.
Declining Football IQ: Leading 21-14 early in the fourth quarter, the Forty Niners hit a long field goal; the Cowboys were flagged. Jim Harbaugh (Harbaugh/West to TMQ) had a choice of first down on the Dallas 22 with 11:16 remaining, but no three points, or a score of 24-14 and a kickoff from the 50. Harbaugh/West chose the latter. The kickoff simply went into the end zone for a touchback, as it probably would have anyway.
TMQ thought Harbaugh/West's plan was to onside from the 50, where a failed onside would have surrendered little field position and a recovery would have iced the game. Instead by kicking away, San Francisco effectively wasted the penalty. Had the Niners accepted the penalty and first down on the Dallas 22, they stood a good chance of working a couple minutes off the clock, then getting at least three points after all. As it was, Dallas kicked a field goal as time expired to force overtime, then won. Reader Michael Purdy of McLean, Va., notes that if San Francisco had simply used to the penalty first down to keep advancing the clock, Dallas would have run out of time for its comeback.
Declining Football IQ No. 2: The Raiders have already committed 23 penalties, most in the league. At Buffalo, Oakland coach Hue Jackson drew a 15-yard penalty for throwing the challenge flag on a touchdown. This season since all touchdowns are automatically reviewed, trying to challenge a touchdown has become an infraction -- which every team except Oakland seems to know.
Sweet 'N' Sour New England-San Diego Plays No. 1: Trailing 10-7 at New England, San Diego went for it on fourth-and-goal from the Flying Elvii 1. Patriots defenders "got low" -- the football saying about line play is, low man wins -- and stuffed the Bolts' run. That was sweet. Sour was that San Diego did not attempt any misdirection, merely lined up in a jumbo and ran to the heavy side. On fourth-and-1 or goal-to-go situations, when defenders are cranked to charge straight ahead, a bit of misdirection is essential. Do a little dance if you want to convert that short-yardage attempt.
Sour bonus: New England was now pinned on its 1. Golly gee willikers, what might happen next? Maybe New England will line up with an empty backfield on its own 1 -- exactly what New England did in that situation in Week 1 on "Monday Night Football." Maybe New England will throw to Wes Welker -- exactly what New England did in that situation on "Monday Night Football." Pass to Welker, first down, sweet. Sour was that San Diego was surprised by exactly the tactic the entire nation just watched on Monday Night Football.
[+] Enlarge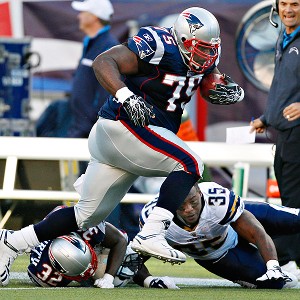 AP Photo/Charles KrupaGo! Go! Go! But Vince, how much do you really weigh?
Sweet 'N' Sour New England-San Diego Plays No. 2: Patriots leading 17-7 with 19 seconds remaining before intermission, Bolts ball on the New England 29, Ticonderoga-class defensive tackle Vince Wilfork chased a screen man into the flat, intercepted Philip Rivers' pass and huffed and puffed for 36 yards. Sweet. "Go! Go! Go!" viewers must have chanted as the big man sprinted. Wilfork is listed as 325 pounds. His true weight may be close to 400 pounds: you could see his stomach bouncing up and down as he ran. (Understatement of the true weights of NFL players will be the subject of a coming TMQ.)
Following a penalty walkoff, New England had the ball on the San Diego 47 with 9 seconds showing, holding no timeouts. A team in this situation can either launch a Hail Mary, which is a 100-to-1 shot, or throw a quick sideline pass in hopes of reaching field goal position. So San Diego should have lined up with a cornerback at each short sideline, and safeties in the end zone. The Bolts had a timeout to use in order to set this up. San Diego did not use its timeout, and seemed unprepared when Tom Brady snapped off two super-quick outs, both to Deion Branch, who was unguarded at the sideline and instantly stepped out-of-bounds, setting up a New England field goal as time expired. Very sour by San Diego.
Christmas Creep: Reader Jill Andvik of Seattle reports, "In QFC on Sept. 11, 105 days before Christmas, there were snowflake-themed mugs and bowls -- next to the Halloween candy, 50 days before Halloween." Jeremy Nichols of St. Louis writes, "On Sept. 13, the Lakeside Christmas Collection finally arrived!"
Anchors Aweigh, My Mandarins, Anchors Aweigh: With national red ink meaning the defense budget is likely to decline, aerospace contractors, and members of Congress with aerospace contractors in their districts, dearly would love a new bogeyman. How about the Chinese? OMG, China is building ships!
"CHINA FLEXES NAVAL MUSCLE" was the Wall Street Journal banner headline last month when the unnamed Chinese aircraft carrier took a test sail. Many of the nation's major newspapers had this menace on the front page, in stories that could have been written by the P.R. department of any defense contractor. One factor at work is that many journalists at elite media organizations have little knowledge of military affairs, and so don't know how to put the Chinese carrier into perspective. So let's put it into perspective.
The "Chinese" aircraft carrier is actually the Varyag, laid down in 1985 by the old Soviet Union. The Varyag languished in port for two decades, a white elephant for Moscow. A few years ago, the Russkies sold the leaky hull to Beijing. The Varyag was in such poor repair it had to be towed to Chinese waters.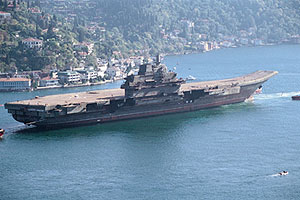 United States Navy The menacing Varyag -- China's navy sails into the 1960s.
Now the Chinese navy -- whose delightful official name is the People's Liberation Army Navy -- has been tarting the hull up. Let's suppose the project is successful. The Varyag does not have nuclear power, like all United States Navy carriers. It's primary design element is a shortened "sky jump" deck, not a flat deck with catapult like all United States Navy carriers, meaning the Varyag can launch only short-range medium-performance jets, not long-range high-performance jets like all United States Navy carriers. The Varyag weighs 67,000 tons and carries about 40 aircraft; the latest United States Navy carriers weigh about 100,000 tons and carry about 100 aircraft. The Varyag is what the United States Navy would call a Kennedy-class aircraft carrier, the John F. Kennedy being the last conventionally powered carrier built by the United States. And the Kennedy was launched in 1967.
Even if all goes well for the Varyag, it brings the Chinese navy to roughly the position, regarding warship quality, that the United States Navy was in 44 years ago. Now take into account quantity. The United States Navy has 11 supercarrier assault groups -- a very large nuclear supercarrier accompanied by guided-missile cruisers and destroyers, with two types of nuclear submarines unseen underneath. How many supercarriers are possessed by the rest of the world combined? None. The race to naval supremacy, a grand theme of 500 years of great-power politics, has ended with the United States besting the rest of the world combined by a final score of 11-0.
China's obsolete carrier does nothing to alter this. The politics of the obsolete carrier are particularly silly. Commentators are suggesting that China's work on an aircraft carrier means it plans to engage in hostilities with the United States. Yet America says its far larger and far stronger navy is strictly for defensive purposes, threatening no one. If the United States asserts that 11 advanced supercarrier strike groups can patrol the world's seas without hostile intent, how can we simultaneously claim that China possessing a single obsolete aircraft carrier represents a provocation?
Concussion Watch: Kenny Shaw of Florida State appears to be OK after lying motionless on the turf for 10 minutes Saturday night following a vicious helmet-to-helmet hit from Oklahoma defensive back Javon Harris. Harris was flagged for a personal foul, but not ejected. If deliberately launching yourself, helmet first, into the helmet of a defenseless player does not result in disqualification, then nothing ever will. (It's at about 50 seconds of the ESPN video.) Later in the game a defenseless Oklahoma receiver was slammed on the helmet by a Florida State defender, and no flag.
Like the NFL, the NCAA continues to talk about cracking down on helmet hits. Unless players who do this pay a price via ejection, little will change. Dunta Robinson of Atlanta was fined $25,000 by the NFL for a vicious helmet-to-helmet hit in 2010, and committed another vicious helmet-to-helmet hit against Philadelphia on Sunday. Last year, NFL commissioner Roger Goodell said he would suspend repeat offenders involved in using helmets as weapons. Yet Robinson was fined $40,000 for Sunday's hit, but not suspended. Goodell is signaling NFL players that all this talk about neurological safety is just talk. Goodell might as well have said to Robinson, "Go ahead and aim for the head, the fans think it's entertaining."
A game note -- the Sooners have been running a fast-pace offense akin to Oregon's blur offense. One goal of a fast pace is to get more snaps, on the theory that the more snaps, the more yards gained. Last season, Oklahoma averaged an impressive 86 snaps per contest -- 60 snaps is a common football outcome. Against Florida State, the Sooners practically played clock-killer tactics, snapping "only" 66 times while switching to a huddle and jumbo sets in goal-to-go situations. The blur offense game of the day was Clemson snapping an incredible 92 times while using a fast no-huddle to upset defending champion Auburn.
Sad Reality Watch: I proposed that presidential political debates enjoy real-time fact-checking from some neutral third party or possibly from Tony Reali. Reader Kristen Parry of Laurel, Md., writes, "This is a great idea, but would just be an end to debates altogether. If any sponsoring organization publicized that they would be conducting live fact-checks during a debate, not one politician would show up."
A Cosmic Thought: Not long ago, it was assumed that planets existed beyond the solar system, but owing to great distances and the fact that planets don't shine like stars, none had been found. As of the end of last week, the count of known exoplanets was up to 683. Millions, or billions, of other worlds may exist in our Milky Way galaxy alone, and there are at least 100 billion galaxies.
[+] Enlarge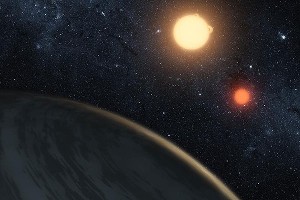 NASA Illustration Artist's conception of the view from Kepler-16b of two suns.
One reason distant worlds are being found is that NASA launched a probe called Kepler that is customized to scan the "nearby" part of the galaxy. Previous deep-space telescopes had been optimized to inspect the farthest heavens. Kepler has been looking at "nearby" sun-like stars, ones similar to Sol, and finding their output of heat and light varies quite a bit more than predicted. This may eventually become a factor in the global warming debate. When you hear people say that solar variation causes warming -- bear in mind, there is nothing we can do about solar variation, we can only control artificial greenhouse gases.
Last week Kepler researchers announced they had found a planet locked in a complex orbit with two stars. According to the standard understanding of astronomy, this should not be possible. The assumption has been that star systems form from swirling discs of gas and dust. If one large star forms at the center, then there is material remaining for planets to coalesce in the outer disc, as seems to have happened in our solar system. If a small star forms orbiting the central star, then there should be no material left for planets. Yet at Kepler-16b, both a small star and at least one planet formed around a large star.
This is just one of the many indicators that humanity knows hardly anything about the larger universe. If binary stars (more common than sun-like stars) can have planets, there may be a truly huge number of planets in existence. There may be star-forming and planet-making physics we haven't yet guessed at. Astronomers have been startled recently to find in what was assumed to be the interstellar void "orphan" planets that seem to have formed independent of stars. Good luck explaining that.
The Kepler probe has yet to discover another world similar to Earth in size, temperature range, relationship to a sun-like star and with a Jupiter-like gas giant outer companion. (Jupiter's gravity vacuums up most of the infalling comets that would otherwise pummel Earth.) But at this point it seems only a matter of time. An Earthlike distant world could be discovered any day. It will be the first indication we are not alone.
Little-Known Reason to Play Football: Minnesota facing third-and-goal at the City of Tampa 1, the Vikings sent out six offensive linemen and two tight ends. Adrian Peterson's touchdown set the Vikings career record with his 53rd score. Radio announcer Paul Allen declared, "Adrian Peterson has achieved immortality!"
[+] Enlarge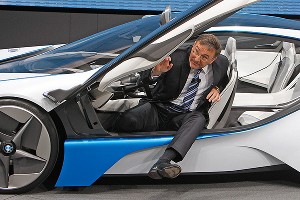 AP Photo/Frank AugsteinA BMW executive awaits the crane to get him out of a concept car.
Wanna Ride in My Concept Car? Auto shows are renown for offering glamorous models draped over concept cars you probably wouldn't even want. The models are always women, not male-model hunks, which must be the car industry's way of acknowledging that only men can be inveigled into spending huge amounts of money on cars. Here is a photo galley from the current Frankfurt Auto Show in Germany, and here is yours truly having fun at last winter's Detroit Auto Show. Click the kandy-apple red baby in the middle of the column for a slide show of expensive concept cars you wouldn't even want.
TMQ loves the accompanying photo of BMW executive Norbert Reithofer struggling to get out of a BMW concept car at the Frankfurt show. Now there's something practical for your driveway! Knowing the media would be snapping pictures, Reithofer probably practiced trying to get out of the car. Perhaps a BMW employee was crouched in the passenger seat, pushing on him.
Balrama Watch: Cam Newton opened his career by throwing for more than 400 yards against the second-echelon Arizona Cardinals. Many touts, including your columnist, thought the story would be different when he faced the defending champions Packers. Instead Newton threw for 400-plus again. Of course, Carolina lost both contests. But what's going on?
The main point is that Newton has proven he's the real deal amazingly fast. He's confident with the ball, "the game is slow" for him (meaning he perceives the field as if players were moving in slow motion) and he commands the huddle, the latter being deceptively important. Many star college quarterbacks never learn to read NFL defenses. Newton is learning rapidly. Carolina leading Green Bay 10-0, the Panthers split tight end Greg Olsen out wide, with a wide receiver in the slot, an unorthodox formation. Newton signaled a man in motion, and a Green Bay defender moved with the motion man. This told Newton that most of the coverage would be man-on-man. Olsen was singled, and Newton audibled to send him deep on a "go." The throw was perfect for a 34-yard completion, setting up a field goal.
So is Cam Newton the latest reincarnation of Balrama? Green Bay, like Arizona, played safeties close to the line to stop Newton from running, which creates mismatches on deep routes. TMQ continues to think that as NFL defensive coordinators accept that Newton is for real as a passer and use conventional coverages against him, his stats will taper off. Against Green Bay, Newton badly overthrew an open man, causing an interception, then badly overthrew an open man in the end zone, forcing Carolina to settle for a field goal. So he's a mortal, not a demigod walking among men. But boy is he fun to watch.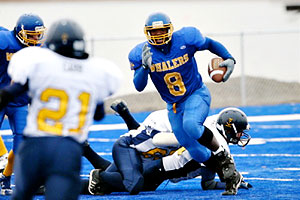 North Slope Borough School District The blue turf at Barrow High School in Alaska. Better than Friday night lights, they perform under the Northern lights.
I'd Rather Be Blue: Reader Bill Parietti of Tualatin, Ore., notes that Barrow High School -- near the top of the world on Alaska's North Slope -- has gone to blue turf. Wayne Drehs has the story here.
Why Didn't Oakland Try a 73-Yard Field Goal? With one second remaining, Oakland trailed 38-35 and had the ball on its 44-yard line. Sebastian Janikowski was not sent out to kick!
Trailing 31-28, Oakland had first-and-10 at midfield with four minutes remaining. Coming up to the line, Jason Campbell saw both Buffalo cornerbacks in press coverage and both safeties only eight yards off the line. Clearly the Bills expected the Raiders to run, with an eye toward using up clock so that after a score, Buffalo would have no time to reply. Seeing the secondary choked up so close, Campbell audibled to a play-fake with double goes on both sides -- resulting in a sweet 50-yard touchdown pass to rookie Demarius Moore.
Now trailing 35-31, Buffalo staged a 15-play drive to take the lead with 14 seconds remaining, twice converting on fourth down. On the Bills' final nine snaps, Oakland big-blitzed seven times. Several big blitzes worked: then backfired on both fourth downs, first allowing a conversion on fourth-and-3, then the winning touchdown on fourth-and-1 from the Oakland 6.
As time expired, Jason Campbell launched a Hail Mary from the Oakland 44. Buffalo rookie safety Da'Norris Searcy committed the cardinal mistake of trying to intercept the pass, rather than just knock it down. In an identical situation on the final snap of the Atlanta-Philadelphia game, veteran Curtis Lofton slapped the Hail Mary to the ground. Searcy caught the ball, but was wrestling with an Oakland receiver, and a simultaneous catch goes to the offense. Officials signaled interception, then gave the game-over signal. The teams shook hands and left the field. A full 10 minutes later, referee Mike Carey walked out and announced to the few hundred people remaining in the stands that the replay booth confirmed the play was an interception.
The NFL should be breathing easy that Searcy held onto the ball, since had a game-deciding call been reversed 10 minutes after the home team was declared a winner, claims of conspiracy would today dominate the sports blogosphere. Searcy, or any other player in this situation in the future, just knock it down!
Is 2-0 Buffalo for real? The Bills, who host the Patriots on Sunday, have lost 15 straight to New England.
If Only We Could Time-Travel to 1966, When "Star Trek" Premiered: Fox is saying its sci-fi series "Terra Nova," which premieres on Monday, is the most expensive television show ever made.
The premise: In the year 2149, environmental problems place humanity on the verge of extinction. No stardrive has been invented, so people can't flee to other worlds. But time travel has become possible. A group of plucky settlers is sent 85 million years into the past to "restart civilization" as kind and good, so the extinction scenario of 2149 never happens. But -- though possessed with the ultra-sophisticated knowledge necessary to build a time machine -- scientists of the future forget that 85 million years ago, there were dinosaurs. The travelers emerge from the time portal to a settlement surrounded by killer dinosaurs, and the show becomes what Hollywood likes best, a succession of chase scenes.
Recently the networks have given viewers big-budget sci-fi series "V," "Flash Forward" and "The Event." The common elements: lots of money was sunk into production, lots of overpaid people with connections were listed as producers, and terrible writing. All three were financial fiascos. "Star Trek," "Stargate" and "Dr. Who," TV's moneymaking sci-fi franchises, do have special effects, but the emphasis is on plot, story and sense of humor. The sci-fi audience is smart and seeks these things, reflecting the fact that well-written sci-fi series make money while poorly written sci-fi series lose money. But modern Hollywood hates the notion that shows should be well-written. This sets the bar too high! Modern Hollywood wants to believe the television audience is composed entirely of fools. So viewers get explosions and drek, while the networks' shareholders don't get ratings. Why doesn't actual experience make it obvious to television executives that well-written sci-fi shows earn returns and poorly written shows do not?
[+] Enlarge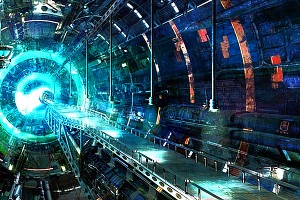 FOXBefore entering the time portal, make sure you packed a toothbrush and extra socks.
Now about "Terra Nova." Even if, in the year 2149, everyone somehow forgot that dinosaurs once existed, why would the people be sent 85 million years into the past? That's an unimaginable span, about 17,000 times as long as the period between the present and the construction of the Great Pyramid at Giza. Supposing the plucky group did "restart civilization" that far back in the past, after 85 million years had gone by, their civilization might have vanished, or its people have evolved into a form unrecognizable to us.
If heading into the past made sense, the place to go to restart civilization would be 15,000 years ago -- when the last ice age was ending and the Holocene beginning. The world of 15,000 years ago would be recognizable to people of the 22nd century, and near enough in time that any better society they created might last into the present.
Another silliness, noted by reader G L Crosslin of Biloxi, Miss.,: The "Terra Nova" expedition is going back to a point before the mass extinction that wiped out the dinosaurs, when our world was struck by an enormous comet that ended much of life on Earth. Wouldn't you rather materialize after that nasty business concluded?
Other time travel premise problems:
• Suppose it is possible to travel into the past and change things. If so at the instant you step into the time machine, any changes you caused already happened long ago, and the present would already be transformed. The instant the first settlers stepped into the "Terra Nova" time machine, whatever impact they were going to have they've already had. The year 2149 would already be a result of their past impact.
• If people emerged from a time portal in the past, they wouldn't forget how they got there. They might conclude that unless the Earth of 2149 was falling apart from pollution, the time machine would never be built, they would never be sent back, so they would cease to exist. Therefore they would have to conspire to ensure that human history unfolded in such a way as to cause calamity in 2149. Maybe the whole reason the world of 2149 needs a time machine is that a prior world of 2149 had a time machine!
These kinds of paradoxes are among the reasons time travel is almost surely impossible on a physical basis. Beyond that, the big objection to time travel is not how the time machine would function. The big objection is that even if you had a time machine, where would it travel to?
In order for your time machine to open a doorway 85 million years in the past, there must be another complete universe, with another Earth and another 100 billion galaxies, suspended forever in the moment of 85 million years earlier. If you jumped instead 84 million years into the past, there must be a third complete universe, with another 100 billion galaxies, except it's 84 million years earlier. If you wanted to use the time machine to go back to yesterday, there must be a fourth complete universe, with yet another 100 billion galaxies, suspended forever in yesterday. Jump to last week? A fifth complete extra universe is required.
For your time machine to jump to different years in the past or future, there must be billions, even an infinite number of different universes -- each with 100 billion galaxies, each suspended forever in a different instant. OK, I cannot prove there are not an infinite number of universes, each suspended forever in a slightly different moment. But unless there are, a time machine would have no destination to which to travel.
[+] Enlarge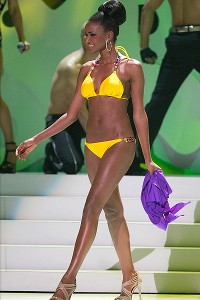 AP Photo/Andre PennerLeila Lopes of Angola, the new Miss Universe.
Reader Al Vyssotsky of Greenville, S.C., adds another complication: "The solar system is rotating around the galactic center at approximately 43,000 miles per hour. Thus if a person were to travel back in time, he or she would wind up many billions of miles from Earth's position in the past. Our Milky Way galaxy is moving at 1.3 million miles per hour or about two-tenths of the speed of light, in the direction of the constellation Hydra. This suggests that even a short time-travel trip would place the traveler trillions of miles from Earth's position in the past. Going backward 85 million years, as is depicted in "Terra Nova," would result in being about 170,000 light years from Earth's position at that time. That distance is roughly twice the diameter of the galaxy. So you'd need to bring along quite a starship with you through the time machine."
This Item Exists to Justify the Swimsuit Picture: Congratulations to Leila Lopes of Angola, the new Miss Universe." There's an undignified whispering campaign in progress against Lopes on the part of sore losers in the contest, including the scandalous allegation that Lopes sometimes wears no makeup. The horror! TMQ's question about the "Miss Universe" competition remains: Why are only women from Earth allowed to compete?
The Football Gods Winced: To start the fourth quarter, Colts quarterback Kerry Collins threw an interception, then on the next drive, after a handoff, threw two incompletions followed by a punt.
Lend Me a Tight End! Carolina, New Orleans, Detroit, Buffalo, New England and Cleveland got big catches from tight ends split wide like wide receivers. Jersey/B opened with three tight ends, which seemed to confuse hapless Jacksonville.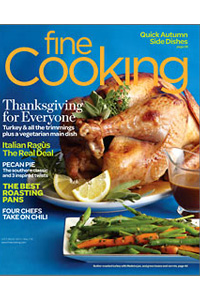 Fine Cooking Magazine It's mid-September. Is your Thanksgiving menu final yet?
Unified Field Theory of Creep: John Friedline of Roswell, Ga., reports he just received this email: "Your Lotus Notes password will expire on 6/15/2012. Please update your password." Mark Eskridge of Chicago reports that on Labor Day weekend, he received the Thanksgiving issue of Fine Cooking magazine.
Tis Better to Have Rushed and Lost Than Never to Have Rushed at All: Trailing Houston 16-10 early in the fourth quarter, Miami reached first-and-10 on the Texans 16 and went incompletion, incompletion, incompletion, field goal. Houston rapidly came back the other way for a touchdown on a perfectly executed out-and-up to Andre Johnson, with no safety in sight.
Trailing host Denver 24-22, Cincinnati faced fourth-and-1 on the Broncos' 36 with three minutes remaining. A 53-yard field goal would put the Bengals in the lead, and this is Mile High Stadium, best venue in the NFL for long kicks: Sebastian Janikowski hit from 63 yards at Mile High the previous week. Marvin Lewis decided to go for it through the air -- incompletion, ye gods. As Jimmy Johnson used to say, if you can't run the ball for one single yard then you don't deserve to win.
Best 99-Yard Drive: In consecutive weeks, New England stopped a fourth-and-goal from the 1, then replied with a 99-yard touchdown drive.
[+] Enlarge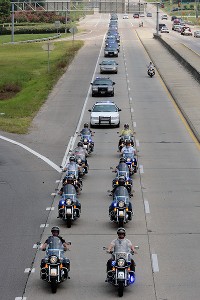 Dave Martin/Getty ImagesBodyguards and motorcades may exist mainly to make someone feel important.
Wasteful Spending on Bodyguards Watch: Tuesday Morning Quarterback has been on a high horse about government officials who surround themselves with taxpayer-funded bodyguards not for security, but in order to feel more important. Reader John Ballard of Natchez, Miss., provides a pleasant counter-example: "I recently attended an economic development event in Roswell, N.M., where Governor Susana Martinez was the keynote speaker. She entered without fanfare. She had one police officer with her, no entourage, no massive security detail. I felt refreshed by the experience. It was an example of how government officials should conduct business."
On the flip side, subsidized security details that exist mainly to stroke someone's ego increasingly are not confined to public officials. Reader Andrew Kilmas of Bel Air, Md., notes this account of two Baltimore police officers who were injured in a traffic accident on their way to escort NFL commissioner Roger Goodell to the Steelers at Ravens game. Goodell is a private businessman. Why should he receive a special police escort, racing through traffic lights and inconveniencing taxpayers on the roads?
The Baltimore Sun quotes a police official as saying, "The National Football League had security concerns given Goodell's rank, the high profile football game, and the anniversary of Sept. 11." This seems farfetched: no al-Qaida terrorist incident in the United States has targeted a specific individual.
The chance of Goodell being specifically targeted by terrorists seems about the same as the chance he will be struck by a meteorite. If the NFL had a legitimate security concern regarding Goodell, it could have hired private bodyguards at its own expense. In a follow-up story, The Baltimore Sun quotes a retired high-ranking Baltimore police official as saying the escort was really for Goodell's "convenience," so that he could cut through game-day traffic.
[+] Enlarge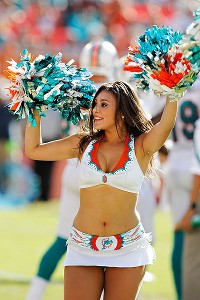 AP Photo/Lynne SladkyMaybe the Dolphins' cheerleaders should travel to away games, so they could cheer for a win.
The Football Gods Winced: Green Bay and Pittsburgh, which met in the Super Bowl, enter the season as football's state of the art. Reaching third-and-2 on the Seattle 3, Pittsburgh offensive coordinator Bruce Arians called an empty backfield pass -- incompletion, field goal. Reaching third-and-goal on the Carolina 1, Green Bay offensive coordinator Joe Philbin called an empty backfield pass -- incompletion, field goal. Maybe it's just as well Vince Lombardi did not live to see this.
Buck-Buck-Brawckkkkkkk: Trailing 7-0 at Detroit, Kansas City faced fourth-and-1 on the Lions' 15. The Chiefs entered the game in a tailspin, a 2010 playoff team that had lost its past three by blowout margins. Kansas City seemed to change its psychology -- it needed to go for the first down. Instead the field goal team trotted onto the field, and TMQ wrote the words "game over" in his notebook in the first quarter! The football gods agreed. The final: Detroit 48, Kansas City 3.
Fourth-down attempts may fail, but it's usually better for a coach to go for it, communicating to his players that he is challenging them to win, than to act timid and kick. Game scoreless, Mike Tomlin of Pittsburgh went for it on fourth-and-goal from the Seattle 1, and the rush was stuffed. But that left the Blue Men Group pinned on its own 1. Seattle ended up punting from its 3. Pittsburgh got good field position, scored on the possession and never looked back.
New England went for it on fourth-and-4 from midfield against San Diego, leading 20-14, and failed. As with Pittsburgh, the message from coach to players was that Bill Belichick was challenging "the fellas," as he calls his charges, to win. Shortly after the failed fourth-and-4, New England led 28-14.
Buck-Buck-Brawckkkkkkk (College Edition): Trailing third-ranked LSU by 9-6 on the final snap of the third quarter, Mississippi State punted on fourth-and-3 in LSU territory. I snapped off the television, and wrote the words "game over" in my notebook. You don't need to know anything about the fourth quarter to know who won. Trailing favored Florida by 30-13 at the start of the fourth quarter, Tennessee faced fourth-and-2 on the Gators' 3, and took a field goal. That was the signal to stop watching that game.
[+] Enlarge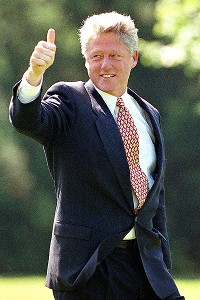 AP Photo/Doug MillsBill Clinton gives the thumbs-up to a Bills-Lions Super Bowl.
They Need to Party Like It's 1999: In 1999, Bill Clinton was president, Enron was a hot stock play and the Buffalo Bills and Detroit Lions made the playoffs. Neither has seen the postseason since. With these extended playoff droughts, the Bills and Lions have become the NFL's least rewarding teams to root for. (The Houston Texans have never made the playoffs, but have existed only since 2002). Now Buffalo and Detroit have opened the season 2-0 apiece. Tuesday Morning Quarterback would love for 2011 to result in a Super Bowl pairing of Buffalo versus Detroit. One of them would have to win! I think.
Older NFL Retirees -- Enough with the Cry-Baby Act! Everyone sympathizes with NFL players who retired before 1993, the year the NFL pension system became generous. But the older players' demands for more charity are getting out of hand.
The older players now filing lawsuits, when they were running the players' association, failed to negotiate significant delayed compensation. They wanted all the money up front. Now that they've spent the money and someone else is running the union, they demand a special gift they never won for themselves when they had the chance. And just why did a generous NFL retirement system begin in 1993? That was the year the NFLPA switched from the confrontational, rock-throwing tactics used by older players, to cooperative bargaining. Now the older players who backed a failed tactic want bonus spoils from younger players whose bargaining strategy worked.
When the new collective bargaining agreement was reached in July, your columnist was asked by a friend, "Who's the big winner?" My answer was, "The older players. They get an additional $62 million per year, when they were owed nothing at all." Both the NFL and the NFLPA showed admirable concern for the older players, including in the deal a rich new pot of money that is sheer generosity, considering the older players had no legal claim. Current NFL players agreed to sacrifice an average of $31,000 annually in income in order to transfer that extra $62 million annually to older players. The current players' reward from the aging ingrates? A lawsuit.
Here from 2007 are some of the embarrassing details of the older players' position. And TMQ does not get this lament from William Rhoden of the New York Times. Though it's true that current NFL players benefit financially from the advancements made to their profession by older players, in many fields -- law, medicine, journalism -- current employees are better off because of the success of the prior generation. But other than via Social Security taxes, do current doctors or lawyers voluntarily surrender some of their income to be used to help retired doctors and lawyers? Do current Timesmen voluntarily surrender income to help past Timesmen? Current NFL players voluntarily surrender income to help older NFL players. The current players are the ones who deserve the sympathetic press, for being generous.
Sweet 'N' Sour Sunday: Atlanta down 31-28 in the fourth quarter, the Falcons faced first-and-17 on own 13. The Eagles sent out a dime defense, expecting pass. Matt Ryan audibled to a rush, and Michael Turner ran for 61 yards behind a trap block by left guard Justin Blalock. A few snaps later, Philadelphia showed a nickel on first-and-10, Ryan again audibled to a run and Atlanta used the same action for a 10-yard gain to the Eagles' 3, setting up the go-ahead touchdown. Sweet.
After throwing college-style bubble screens behind the line of scrimmage several times in their opener versus the Rams, then half a dozen times against Atlanta, facing third-and-3 on the Falcons' 21 just after the two minute warning, Philadelphia coaches called a bubble screen to be caught behind the line of scrimmage. This time Atlanta was not fooled, dropping the receiver for a loss. The fourth-down throw was incomplete, and Atlanta prevailed. Calling the same action until it became predictable was sour by the Philadelphia Heat.
Falcons note: Matt Ryan is now a Tom Brady-like 21-2 at home in the regular season, 0-1 at home in the postseason.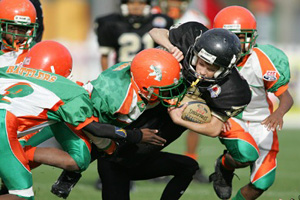 ESPN Wide World of Sports Should preteens play tackle football?
Should There Be Youth Football? In light of rising medical evidence that cumulative harm from many minor blows to the head in youth can manifest as brain trauma in adulthood, TMQ asked last season whether the fad for youth tackle football is backfiring. One of TMQ's editors, who lives in Farmington, Conn., reported, "I have an 11-year-old son who wants to play tackle football more than anything else. We're from Texas, he grew up around it, and he is in love with football. I've always discouraged him from playing, because of the risks.
"We went to a clinic for a youth football organization in Farmington called the Mud Hogs. They went over all the safety rules. At the smallest level, kids who weigh 100 pounds or more cannot carry the ball nor play linebacker. All the teams have a minimum number of snaps kids get. They made it clear that their brand of youth football is not win-at-all-costs. They focus on kids having fun and building self-esteem. They recommended the Shock Doctor mouthpiece, not the old boil-and-bites. They have a safety coordinator. So apparently it's possible to do youth football the right way."
Disclaimer of the Week: Reader Chris Collins of Pittsburgh writes, "I work at a university. When training our staff to enforce policy, we burn a pellet that makes simulated marijuana odor. On the packet these pellets come in is printed, 'For educational purposes only.' I'm not sure what other purpose there would be, considering they are not intoxicating and would make lousy potpourri."
News You Won't Want to Hear: This story by Lori Montgomery of the Washington Post could be the most important article on American politics this year. Even if you think taxes should be raised on the well-off , as I do, Montgomery shows that the bulk of federal income tax favors go not to the rich but to the middle class, especially to typical homeowners.
It's easy and appealing for Americans to say, "Let's blame the rich for the national debt." And the rich do need to pony up. But there are far more middle-class Americans than rich Americans -- meaning tax favors to the middle class are what is driving deficit growth. Politicians love to campaign by wagging their fingers about the rich. None wants to deliver bad news to average voters. But with tax cuts under George W. Bush and Barack Obama having led to 49 percent of Americans paying no federal income taxes at all, if the debt is to be addressed, the middle class must pick up part of the tab.
[+] Enlarge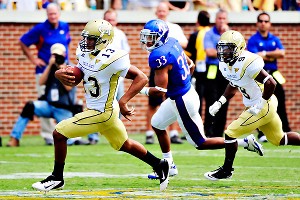 AP Photo/David TulisAgainst Kansas, Georgia Tech should have passed more to avoid running up the score.
Georgia Tech Held to 768 Offensive Yards: Georgia Tech rushed for 604 yards against Kansas. Twelve players carried the ball for Georgia Tech, whose starters left the contest in the third quarter when the margin reached 52-17. Georgia Tech did not attempt a pass after the middle of the third quarter, and normally, an indicator of not running up the score is no passing. Georgia Tech rushed so well, it should have thrown more to keep down the score.
Obscure College Score of the Week: Cal 63, Presbyterian 12. Football factory programs are infamous for scheduling cupcake opponents for auto-wins that please the boosters. Here is Kurt Snibbe's wonderful illustration of the football squad at a place named Cupcake College. Even so, for Cal to schedule Presbyterian, a Division I-AA program that last season went 2-9 with losses to Stony Brook and North Greenville, seems beyond the pale. According to Yahoo! Sports, Presbyterian was paid $400,000 to agree to fly to San Francisco and be used as tackling dummies. Though Cal has been plagued by classroom budget cuts and tuition hikes, $400,000 was available to stage a football game. Located in Clinton, S.C., Presbyterian's teams are known as the Blue Hose, referring to 19th century stockings, not to melancholy courtesans.
[+] Enlarge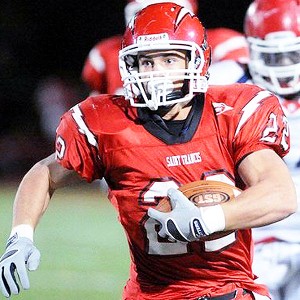 Courtesy/St. Francis UniversityKyle Harbridge of St. Francis. You don't want to face him in the fourth quarter.
Bonus College Score: St. Francis of Pennsylvania 50, Morehead State 49. The Eagles of Morehead State seemed to be in good shape, what with a 49-31 fourth-quarter lead and 512 yards passing on the day. But there was the little matter of the 348 yards rushing by Kyle Harbridge of St. Francis. He ran for three fourth-quarter touchdowns, including the winning points with a minute remaining.
Located in Loretto, Pa., St. Francis University is among the many schools to place the coveted US News Best Colleges 2010 logo on its homepage. What does "best" mean in this context? The magazine ranked St. Francis 51st among masters-granting universities in the northern part of the United States.
Single Worst Play of the Season -- So Far: Host Jersey/A leading Les Mouflons 7-6, the visitors had third-and-8 on the Giants' 25. Sam Bradford flicked what was surely drawn up as a swing pass to tailback Cadillac Williams, who rather casually dropped the rock. But Williams was standing behind Bradford when the pass was released, making it a backward pass: live ball, not an incompletion. As all nearby Jersey/A players scrambled madly, Williams, the closest Ram and a former high first-round draft choice, simply stood there, doing nothing. Even after Jersey/A's Michael Boley had done the first step in "scoop and score" -- he would run 65 yards for a touchdown -- Williams stood there. Halfway into Boley's return, only Bradford and offensive tackle Rodger Saffold were giving chase. NFL players train, train, train, then when the pressure is on, on national television, just stand there.
St. Louis Rams offense: you are guilty of the Single Worst Play of the Season. So far.
Next Week: Cal cancels scheduled 2012 game against St. Francis of Pennsylvania.
In addition to writing Tuesday Morning Quarterback for Page 2, Gregg Easterbrook is the author of "Sonic Boom" and six other books. He writes a politics column for Reuters, and is a contributing editor for The New Republic, The Atlantic Monthly and The Washington Monthly. His website can be found here, and you can follow TMQ on Twitter.