Commentary
Social network
Football fans share their tailgating secrets
Updated:
September 23, 2011, 11:20 AM ET
By
Kyle Stack
| ESPN The Magazine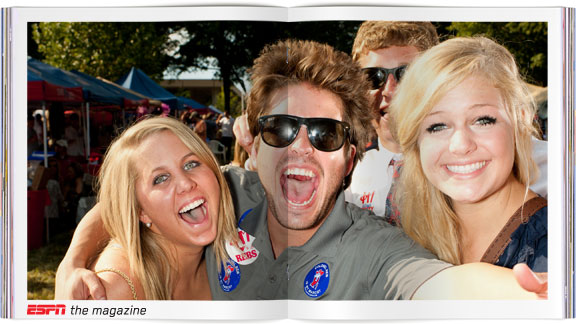 Brian Finke for ESPN The MagazineTailgating in The Grove at Ole Miss is a long-stading tradition before game days.
This story appears in the Oct. 3 issue of ESPN The Magazine.
STILL GRILLING BRATS with your pals next to an old Mazda? As these fans show, there's a better way to tackle your tailgate. Come one, come all.
---
WHERE: The Grove, a 10-acre plot of grass and trees at the center of the Ole Miss campus, just outside Vaught-Hemingway Stadium.
WHO: Alumnus York Craig Jr., 65, is one of many Ole Miss old-timers who set up a tent in the Grove to celebrate the school's long-standing tailgating tradition with current students.
THE TAILGATE: Craig celebrates Rebels game days with country ham biscuits, pimento cheese sandwiches and a six-person country-and-western band. If you can't find his tent, you can join the thousands of students in seersucker suits and cocktail dresses roaming the Grove in search of a good time. Trust us: You'll find it.
---
WHERE: San Diego Chargers' Qualcomm Stadium, Parking Lot C3 Reserved.
WHO: Fred Berry, 42, started his tailgate 20 years ago. All it took to start the tradition? A 12-pack of beer and a Subway sandwich.
THE TAILGATE: Berry now serves 50 to 100 fans before each home game with catered carne asada and pollo asada tacos. (Just $10 buys you a wristband for the all-you-can-eat buffet.) "It's an awesome three- to four-hour party before the game," says Berry, ?who pipes in DirecTV and an iPod playlist featuring AC/DC and the "San Diego Super Chargers" theme song to greet fans.
---
WHERE: Husky Harbor, near University of Washington's Husky Stadium.
WHO: Hal Griffith, 73, has been tailgating at UW for more than 50 years and spent most of them "sailgating."
THE TAILGATE: On a 101-foot powerboat, Griffith and his 20 to 30 guests party while floating on Lake Washington. (Strangers are welcome to swim over!) Then they walk about 500 feet from the shore to Husky Stadium with some 160 other sailgaters. On warm days, grilled prawns and Alaskan salmon fill Griffith's menu; when it turns colder, it's fish stews.
---
WHERE: Ralphie's Corral, southeast of University of Colorado's Folsom Field.
WHO: Ralphie V the Buffalo.
THE TAILGATE: Fans aren't allowed to pet Colorado's mascot, but they can take a free picture with the 1,200-pound Ralphie -- or with a one-and-a-half story inflatable version of her. Children are welcome and can throw footballs at targets and get temporary tattoos. "We try to be as family-friendly as possible," says Tom McGann, associate athletic director of game management and operations at CU. Ralphie stays in her pen about an hour before kickoff. Because nothing breaks up a tailgate faster than a loose buffalo.
---
WHERE: Houston Texans' Reliant Stadium, Yellow Lot 34.
WHO: Jason Saldivar, 40, Bing 2011 National Tailgating Champion. Nuff said.
THE TAILGATE: Saldivar's award-winning dishes include brisket, jalapeno-cheddar sausage and Cajun pork tenderloin. Three kegs of beer, three margarita machines, a beer bong and a pair of flat-screen TVs round out the setup. "Home games are the 10 times per year we can get together and party," he says.
---
WHERE: UW Credit Union lot near Gate 1 of Wisconsin's Camp Randall Stadium.
WHO: John Aspinwall, 54, and his Badger Wagon, a refurbished 1969 Chevrolet Step Van.
THE TAILGATE: Aspinwall rigged his ride with a remote-control-activated beer tap and a Badger grill that cooks Chicago-style dogs. The van's roof holds two 10-inch speakers, two seven-foot state flags and a 42-inch TV. The interior features hardwood floors, mirrored ceilings and two faucets that pour Belvedere Vodka and Captain Morgan rum. Says Aspinwall, "It's the DeLorean of UPS trucks!"
Follow The Mag on Twitter: @ESPNmag.
ESPN The Magazine: October 3, 2011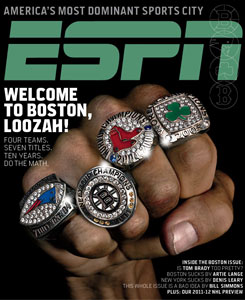 Boston Features
NHL Preview
Columns & Go/Play