Commentary
'Moneyball' follows baseball movie rules
Originally Published:
September 21, 2011
By
Jim Caple
| Page 2
Hollywood's golden age of baseball was from the mid-'80s to the early '90s, when at least half of the game's greatest movies were released. Look at anyone's Top 10 list and you are almost certain to find at least five of the following filmed between 1984 and 1992: "The Natural" (1984), "Bull Durham" (1988), "Eight Men Out" (1988), "Field of Dreams" (1989), "Major League" (1989) and "A League of Their Own" (1992).
Back then, baseball movies were released more frequently than Matt Stairs ever was. In 1992 alone, you had "A League of Their Own," "The Babe" and "Mr. Baseball," quickly followed the next couple of years by "The Sandlot" (1993), "Cobb" (1994), "Major League II" (1994), "Angels in the Outfield" (1994) and "Little Big League" (1994). And then the great baseball movie era abruptly ended, not unlike the Pirates' playoff hopes.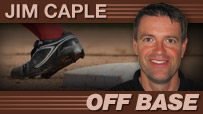 I think this era was killed off by the 1994-95 strike or by the 1996 release of "The Fan." Whatever the reason, we've had only two movies that warrant Top 10 consideration, "The Rookie" (2002) and little-seen indie "Sugar" (2008) in the many years since Kevin Costner lost his fastball and his hair.
Friday brings another entry in the baseball genre with "Moneyball," based on the Michael Lewis book and starring Brad Pitt as Oakland general manager Billy Beane in perhaps the first case of a movie star being less handsome than the person he portrays. The people behind "Moneyball" say that it isn't a baseball movie, that it's about other things, which is mostly an effort to bring non-baseball fans into the theater. All the best baseball movies are also about something other than baseball. For all its talk about being different, "Moneyball" follows a lot of the 10 established rules for a baseball movie (and that's not a bad thing):
1. At the beginning of the movie, you must portray the team as the major league equivalent of the Bad News Bears even if the club has a starting rotation of Cy Young winner Barry Zito, Tim Hudson and Mark Mulder, MVP shortstop Miguel Tejada, Gold Glove third baseman Eric Chavez and outfielder Jermaine Dye. When Hollywood turns Buster Olney's "The Last Night of the Yankee Dynasty" into a movie, no doubt New York's "core four" in the opening scenes will be Tanner, Ogilvie, Engelbert and Lupus.
THE AUTHOR
"Moneyball" author Michael Lewis talks about the process of making the movie, Brad Pitt's persistence in getting it done. Lynn Hoppes
2. The owner must always be unsympathetic and unreasonable, either cheating the players out of their rightful pay ("Eight Men Out"), actively conspiring against them ("The Natural" and "Major League") or just refusing to give Jason Giambi a $120 million contract ("Moneyball"). No baseball movie owner ever lowers beer prices.
3. The manager must always be old-school and extremely resistant to change, either benching talented new players out of sheer pigheadedness ("The Natural"), forgoing pitch counts to let a valuable young starting prospect throw so many innings that he strikes out 18 batters and walks 18 in the same game ("Bull Durham"), or refusing to play converted catcher Scott Hatteberg (15 home runs, .807 OPS, $900,000 salary) at first base over rookie Carlos Pena (19 HRs, .764 OPS, $202,000 salary). Actually, real-life managers aren't all that different.
4. The Yankees are always evil (with the notable exception of "Pride of the Yankees"). If the Yankees aren't ripping out your heart ("Fever Pitch"), mercilessly firing you ("The Scout"), stealing away your best player ("Moneyball"), dominating the league so much only the Devil can stop them ("Damn Yankees") or slapping around their own children ("The Bad News Bears"), they are blowing up the peaceful planet of Alderaan ("Star Wars"). Again, this is very similar to real life.
5. The team must go on an incredible winning streak after a great player joins the roster, such as Wonderboy-wielding Roy Hobbs ("The Natural), juvenile delinquent Kelly Leak ("The Bad News Bears) or utility man John Mabry ("Moneyball"). The winning percentage of teams in a movie improves dramatically the nearer you get to the bottom of your $10 bag of popcorn.
6. Baseball is crucial in parent-child relationships. Playing catch is the best way to mend a relationship ("Field of Dreams" and "The Natural"), even for a surrogate ("The Bad News Bears"). Other methods include impressing your dad by reaching the majors as a 35-year-old science teacher ("The Rookie") and recording a song for your father when he's interviewing with the Red Sox ("Moneyball"). Slapping your son in the middle of a game, however, is not recommended ("Bad News Bears").
7. A woman must lead the star down the path to destruction ("The Natural") or the path to salvation ("Bull Durham"). Or toward both, by leading him back to a lower-paying job with an underfunded team despite a $12.5 million contract offer from the Red Sox ("Moneyball").
8. There must be a climactic game for the title. You can either overcome the odds to win it ("The Natural" and "Major League"), overcome the odds but fall just short ("The Bad News Bears" and "Moneyball"), or take advantage of the odds by intentionally losing the game in exchange for gamblers' money "("Eight Men Out"). The only exception is if you're Kevin Costner and you're playing in the low minors or in an Iowa cornfield.
9. The movie must have some character with a quirky superstition, such as wearing women's underwear ("Bull Durham"), practicing voodoo ("Major League") or working out in the team's weight room during the game because he'll break furniture in frustration if he watches it in person. Billy Beane does the latter in "Moneyball," and I guess not watching your team play isn't so strange for a general manager. I think several Pittsburgh GMs spent much of the season asleep.
10. Forget steroids or HGH, the greatest performance enhancer is a good soundtrack. Such music includes the stirring main theme when Roy Hobbs slams a home run into the light towers ("The Natural"), the rocking "Wild Thing" when Rick Vaughn takes the mound ("Major League") or "Sixty Minute Man" when career minor leaguer Crash Davis shows he has a Bonds-like OPS with women in scoring position ("Bull Durham"). Just once I want a major leaguer to walk up to the plate to Bizet's "Toreador Song," which is so inspirational it helps that booger-eating spaz Lupus catch a fly ball in "The Bad News Bears."
But that I think, will have to wait for another movie. Fingers crossed that "Moneyball'' is successful enough to begin a new baseball movie era. (Can't wait to see who would play Mariners general manager Jack Zduriencik in a movie.)
CSI: BOX SCORE
You know the rules. You get a fragment from an old box score and the challenge of determining what game it is from and why it is significant. I give this one a difficulty rating of 6.0. (Hint: I'm featuring late-season games this month.)

Kurt Snibbe/ESPN.com
BOX SCORE LINE OF THE WEEK
White Sox starter Mark Buehrle pitched a 15-hitter (6 1/3 IP, 15 H, 7 R, 6 ER, 2 BB, 1 K); a whole bunch of Orioles got their brains beat in Monday (20 hits and 18 runs in eight innings of the doubleheader nightcap); and the Mariners continue to strike out. Meanwhile, Kansas City rookie Eric Hosmer went 5-for-5 Tuesday (5 AB, 1 R, 5 H, 3 RBI).
But this week's award goes to San Francisco's Pablo Sandoval, who became the second player of the season to hit for the cycle. Yes, Kung Fu Panda tripled! His line:
4 AB, 1 R, 4 H, 2 RBI, 1 2B, 1 3B, 1 HR
[+] Enlarge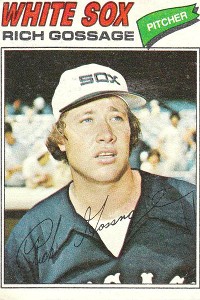 ToppsGoose Gossage looks thrilled to be wearing these unis.
BASEBALL CARD OF THE WEEK
From the expression on Goose Gossage's expression in this card (1977 Topps No. 319), he appears as embarrassed to be photographed in this horrid White Sox uniform (how bad is that cap, anyway?) as he would be if caught on film wearing women's panties.
Amid all the praise for Mariano Rivera setting the save record this week, let's give Goose his fair due. Just consider that 1977 season. He pitched 133 innings, which is about two seasons worth for Mo. He had a 1.62 ERA and struck out 151 batters. His first save of the season was three innings. He had a four-inning save later in the season. Of his 26 saves, 20 were more than one inning and 16 were two innings or more. He took over with the game tied 20 times. He inherited 36 runners, more than Rivera has the past three seasons combined.
Closers worked for a living back then, when they were called firemen and came in to rescue teams when games were in serious doubt rather than all but wrapped up with a three-run lead in the ninth inning.
YEAH, WELL, THAT'S JUST LIKE YOUR OPINION, MAN
One thumb up: So what did I think of "Moneyball"? I enjoyed it for the most part. The acting is excellent: Pitt is very good; Jonah Hill is splendid as the passionate stats analyst; and Philip Seymour Hoffman plays a thoroughly frustrated Art Howe, which is either because Beane craps on him the entire movie or because he looks like a Weeble in his Oakland uniform. The dialogue is crisp and engaging, as you would expect from writer Aaron Sorkin, and the movie generally zips along with a strong dose of humor. The scene where Beane/Pitt juggles two general managers for a trade provides the most entertaining phone calls in a movie since the War Room scenes in "Dr. Strangelove." And I love seeing the Oakland Coliseum filled with fans.
I just wonder whether I would like the movie more or less if I weren't a baseball fan.
That's because one issue bothers me. Like the book, the movie gives far too much credit to Beane's "Moneyball" strategy and not nearly enough to the players already on the team. There is no mention of Barry Zito, who won the Cy Young that season, only incidental mention of Miguel Tejada, who won the MVP, and little to no mention of Mark Mulder, Tim Hudson, Eric Chavez and Jermaine Dye. I asked director Bennett Miller about this, and he said that he didn't intentionally hide that aspect but that there just wasn't enough time for it and it would have been a distraction from the movie's main storyline. "Ultimately," he said, "the story I was interested in was the personal, private story of Billy Beane."
I give "Moneyball" three stars out of four and want to see it again to evaluate it some more, but right now, it doesn't crack my top five baseball movies ("Bull Durham," "Field of Dreams," "A League of Their Own," "The Natural" and "Eight Men Out"). …
Hate mail is probably already filling my mailbox: Regular readers probably know that I view the closer as the most overrated role in sports. So it should come as no surprise that I wasn't as caught up by Rivera's save record as everyone else. Colleague Dave Schoenfield did some great research and found that since Rivera took over as the Yankees' closer in 1997, New York has won 97.2 percent of the games it has led entering the ninth inning. Sounds pretty impressive, right? It is until you know that, in the same stretch, the
Twins won 96.2 percent of such games. And the Mariners won 94.8 percent. And the Pirates won 94.7 percent. So withhold all your angry comments unless you address this specific point. If Rivera is soooooooo damn much better than everyone else and his role is soooooo critical to the Yankees' success in the past 15 seasons, how come the difference between the game's best team and the worst team is so slight when it comes to ninth-inning leads? …
Museum-quality baseball cards: One of the best websites around is Gary Cieradkowski's The Infinite Baseball Card Set. Cieradkowski is a superb graphic designer who regularly produces gorgeous baseball cards with amazing stories behind them, such as the current one of Najio Nagasawa and the story of the 1935 Japan baseball tour of the United States. "It is something I had always wanted to do, feature all these great stories/characters that never get their fair due," Cieradkowski says, "The death of my dad two years ago provided me with the final push to do so." His site should be a regular must-visit. …
BALLPARK RANKINGS
Petco Park, San Diego: The Padres played their first 35 seasons at Jack Murphy Stadium in Mission Valley. And if you drive to a game at Petco, you might still want to park out there to find an affordable spot (I would recommend taking the trolley to the stadium, but telling Californians not to drive is like telling Boston fans not to moan about how much they've suffered). But once you do find a place to park and get inside, this is a pretty sweet stadium. The old warehouse in left field is on a smaller scale compared with its big brother at Camden Yards but provides a similarly nostalgic touch. The little ballpark beyond center field is a good playground for kids, and the seats are as comfortable as a three-run lead with Heath Bell on the mound. You can't walk around the ballpark without having your view frequently obstructed, though, which the Franciscan Order of Ballpark Architects should deem a mortal sin for any stadium built within the past decade. Still, as long as there are fish tacos, I can't complain too much.
Score: 84. Current rankings:
1, PNC Park, Pittsburgh 98
2, AT&T Park, San Francisco 94.
3, Camden Yards, Baltimore 92
4, Target Field, Minnesota 91
5, Wrigley Field, Chicago 90
6, Angels Stadium, Anaheim 89
7, Dodger Stadium, Los Angeles 88
8, Safeco Field, Seattle 87
8, Comerica Park, Detroit 87
8, Coors Field, Colorado 87
11, Kauffman Stadium, Kansas City 86
12, Petco Park, San Diego 84
13, Comiskey Park, Chicago 83
14, Progressive Field, Cleveland 82
15, Citi Field, New York 81
16, Minute Maid Park, Houston 80
17, Yankee Stadium, New York 79
18, Busch Stadium, St. Louis 78
19, The Ballpark in Arlington, Texas 77
20, Miller Park, Milwaukee 77
21, Chase Field, Arizona 76.5
22, Nationals Park, Washington 76
23, SkyDome, Toronto 75
24, The Oakland Coliseum 74
25, This Space For Rent, Florida 73
26, Tropicana Field, Tampa Bay 68
CSI: BOX SCORE ANSWER
The biggest clues in this fragment are the two teams playing (the Giants and Dodgers) and the stolen base total for Maury Wills (104). Yes, this is the final game of the 1962 regular season, when San Francisco and Los Angeles virtually repeated their epic 1951 finish. The Giants were four games back with seven to go on Sept. 22 but somehow forced a tie and a three-game playoff. It was the first season with a 162-game schedule, but they needed 165 to decide the season's National League champions. The two teams split the first two games, then came the third. Eleven years to the day after the Giants had rallied for three runs in the ninth on Bobby Thomson's famous home run to win the 1951 pennant, the Giants rallied for four runs in the ninth to win the pennant again. (And, as Roger Angell noted in his New Yorker piece, the scoreboard also provided updates on astronaut Wally Schirra's space flight that same day.) It was another amazing comeback for the Giants but, for some reason, you almost never hear about this playoff series.
But my favorite bit of trivia from this playoff is this: Because the three games counted as part of the regular season, the first-year, last-place Mets -- who somehow had been 9 ½ games out of first place just nine games into the season -- lost another half-game in the standings after their season ended.
Jim Caple is a senior writer for ESPN.com. You can follow him on Twitter at jimcaple.