Commentary
Take this Heisman prediction to bank
Originally Published:
September 22, 2011
By
Sarah Phillips
| Special to Page 2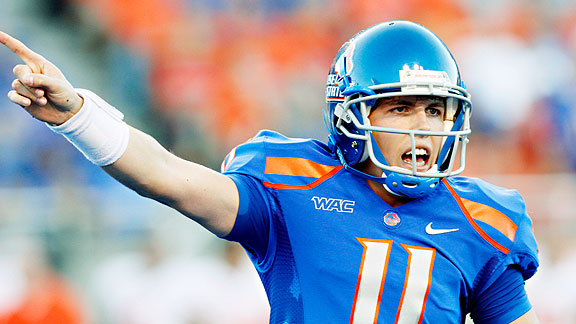 AP Photo/Don RyanBoise State's Kellen Moore might be the guy to pry the Heisman away from Stanford's Andrew Luck.
Since Andrew Luck announced he would return to Stanford for the 2011 season, the Heisman Trophy Trust has seemingly been waiting for the signal to etch his name onto the famed sculpture.
Of course, Baylor quarterback Robert Griffin III, Oklahoma QB Landry Jones and Boise State QB Kellen Moore -- the odds-on favorites to foil those plans -- might have something to say about that.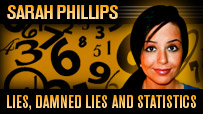 Predicting the Heisman Trophy winner isn't an easy task. Cam Newton's campaign from last season is a perfect example of the often-unpredictable nature of the award. Even your annoying friend who claims to have correctly predicted every sports outcome of the past decade couldn't lie about foreseeing Newton's rise -- not with a straight face, anyway.
As difficult as predicting the Heisman winner can be this early in the season, patience isn't a virtue when it comes to sports analysis. So, let's put the ESP in ESPN and break down this year's Heisman field.
Defensive players -- field (100-1)
With apologies to the freakish 300-pound SEC defensive linemen who run the 40 in under five seconds, their outlook isn't good. They're more likely to wind up on "The Biggest Loser" than on the Heisman podium.
Charles Woodson is the only primarily defensive player of the 76 previous Heisman winners -- and even he made memorable contributions on special teams and offense. Rumor has it that Michigan made him double as water boy, too.
Offensive players -- field (25-1)
The field list of offensive players isn't short of NFL-ready talent, including South Carolina running back Marcus Lattimore, Alabama running back Trent Richardson and Oklahoma State wide receiver Justin Blackmon. But with seasoned quarterbacks in abundance this season, a Heisman win for a player at another position is a long shot according to oddsmakers. At least they'll each have millions of reasons to forget about the Heisman in a year or two.
Since 2000, nine Heisman winners have been quarterbacks. Mark Ingram is the only running back in that span to win the award. Reggie Bush would have been another, but nearly $300,000 in illegal benefits crossed him off the official list. Never mind that he still has the trophy!
Robert Griffin III (10-1)
He can run. He can pass. He's a freak of an athlete. Can he be stopped?
Those observations apply interchangeably to Michigan's Denard Robinson in 2010, and Baylor's Griffin in 2011. So, it makes perfect sense to give RG3 the inaugural Denard Robinson "Wasn't that guy the Heisman favorite?" Award.
Denard Robinson Award candidates put up extraordinary numbers early in the season and become the trendy pick to support. Then, similar to Robinson himself, the wheels come off at the peak of the hype. In extreme cases, fans chant the name of the team's backup quarterback to emphasize the collapse.
In all fairness to Griffin, regression is normal for a quarterback operating a spread offense. The wear and tear that accompanies that role on a weekly basis catches up to even the most dynamic running quarterbacks. (See: Vick, Michael).
RG3 is also fighting Baylor history, as the school has never produced a Heisman winner. Its last legitimate candidate was Don Trull, who finished fourth in 1963.
Landry Jones (6-1)
It's easy to imagine Landry Jones following in the footsteps of recent Sooners quarterbacks to win the Heisman. Sam Bradford (2008) and Jason White (2003) both posted gaudy statistics and clinched a berth in the BCS championship en route to capturing the award. Then they both lost the title game to an SEC opponent. Jones is posting gaudy numbers, and Oklahoma is ranked No. 1. Can he lead the Sooners to a BCS championship loss to an SEC opponent? Only time will tell.
Jones is a top-tier quarterback in a system which plays to his strengths. But the quarterback spotlight entering this season was focused squarely on Boise and Palo Alto. The only way to overcome this factor would be to outperform Kellen Moore and Andrew Luck statistically, but that's like asking "The Sing-Off" to outperform "Two And A Half Men" and "Dancing With the Stars" in the 9 p.m. Monday night time slot. Not gonna happen.
Andrew Luck (2-1)
Luck has a 3.5 GPA in architectural design at Stanford. For 99.9 percent of people, that alone would classify them as successful. The fact that he's also the clear favorite to become the No. 1 overall pick in the 2012 NFL draft only solidifies his platinum-level man card.
The idea of Luck earning a degree from Stanford, becoming the top selection in the draft and winning the Heisman sounds a little too much like a fairy tale to me. In real life, Cinderella scrubs floors while her evil stepsisters land a reality TV show. In real life, the Big Bad Wolf roasts the Three Little Pigs on a spit at a raucous tailgate party. In real life, Luck doesn't win the Heisman.
Luck had a phenomenal 2010 season, topping 3,000 passing yards, completing more than 70 percent of his passes and throwing four TD passes for every interception. But it wasn't enough to win the Heisman. In theory, he'll need to post superior numbers this season and perhaps lead Stanford to the BCS National Championship Game in order to secure the Heisman. That's a tall order, even for the next big thing.
History isn't on his side, either. Only four Heisman runners-up have hoisted the trophy the following season.
Kellen Moore (6-1)
Oddsmakers are rooting hard for a Reno reprise, as Moore presents the greatest liability for sports books if he wins the Heisman.
However, there are plenty of reasons to believe Moore will win. He's on pace to complete 70 percent of his passes, with a 5-1 touchdown-to-interception ratio, and he's the leader of a team which will probably finish the season undefeated. Plus, Moore no longer plays in the whack conference, which improves his candidacy.
Now, ask yourself: Will Moore have Heisman-level statistics this season? Check. Will Moore help Boise State clinch a berth in a BCS bowl game? Check. Will Moore fail to translate college supremacy into NFL stardom? Check. Out of 76 Heisman recipients, only eight winners have been inducted into the Pro Football Hall of Fame. The Heisman Award is often a precursor for winding up in Page 2's Backup Quarterback Rankings.
The last Heisman winner from outside the major conferences was BYU quarterback Ty Detmer in 1990. But that streak is about to end.
Kellen Moore is going to bring the Heisman Trophy to Idaho. That's no small potatoes.
On to this week!
Last week's picks: 5-5
Season record: 17-13-1 (56.7 percent)
Backup quarterbacks doomed me last week, so I'll need to do more research on clipboard carriers in the future.
This week's NFL picks
All games are Sunday unless otherwise noted.


Texans at Saints, 1 p.m. ET, CBS
When you watch these two offenses, it's easy to get lulled into thinking these teams are Super Bowl contenders. Then the defenses take the field and remind you why they're not. New Orleans' defense was exposed in Week 1 by the Packers. Houston has been fortunate to face Kerry Collins and Chad Henne to open the season, which does little to prepare the Texans for Drew Brees. Both teams are especially potent early in the season, while defenses are still getting up to speed. The over is 8-3-1 during the Saints' past 12 September games, and it's 10-4 during the Texans' past 14 September games. No need to overthink this one. Expect points, and a lot of them.
Pick: Over 52½


Giants at Eagles 1 p.m. ET, Fox
The Giants were accused of faking injuries last week to slow down the Rams' offense. After they get drilled by the Eagles, Giants fans will accuse them of faking playoff contention. Here are some mighty trends leaning against New York: The Giants are 1-4 against the spread in their past five road games, 1-4 against the spread in their past five games overall, 1-4 against the spread in their past five games against an NFC opponent, 1-5 against the spread in their past six games versus an NFC East opponent and 0-4 against the spread in their past four games on grass. Even the playing surface doesn't believe in them!
Pick: Eagles (-9)


Packers at Bears, 4:15 p.m. ET, Fox
Jay Cutler will always be known for Kneegate in last season's NFC Championship Game against Green Bay. As it turned out, he actually was seriously injured, and teammates defended him against critics who called him a quitter. Then, over the offseason, he quit on his engagement to Kristin Cavallari. Nice job acquitting yourself, Jay. Green Bay's back in town this weekend to help the Bears relive last season's NFC championship loss. The Packers are 10-3 against the spread in their past 13 games in Chicago.
Pick: Packers (-3½)


Steelers at Colts, 8:20 p.m. ET, NBC
The Colts clearly aren't the same without "The Peyton Dance," averaging a mere 13 points per game this season in Manning's absence. Kerry Collins doesn't have Peyton's rhythm, and it's not going to get any easier when the Steelers' defense -- coming off a shutout of Seattle -- visits Indy. Oddsmakers have made the Colts a double-digit home underdog for the first time in 14 years. It's difficult to say whether the Steelers will exert themselves enough to cover a number that large with an ailing Ben Roethlisberger under center. But combine the Colts' ineptitude with the Steelers' stinginess and you get a long night for Indianapolis offensive coordinator Clyde Christensen.
Pick: Colts' total points under 14½
This week's college picks
All games are Saturday unless otherwise noted.


No. 2 LSU at No. 16 West Virginia, 8 p.m. ET, ABC
Playing in front of a national television audience, West Virginia will remind the country why the Big East isn't appointment viewing. LSU will use its powerful defense and potent running game to demoralize the Mountaineers. Expect West Virginia to cover the number during garbage time, however, while the Tigers are already celebrating their 4-0 start. The Mountaineers are 6-1 against the spread in their past seven games as an underdog of 3½ to 10 points.
Pick: West Virginia (+6½)


No. 14 Arkansas at No. 3 Alabama, 3:30 p.m. ET, CBS
A.J. McCarron and Phillip Sims have combined to throw two touchdown passes and four interceptions for the Crimson Tide in three games this season. Alabama will be able to hide its shortcomings at quarterback for only so long before a top-tier team takes advantage. Fortunately for the Tide, Arkansas isn't a top-tier team. I fully expect Alabama to win, but Arkansas is 10-1 against the spread in its past 11 SEC games.
Pick: Arkansas (+12½)


Tulsa at No. 4 Boise State, 8 p.m. ET, CBS Sports Network
I'm just as shocked as you are, Boise fans. I thought this nonconference showdown would be on national TV. If playing Tulsa doesn't boost a team's strength of schedule, I don't know what does. The Golden Hurricane don't have the talent to beat Boise State, but they have had success covering the number against the Broncos. Tulsa is 3-0 against the spread in its past three meetings against Boise, and it's 10-3 against the spread in its past 13 games overall.
Pick: Tulsa (+32½)


No. 7 Oklahoma State at No. 8 Texas A&M, 3:30 p.m. ET, ABC/ESPN2
There's something curious about a program that wants to transfer into the SEC shark tank. That just seems psychotic. You have to back a team operating on that level of insanity. Vegas has taken notice and set Texas A&M as a favorite by a field goal over the Cowboys, who haven't exactly embraced the underdog role recently. Oklahoma State is 1-7 against the number in its past eight games when getting points.
Pick: Texas A&M (-3).


No. 11 Florida State at No. 21 Clemson, 3:30 p.m. ET, ESPN
Last month, I mentioned the name Dabo Swinney to my mom, and she thought it was a character from "The Flintstones." But after Swinney's emotional speech following Clemson's win over Auburn last week, Dabo's becoming a household name in the sports world -- and an awesome one, at that. The Tigers get a banged-up Seminoles squad fresh off an emotional loss to Oklahoma. It's easy to take Dabo over Jimbo in a matchup of two teams going in opposite directions. Florida State is 0-7 against the spread in its past seven meetings at Clemson.
Pick: Clemson (-1½).
Sarah Phillips is a featured columnist for the sports betting information website Covers.com.
You can follow her on Twitter @RealSarahPHI.