Commentary
A radical path to conference realignment
Originally Published:
September 22, 2011
By
DJ Gallo
| Page 2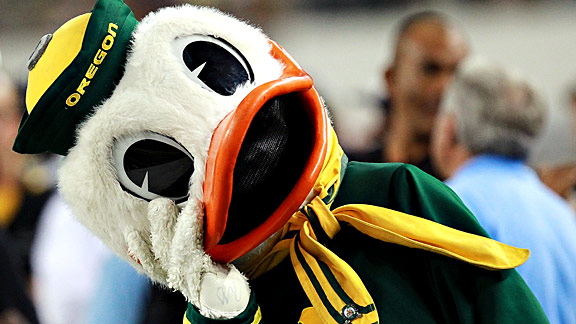 Ronald Martinez/Getty ImagesPerhaps the Ducks belong in a conference where they can flock together with birds of a feather.
Pitt and Syracuse are nowhere near the Atlantic Coast. TCU is not in the East. Texas A&M isn't in the Southeast. Colorado and Utah aren't near the Pacific Coast. The Big Ten has 12 teams, and the Big 12 has 10 (soon to be nine). If the names of college conferences no longer mean anything, why should we keep the current conference structures in place?
Other ways to organize college teams would make far more sense than what we have today.
Here are a few rough ideas that would return sanity to NCAA conferences.
Organization by Mascots
Large Cat Conference: LSU Tigers, Clemson Tigers, Auburn Tigers, Missouri Tigers, Pitt Panthers, Penn State Nittany Lions, Northwestern Wildcats, BYU Cougars, Cincinnati Bearcats, Houston Cougars, Kansas State Wildcats, Washington State Cougars, Arizona Wildcats, Kentucky Wildcats.
People With Weapons Conference: Oklahoma State Cowboys, West Virginia Mountaineers, Florida State Seminoles, Illinois Fighting Illini, USC Trojans, Duke Blue Devils, Virginia Cavaliers, Vanderbilt Commodores, Wyoming Cowboys, Rutgers Scarlet Knights, Arizona State Sun Devils, Michigan State Spartans, Ole Miss Rebels.
Dog/Bear Conference: Connecticut Huskies, UCLA Bruins, Georgia Bulldogs, NC State Wolfpack, Washington Huskies, Cal Bears, Baylor Bears, Mississippi State Bulldogs.
Things With Wings Conference: Oregon Ducks, Boston College Eagles, Georgia Tech Yellow Jackets, Virginia Tech Hokies, Kansas Jayhawks, Louisville Cardinals, Iowa Hawkeyes, Temple Owls.
Animals With Large Teeth or Horns: Florida Gators, TCU Horned Frogs, Texas Longhorns, South Florida Bulls, Colorado Buffaloes, Oregon State Beavers, Michigan Wolverines, Arkansas Razorbacks, Wisconsin Badgers, Minnesota Golden Gophers.
Miscellaneous Conference: Stanford Cardinal, Alabama Crimson Tide, Miami Hurricanes, Iowa State Cyclones, North Carolina Tar Heels, Wake Forest Demon Deacons, Oklahoma Sooners, Syracuse Orange, Ohio State Buckeyes, Indiana Hoosiers, Utah Utes.
Comment: Six power conferences, all with between eight and 14 teams, all with wide geographical distribution and large TV markets. This makes more sense than what we have now.
Organization by School Name
Land-Grant Universities A to J Conference: Arizona, Arkansas, Auburn, Clemson, Colorado State, Connecticut, Florida, Georgia, Illinois, Iowa State.
Land-Grant Universities K to N Conference: Kansas State, Kentucky, LSU, Maryland, Michigan State, Minnesota, Mississippi State, Missouri, Nebraska, Nevada, NC State.
Land-Grant Universities O to Z Conference: Ohio State, Oklahoma State, Oregon State, Penn State, Purdue, Rutgers, Tennessee, Texas A&M, Virginia Tech, Washington State, West Virginia, Wisconsin.
Schools in or Near Major Cities Conference: Pitt, UCLA, USC, Miami, Cincinnati, Georgia Tech, Texas, Cal, Washington.
Private Schools Conference: Duke, Stanford, Notre Dame, Boston College, Vanderbilt, Wake Forest, BYU, Northwestern, Syracuse.
Comment: This five-conference alignment splits up the urban schools, rural schools and private institutions. Best of all, it allows everyone who went to state schools to focus their hatred on one specific conference.
Organization by Shoe/Apparel Supplier
Adidas Conference: Cincinnati, Indiana, Kansas, Louisville, Michigan, Mississippi State, Nebraska, Northwestern, Notre Dame, UCLA, Wisconsin.
Under Armour Conference: Auburn, Boston College, Maryland, South Carolina, South Florida, Temple, Texas Tech, Utah.
Nike Conference: Pretty much all the other schools.
Comment: If the current conference realignments are all about money, this is where it's all eventually going. You know it; I know it. Let's just get it over with now.
---


Game of the Week
No. 2 LSU at No. 16 West Virginia, 8 p.m. ET on ABC
West Virginia was turned down this week by both the SEC and ACC, according to a CBS Sports report. It's presumed the SEC felt that the Mountaineers weren't good enough athletically, while the ACC didn't believe that the school's academics were up to snuff. Ouch. To secure the future of its program, West Virginia needs to win this game by 50 AND spend the entire halftime out on the field reciting Yeats.


Another Game of the Week
No. 7 Oklahoma State at No. 8 Texas A&M, 3:30 p.m. ET on ABC
This Saturday begins a 10-game stretch for the Aggies in which they play nine Big 12 teams. That's a brutal nonconference schedule.

Cupcake of the Week
Florida Atlantic
Florida Atlantic has lost its first two games of the season by a combined score of 85-3, and now the Owls head to Auburn to play the defending national champions Saturday (7 p.m. ET on ESPN3.com). The Owls have just 133 passing yards on the season. That sounds bad, but their rushing game is worse: On 50 carries, FAU has 52 total rushing yards -- a 1.04 yards per carry average. On the positive side, the Owls have only one turnover so far this season. So they do a good job of protecting the ball on their three-and-outs. Actual owls, if you're reading, sleep extra-late on Saturday. You don't want to see this game.


Rivalry Game of the Week
No. 14 Arkansas at No. 3 Alabama, 3:30 p.m. ET on CBS
Some people claim there is no loyalty left in college football. But if you want to find some men who keep their word, Bobby Petrino and Nick Saban have been at their respective schools a combined nine seasons. Wow! No one ever could have predicted that. Really.


Another Rivalry Game of the Week
No. 11 Florida State at No. 21 Clemson, 3:30 p.m. ET on ESPN
"Dabo? Jimbo. Jimbo? Dabo." As a connoisseur of ridiculous coach names, it is one of the great regrets of my life that I was not present when Dabo Swinney and Jimbo Fisher were introduced.

Heisman Candidate in the Crosshairs
Ronnie Hillman, RB, San Diego State
Andrew Luck and Stanford have the week off, so there's a chance for another candidate to have the stage. San Diego State sophomore Ronnie Hillman has 497 rushing yards and 8 touchdowns through three games this season. On Saturday, the 3-0 Aztecs play at No. 22 Michigan (noon ET on Big Ten Network), coached by Brady Hoke -- who, you may recall, was SDSU's coach last year and recruited Hillman. Now Hoke's defense has to find a way to stop him. Whoops! Let this be a lesson to coaches: Don't recruit good players because they could beat you at a future job.

Mascot Fact of the Week
With Syracuse moving to the ACC, perhaps the Orange's new conference mates would like to learn about Otto the Orange, also commonly referred to as: "What is that stupid thing? Their mascot? Seriously?" and "The lamest mascot in all the land."
The school's first mascot was a goat. Vita the Goat. Then it went with The Saltine Warrior -- an Indian chief -- until 1978, when the school decided that a stereotype as a mascot might not be the way to go. Then came a gladiator covered in orange armor who was "soon both laughed and booed off the field," according to the school's website.
What followed was a series of proposals, ideas and temporary replacements for a new mascot, including:
Egnaro the Troll
a Superman-like figure
a man in an orange tuxedo
Dome Ranger, a sort of arena cowboy
Dome Eddie, a large bug
Beast from the East, a green monster

Eventually Syracuse went with an orange with legs: Otto. But first it was known as Clyde the Orange, then Woody the Orange before the name Otto stuck.

ACC, I share all of this with you because as dumb as Otto the Orange might seem, you can see that it's actually one of the better ideas that Syracuse conceived.




Tailgate Tip of the Week

Get a Koozie Pocket Shirt

We've all thought the same thing before: "Shirts are OK, but they really suck at holding beer bottles." But now our problems are solved thanks to the Koozie Pocket Shirt! For only $24.99, you can have your very own shirt that holds -- and insulates -- a can or a 12-, 16- or 20-ounce bottle. No more having to use your stupid hands between swigs! After you buy one for yourself, get one for your friends and loved ones. It's the perfect gift for a tailgater who is classy enough to wear a shirt, but just barely.




Tailgate Photo of the Week

What does it mean to be a Michigan Man? A Michigan Man is honorable. A Michigan Man is tough. A Michigan Man sees a job through to the end. A Michigan Man is a leader in his community. A Michigan Man stands up for what's right. A Michigan Man tailgates with a SpongeBob SquarePants bouncy castle.

(Thanks to Varsity Tailgate reader Brian M. for the submission. Have a good tailgate photo to share? Send it to VarsityTailgate@gmail.com or via Twitter to @DJGalloESPN.)




Quote of the Week

"I certainly want to be politically correct and not be against serving beer in Tiger Stadium. Certainly the athletic director and the chancellor would have to make that decision. But I promise you, we would enjoy playing in front of a Tiger Stadium that occasionally had a beer."

-- LSU head coach Les Miles

Wait. Being "politically correct" means being FOR serving beer at a college football game? Louisiana might be the only place in America where the political system isn't hopelessly broken.




Greatest Conference Ever of the Week

Big 12

Texas drubbed UCLA, Iowa State beat UConn and Oklahoma beat Florida State. The conference's six games played against non-BCS teams were won by an average of 42 points. On the downside, Kansas lost 66-24 to Georgia Tech, but that will probably end up being one of the Jayhawks' best games of the season. Congratulations to the Big 12 on being the Greatest Conference Ever of the Week!




Worst Conference Ever of the Week

Big East

Pitt blew a 17-point, fourth-quarter lead at Iowa, and then the Big East lost Pitt. Syracuse got drubbed 38-17 by USC, and then the Big East lost Syracuse. In a way, maybe the Big East had a good week: addition by subtraction.




Stat of the Week

3

Big 12 commissioner Dan Beebe got a three-year contract extension in November 2010 after Colorado and Nebraska left the conference. Now, after Texas A&M's planned departure, Beebe is reportedly being forced out. So, to recap: two teams leave = three-year contract extension, whereas one team leaves = forced resignation. I'm not sure whether the Big 12 understands how compensation packages work. If every team had stayed, I guess Beebe would have been hit repeatedly with sticks.




Coach on the Hot Seat

Mark Richt, Georgia

After a week off the hot seat playing Coastal Carolina, Mark Richt makes a triumphant return with a road game at Ole Miss (12:20 p.m. ET on ESPN3.com). Welcome back, Mark! Georgia fans have kept the hot seat quite warm for you.




Player Name of the Week

Dusty Rust, LB, Louisiana Tech

Dusty Rust's given name is Durward Rust III. His father goes by Woody Rust. His aunt played on two national championship basketball teams at Louisiana Tech. Her name? Rita Rust. All of this is true. Which is awesome.




Coach Name of the Week

Ruffin McNeill, head coach, East Carolina

Ruffin McNeill -- anthropomorphic teddy bear? Perhaps a friend of Teddy Ruxpin? Nope. Head football coach of a team applying to join the Big East. Let's all hope that application doesn't go through. A coach named Ruffin McNeill belongs in the SEC. In fact, East Carolina should apply to be the SEC's 14th team. And its application should just be a blank sheet of paper with two sentences written on it: "Our coach is named Ruffin McNeill. We'll await your call."




Stone Cold Lock of the Week

A West Virginia fan group is going to go bankrupt.

The Mountaineer Maniacs, a West Virginia student group, announced this week that they are giving $20 vouchers that can be used for the purpose of school-licensed apparel to any fans who trade in vulgar T-shirts. They clearly underestimate the number of vulgar T-shirts in West Virginia.




DJ Gallo is the founder of SportsPickle.com. His first book, "The View from the Upper Deck," is available from only the finest bargain-book retailers. His next book project will be released soon. You can follow him on Twitter at @DJGalloESPN.