Commentary
Bills, Lions create blueprint for success
Originally Published:
September 26, 2011
By
DJ Gallo
| Page 2
The undefeated Buffalo Bills and Detroit Lions are the talk of football. With the NFL being a copycat league, the other 30 NFL teams want to mimic what Buffalo and Detroit did to achieve greatness.
Not surprisingly, both teams got to where they are today the same way. Here's the Bills/Lions Blueprint for Success.
Step 1: Lose. A Lot.
The Bills haven't won more than nine games or reached the playoffs since 1999. The Lions' most recent playoff appearance was also in 1999, and they haven't won more than nine games since 1995. Until Sunday, the Bills had lost 15 in a row to the Patriots, and the Lions had lost 13 consecutive games in Minnesota.


Want to make your fan base ecstatic over a fairly conservative three-game winning streak? Never, ever win. In comparison, look at Green Bay. The Packers are also 3-0, and who's talking about them? Absolutely no one, because three wins aren't remotely interesting for a franchise that is historically successful. That's a poor marketing plan by the Packers.
Step 2: Overpay for Unproven Quarterbacks
In 1997, Jaguars backup Rob Johnson had one good game against the Ravens, then hurt his ankle. Before the 1998 season, the Bills traded two draft picks for him and signed Johnson to a five-year, $25 million contract. He stunk.
In 1993, Scott Mitchell had three good games out of eight filling in for the injured Dan Marino in Miami. In the offseason, the Lions signed him to a four-year, $21 million contract. He stunk.
Want to be like the undefeated Lions and Bills? Give a bunch of money to a quarterback who hasn't accomplished anything. Good news, Cardinals, you might be on top of the NFL in late September of about 2027 or so.
Step 3: Draft Terrible and/or Unproductive Players
A byproduct of losing a lot is the compilation of numerous high draft picks. Here are just some of the Bills' first-round picks since they last made the playoffs: Erik Flowers, Mike Williams, Lee Evans, John McCargo, Leodis McKelvin, Aaron Maybin. And here are a few of Detroit's first-round picks since they last made the playoffs: Joey Harrington, Charles Rogers, Roy Williams, Kevin Jones, Mike Williams, Gosder Cherilus.
High draft picks allow a team to load up on talented players. But that's just what your opponents expect you to do. The Bills and Lions haven't fallen prey to convention.

Another common drafting thread the Bills and Lions have is selecting bad players named Mike Williams. If you're an NFL team worried that you might pick a good player, see whether there's a guy on the draft board named Mike Williams.
Step 4: Keep It All Under Wraps
When creating a 3-0 juggernaut, the Bills and Lions knew they had to keep the formation of their teams secret. The Lions have wisely played under domes, protecting their games from the view of spy planes and satellites, whereas the Bills have taken some of their games to Canada. Both teams have made a point to play so poorly that many of their fans cover their heads with paper bags.
Step 5: Win Your First 3 Games
This is the tricky part. But highly suggested. I'm not quite sure how they've done it.



Quote of the Week
"I know one thing about these guys: They're not going to stop quitting."
-- Dolphins quarterback Chad Henne after his team dropped to 0-3.

Perhaps Henne misspoke. Let's hope he didn't. It's too depressing to think that the Dolphins are giving their all and still getting these results. As kids, we are told that good things happen if you do your best. Now every kid can respond: "Oh, really? You think so, Mom? Then explain the 2011 Dolphins."



Stat of the Week: 67-6
The Vikings have outscored their opponents 54-7 in the first half this season. Unfortunately, they have been outscored 67-6 in the second half and overtime and are 0-3. Leslie Frazier should probably be fired every week at halftime, then rehired after the game.



This Week's Horrible Fantasy Team That Crushed Your Team
Eli Manning, QB, Giants -- 16-for-23, 254 yards, 4 TDs
LaDainian Tomlinson, RB, Jets -- 154 total yards, TD
James Casey, RB, Texans -- 137 total yards, TD
Torrey Smith, WR, Ravens -- 5 catches, 152 yards, 3 TDs
Victor Cruz, WR, Giants -- 3 catches, 110 yards, 2 TDs
Leonard Pope, TE, Chiefs -- 3 catches, 32 yards, TD
Pictures of the Week
"What would I have done in this situation back when I was a defensive genius?"
"Our losing streak to the Patriots or our undefeated start ... it worked either way."
"Is everyone looking at me? Or am I just being paranoid?"
MORE GALLO PHOTO CAPTIONS!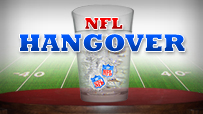 Ready to get back to those TPS reports? No? Enjoy more witty captions instead.
DJ Gallo's NFL Hangover photo gallery

"Is it true you people have no souls?"
"Can you sign it: 'To Tommy, From Peyton Hillis?'"
"I am clapping sarcastically."
"You should get up. I can hear everyone cheering from 1,200 miles away."
"No pictures, please. Only X-rays and MRIs."
"Don't worry, football. I'll never let Luke McCown touch you again."
"Whoops. Sneezed inside my eye shield. Rookie mistake."
"Well, I guess things could be worse."
"What should we do? Should we trip one of their players or something?"
"I want to make a stupid prediction, but no words will come out."
"Ugh. I am so sick of losing."
"Come on. Only 14 more weeks."
Five Things I Thought To Think Whilst Thinking
1. I don't believe Michael Vick when he says he's "not blaming the officials." He sat there at his news conference and blamed the officials, then thought he'd get off the hook at the end by saying that he's not blaming the officials. It's like when someone says something really mean to a person, like: "You're fat and ugly and dress like a slob" -- then add: "Nah, just kidding." Sorry. Damage done. You meant it. I just think Vick is really disingenuous and should get fined. Nah, just kidding.
2. The Ravens enjoyed another dominating performance on Sunday. They have to be feeling pretty good about themselves. So put them down for a loss next week.
3. Jaguars wide receiver Mike Thomas has nicknamed Blaine Gabbert "Sunshine," and it's catching on among Jaguars fans. No. No, no, no, no, no, no, no, no, no. Gabbert is too talented to have his career done in by a terrible nickname. And Sunshine is truly terrible.
Imagine this headline: "Jaguars Win Super Bowl Thanks to Gritty Performance by Sunshine Gabbert."
See? Not possible. It would never happen. Also, Gabbert should consider losing the "Blaine." A good quarterback named Blaine seems pretty unlikely, too.
4. Bengals receiver Jerome Simpson had only one catch for 6 yards on Sunday. That's a career low for catches and yards. He was much higher before.
5. Here are my updated Worst Dream Team Rankings:
3. 2006 U.S. men's world basketball championships team
2. 2004 U.S. men's basketball Olympic team
1. 2011 Philadelphia Eagles
DJ Gallo is the founder of SportsPickle.com. His first book, "The View from the Upper Deck," is available from only the finest bargain-book retailers. His next book project will be released soon. You can follow him on Twitter at @DJGalloESPN.