Commentary
Guide to leagues' social media policies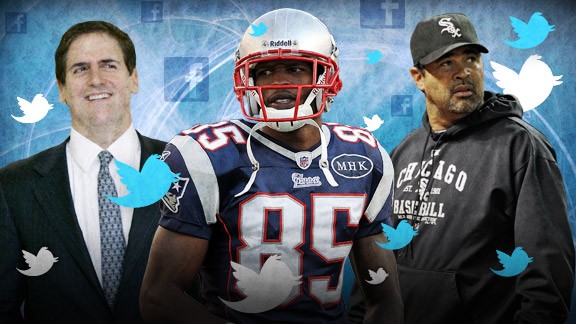 ESPN.com Illustration
The announcement that the National Hockey League instituted an official social media policy earlier this month came as no surprise considering the growing role of social media in sports.
By now, every sport, league and team has embraced -- or, at the very least, has accepted the role of social media and fan engagement. However, different sports are taking different approaches when it comes to regulating tweet times and status updates.
Here's a rundown of some of the social media rules out there and some of the folks who have broken them.
English Professional Soccer (The Football Association)
Policy: Players are held to the same standards for social media that they have in other forms of public communication. Comments "deemed improper" can result in fines or other disciplinary action by the FA.
Offenders: West Ham's Carlton Cole was fined 20,000 pounds ($27,000) for making immigration jokes on Twitter before England's friendly with Ghana in April. A month later, his teammate Danny Gabbidon was fined 6,000 pounds ($8,000) for using foul language on Twitter, prompting West Ham to consider adding Twitter use clauses into its contracts. Liverpool forward Ryan Babel was fined 10,000 pounds ($13,500) last winter for criticizing an official on Twitter and tweeting a photo of the referee wearing an opposing team's jersey. Liverpool manager Kenny Dalglish asked the FA to have a sense of humor about the situation. The FA didn't.
Major League Baseball
Policy: Major League Baseball has a social media policy in place that governs social media use by MLB personnel, but the policy does not include players. Players must abide by rules regarding use of electronic equipment in the clubhouse and on the field. Those rules stipulate that players, uniformed personnel and clubhouse staff cannot use cell phones or other devices on the bench, in the bullpen or on the field after batting practice has started. Cell phone use in the clubhouse is prohibited 30 minutes before game time. These rules are in effect until the end of the game, after which players can tweet and Facebook away.
Offenders: White Sox manager Ozzie Guillen was fined $20,000 and suspended two games for a post-ejection Twitter rant in April. While many fans and followers suspected the outspoken manager would eventually get himself in trouble with his unfiltered comments on Twitter, his words weren't what landed him in trouble with commissioner's office, just his timing.
Major League Soccer
Policy: Some teams have social media policies, but the league does not have an official policy for players. However, players are told that anything they say is on the record and can be punished if they violate other league policies on Twitter.
Offenders: Houston Dynamo forward Brian Ching was fined $500 in 2009 for criticizing a referee on Twitter, an MLS no-no.
National Basketball Association
Policy: Use of cell phones and other electronic devices is banned during games. This period is defined as 45 minutes before tipoff until after media obligations have been completed. Players can use social media during pregame media access.
Offenders: Bucks guard Brandon Jennings was fined $7,500 for a postgame tweet that came before postgame interviews were completed. Interestingly, a Bucks player (then-Milwaukee forward Charlie Villanueva) was the first NBA player officially scolded for social media use, after tweeting at halftime. Villanueva was not fined since the league's social media policy did not yet exist. Mavericks owner Mark Cuban was fined $25,000 by the league in 2009 for -- shockingly -- comments he made on Twitter (he criticized a referee). Perennial NBA headache Gilbert Arenas was fined an undisclosed amount by the league in June for what he said were comments he made on Twitter. (The league confirmed the fine, but not the reason.)
National Football League
Policy: Players, coaches and operations staff cannot use social media less than 90 minutes before kickoff. Social media use can resume after traditional media interviews conclude. Updates to player accounts (by the player or anyone else) are prohibited, thwarting Chad Ochocinco's initial plan to signal Twitter updates to a fan in the stands.
Offenders: Ochocinco was fined $25,000 last year for tweeting 77 minutes before a Bengals-Eagles preseason game. Darnell Dockett, who rivals the Patriots' receiver as an NFL must-follow on Twitter, was fined $5,000 for a tweet he posted 20 minutes before the Cardinals-Rams game in September 2010. And the league isn't the only one levying fines. Antonio Cromartie was fined $2,500 by his then-team, the San Diego Chargers, in 2009 for criticizing the team's catering spread.
National Hockey League
Policy: The most recent sports body to adopt a social media policy, the NHL has a policy similar to the NBA's and NFL's stance. Players cannot use social media from two hours before faceoff until media interviews are completed. The policy also makes clear that players are as responsible for statements made in social media as in traditional media.
Offenders: Sure, the policy is just over a week old. It's still the preseason. And NHL players have been traditionally less active on social media than their other pro sports counterparts. But whatever way you spin it, so far, so good.
National Collegiate Athletic Association
Policy: The NCAA desperately needs one. The NCAA has rules that govern social media from a recruiting standpoint -- and even they are confusing. Coaches cannot send messages to recruits using social media technologies other than through their email function (apparently meaning a direct message or Facebook message). However, per the NCAA: Since texting is impermissible, if a coach becomes aware that a recruit has elected to receive direct messages as text messages on a mobile device, the coach must cease communicating with the recruit through the social networking site. The policy does not specify how coaches are supposed to know if a recruit is notified by direct messages via text or whether he/she checks them only on a laptop. Comments about recruits cannot be posted on a team or other program-affiliated social media page. While the NCAA doesn't have an official policy, a number of universities have social media rules and/or guidelines in place for their athletes. Those policies can vary from school to school, even from sport to sport within the same institution. Some coaches have gone as far as banning Twitter altogether.
Offenders: Maybe? Social media is part of the ongoing North Carolina investigation, where the NCAA alleges that the university failed to monitor athletes on social media. UNC argues that the NCAA doesn't require them to police players. The NCAA's authority to reprimand universities and players for social media use without a policy in place is debatable. Still, schools have doled out punishment for social media missteps. Oklahoma receiver Jaz Reynolds was suspended last season for "insensitive remarks" he made on Twitter. University of Idaho basketball player Kashif Watson was suspended indefinitely effectively ending his college career -- after criticizing his coach on Twitter.
Tennis (Women's Tennis Association)
Policy: The WTA doesn't have an official social media policy in place, but communicates guidelines to players about effective, professional and responsible social media use. By rule, players must inform WTA of tournament withdrawal before making a public announcement. Any public announcement -- including via social media -- before letting the organization know is grounds for punishment.
Offenders: To date, no one. Apparently, those guidelines are paying off.
Ultimate Fighting Championship
Policy: None. When asked about a social media policy, UFC President Dana White said, "We focus a lot of energy on educating and training our athletes on the benefits of social media, and we warn them about the possible dangers, too. We've embraced Twitter and Facebook like no one else in sports, and it's played a big role in our success. We don't find policies necessary."
Offenders: None. Come on, it would fly in the face of White's social media stance.
Taking matters into your own handle
Struggling to secure a sponsor, Spanish soccer team Valencia took matters into its own hands. Well, onto its own jerseys. The first-division team took the field against Barcelona last week with @valenciacf emblazoned across its chest as opposed to a sponsor logo.
While the Twitter handle is a placeholder until a company comes through, it's also providing a boost to the team's Twitter presence. Since the game, Valencia has seen its Twitter following jump by 10 percent, topping 38,500. Of course, Valencia still has a way to go to catch Barcelona. The most popular team in the world on Twitter, Barcelona boasts nearly 3.4 million followers between its English, Spanish and Catalan accounts.
Elsewhere in the social mediasphere
• EA Sports and PSE Promotions released an interesting video that looks at how EA Sports utilized social media in developing its NCAA football franchise video games. From using social media feedback, to figuring out the placement of the band in every stadium, to selecting cover athlete Mark Ingram via Facebook vote, EA sees the power in engaging fans of the real-world and digital college game.
• The International Olympic Committee has been making a major social media push to gear up for the 2012 London Games and beyond. In an effort to take those efforts fully global, IOC president Jacques Rogge participated in a live chat on Weibo, China's social networking site. According to Rogge, the IOC's social media efforts so far are only the beginning as the organization seeks to expand its use of Weibo, Facebook and Twitter.
Got a story we should feature? Have a site we should check out? Who's on your must-follow list? Tweet me at @BurnsOrtiz. If your idea gets mentioned in this column, so will you. Follow Page 2 on Twitter at @Page2.