Commentary
Uni Watch's 2011 NHL season preview
Originally Published:
September 29, 2011
By
Paul Lukas
| Page 2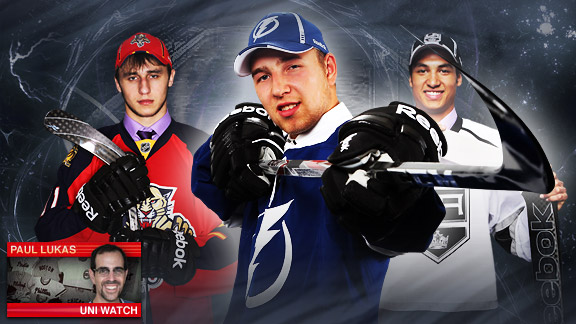 ESPN.com Illustration
With the NBA lockout still showing no signs of being resolved, the NHL has a golden opportunity to attract lots of extra eyeballs this season. Ah, but what will those eyeballs be looking at? That's where Uni Watch's annual NHL season-preview edition comes in.
One thing fans will be seeing a lot more of this year is the word "Reebok." The sportswear outfitter, which supplies all of the NHL's uniforms, used to put its vector logo on the back of each NHL jersey, but this season the logo has been replaced by the Reebok wordmark. Annoying, but at least it's only legible during tight close-ups.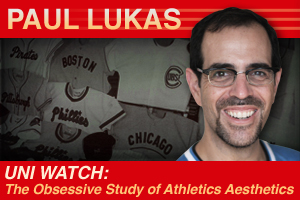 Another leaguewide change will be more visible from the front, not the back: Once the regular season starts on Oct. 6, all players will wear their uniform numbers on the front crown of their helmets, as well as on the back. The addition of the front number is supposedly to make identification easier for officials and the media.
Those are the only two NHL-wide changes this season. But plenty of teams have made changes of their own -- some minor, some decidedly major. Here's our annual team-by-team rundown of new jerseys, new patches and related items of visual interest, with the clubs listed alphabetically:
• No changes for the Avalanche, but here's their third-jersey schedule.
• The Blackhawks have the most complicated logo in the league, so their center-ice paint job is a bit more complex than most. Here's a great video clip showing this season's logo being applied. Also: With United Airlines and Continental Airlines having merged, the United Center is keeping its name, but the airline logo around the center-ice design has changed from United to Continental.
• No on-ice changes for the Bruins, but it's worth noting that they've redesigned their championship banners with era-appropriate team logos.
• The Capitals have re-designated last season's Winter Classic throwback as this year's third jersey. Full details, including a schedule of when they'll be wearing it, here.
• No uni changes for the Canadiens, but check out their new red line design! Sweet.
• The Coyotes have a really plain-looking 15th-anniversary logo, which they're using as their center-ice design. Apparently no plans to wear it as a patch.
• The Devils have a new 30th-anniversary logo. They won't be wearing it as a jersey patch, but expect it to show up in various promotional campaigns.
• The Ducks have posted their third-jersey schedule.
• The Flyers have changed their captains' and alternates' designations from orange to white. In addition, Philly will host this season's Winter Classic, to be played at Citizen's Bank Park on Jan. 2. Winter Classic teams usually wear throwback jerseys, but that may be a tricky proposition for the Flyers, whose current uniform is very close to their original 1967 design. But hey, maybe they could go back to this look!
• The Hurricanes are adding a memorial patch for Josef Vasicek, who was killed in the Sept. 7 Russian plane crash.
• The Islanders have added a 40th-season patch (odd that they're wearing it on the shoulder, which is where their archrivals, the Rangers, usually position their patches). The Isles are also slated to unveil a new alternate jersey, which has been the source of mucho speculation. At first this incredibly bad design was rumored to be the new look, but now Uni Watch is hearing that it's more sedate than that. In any case, Islanders fans can take heart in knowing that their team is the only NHL franchise with an official tattoo parlor.
MORE UNI WATCH
Can't wait for Paul Lukas' next Uni Watch column? Get a daily dose of uni-centric news on the Uni Watch Blog.
• So long, Thrashers; hello, Jets! Not the league's most exciting look, to be sure, but nothing to complain about either. Maybe they'll grow into it. Meanwhile, the Jets are adding a memorial decal for Rick Rypien.
• The Kings have flip-flopped the designations of their two black jerseys (the one with purple used to be the home, and vice versa), plus they have a sharp new road uni. In addition, the Kings will wear throwbacks on Dec. 10, Jan. 2, and Feb. 18, as part of their "Legends Night" promotion.
• The Lightning have changed their primary color from black to blue (here's how it looks on the road). As you can see, they've also simplified their look, supposedly because GM Steve Yzerman wanted the team to look more like his old club, the Red Wings. Uni Watch generally counts simplicity as a plus, but a certain cartoonish element had become part of the Lightning's identity over the years, and now that's largely gone. Objectively speaking, they look better, but they don't quite feel like the Lightning anymore. Also: Anyone else think it's a little weird to have a wordmark on one jersey but not on the other?
• The Maple Leafs have a new third jersey, modeled after the one they wore in the late 1960s. They'll wear it for their home opener on Oct. 6, and then 13 more times during the season. The jersey's full schedule is available here.
• Great news out of Edmonton, where the Oilers have gone back to their classic look for their road jersey. So much better without the apron strings!
• Good move by the Panthers, who've gone back to their roots by switching back to red at home. Even better, the apron-string striping on the road jersey is being removed.
• The Penguins have swapped out one throwback alternate for another. Here's the schedule of when they'll be wearing it.
• Big changes for the Predators, especially at home. Uni Watch isn't in love with the collarbone panels or the dual apron strings, but at least the side panels are gone. The road version is a bit easier to stomach, although those apron strings are still irksome, especially when viewed from the side. Other additions: a memorial helmet decal for Wade Belak, a logo-driven red line design, and a gold safety cap on the boards (instead of the usual red).
• The Rangers have added a memorial decal for Derek Boogaard. In addition, New York will be the visiting team in this season's Winter Classic. No news yet regarding a throwback uni for the game, but they have started using a retro team logo for the occasion.
• An annual rite of September is that scores of alarmed Red Wings fans flood Uni Watch's inbox with notes saying, "They've switched to straight, block-lettered player names on the back of the jerseys!" Fear not, Detroit fans -- the Wings do this every preseason. They'll go back to their standard vertically arched lettering once the games count. And in another preseason move, Pavel Datsyuk has been wearing No. 24 as a memorial salute to Ruslan Salei, who died in the Russian plane crash. He'll switch back to his usual No. 13 when the regular season starts.
• The Senators have added an All-Star Game patch, plus they now have a throwback alternate jersey.
• No photo yet, but the Stars have announced that they'll be adding a memorial helmet decal for Karlis Skrastins, who died in the Russian plane crash.
• The Wild are adding a dual memorial decal for Derek Boogaard and Pavol Demitra.
That's it for now. If you spot anything Uni Watch missed, you know what to do.
Paul Lukas will provide a separate rundown of this year's goalie masks and pads once the regular season gets under way. If you liked this column, you'll probably like his daily Uni Watch web site, plus you can follow him on Twitter and Facebook. Want to learn about his Uni Watch Membership Program, be added to his mailing list so you'll always know when a new column has been posted, or just ask him a question? Contact him here.