Commentary
NHL season preview with no negativity
Originally Published:
September 30, 2011
By
DJ Gallo
| Page 2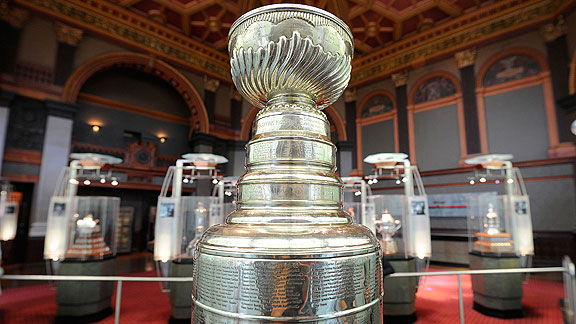 Frederick Breedon/Getty ImagesIt's the time of year when all 30 NHL teams have legitimate dreams of winning the Stanley Cup.
The NHL offseason was full of negative stories. But the regular season is here now, bringing with it, hopefully, a fresh start. With that in mind, here's a fun and positive news item for each of the 30 NHL teams to cleanse the palate of negativity.
Anaheim Ducks

The Ducks open their season in Finland, and Saku Koivu, who was born in Finland and still lives there, is very excited. But he says his teammates "are more concerned about the weather than anything else -- if it is going to be cold and snowing at the time. But we hope we get good weather and are able to enjoy the sauna and have some fun." Just some dudes having fun in a sauna in Finland. Good times.
Boston Bruins

Here is sand Tim Thomas. And here's corn Tim Thomas. Good stuff, but ice Tim Thomas is still probably the best.
Buffalo Sabres

The Sabres were selected to open the regular season in Berlin against the Kings. But Buffalo fans can still watch the opening games together at "Pucktobertfest" at First Niagara Center. In addition to watching the game on the arena video board, fans can enjoy food, traditional German dancing and the sounds of the Ausländers, dubbed "Buffalo's premier German band." Sorry, you're not invited, Buffalo's second-, third- and fourth-best German bands.
Calgary Flames

Calgary hosted the 2011 Heritage Classic. There won't be a Heritage Classic this season. Way to go breaking a nice thing, Calgary! Oh, wait. This is supposed to be all good news. Way to go hosting a Heritage Classic that was so great the NHL felt it had to take a year off from the event so the new host wouldn't be overshadowed by Calgary, Calgary!
Carolina Hurricanes

Hurricanes athletic trainer and strength coach Peter Friesen says Jeff Skinner, the reigning NHL Rookie of the Year, is a good eater: "He sits behind me on the plane, so I get a chance to see what he consumes late at night. Most of the other guys are chowing down on crappy food, and he's eating good food. It's very seldom you ever catching him not eating something healthy. He takes care of himself off the ice as well as on the ice." By the way, did you know that Carolina's RBC Center has not one, not two, but three Sausage Stop concession stands, specializing in grilled sausages and bratwurst? Delicious.
Chicago Blackhawks

Center Jonathan Toews is seen more as an offensive-minded center. But this year, he's looking to be more physical and has been laying kids out.
Colorado Avalanche

Peter Mueller missed most of last season with a head injury. This year, he's taking extra precaution by wearing a special Easton helmet that provides more protection at the temples and base of the skull. All hockey players should wear this helmet. As an added bonus, the Easton model looks nothing like this.
Columbus Blue Jackets

Goalie Steve Mason posted career lows in save percentage and shutouts last season. But he'll intimidate opponents this year with his new Civil War zombie mask. That mask gets extra crazy points because Mason is from Ontario, which I don't believe fought in the Civil War.
Dallas Stars

Dallas signed Mike Modano to a one-day contract, allowing him to retire as a Star. If only he hadn't signed a one-year contract with the Red Wings, the one-day contract wouldn't have been necessary. But I digress. Modano's contract was for $999,999. No wonder the Stars didn't bring Brad Richards back. They can't afford to pay him $365 million a season.
Detroit Red Wings

The Red Wings held an online vote in the preseason allowing fans to select six players who will be featured in bobblehead giveaways this year. Todd Bertuzzi was the final player selected. The fact that no one has any issue with Bertuzzi and a bobbling head in the same sentence is probably the final evidence that everyone has finally moved past the Steve Moore incident.
Edmonton Oilers

EA Sports' "NHL 12" game features a legends mode that allows players to put all-time greats such as Wayne Gretzky, Gordie Howe and Mario Lemieux on their team. Finally, a way for Oilers fans to have competitive video game teams.
Florida Panthers

The Panthers could have a very fun confrontation this year between draft pick Rocco Grimaldi and goalie Jose Theodore. Grimaldi recently tweeted this:
"Ladies, you can help us guys out big time. Put your boobs away and everything else that is hanging out. Guys have a hard enough time with […] that temptation without u helping it along."
That's a strong opinion. So I wonder what he thinks of Theodore's new mask that features a cat with a whole bunch of feline cleavage.
Los Angeles Kings

The best news of all for the Kings this year is that they traded Wayne Simmonds. Every game he plays now seems to result in a statement from some defamation league or another. L.A.'s rebuilding effort probably doesn't need that kind of distraction.
Minnesota Wild

This is an especially exciting season for Wild fans who are actually San Jose Sharks fans: Minnesota acquired Dany Heatley, Devin Setoguchi, Charlie Coyle and a San Jose draft pick in two separate deals. General manager Chuck Fletcher might have gotten a bit too excited by Discovery Channel's Shark Week.
Montreal Canadiens

Want to see the face of bilingualism? Click on Canadiens.com. Aaaah! Bilingualism kind of freaks me out.
Nashville Predators

The Predators tweaked their logo this year by, among other things, shading the teeth. Oh, sure. Its teeth are "shaded." Try that out on your dentist. "Honest. I don't need a root canal. What you think are cavities is just aesthetic shading."
New Jersey Devils

The Devils missed the playoffs last season, and Martin Brodeur seems to be on his last legs. But with the NBA locked out and the Nets moving to Brooklyn next year, the Devils will have Newark all to themselves. So that's good.
New York Islanders

The Islanders might not exactly get the best attendance in the NHL, but it's not for lack of trying. An Islanders fan recently got right wing Kirill Kabanov to fill in on his roller hockey team by messaging Kabanov on Facebook. According to The New York Times, this is how it was all set up:
Fan: "We're playing in Massapequa Park."
Kabanov: "I don't have roller skates."
Fan: "You don't need them. Come on down anyway if you can."
Kabanov: "OK. I'll come for sure."
Hey, if anyone needs a roller hockey goalie, the Islanders have one you can use through 2021.
New York Rangers

Rangers general manager Glen Sather is kind of awesome. Awesome at player acquisition? Eh. Debatable. What he's definitely awesome at is talking trash. Here he is at the news conference announcing the Flyers-Rangers Winter Classic -- a news conference held in Philadelphia, before Philadelphians, at Citizens Bank Park:
"We're gonna come to Philadelphia, and we are going to win. […] I've respected the fans in Philadelphia all the years I've been here. I'm sorry we kicked the hell out of you twice in the Stanley Cup and we're going to do the same thing on [Jan. 2] and at the end of the year we will be carrying the Cup, just like the Yankees are going to have the world championship, as well."
Ahhhhhhh, yeah. Two-sport slam.
Ottawa Senators

Ottawa has a new coach: Paul MacLean. He is undefeated as a head coach. This is the most positive season preview you will read for the Senators.
Philadelphia Flyers

Jaromir Jagr is back in the NHL, and there's nothing bad about that. His return is tinged with some sadness, however. Jagr was recently asked whether his mullet will also be returning to the NHL. Here is his answer: "When I had long hair, it was the style back then. My style. I don't think I will." Two things: (A) I want to cry; (B) no, it was not the style back then. Which is why it was awesome.
Phoenix Coyotes

Jerry Reinsdorf is trying to buy the Coyotes. Reinsdorf, who owns the Bulls and White Sox, would join Wayne Huizenga as the only three-team owner in sports history. If owning real teams is anything like owning fantasy teams -- and I'm sure it is! -- three is too many to keep on top of and soon all of them will start losing and missing out on good free agents. But, hey, at least the Coyotes will still be in business. It's the same thing I tell all 19 of my fantasy teams: "Would you prefer that I just fold the franchise? I thought not!"
Pittsburgh Penguins

Still depressed by Sidney Crosby's injury troubles? Evgeni Malkin's Twitter feed might cheer you up. The 25-year-old star recently began tweeting, and, at @malkin71_, you can find outstanding, inside information such as:
"Sid spent the first practice with contact….."
"Just jokes I bump Sid in faceoff today…))))"
"Lest go steelers!!!"
And: "Бог сказал: бойся слез об Иженно го тобой че ловека, ведь он будет п росить меня о помощи и я помояу…"
St. Louis Blues

Beaten down by years of failure, Blues fan? Don't stop believin'.
San Jose Sharks

This is an especially exciting season for Sharks fans who are Minnesota Wild fans: San Jose acquired Brent Burns and Martin Havlat in two separate deals. General manager Doug Wilson might have gotten a bit too excited watching "Man vs. Wild."
Tampa Bay Lightning

Lightning coach Guy Boucher instituted a no-fighting policy in training camp for intrasquad scrimmages. I share this just as a reminder that hockey is slightly different from most other sports. This isn't something you normally hear out of baseball spring training.
Manager: "OK, guys, I've decided there's no punching each other in the face this year."
Players: "Fine by us, skip. Fighting is too tiring anyway."
Toronto Maple Leafs

The Maple Leafs are planning to use a third sweater this year. Are you ready to see it? First sit down. And maybe put on a pair of sunglasses or poke a hole through a paper like you're looking at an eclipse. Are you ready? Here it is. Whoa. Dial it back a little there, Maryland Terrapins of hockey.
Vancouver Canucks

The Canucks have lost four times in six preseason games so far, yet there hasn't been a single riot. Progress!
Washington Capitals

The Capitals' flameout in the postseason is now an annual occurrence, but the team might have hit on a way to scare their playoff opponents this year: a wax Alexander Ovechkin. Aah! AAAAHHHHHH!
Winnipeg Jets

They exist again. As positive stories go, it's a good one.
DJ Gallo is the founder of SportsPickle.com. His first book, "The View from the Upper Deck," is available from only the finest bargain-book retailers. His next book project will be released soon. You can follow him on Twitter at @DJGalloESPN.