Commentary
Time for Rays fans to prove they care
Originally Published:
October 5, 2011
By
Jim Caple
| Page 2
It's easy to feel smug and superior to Tampa Bay fans, especially when the Rays can't sell out a postseason game (just 28,299 fans) even when they cover up thousands of seats with blue tarps. This definitely would not happen in Boston. I believe Fenway Park drew a crowd of 28,299 on Tuesday just to heckle Theo Epstein and pelt him with garbage.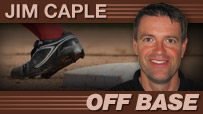 It probably wouldn't happen with a lot of other teams, either. But a lot of teams also have the benefit of decades upon decades of history, tradition and marketing. That makes a difference. Even if you're not old enough to have seen a bullpen cart in action or remember when ice cream was the ice cream of the future, your devotion to a team is due in large part to parents and grandparents, sportswriters and broadcasters, and scoutmasters and priests telling you that supporting your team is as important and an integral a part of being an American as paying taxes or hating the Yankees.
Remember, the Rays have only been around since 1998 and didn't have their first winning season until three years ago. I have yellow arm-pitted team T-shirts older than the Rays (and I wear them). I was rooting for the Giants almost 40 years before the Rays existed.
So it's only natural for fans to care more about teams that have been entertaining, exciting and disappointing fans for generations rather than months. It takes time to build a fan base. A team must build up your hopes and repeatedly break your heart before it's really, truly yours. Ticket sales and TV ratings aren't as accurate a measure of passion as scar tissue.
The Rays also had the misfortune of playing in the AL division series that TV deemed not ready for primetime. Not everyone can skip work or school to watch a baseball game at 2 in the afternoon. The times were inconvenient enough that I'm surprised the stadium marquee didn't read: "Puppet Show and Rays-Rangers.''
Further, the Rays became a good team just when the recession hit, so buying season tickets probably wasn't as important after the 2008 World Series as, say, paying the mortgage. And baseball doesn't help either by initially requiring fans to buy very expensive strips for all possible postseason games before offering single-game tickets.
But still. Twenty-eight thousand and change for a postseason elimination game? A 15 percent attendence decline for the regular season? For a team that has been in the postseason three times in the past four years? For a team that was coming off one of the most exciting regular-season finishes in history? No wonder Rays owner Stuart Sternberg was so down when he talked with reporters after Tuesday's loss.
Sternberg complained that four years of winning hadn't changed anything in Tampa, said he was frustrated by falling attendance and declining ratings, called the Rays' model "untenable'' and told the St. Petersburg Times "that eventually, major league baseball is going to vaporize this team.''
As if Rays fans didn't feel bad enough already.
What support do fans owe a team? That's difficult to answer. But here are a few thoughts:
• Fans are NOT required to help build a stadium for an owner, especially during a deep and lingering recession when we're closing schools and libraries. If a stadium makes so much financial sense, let the owner build the damn thing himself.
• Fans are NOT required to pay $50 per ticket and $25 for parking and $9 for a beer to see a team that hasn't been competitive since Prince Fielder weighed 115 pounds.
• Fans, however, ARE expected to support their team when it builds a winner the right way, signing and developing talented players who hit towering home runs, throw blazing fastballs, happily sign autographs and feed the homeless on their off-days. That doesn't mean you have to buy box seats behind home plate. You can buy the cheap tickets. You can buy tickets to see Evan Longoria and the real Moneyball team for less than a ticket to see Brad Pitt and "Moneyball'' in a theater.
• You don't have to outdraw the Yankees but when your team wins the division or wild card it would be nice if it outdraws the Marlins or the Royals. And when your team reaches the postseason, you should at least have enough tents lined up outside the ticket office to be mistaken for a Wall Street protest.
• And even if you can't afford a ticket, you MUST watch the team's games on TV or listen on the radio.
• You MUST care. And somehow you must show the team you care.
I sympathize with Tampa Bay fans. I grew up in Washington state, where we lost our first major league team (the Pilots) and endured multiple owners repeatedly threatening to move our second team. The Mariners played in a miserable dome, too. They lost year after year. We were told we were not a baseball town. We were even told that Tampa was a better area for baseball.
But then the Mariners had an incredible comeback in 1995, overcoming an even greater deficit than the Rays did and giving fans a September E-ticket ride that left the fans head over heels in love with the team. And the fans packed the Kingdome for the division series that is still regarded as the greatest week in team history.
That could have happened in Tampa in 2008. But it didn't. It could have happened this fall. But it didn't.
Look, I don't doubt the passion of Rays fans who love their team. And I don't question the wisdom of residents who choose not to pay major league prices to see the team. But I'm not the one who makes the decision on whether the team stays in the market.
CSI: BOX SCORE
You know the rules. You get a fragment from an old box score and the challenge of determining what game it is from and why it is significant. I give this one a difficulty rating of 6.0. (Hint: I'm featuring postseason games this month.)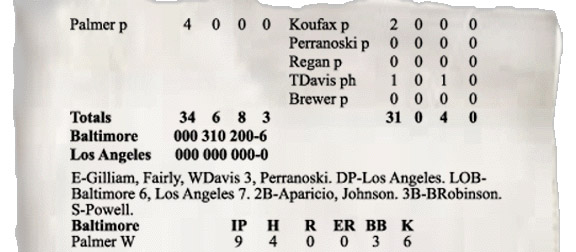 Kurt Snibbe/ESPN.com
YEAH, WELL, THAT'S JUST LIKE YOUR OPINION, MAN
This is where I deliver my annual screed comparing postseason baseball to "Monday Night Football." But I'll keep it short this time. In case you didn't stay awake, this week's MNF game ended after midnight and later than both baseball games that same night. How can the children ever grow up to become football fans?
[+] Enlarge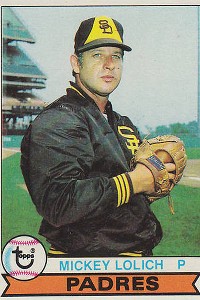 ToppsMickey Lolich owned his very own doughnut shop after retiring from baseball.
BASEBALL CARD OF THE WEEK
Mickey Lolich's player page on Baseball-Reference.com lists him at 6-foot-1, 170 pounds. Uh-huh. Lolich's best years were in Detroit but he was a hero to regular, hard-working guys everywhere. He won three games in the 1968 World Series and threw at least 300 innings in four consecutive seasons, including 1971 when he started 45 games and pitched 376 innings. What was his secret? Maybe it was pitching in a satin warmup jacket, as he is in this card (1979 Topps, No. 164). But I would like to think it was eating doughnuts, which he clearly often did during his career, and after -- Lolich owned a doughnut shop in Michigan for years after retiring from baseball.
BOX SCORE LINE OF THE WEEK
All but missed amid the wild-card drama last week was Arizona's incredible victory last Tuesday, when it gave up five runs in the top of the 10th inning and then scored six in the bottom of the inning when Los Angeles reliever Blake Hawksworth melted down (⅓ IP, 2 H, 4 R, 0 ER, 1 BB, 0 K). Then there were the ugly lines from Texas relievers Mike Adams (⅓ IP, 1 H, 1 R, ER, 3 BB, 0 K) and Koji Uehara (0 IP, 2 H, 3 R, 3 ER, 1 BB, 0 K) in the division series. But this week's award has to go to Adrian Beltre for his three-homer game Tuesday that tied the postseason record. His line:
4 AB, 3 R, 3 H, 3 RBI, 3 HR
BALLPARK RANKINGS
Turner Field, Atlanta. I haven't been to Turner Field for a while and I was hoping to see it again during the postseason to refresh my memory and see any changes. But as you might have heard, Atlanta didn't reach the postseason. Oh well. While it's one of the recent generation of stadiums, Turner Field earns extra points for having also been home (in a slightly different form) to the 1996 Olympics -- and trust me, you want Carl Lewis running in your stadium, not singing the national anthem or worse, throwing from the mound. Anyway, my memory is that it is a very good ballpark, right in the middle of the pack, which isn't a bad thing at all.
Current rankings:
1, PNC Park, Pittsburgh 98
2, Fenway Park, Boston 96
3, AT&T Park, San Francisco 94.
4, Camden Yards, Baltimore 92
5, Target Field, Minnesota 91
6, Wrigley Field, Chicago 90
7, Angels Stadium, Anaheim 89
8, Dodger Stadium, Los Angeles 88
9, Safeco Field, Seattle 87
9, Comerica Park, Detroit 87
9, Coors Field, Colorado 87
12, Kauffman Stadium, Kansas City 86
13, Petco Park, San Diego 84
14, Comiskey Park, Chicago 83
15, Turner Field, Atlanta 82.5
16, Progressive Field, Cleveland 82
17, Citi Field, New York 81
18, Minute Maid Park, Houston 80
19, Yankee Stadium, New York 79
20, Busch Stadium, St. Louis 78
21, The Ballpark in Arlington 77
22, Miller Park, Milwaukee 77
23, Chase Field, Arizona 76.5
24, Nationals Park, DC 76
25, Rogers Centre, Toronto 75
26, Oakland Coliseum 74
27, This Space For Rent, Florida 73
28, Tropicana Field, Tampa Bay 68
CSI: BOX SCORE ANSWER
There are two things that make this 1966 World Series box score noteworthy and give yourself credit only if you noticed both. The first clue was the three errors next to WDavis. Willie Davis not only made three errors in Game 2 of the series, he made them in one inning. The other thing you should have noticed was the matchup between Hall of Fame pitchers Jim Palmer and Sandy Koufax. Palmer, days short of his 21st birthday, was a rookie in his first postseason game. Koufax was the game's best pitcher and just 30 years old. But he also was suffering from arthritis in his left arm and he abruptly retired after the season. This was his final game.
Jim Caple is a senior writer for ESPN.com. You can follow him on Twitter at jimcaple.