Commentary
Who are the Super Bowl XLVI favorites?
Originally Published:
October 6, 2011
By
Sarah Phillips
| Special to Page 2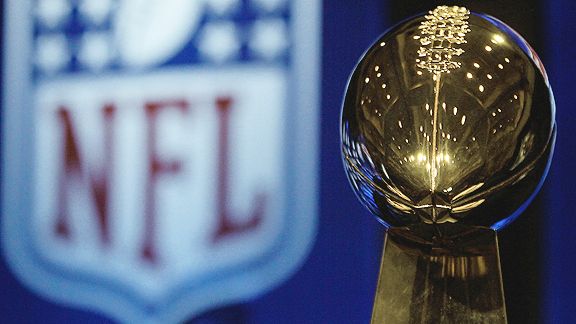 Jonathan Daniel/Getty Images
Each year, the greatest adjustment in odds to win the Super Bowl occurs at the beginning of October. The opening weeks of the season allow oddsmakers to assess teams more closely and adjust the lines accordingly.
Whose odds to win it all have vaulted?
Whose odds have plummeted?
Most importantly, which team do oddsmakers believe will be this year's Green Bay Packers?
Only on the board because all teams must have posted odds
Miami Dolphins (opened: 200-1; current: 550-1)
Denver Broncos (opened: 200-1; current: 550-1)
Carolina Panthers (opened: 200-1; current: 550-1)
Tony Sparano should consider switching out his game-day sunglasses for a blindfold when the Dolphins' defense takes the field. Miami's opponents have averaged 307 passing yards per game through four games. That weakness is compounded by the Dolphins' deficit under center. Quarterback issues are plaguing the Broncos, too. The biggest problem? Their controversy is between Kyle Orton and Tim Tebow! When a fullback is Plan B at quarterback, you're not in good shape. I can only imagine what Denver would give to have Cam Newton. Carolina may be having troubles this season, but Newton is on pace to have the most impressive 3-13 season of any quarterback in NFL history.
The Peyton Manning asterisk
Indianapolis Colts (opened 8-1; current: 550-1)
The Colts are 0-4. Since 2008, Indianapolis has averaged four losses per season. That's worth a few write-in MVP votes for Manning in my book.
Nobody believed in them to begin with, and that's still the case
Jacksonville Jaguars (opened: 175-1; current: 400-1)
Seattle Seahawks (opened: 175-1; current: 400-1)
Arizona Cardinals (opened: 175-1; current: 400-1)
Cleveland Browns (opened: 175-1; current: 400-1)
Jacksonville ranks 32nd in passing yards, and Seattle ranks 31st in rushing yards. I doubt you could combine these two rosters and assemble a playoff team.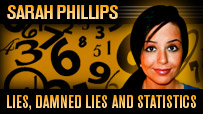 The situations in Arizona and Cleveland are just as bleak. Kevin Kolb was essentially advertised as the next Peyton Manning to Cardinals fans. Little did they know they were getting the rookie version of Manning and not the 2004-06 vintage.
Why is everyone waiting for the Madden curse to hit Peyton Hillis? He already plays for the Browns.
Overachieving underachievers
Cincinnati Bengals (opened: 175-1; current: 400-1)
If the Bengals' offense (ranked 23rd in passing and 13th in rushing) can catch up to the defense (No. 3 against the pass and No. 7 against the run), Cincinnati can make some noise this year. Paging Carson Palmer ...
Knocking off early
Minnesota Vikings (opened: 60-1; current: 300-1)
In the first halves of their games, the Vikings have outscored opponents 61-16. Conversely, they have been outscored 80-16 during the second halves. Seriously, what does Leslie Frazier say during his halftime speech? "Guys, think about everything we did right in the first half. In the second half, we're going to really surprise 'em and do the opposite. They'll never see it coming!"
Teams that tricked us into believing they were ready to contend
St. Louis Rams (opened: 50-1; current: 200-1)
Kansas City Chiefs (opened: 25-1; current: 200-1)
It's easy to wonder if poorly performing teams are tanking for the No. 1 pick in the draft. It's far more comforting to think your favorite team is deliberately crappy. But with Kansas City and St. Louis, maybe your favorite team just stinks. The Rams are No. 32 against the run this season, and their offense ranks near the bottom of the NFL in rushing and passing. The Chiefs can't stop the run or pass the ball. Sorry, Kansas City and St. Louis fans. I feel like I just told a 5-year-old that Santa Claus isn't real.
Wild card ... or straight flush?
Oakland Raiders (opened: 75-1; current: 65-1)
Washington Redskins (opened: 75-1; current: 65-1)
Tennessee Titans (opened: 60-1; current: 65-1)
Tampa Bay Buccaneers (opened: 50-1; current: 65-1)
The Super Bowl odds on the Raiders, Redskins, Titans and Bucs are drastically impacted by the Chargers, Giants, Texans and Saints. Oddsmakers have San Diego, New York, Houston and New Orleans as heavy favorites to win their divisions, which would push Oakland, Washington, Tennessee and Tampa Bay into the wild-card race. But don't forget that the Packers won the Super Bowl last season as a No. 6 seed.
Wanted: offensive linemen
Chicago Bears (opened: 15-1; current: 60-1)
Pittsburgh Steelers (opened: 8-1; current: 60-1)
Jay Cutler was sacked 52 times last season, most in the NFL. Ben Roethlisberger is on pace to be sacked 56 times this year. I might be going out on a limb here, but oddsmakers must think it's difficult to quarterback a team to the Super Bowl from your backside.
Long-shot homer tickets that have life
San Francisco 49ers (opened: 200-1; current: 40-1)
Buffalo Bills (opened: 200-1; current: 40-1)
Every year, some fans bet on their favorite teams to win it all at ridiculously long odds. Once in a while, those tickets pay off. This season, Buffalo and San Francisco are the teams most likely to trigger something like that. It will become a legitimate possibility if San Francisco can fill its offensive gaps (29th in passing and 22nd in rushing), or if Buffalo can do the same on defense (25th in passing and rushing defense).
Incidentally, the longest odds paid out on Super Bowl winners were the 1999 St. Louis Rams, who were 300-1 to open the season, and the 2001 New England Patriots, who were 450-1 entering Week 5 with a 1-3 record.
The worst dream team -- ever
Philadelphia Eagles (opened: 6-1; current: 35-1)
The Eagles' season is running the same course as those of other recent superteams -- the Miami Heat and Boston Red Sox. Similar to the Heat and Red Sox, the Eagles have struggled early. Especially similar to Miami, the Eagles have been outscored 36-0 in the fourth quarter during their three-game losing streak. I expect Philadelphia to have a momentum surge, regain support as a Super Bowl favorite and then abruptly collapse -- just like Miami and Boston did.
Pretending contenders
Dallas Cowboys (opened: 10-1; current: 30-1)
Atlanta Falcons (opened: 9-1; current: 25-1)
New York Jets (opened: 8-1; current: 25-1)
There are more questions than answers with these three teams. Can Tony Romo win more games for his team than he does for opponents? Why did the Falcons go all in on Julio Jones despite needs in their defensive secondary? Is Mark Sanchez a quarterback or an underwear model?
Transformers
Houston Texans (opened: 30-1; current: 12-1)
Detroit Lions (opened: 60-1; current: 12-1)
If Calvin Johnson is Megatron, then Andre Johnson is Optimus Prime, and the Lions and Texans have morphed from mediocrity into Super Bowl contenders. But Calvin and Andre can't do it all by themselves. Detroit's Nate Burleson and Houston's Jacoby Jones must become household names if their teams are going to make deep playoff runs. If my mom recognizes Burleson and Jones by December, Detroit and Houston will have reason to celebrate.
Las cucarachas
New York Giants (opened: 15-1; current: 10-1)
San Diego Chargers (opened: 9-1; current: 9-1)
Baltimore Ravens (opened: 9-1; current: 9-1)
New Orleans Saints (opened: 9-1; current: 17-2)
The Chargers rank statistically among the best offenses and defenses in the NFL. The Ravens run the ball well and shut teams down defensively. The Saints attack teams through the air, but are also vulnerable defensively through the air. The Giants find unorthodox ways to win. (See: the Victor Cruz rule evoking David Tyree's helmet catch.) Opponents have tried a variety of pesticides and exterminators, but just can't get rid of these four teams. The Giants, Chargers, Ravens and Saints remain among the odds-on favorites to win Super Bowl XLVI.
Patriotic dichotomy
New England Patriots (opened: 6-1; current: 9-2)
It has been said that the best defense is a good offense. Oddsmakers seem to agree. The Patriots currently rank dead last in the league in passing defense, but No. 1 in passing offense. Apparently, the dominance of the New England offense is enough to mask the futility of the Patriots' secondary, because Brady's bunch currently sits as one of the two championship favorites.
Say cheese
Green Bay Packers (opened: 6-1; current: 15-4)
While everyone was seemingly fixated on the Eagles' acquisitions, the Packers might have enjoyed a better offseason simply by welcoming back a healthy Jermichael Finley and Ryan Grant.
The Packers are the most balanced team in the NFL. Aaron Rodgers is the top-rated passer in the league, and Green Bay ranks fifth in total offense. On defense, the Pack ranks among the league leaders in forcing turnovers, and is No. 2 against the run. It's a lethal combination.
If the Packers repeat this season, Rodgers could begin throwing one imaginary championship belt over his shoulder prior to fastening the original around his waist to signify multiple championships.
So, who do oddsmakers believe will be this year's Green Bay Packers?
The Green Bay Packers, of course.
This week's NFL picks
All games are Sunday unless otherwise noted.


Bears at Lions, Monday, 8:30 p.m. ET, ESPN
An optimist would view the last two Lions games and applaud Detroit for overcoming deficits of 20 and 24 points. A pessimist would wonder how Detroit was down 20 points to the Vikings and 24 to the Cowboys. I'm going with the glass-is-half-empty approach. With the Packers and Lions both 4-0, the Bears must capitalize on head-to-head scenarios if they intend to make the playoffs. The underdog is 10-4 against the spread in the past 14 meetings, and the road team is 5-2 in the past seven meetings between these two teams. Now, if Chicago can just find someone to block Ndamukong Suh.
Pick: Bears (+6½)


Jets at Patriots, 1:15 p.m. ET, CBS
The Patriots should win, but a 10-point line is tough to gauge. The total number provides more value. There are plenty of ways for this game to go over 48½ points: Tom Brady throws for seven Patriots touchdowns; Mark Sanchez fumbles for seven Patriots touchdowns; Vince Wilfork runs back seven interceptions for Patriots touchdowns; the shoddy New England secondary gives up seven touchdowns -- or some combination of all four. The over is 17-4-1 in the Jets' past 22 road games and 4-0 in New England's past four AFC East games. More importantly, the Patriots and Jets have combined to go over the total number each of the past four times they've met.
Pick: Over 48½


Packers at Falcons, 8:20 p.m. ET, NBC
If Atlanta has any hope to compete in this game, it needs to avoid a shootout. With the expected total score set at 53½ points, the under has much more value for Falcons backers than the point spread. Green Bay is set as a 5½-point favorite -- a number that offers little value for Atlanta fans but is extremely favorable for taking the under. The under is 7-2 in the Falcons' past nine games as an underdog of 3½ to 10 points and 4-0 in the Packers' past four games as a road favorite of 3½ to 10 points.
Pick: Under 53½


Buccaneers at 49ers, 1:05 p.m. ET, Fox
When Jim Harbaugh took over as head coach in San Francisco, it was speculated that the 49ers might tank in order to draft his former college quarterback, Andrew Luck. Apparently, Harbaugh didn't get the memo. San Francisco is 3-1 with a two-game lead atop the NFC West, and Alex Smith might consider creating a line of "Andrew who?" merchandise. Cross-country trips have been difficult in this series, with the home team going 6-1 both outright and against the spread in the past seven meetings. With a win this week, San Francisco will be only three wins away from clinching a division title!
Pick: 49ers (-1)
This week's college picks
All games are Saturday unless otherwise noted.


No. 3 Oklahoma vs. No. 11 Texas, noon ET, ABC
Oklahoma is the superior team, and the Sooners will win. That said, the recent history of Oklahoma trying to cover the spread in the Red River Rivalry has been less than stellar. Oklahoma is 1-4-1 against the number in its past six games against Texas. This is compounded by the fact that Oklahoma is 0-5 against the spread in its past five neutral-site games as a favorite of 3½ to 10 points. Sooners fans will have to settle for a win without the rout.
Pick: Texas (+10)


No. 17 Florida at No. 1 LSU, 3:30 p.m. ET, CBS
I could basically write the same breakdown for this game as for Oklahoma-Texas. LSU is the superior team, and the Tigers will win. But, as difficult as it may seem with the Gators missing John Brantley under center, the trends point against LSU covering the spread. Not only is the road team 8-2 against the spread in the past 10 meetings between these teams, but Florida is 6-0 covering the number in its past six meetings in Louisiana. Plus, LSU is 1-6 against the spread in its past seven games as a home favorite of 10½ points or more. The Gators lose but get the cover by channeling their inner Tebow.
Pick: Florida (+14)


No. 15 Auburn at No. 10 Arkansas, 7 p.m. ET, ESPN
Most pundits and fans, including myself, were ready to bury Auburn after Cam Newton and Nick Fairley left for the NFL. We were shoveling dirt on the Tigers' grave when they almost lost to Utah State in their opener. Now Auburn is sitting at 4-1 after an upset win at South Carolina. But I still don't believe in this year's Tigers. Nor does Vegas, and you probably don't either. I fully expect the explosive Razorbacks to enjoy a lopsided win. Arkansas is 6-1 against the spread in its past seven games as a favorite of 3½ to 10 points. Meanwhile, Auburn is 1-4 against the spread in its past five games as a road underdog of 3½ to 10 points.
Pick: Arkansas (-10)
Last week's picks: 6-2
Season record: 27-20-1 (57.4 percent)
Sarah Phillips is a featured columnist for the sports betting information website Covers.com.
You can follow her on Twitter @RealSarahPHI.