Commentary
Varsity Tailgate's West Virginia fan quiz
Originally Published:
October 6, 2011
By
DJ Gallo
| Page 2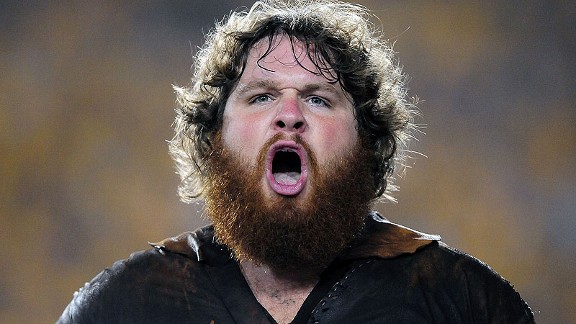 Andrew Weber/US PressiwireThe Mountaineer is there on game day. Coach Dana Holgorsen wants to know what the fans' excuse is.
West Virginia coach Dana Holgorsen ripped into his fanbase at his news conference this week because only 46,603 fans turned out for the Mountaineers' home game against Bowling Green this past Saturday in bad weather -- 15,453 fewer than the turnout the previous week for LSU.
Said Holgorsen: "So whatever our expectations are with our players as far as preparing every week and going to the game and playing their best, I highly encourage our students and our support to take the same approach. You only get seven opportunities a year. What's so hard about it? Is it too cold? It wasn't too cold for our players. It wasn't too cold for our coaches or managers or trainers. They were out there. So why did we have 20,000 people less at this one than we did last week?"
And this: "All I heard about was how much this [team] meant to everybody across the state of West Virginia: This was the NFL team in town, and we're going to be here to support you. Well, having 40,000 people at a game isn't doing that. … We do our best every week to fix what the problems are offensively, defensively and special-teams-wise. Well, what's everybody across the state of West Virginia, including the student body, doing to fix the fact that our players had to play in front of 40,000 people?"
And he went on from there.
Is Holgorsen right? Should fans be as dedicated to a team as the players and coaches?
Or should fans be well-rounded? As former West Virginia and Michigan coach Rich Rodriguez said in 2008: "It's amazing some of the things that people would say [on a message board] or yell at you of a personal nature. You almost want to tell them, 'Get a life.' There's a whole lot bigger problems. Look at the economy."
What kind of college football fan are you? Are you the kind Holgorsen demands or the kind Rodriguez wants? Take this five-question quiz to find out.
1. How much do you love college football?
A) I love college football! WOOOOOO!
B) I love college football, but I also enjoy other sports, such as college basketball and the NFL.
2. What is the best part of tailgating?
A) Tailgating is nothing compared with the game itself.
B) The whole scene: the atmosphere, the food, hanging out with friends, and the game experience, too.
3. You have a midterm on Monday. Your team is playing a cupcake at home on Saturday. Do you go to the game?
A) The players are there, aren't they? Grades be damned. Gotta support the team!
B) Probably not. I'd study while watching the game in my dorm room.
4. What percentage of your wardrobe is in your team colors?
A) All of it.
B) Less than all of it.
5. Is college football the most important thing in the world?
A) Of course.
B) Of course not.
Score: If you answered A or B to any of the five questions, you are the well-rounded fan Rich Rodriguez appreciates. If you instantly decided the quiz was a waste of time and left the computer to go paint your face and do a keg stand, you are the dedicated fan Dana Holgorsen appreciates.
---


Game of the Week
No. 3 Oklahoma vs. No. 11 Texas -- noon on ABC
Regular-season games don't get any bigger than this. This week, Mack Brown called Oklahoma-Texas a "bowl game at midseason." He continued: "It's a tremendous ballgame. It's one that players from all over the country come to play in. There is really nothing like it. Players become heroes, or, if they have a tough game, it's one that people remember forever."
On the other hand, regular-season games are all the same. This week, Bob Stoops called Oklahoma-Texas "another game." He continued: "Missouri -- that's a big game. Florida State -- going down there and playing wasn't an easy road. This is another one. Those other two games have also set a tone, and this one will, as well. It's the next one and it's the fifth game and you've got to keep building on them."
So it's decided. This is most definitely a football game.


Another Game of the Week
No. 17 Florida at No. 1 LSU -- 3:30 p.m. on CBS
LSU quarterback Jarrett Lee had his worst game of the season this past week, hitting on just 8 of 21 passes. But Jordan Jefferson is back now that his felony battery charge has been reduced to a misdemeanor by a Baton Rouge grand jury. Great timing. In Baton Rouge, that jury is the grandest of them all.

Cupcake of the Week
UAB
Mississippi State opened the season ranked 20th in the country. The Bulldogs are no longer ranked 20th in the country. They are 2-3 and already have three losses in conference play. So it's great timing for Dan Mullen to head to Birmingham to play the 0-4 Blazers. UAB is averaging 14 points a game so far this year, has yet to register a passing touchdown and lost 39-0 in its other game this season against an SEC opponent. It's probably safe to say that the Blazers are not being considered as the SEC's 14th member. Although Mississippi State probably would happily welcome them to the SEC West.


Rivalry Game of the Week
No. 24 Texas A&M at Texas Tech, 7 p.m. on FX
The Red River Rivalry is obviously the biggest rivalry game of the week, but that contest already received the prestigious "Varsity Tailgate Game of the Week" designation. So let's make this game the nearly-as-prestigious "Rivalry Game of the Week." Agreed? Agreed.
Texas A&M (which is 2-2 and ranked, and Texas Tech is 4-0 and unranked … Goooooooooo, college football logic!) doesn't consider the Red Raiders to be a rival on par with Texas. Whereas Texas Tech has a statue on campus of a horse, and the horse's butt reportedly points exactly in the direction of College Station. Advantage: Texas Tech.


Another Rivalry Game of the Week
Georgia at Tennessee, 7 p.m., ESPN2
Despite poor starts, Georgia and Tennessee still have a shot at winning the SEC East. The winner of this game will be the team that is the fastest while limiting mistakes. Advantage: Tennessee.

Heisman Candidate in the Crosshairs
Tyrann Mathieu, CB, LSU
Around this time every year, people start thinking: "Wouldn't it be crazy if a defensive player won the Heisman?" And, yes, although that would be completely insane, someone like Ndamukong Suh or Patrick Peterson starts getting some buzz nonetheless.
This year's defensive Heisman candidate is Tyrann "Honey Badger" Mathieu. But, unlike Suh and Peterson, his candidacy might actually be legit because he has two distinct advantages:
1) He has a Heisman promotional video that already has 18 million views on YouTube (Note: contains naughty words).
2) LSU has a quarterback controversy, meaning Honey Badger can clinch the award by taking some snaps at quarterback, the official position of the Heisman Trophy.

Mascot Fact of the Week
From Honey Badger to Badgers -- there are only three colleges in the country with Badgers as the nickname for their sports teams: Johnson State College in Vermont, Spring Hill College in Alabama and No. 4 Wisconsin. Unfortunately, Johnston State and Spring Hill don't have football teams, and this thing looks like some sort of unholy skunk/raccoon hybrid. Tough break, badgers.
Tailgate Tip of the Week
Get yourself some Drink Dazzlers! For only $10, you can put a charm necklace on your red cup or bottle to let people know that your drink is the one that's dressed up for a night on the town! There are even sports-themed Dazzlers. See? Totally tough, at least as far as drink jewelry goes. Thanks to Drink Dazzlers, all you need to give up is 10 bucks and your dignity to ensure that never again will someone steal your 13-cent red cup.

Quote of the Week
"Somebody called up and said I should be back swaggering. Pretty tough to swagger on a cane. But I'm good now. I'm going to be swaggering all over the place [Saturday]. Don't get in my way." -- Joe Paterno
What? Tough to swagger on a cane? Joe Paterno's knowledge of '70s pimps is quite lacking.

Greatest Conference Ever of the Week
SEC
In its out-of-conference games in Week 5, the SEC went 3-0 with wins over ranked Texas A&M, unranked Fresno State and extremely unranked Buffalo. The conference also reportedly is being petitioned now by Missouri, whose board of curators voted unanimously to consider leaving the Big 12. Ooooh! Missouri has a board of "curators". That's a fancy museum school right there. The SEC had better snatch the Tigers up before they decide to go to France to study post-impressionist football.

Worst Conference Ever of the Week
Big Ten
Penn State barely got by Indiana; Minnesota lost 58-0 to Michigan to again make its case for being the worst BCS team in the country; Ohio State lost again; Wisconsin destroyed Nebraska; and Purdue lost by 28 at home to Notre Dame. If the Big Ten ever reconsiders its division names, "Wisconsin" and "Everyone Else" might be a good idea.
Stat of the Week
6
It's Week 6 of the season and the first week teams can become bowl eligible with a sixth win. Seven teams could wrap up bowl spots this week: Alabama, Clemson, Georgia Tech, Houston, Illinois, LSU and Michigan. I hope the bowl-clinching rioting on those seven campuses will not spiral out of control.

Coach on the Hot Seat
Bob Toledo, Tulane
Toledo is 2-3 on the season -- including a 21-point loss to Duke (Duke!) and a 45-6 loss to Army -- and is just 15-38 in five years at Tulane. This week, the Green Wave play 3-2 Syracuse.
If you think Toledo might soon lose his job, you can buy his house, which has been on the market since May. He says he's downsizing, not planning to get out of town. So you can assume Toledo will be taking his hot seat with him to his next residence.
Player Name of the Week
Cool Battle, LB, UVa-Wise
His name is Cool Battle. I don't think I really have to write anything else.
Coach Name of the Week
Dewey Lusk, coach, UVa-Wise
And he looks like a Dewey Lusk. UVa-Wise might be only an NAIA football program, but it's BCS-quality when it comes to entertaining names.
(Thanks to reader Tom M. for the UVa-Wise name knowledge. Have a good football name or funny tailgate photo you want to submit? Send it to VarsityTailgate@gmail.com.)
Stone Cold Lock of the Week
The teams that get their sixth win this week will get congratulatory postgame calls from December bowl game directors. They will let these calls go to voice mail.
DJ Gallo is the founder of SportsPickle.com. His first book, "The View from the Upper Deck," is available from only the finest bargain-book retailers. His next book project will be released soon. You can follow him on Twitter at @DJGalloESPN.