Commentary
How to be a pro bullfighter
Dusty Tuckness could have played football in college. Instead, he turned to the rodeo.
Updated:
October 17, 2011, 12:48 PM ET
By
Dusty Tuckness, as told to Ron Feemster
| ESPN The Magazine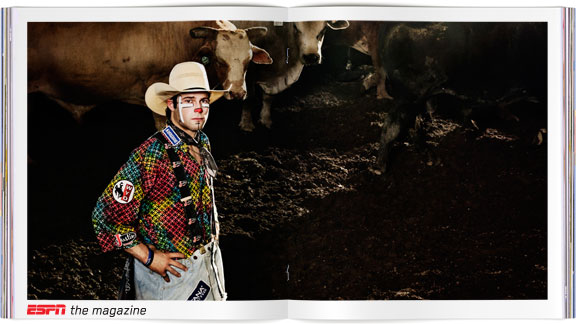 Dustin Snipes for ESPN The MagazineThat's no clown suit -- Dusty wears pads and knee braces to prevent injuries.
This story appears in the Oct. 17 issue of ESPN The Magazine.
Stepping between a bucked bull rider and an 1,800-pound beast requires courage and super-speedy reflexes. Dusty Tuckness has both, which helped him become the Pro Rodeo Cowboy Association's 2010 bullfighter of the year.
---
1. NEVER TRUST A BULL. "Our job is to save the cowboys. The stakes are high; a bull can wipe us out at any moment. So I approach every animal like he's the baddest bull I'll ever face. At the same time, I'm also confident in my own abilities and know that I can outmaneuver them all."
2. IT'S LIKE FOOTBALL BUT WITH A BIGGER, MEANER OPPONENT. "I played high school football and was good enough to play in college. I ended up choosing the rodeo instead, but a lot of the same conditioning and footwork from football still applies, such as the cuts I made as a running back. I still have an opponent to beat, after all -- even if he does weigh about 1,500 pounds more than a linebacker."
3. MAINTAIN YOUR COMPOSURE. "Nothing is more important than being calm. A lot of guys worry about what could happen and start to get hesitant, and then all of a sudden something awful happens. By the time stuff starts going through my mind, I'm usually beneath the bull and it's too late to think."
4. INJURIES COME WITH THE JOB. "If I keep a cowboy from getting hooked, I'll dang sure get hooked instead. And I've been hooked in some weird places. I've broken my ankles, ribs, hands, fingers and even my big toe. The worst was when I got knocked out after a blow to the jaw. In general, though, I'm always going for the bull's head. Having him be able to see me and feel me is how I protect myself."
5. THIS IS NO CLOWN SUIT. "I wear knee braces and bullfighting shorts to prevent injuries. The shorts have pads on the thighs, hips and tailbone, sort of like a football girdle. I'll still feel it when a bull hits me, but it absorbs some of the shock. My head is the one part of my body I keep away from the bull. Everything else I'll let get beat up."
6. ENJOY THE ADVENTURE OF IT ALL. "I love jumping over a charging bull. That's just me; the meaner the bull, the more fun I have. People don't usually understand that attraction, but I love doing what I do every day. This is my career. Thankfully, it's fun."
Follow ESPN The Magazine on Twitter, @ESPNmag, and like us on Facebook.
ESPN The Magazine: October 17, 2011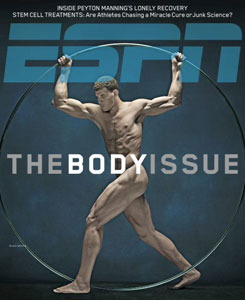 Features
Columns & Go/Play