Commentary
Lock Haven won't bow to losing streak
Originally Published:
October 14, 2011
By
Doug Williams
| Special to Page 2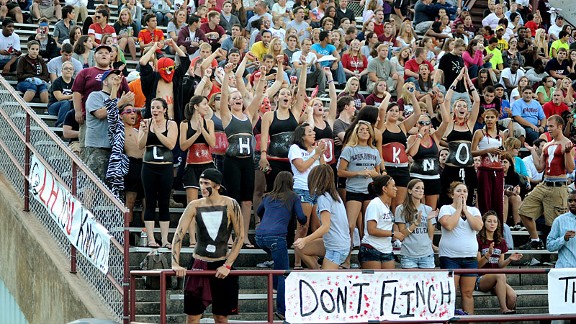 Nate Wilson/Lock Haven Express Lock Haven fans packed Hubert Jack Stadium at the 2011 opener and narrowly missed seeing a win.
[Editor's note: This story has been updated to reflect Lock Haven's loss on Oct. 15.]
The view from Hubert Jack Stadium is a thing of beauty.
Nestled atop a hill, the stadium is surrounded by tall trees whose leaves change to myriad shades of orange, red and yellow each fall. From the bleachers, football fans can look across the field and down past lush Pennsylvania hills to the town of Lock Haven and the west branch of the Susquehanna River.
It is, says Tom Fox, the sports editor of the Lock Haven Express, "a gorgeous place to watch a game."
What's been happening on the bright green turf the past few years, however, hasn't been so pretty.
The Lock Haven University Bald Eagles have lost 38 consecutive games, the longest active losing streak in college football, no matter the level.
For decades, this Division II school -- which has been playing football since 1896 -- has struggled, with just five winning seasons since 1960. Its last winning season was 1981, and its last conference title came in 1979.
But this stretch has been the worst.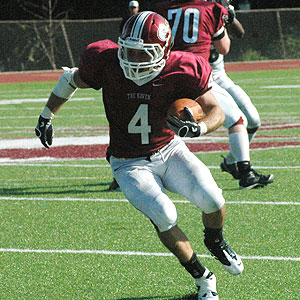 Lock Haven University With 89.2 rushing yards per game, Brandon Brader ranks sixth in the 16-team Pennsylvania State Athletic Conference through five games this season.
The last time "The Haven" won a game was Nov. 10, 2007, when a field goal in overtime produced a 17-14 victory over Clarion in the season finale, ending a 12-game winless streak and preventing an 0-11 season.
Without that win, Lock Haven would be in the midst of a 51-game losing spiral.
Senior quarterback Jarryd Burkett is a four-year starter, having won the job in the second game of his freshman season of 2008.
He's played in 38 games ... and lost 38 times.
"Frustrating is a good way to put it," he says. "Every year you come out of the season and you look back at things we missed: fourth-and-1, fumble, get in the red zone five times in a game and only come away with two field goals. I mean, every year you look back. ... It's been a long four years."
It got so bad after last season that when coach John Klacik resigned to become offensive coordinator at Division I Miami (Ohio), several newspaper reports indicated the school was contemplating dropping football or switching to sprint football, a niche sport played by some schools in which no player weighs more than 172 pounds.
Athletic director Sharon Taylor denies that killing the program was ever discussed. But, she says, "We needed to change or fix it." So, a new coach was hired, fundraising efforts multiplied and football was given a vote of confidence by the new school president.
However, this will be no quick fix.
The Bald Eagles are 0-6 under new coach John Allen, and three recent losses came by scores of 54-6, 54-13 and 42-3.
Although they barely lost their season opener, 21-20 to Millersville in front of a full, energized home crowd hungering for a win, the streak lives.
"I know that as much of a story as [the streak] is, it is what it is," says Allen, who gets points from everyone for resurrecting a positive attitude in the program. "It's a number. And as far as I'm concerned, I'm not part of the streak. I'm just hopefully the guy that's going to end it at some point."
Losing the numbers war
The numbers are a bit staggering.
Since the streak began, Lock Haven has had seasons of 0-11, 0-10, 0-11 and 0-6 (so far) while being outscored 1,537-339 and being shut out 10 times.
With two more losses, the Bald Eagles will break the Pennsylvania State Athletic Conference record of 39 consecutive defeats set by Cheyney.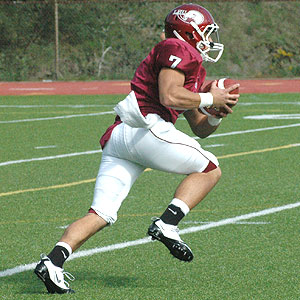 Lock Haven UniversityJay Hartman led the Bald Eagles with 52 catches, six touchdowns and 660 receiving yards in 2010, and he serves as the team's primary kick and punt returner.
They still have a ways to go before they get to the Division II record of 46 set by Minnesota-Morris in 2003 or the all-time college mark of 80 set by Prairie View from 1989 to '98.
Burkett isn't quite sure when the streak will end, but he knows a victory is coming.
"I'm 100 percent confident," he says. "I don't have any doubt."
Burkett and his teammates talk about what they'll do when they win their first game.
He's not quite sure what it will feel like -- he gets chills just talking about it -- but he says, "The big joke is, when we do get that win, the whole town's going to shut down. There's going to be a super ruckus."
Count Steve Suriano among the hopeful, too. Suriano, a former Lock Haven nose tackle who now coaches football at Shawnee High in New Jersey, is the father of freshman linebacker Nick Suriano. He's also the president of the Lock Haven University Huddle Club, a group of players' parents formed at Allen's urging.
Each week, Steve Suriano has made the long drive to Lock Haven or its opponent's stadium to watch the Bald Eagles play. He always takes a bottle of champagne, ready to pop the cork.
"I brought two [for the game before last]," he says, laughing, "because I'm thinking, hey, we've got a chance. They're 0-5; we're 0-4. I actually brought two bottles. Had them left over from New Year's."
The bubbly stayed in the bottle. Winless Clarion beat Lock Haven 54-6.
The reasons
So how did it get this bad?
For years, the Bald Eagles have been overmatched, more prey than predator.
Size: Lock Haven plays in the Pennsylvania State Athletic Conference, a 16-team Division II grouping that includes some of the best D-II programs in the country; three are currently ranked in the top 20. Lock Haven, with an enrollment of just more than 5,000, is the third-smallest school in the PSAC.
Scholarships: In 1980, schools in the PSAC voted to move from Division III to D-II, which meant Lock Haven went from being a nonscholarship athletic program to one with scholarships. Since then, Taylor says, Lock Haven's small-school status has become even more pronounced. As a state school (as are most in the PSAC), Pennsylvania law does not permit state funds to be spent on scholarships, so that money must come from alumni, boosters and fundraising programs. Until 2007, the PSAC had a cap on football scholarships at about 30 "equivalencies" per team, but Lock Haven generally could afford 10 or fewer, Taylor says. Then in 2007, the PSAC expanded, adding private schools Mercyhurst and Gannon -- which had as many as 36 football scholarship equivalencies, she says -- and the PSAC waived its cap, putting Lock Haven even further behind. This season, Allen says he has seven scholarships to split.
Losing: It becomes self-perpetuating. More losses make it harder to recruit, which makes it harder to raise funds, which means fewer scholarships, which means more losses. And many players -- tired of losing -- leave or quit. Burkett, for example, is the only fourth-year senior and the only member of the freshman class of 2008 still on the team. There are just a handful of fifth-year seniors. "I've gone to football banquet after football banquet where we didn't have four or five or eight seniors," Taylor says.
'Don't flinch'
As she talks about Lock Haven's losing ways, Taylor takes much of the blame herself -- "slap me if they want" -- saying the administration has failed to drive the fundraising needed to keep football competitive.
"It bothers me that we're putting kids and coaches out there week after week without giving them the tools ... to be successful," she says.
When Lock Haven decided to continue with football and hire Allen, it came with a challenge to alums to put their money behind their loyalty. The school now has stepped up its fundraising campaign.
Then, there's Allen, who's coached at Penn State and in NFL Europe. He was previously an assistant at Lock Haven and says he was "fully aware" of what he was getting into when he took the job.
To him, it's an opportunity to make an impact. He's beefed up the roster, put an emphasis on teaching, started to build around freshmen and sophomores, recruited more aggressively, and downplayed the streak, focusing on long-term change. Since taking over, he's preached patience, positivity and a mantra of "Don't flinch."
The motto is on banners at games and on the lips of players and fans. What does it mean?
"The overall theme is you can't flinch, you can't have that self-doubt, you can't be concerned about the next guy, whether he's doing his job; you have to do your job," Allen says.
"You have to believe that in tight situations you will make the block that will spring a back open and that you'll make the tackle to hold them on fourth-and-1. You have to have that kind of belief in order to win. You can't flinch in anything you do."
Burkett, for one, hasn't flinched. Other players have quit, transferred, given up. Not him.
Loss after loss after loss, he says, has taught him that good things don't come easy or without work.
That first win -- he knows it's out there -- is going to be all that much sweeter.
"Hey, we're close," he says. "Next time is our time."
Doug Williams is a freelance writer based in San Diego.