Commentary
Get in the ring with Harbaugh, Schwartz
Originally Published:
October 17, 2011
By
DJ Gallo
| Page 2
Jim Harbaugh and Jim Schwartz gave us the first great football-coach fight of the new century. With the NBA shut down and baseball about to end, coach boxing would be an outstanding fill-in sport.
Here are the updated Coach Boxing World Rankings:
Lightweight
5. Jim Schwartz -- He tried to fight above his weight class against Jim Harbaugh and didn't come off looking too good. He's feisty, but he's the kind of guy you just hold back with one hand while he flails away throwing wild punches that don't reach you.
4. Steve Spagnuolo -- He's a little guy from Massachusetts. All he has to do is throw one punch and Hollywood will make him into a boxing legend.
3. Mike Shanahan -- It could be that he goes tanning, or it could be that he's boiling with rage. Beware.
2. Raheem Morris -- He's young and he's in shape, but he'll struggle to move up the ranks because fighting out of Tampa means that no one will ever pay to see his bouts.
1. Mike Tomlin -- Yes, I realize Tomlin is probably a little heavy for the lightweight class, but you try finding five football coaches who are less than rotund.
Middleweight
5. John Harbaugh -- John Harbaugh is older and less ferocious than his brother. He's the Dicky Eklund of football coaches.
4. Pete Carroll -- "Undefeated, undisputed champion" is just a longer way to say "Win Forever."
3. Todd Haley -- Haley probably watched the Harbaugh-Schwartz confrontation and got angry because he has never punched a coach. You don't want to mess with that kind of crazy.
2. Gary Kubiak -- Kubiak has a background as an athlete and he'd come out swinging from the opening bell, wanting to end the fight quickly before his opponent can land a blow that would mess up his hair.
1. Jim Caldwell -- For all we know, Jim Caldwell is one of those robots from "Real Steel."
Heavyweight
5. Mike McCarthy -- McCarthy would be motivated to bring an actual championship belt to Green Bay. Unfortunately, he would probably fight less like an "Iron Mike" and more like a "Dairy Mike."
4. Andy Reid -- He may not look too imposing, but don't forget that Butterbean forged a long boxing career. Good luck getting a body shot in on Reid that he'll feel. Your best chance is probably knocking him down once, and then assuming he'll mess up the count and get to his feet long after the ref counts to 10.
3. Rex Ryan -- Ryan would only be an average fighter, but he would pull in huge pay-per-view numbers with his outrageous pre-fight boasts and predictions.
2. Bill Belichick -- Belichick doesn't look like much of a fighter, but he'd probably head-butt you and bite your ear off when the ref isn't looking.
1. Jim Harbaugh -- Harbaugh was listed at 6-foot-3, 215 pounds during his playing career, and he's only gotten bigger since then. Throw in his 14-year NFL career and his relatively young age and he's a better athlete than the other heavyweight coaches. Heck, considering the state of boxing, with a week or two in the gym he could probably dominate the real heavyweight division.
Quote of the Week
"I am aware of it. A couple of guys told me about it. I think it's stupid. Simply put."
-- Andrew Luck, QB, Stanford, on the #SuckForLuck campaign
How ungrateful. Luck doesn't seem to understand that people are putting up with horrible conditions now in hopes of a better future. If you think about it, the #SuckForLuck supporters really aren't much different than the Occupy Wall Street people in Zuccotti Park, in that the Occupy Wall Street protesters want fair treatment of those at the bottom of the income ladder who have been mistreated by large corporate interests … which takes us right back to Andrew Luck and how he's not paid a dollar by the NCAA. The Occupy Wall Street people probably also have some other goals, but I think we can all agree that it's basically just another pro-Andrew Luck uprising.
Stat of the Week: 116
Tom Brady and Bill Belichick won their 116th game together Sunday, tying Don Shula and Dan Marino for the most wins by a quarterback-coach combo in NFL history. But Peyton Manning's 141 career wins are still the most in NFL history by a quarterback/coach.
This Week's Horrible Fantasy Team That Crushed Your Team
Colt McCoy, QB, Browns -- 21-for-45, 215 yards, 2 TD, 14 rushing yards
Jonathan Stewart, RB, Panthers -- 72 total yards, TD
Donald Brown, RB, Colts -- 51 total yards, TD
Jacoby Jones, WR, Texans -- 4 catches, 76 yards, TD
Naaman Roosevelt, WR, Bills -- 1 catch, 60 yards, TD
Arrelious Benn, TE, Buccaneers -- 3 catches, 83 yards, TD
Pictures of the Week
"Stay away from my coach. He'll think you're trying to karate-chop him."
MORE GALLO PHOTO CAPTIONS!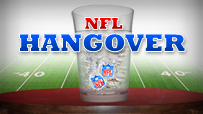 Buckle up for some bonus photo captions!
DJ Gallo's NFL Hangover photo gallery

"Real men grow all that hair on their face."
"Remember what I always told you in practice … wait, no. Never mind. I always just told you to get off the field."
"I wet myself. Are you not entertained?!"
"We may have our detractors, but at least we know how to do this in a dignified way."
"Now, don't gouge your eyes out. As this franchise goes, we're actually having a decent season."
"Snatching defeat from the jaws of victory again."
"Good job, John. You're the mature one."
"No, I think your tiny news conference hats look great. Really, I do."
News Conference Questions Someone Should Have Asked
To Lions coach Jim Schwartz: "Are you aware that you were just moments away from being Jeff Van Gundy hanging onto Alonzo Mourning's ankle?"
To Eagles coach Andy Reid: "Did your defense improve this week or did it just play Rex Grossman?"
To Colts coach Jim Caldwell: "What do you think about Andrew Luck saying that what you're doing is stupid?"
How They Spent Their Bye Week
Broncos: Trying to trade anyone and everyone who might prevent them from getting Andrew Luck.
Cardinals: Grasping at straws.
Chargers: Wondering if they are allowed to get a small dog.
Chiefs: Becoming a great football team via cornhole.
Seahawks: Resting.
Titans: Getting annoyed with stupid people.
Five Things You'd Think If You Thought To Think Them
1. How the Redskins apparently spent their bye week: Walking by a mirror and then suddenly remembering they are the Redskins.
2. What is it with 49ers coaches using bare flesh as a way to motivate their team? We all remember Mike Singletary's infamous pants-dropping, but on Sunday before the Jim Schwartz throwdown, Jim Harbaugh pulled up his shirt for 49ers lineman Alex Boone. I encourage Singletary and Harbaugh to read Bill Walsh's book. It is titled "The Score Takes Care of Itself: My Philosophy of Leadership," not "Nude: The Winning Attitude." (Although, granted, the latter would probably sell better.)
3. Harbaugh's explanation for what prompted his confrontation with Schwartz: "That's totally on me. I shook his hand too hard." Outstanding. It's a nice way of saying: "The person I beat is so weak he couldn't even take a firm handshake. It's my fault for expecting him to have average human strength."
4. If you think you recognize the name of the receiver in "This Week's Horrible Fantasy Team," Naaman Roosevelt, you don't. You're thinking of back in college when your freshman roommate, that guy in a frat, had to write an essay for American History 101 on whether Abraham Lincoln was the greatest president in American history and he titled his essay "Nah, man, Roosevelt." Simple mistake.
5. Tony Romo didn't get blamed for another fourth-quarter collapse. That went to the Cowboys' defense. However, with one last shot to further solidify his brand, he threw a Hail Mary out of bounds. Only Tony Romo throws a Hail Mary out of bounds. You have to respect that.
DJ Gallo is the founder of SportsPickle.com. His first book, "The View from the Upper Deck," is available from only the finest bargain-book retailers. His next book project will be released soon. You can follow him on Twitter at @DJGalloESPN.