Commentary
The tight end has taken center stage
A football game is about to start, my star player has fallen ill. Won't someone lend me a tight end!
Quarterbacks, left tackles, pass-rushers -- they're a dime a dozen. I want my team to win. Lend me a tight end!
The more football your columnist observes, the more TMQ becomes convinced the tight end is the essence of the modern game. Or at least, the essence of cracking a modern defense. Consider: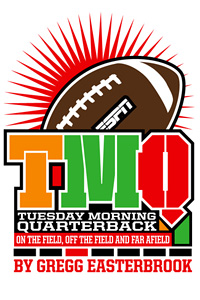 • Seven of the league's top 10 tight ends play for winning teams. Is that simply because good teams produce good stats? Only three of the league's top 10 rushers play for winning teams.
• Sunday, the winning touchdowns in the New England-Dallas, San Francisco-Detroit and Oakland-Cleveland games were scored by tight ends. Victors in the Chicago-Minnesota and Philadelphia-Washington contests got scores by tight ends; victors in the Bucs-Saints and Giants-Bills games got big plays by tight ends.
• Atlanta Falcons tight end Tony Gonzalez is four catches shy of grabbing the second-most receptions of all time. Assuming that happens, Gonzalez, a tight end, will have caught more passes than Marvin Harrison, Cris Carter, Tim Brown, Terrell Owens, Isaac Bruce, Hines Ward, Randy Moss and Andre Reed -- all wide receivers.
• Four of the five most recent Super Bowl winners (the Indianapolis Colts, New York Giants, Pittsburgh Steelers and New Orleans Saints) featured the tight end. The fifth, the Green Bay Packers, featured the tight end until the starter was injured. The Indianapolis Colts reached the Super Bowl twice in four seasons with tight end Dallas Clark in the lineup, then stumbled the following season with Clark out injured.
• The Buffalo Bills had the fewest tight end receptions in the NFL in 2010, finishing 4-12 with the 28th-ranked scoring offense. This season Buffalo added tight end Scott Chandler, who is tied for second in touchdowns at his position. The Bills are winning and trail only the defending champions Packers in scoring.
• Bill Belichick has spent 10 draft picks on tight ends in his 11 years running the New England Patriots, including two first-round draft choices. New England is the NFL's highest-scoring team through that period. During the same period, the hapless Miami Dolphins have spent just three draft choices on tight ends, the highest a fourth-rounder. New England's winning two-minute drive against the Dallas Cowboys on Sunday included three catches for 35 yards by tight ends.
Why are tight ends so important to modern football? Because defenses don't know what they are going to do. Wide receivers almost always run patterns; wide receiver behavior is predictable. Tight end behavior is not. Assume a tight end is blocking on the play and you could end up with an uncovered receiver when it turns out that he was simulating a block, then running a pattern.
Tight ends tend to be taller than wide receivers. With linemen getting bigger all the time, a tall target is one the quarterback can see.
Tight ends also are important because often they are covered by linebackers. Defenses have responded to the spread offense by fielding more nickel and dime looks. Against a nickel or dime, the wide receivers always are covered by defensive backs. But even against a nickel or dime, the tight end still may draw linebacker coverage, a matchup that favors the offense.
So lend me a tight end! And as defenses continue to focus on stopping the many wideouts of the fashionable spread offense, look for more tight ends running posts, goes and post-corners -- the sort of routes that defensive coordinators don't expect the tight end to run.
In other football news, the stat-a-rama aspect of the 2011 season cooled this week. Your columnist has been saying since Week 2 that lack of an offseason, not enforcement of helmet-to-helmet rules, was the reason for high passing-yards numbers -- and that "as the season progresses, pass coverages should get better and passing yards decline."
The league's adjustment to Cam Newton continues apace. Early on, defensive coordinators had safeties up close to the line to stop Newton from running -- which invited his early big-passing-yards days. Sunday, Atlanta played a conventional defense against Carolina, with safeties back. This resulted in a ho-hum passing numbers for Newton, though he ran well. Over the course of time, defenses will find that frustrating Newton's throws, while allowing the occasional scramble, is the formula for containing him.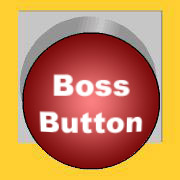 If the stat-a-rama continues to fade, the odds decrease that a quarterback will break Dan Marino's single-season passing-yards record. Marino said recently on CBS that he hoped no one would break his record. Tuesday Morning Quarterback admires this honesty. Often athletes who hold important records claim, at least, not to care if they are broken. There's no shame in wanting to keep a record. TMQ suspects Marino will keep his.
The passing record, anyway. Marino's record of 116 wins with the same coach, Don Shula, was just matched by Tom Brady and Bill Belichick. That Marino record may not last till Halloween.
Stats of the Week No. 1: Defending champion Green Bay has 12 straight victories -- and the Packers do not face a winning team until November.
Stats of the Week No. 2: California's San Francisco Forty Niners are 3-0 in games played in Eastern time zone.
Stats of the Week No. 3: Cam Newton has more rushing touchdowns (six) than 21 of the league's 32 teams. He has more rushing touchdowns than the Titans, Cowboys, Rams and Chiefs combined.
Stats of the Week No. 4: > Newton is 1-5 as a starter this season, after going 25-1 as a starter in his previous two seasons.
Stats of the Week No. 5: Philadelphia is on a 10-2 streak at Washington.
Stats of the Week No. 6: There is so much noise at Ford Field, the Lions' last two visiting opponents, Chicago and San Francisco, committed 14 false starts.
Stats of the Week No. 7: Appearing in Wisconsin on the same day, the St. Louis Cardinals outscored the St. Louis Rams.
Stats of the Week No. 8: Since taking the field for the NFC championship game in January 2010, the Vikings are 7-16.
Stats of the Week No. 9 (colelge bonus): Against Kansas State, Texas Tech gained 586 yards on offense, and lost. Against Sacred Heart, St. Francis of Pennsylvania gained 527 yards on offense, scored 45 points, and lost. Against Texas A&M, Baylor gained 480 yards on offense, and lost by 27 points.
Stats of the Week No. 10: The most puzzling statistic in sports: As a starter in home games, Tom Brady is on a 31-0 streak in the regular season and a 0-2 streak in the postseason.
Cheerleader of the Week: Ashley of New England, who according to her team bio works as a teacher's aide and cheer coach. As a child, she wanted to be a whale trainer. You don't see that many want ads headlined WHALE TRAINER NEEDED. Presumably if Ashley went to an interview for a whale trainer position, the first question would be, "Does she have her own hat?" (Sorry, Monty Python reference.)
Sweet "What the Martz!" Plays of the Week: Game scoreless, the Chicago Bears had first-and-10 at midfield. Mike "What The!" Martz sent fullback Tyler Clutts into the game. He and tailback Matt Forte went into the right flat, as if setting up a screen right. This distracted the Minnesota Vikings' safeties, while Devin Hester ran a deep post -- touchdown, and the home team never looked back. Sweet.
Later, Chicago leading 9-0, the Bears had first-and-goal on the Vikings' 3. Martz sent a man in motion wide right, simulating a bubble screen right. Left guard Chris Williams trapped left, simulating an off-tackle run left. Then Marion Barber ran straight up the middle untouched for the touchdown.
On Barber's score, the Minnesota defensive line was "twisting," a pass-rush tactic, though it was first-and-goal at the 3. That call was puzzling at best. Late in the second quarter, trailing 23-3, Minnesota lined up to go for it on fourth-and-3 from the Chicago 15. Receiver Michael Jenkins, split wide, jumped offside. The ball was marched back, then Minnesota missed a field goal attempt. Ay caramba! It's bad enough when a linemen jumps offside, but linemen must face straight ahead at the snap. A receiver split wide can simply watch the ball. Leslie Frazier is 4-8 as the Vikes' head coach, and Minnesota is playing with low football IQ.
Sour Play of the Week: In the third quarter at Snoopy Stadium, Buffalo quarterback Ryan Fitzpatrick attempted a "go" to Stevie Johnson along the deep left sideline. Jersey/A's Corey Webster read the play perfectly and made the first second-half interception of Fitzpatrick this season. Now the contest is tied at 24 and Buffalo has first down at the Giants' 27 with 4:10 remaining. The Bills, with a reliable placekicker, already are in field-goal range. It's an excellent situation in which to milk the clock, score, and leave the hosts little time to reply. Instead Fitzpatrick again sends Johnson on a go along the deep left sideline, again covered by Webster, again an interception. Jersey/A takes the ball the other way for the winning kick. At Harvard they teach you: Fool me once, shame on you. Fool me twice, shame on me.
Game note: The Giants sacked Fitzpatrick, who was the league's least-sacked quarterback, three times, using a straight four-man rush. Pressure from a straight four-man rush was the key feature of Jersey/A's 2008 Super Bowl-winning defense.
Disclaimer of the Week: Matt of Franklin, Tenn., reports, "With cool weather coming, I recently bought a box of Duraflame Firestart synthetic logs. They are advertised as a 'Fast, sure way to start a wood fire.' On the back of the package: 'Caution -- Risk of fire.'"
Sweet 'N' Sour Play of the Week: Oakland leading 17-7 at the end of the third quarter, the Raiders lined up at the Cleveland 35 for a field goal attempt. Right blocker Kevin Boss, a tight end, ran into the right flat; punter Shane Lechler, the holder, tossed him the ball; Boss went 35 yards untouched for the touchdown that proved the winning points. Sweet! On the down, as Lechler rose from his knee to throw, kicker Sebastian Janikowski stepped in front and crouched into the blocking stance. Fortunately for Janikowski, the pass was away before any Browns arrived. In the locker room afterward, the place-kicker got to say, "See, I would have blocked," yet never actually had to hit anyone.
Usually fake kicks happen on fourth-and-short, increasing the odds of success. Oakland called this fake on fourth-and-20. The Browns had 20 yards in which to catch Boss and take possession. They couldn't -- very sour.
Roger Williams, 1924-2011: Roger Williams, the pop-star pianist whose music defined mainstream taste, passed away early this month at age 87. He made his name in 1955 with "The Autumn Leaves", which became a piano classic owing to Williams' use of descending arpeggios. Williams recorded "Autumn Leaves" as an instrumental, and it was the first song without lyrics to hit No. 1. This feat was later matched by "Telstar" by the Tornadoes, commemorating the 1962 launch of the first communication relay satellite. That song sounds like it's coming over the radio from outer space.
Thought of as lilting and agreeable owing to Williams' interpretation, "The Autumn Leaves," first sung in 1946 by Yves Montand, began as a bittersweet French tune called "The Dead Leaves." Here are the lyrics in French. The subject is star-crossed lovers whose romance is as dead as falling leaves. Now you know why Williams skipped the lyrics!
Extreme Item: TMQ continues to dislike use of the word "extreme" as what grammarians call a needless intensifier. Recently, driving on a highway near Pittsburgh, I saw a sign advising, "USE EXTREME CAUTION." "Extreme caution" would differ from "caution" how, exactly? This firm offers extreme energy. The regular kind would suit me fine.
A Cosmic Thought: Last week researchers announced they had found, in a South African cave, evidence of painting 100,000 years ago.The previous oldest evidence of painting was from 60,000 years in the past; the famous Lascaux cave painting in France were made about 17,000 years ago. The latest find, in South Africa, shows both that our ancestors were experimenting with iron oxides to make permanent paint 50 millennia in the past: all that time ago, they painted inside caves, seeming to hope their work would last long enough to be seen by distant descendants.
Each time telescopes improve, the universe is revealed to be larger, older and grander. Each time anthropology makes an advance, the human experiment is shown to be older and more complex than thought. Who can say where the cosmic enterprise may be headed?
Why Certain Teams Have Lost Eight Straight: The Dolphins looked terrible not only on "Monday Night Football" but also coming out of a bye. A 24-6 defeat to an opponent that entered with a losing record: That's what an extra week of preparation got? On Miami's first possession, the Marine Mammals punted on fourth-and-inches at the Jersey/B 41. TMQ wrote the words "game over" in his notebook. The Dolphins came in 0-4, losers of seven straight stretching back to last season. Desperately needing to recover swagger, instead the Dolphins punted on fourth-and-inches in opposition territory. Just to prove it was no fluke, later Miami punted on fourth-and-2 at midfield. Ye gods. I wrote "game over" after the game's first possession, and this turned out to be correct. Miami was beaten when it jogged onto the field.
Reaching third-and-goal with the contest scoreless, Miami threw short left to Brandon Marshall, incomplete. Reaching third-and-goal on the next possession, Miami threw short left to Marshall, interception returned for a touchdown. The canny plan was to go at Darrelle Revis, the Jets' best player. Just to prove it was no fluke, later reaching third-and-goal a third time, Miami's surprise strategy was to throw short left to Marshall, incomplete. The Dolphins' masthead lists 20 coaches, including an assistant head coach and Tony Sparano Jr., whose assignment is "offensive quality control." Weren't any of the 20 coaches watching the game? And yes, Revis should have been called for holding on the pick-six play. But the Dolphins brought that outcome on themselves.
As for Jersey/B, the Jets are 3-3, ranked 31st in rushing offense and 28th in rushing defense. If I were Rex Ryan, I'd call a news conference to boast.
I Coulda Been a Computer: The new flick "Real Steel" posits that robots replace people in prizefighting. Presumably, in the tradition of feel-good boxing films, the hero robot, Atom, will be a 1-to-100 underdog against an unbeatable champion. Then by winning, he will gain the affection of a pretty girl robot.
Obviously "willing suspension of disbelief" is required for a movie like this. What seems striking about "Real Steel" is not the implausible premise, but that the action is supposed to occur in 2020. In this flick, just nine years from now, not only will gigantic fighting robots be common in American cities -- Hugh Jackman will find the parts for Atom by scrounging through a junkyard, because well before the year 2020, gigantic used robots are already being tossed out as trash.
As TMQ has noted, Hollywood tends to assume technological advances happening too soon to be probable. The movie "2001: A Space Odyssey," released in 1968, had Pan Am commercial flights to orbit in the year 2001. "Blade Runner," released in 1982, was set in 2019, and depicted super-advanced cyborgs plus colonization of planets in other star systems. "I, Robot," released in 2004, was set in 2035 and had armies of super-strong sentient, clairvoyant robots. Maybe there someday will be boxing robots that trash-talk with each other during weigh-ins. But it's not going to happen in nine years.
Probably the Backup Head Coach Didn't Get Any Reps in Practice Last Week: City of Tampa leading 26-20 at the endgame, the Bucs completed a pass on third-and-9. With starting head coach Sean Payton out injured, backup head coach Joe Vitt challenged the ruling -- though the pass obviously was complete. Vitt lost his challenge and the Saints were docked a timeout they could have used later.
Entire Nation Parties Like It's 1999: The latest Bureau of Labor Statistics data show that median household income, adjusted for inflation, has declined to the level of the year 1999. After unemployment, this decline in household income is the second-most disturbing aspect of the stalled American economy.
Campaigning in 2008 for the Democratic presidential nomination, in industrial states such as Pennsylvania and Ohio, Hillary Clinton constantly used the line, "We need to return to the prosperity of the 1990s." At the time Clinton said this, Pennsylvania and Ohio were, judged by median household income, better off than in the 1990s. But many voters believe life was better in the past than in the present, so Clinton's appeal to nostalgia helped her attract support. Well -- now we've returned to the prosperity of the 1990s.
Buck-Buck-Brawckkkkkkk: Trailing host Pittsburgh 17-10 with 4:22 remaining, the Jacksonville Jaguars faced fourth-and-6 on the Steelers' 27. Jack of the River went for the field goal, and the Jaguars did not touch the ball again until desperation time. Jax entered the game on a 1-7 streak, needing to regain its swagger. Going for it might have failed, but also might have changed the team's season. Now Jacksonville is on a 1-8 streak.
Buck-Buck-Brawckkkkkkk No. 2: Trailing defending champion Green Bay 24-0 with seconds remaining before intermission, Les Mouflons reached the Packers' 18 and launched a field goal. The Rams would not enter the Green Bay red zone again until garbage time. St. Louis entered the game on a 1-7 streak, needing to regain its swagger. Going for it might have failed, but also might have changed the team's season. Now St. Louis is on a 1-8 streak.
Unified Field Theory of Creep: Jonathon Gulbrandsen of Wittenberg, Wis., reports, "Here was the headline on the front page of ESPN.com on Oct. 14: 'Watch Midnight Madness on ESPN3 at 7 p.m. ET.' Even midnight now comes early, it seems."
Concussion Watch: Reader Tim Sweeney writes, "I am a surgery resident in California. One recent Saturday we had three boys aged 13-17 come in to the E.R. after helmet-to-helmet hits during football games. One was severely concussed; the others had spine injuries. Youth football leagues and high school coaches need to be doing a better job with the 'see what you hit' message. Paramedics always bring in the helmets after a head injury -- and these helmets were, not surprisingly, nothing like the high-tech helmets the pros wear."
Ray Williams of Columbus, Ohio, writes, "I work for Ohio State and recently the hockey team played against Quinnipiac. There were five-minute majors with the players being ejected for hits to the head. Both teams had one player ejected. If major college hockey can actually crack down on head hits, while ejecting players to get the desired change, why can't football do the same?"
Shalise Young of the Boston Globe reports that New England defensive end Mike Wright just went on injured reserve because of concussions. Of course Wright is unhappy not to play, and having sustained severe concussions in consecutive seasons, there's a chance his football days are over. But Wright is absolutely doing the correct thing -- a lifetime of mental clarity means a lot more than a few more football games.
Readers, including Diana Muldoon of Albany, N.Y., noted this horrible story of a high school football player in the Syracuse area who died after a game, apparently because of a blow to the head. Sixteen-year-old Ridge Barden was wearing a Revo helmet, an advanced design. The odds of a person in his age group dying in any given year are 1-in-1,300; of dying by accident, 1-in-2,175. See page 64 . Sometimes, a sudden accidental death of a teenager is linked to undiagnosed congenital conditions that coaches and parents could not, reasonably, have known about. Neurological harm caused by football appears common. Deaths associated with football are too rare to have any clear significance, other than as sources of grief.
Too Bad the Robot Wasn't Named Marlon: The "I coulda been a computer" subhead refers of course to the great 1954 flick "On the Waterfront." The original screenplay for "On the Waterfront," and a later novel version -- both by Budd Schulberg -- were nihilistic. In the original screenplay and the novel when Terry Malloy, the Marlon Brando character, agrees to testify about dockyard corruption, he is beaten to death by mobsters. With the witness dead, the crime boss gets off, and everyone in Red Hook silently bows to more mafia oppression. Director Elia Kazan disliked the depressing ending, in part because he believed in speaking out, having done so himself before the infamous House Committee on Un-American Activities. As released, the movie has an upbeat ending in which Terry is beaten but survives, tells the truth, and mob power over the docks is broken.
The kicker is that the real-world longshoreman on which the story is loosely based, Anthony diVincenzo, was never harmed for testifying to the real-world Waterfront Commission. When the movie acquired fame, diVincenzo became a minority celebrity. So the happy ending was more accurate than the artsy nihilistic ending.
Tight Ends Rule: Early in the Lions-Niners game, on third down, San Francisco blocking tight end Delaine Walker dropped a perfectly thrown touchdown pass, forcing the visitors to settle for a field goal. When San Francisco, trailing 19-15, went for it on fourth-and-goal from the Detroit 6 at the two-minute warning, Walker caught the ball for the winning points. The route was a slant -- not what you'd expect for the 6-foot, 245-pound Walker, who's built like a fullback.
The silly coaches' shouting match following the final whistle has gotten too much attention -- what struck TMQ was that San Francisco outrushed Detroit by 137 yards on its own field. After Walker's touchdown, San Francisco led 22-19. Detroit had two minutes and all three timeouts in which to get a field goal to tie or a touchdown to win. The Lions went short gain, incompletion, incompletion, incompletion, game over. This contest, which did not go into overtime, lasted three hours and 39 minutes, owing to 21 penalties and needlessly long replay reviews.
Rocky's Menu: What should Rocky the dog eat next? Gena Cantor of Portland, Ore., recommends the "mouthwatering" Chef Michaels dog food. Surely Rocky's tail would wag for Rotisserie Chicken dog food with "pea and carrot garnishes." Luckily Rocky never reads labels, so he won't realize the fourth ingredient in this expensive high-end product is "animal fat."
Janet Jefferson of Ojai, Calif., suggests Rocky sample some Purina One Beyond dog food with blueberries and spinach.
High School Warm-up Songs: Your columnist attends a lot of high school football games, and if I hear "Spirit in the Sky" or "Edge of Glory" playing during warm-ups one more time, I'm gonna hurl. Here are some tunes for high school warm-up:
"Take Me With U" -- Prince
"First Tube" -- Phish (Phish? It's a perfect football warmup track!)
"The Midnight Hour" -- Wilson Pickett
"Crazy on You" -- Heart (the original studio version with acoustic intro)
"Boogie Shoes" -- K.C. and the Sunshine Band
"The Middle" -- Jimmy Eat World (the principal won't like the video)
"OMG" -- Usher
"Walking on Sunshine" -- Katrina & The Waves (for a daylight game)
"Don't Look Back" -- Boston (for a team that beat yours in the previous meeting)
"I Gotta Feeling" -- Black Eyed Peas
"Boom Boom Pow" -- B.E.P. (skip the ridiculous spoken intro)
"Dance the Night Away" -- Van Halen
"(Cross The) Heartland" -- Pat Metheny Group (Fusion for football? Try it!)
"Rebel Yell" -- Billy Idol
"This Town" -- Go-Go's (for a home game against a crosstown rival)
"Our Lips Are Sealed" -- Go-Go's (for introducing the cheerleaders or poms)
"Heartbeat" -- Red 7
"Viva la Vida" -- Coldplay
"(Your Love Keeps Lifting Me) Higher and Higher" -- Jackie Wilson (Motown's greatest single)
"Jackie Wilson Said" -- Van Morrison (for the next warm-up)
"Baby I'm a Star" -- Prince
"So Sad to Say" -- Mighty Mighty Bosstones -- the studio version
"Twilight Zone Theme" -- The Ventures (For a Halloween game. Sometimes this track is listed as "One Step Beyond Fear")
Hail Cincinnati's All-Unwanteds: The Bengals are an unexpected 4-2 based on the league's second-ranked defense. Can you name any Cincinnati defensive starter without peeking? Starters for the second-ranked Trick or Treat defense include Dan Skuta, undrafted out of Division II Grand Valley State; Chris Crocker, let go by Cleveland, Atlanta and Miami; Thomas Howard, let go by Oakland; Nate Clements and Manny Lawson, both let go by San Francisco. This is a defense after TMQ's heart!
Wacky Food of the Week: The New York Times reviews Per Se, currently the most swank dining room in Manhattan. The appetizers are "a metaphor of transubstantiation & not food so much as a poem about creaminess." The salad is "the functional equivalent of an aria." The linens on the table are "ironed to the texture of freshly sanded pine." Roasted cod is a "painting made edible, seafood squared." Ask for "rabbit with cherry tomatoes and sweet corn, a wave of frisée and a beautiful swoosh of truffled hollandaise." Or try "charred eggplant." The $1,000-for-two dinner is as good as "a massage or a sunset ... a kaleidoscopic dream that ended in a castle of chocolates and macarons. You may ask to tour the kitchen afterward, or linger over coffee."
Note to the New York Times food desk -- it is not remarkable that a restaurant allows diners to "linger over coffee," and the pleasure of a sunset is free. Of course there have always been establishments catering to those with money to burn. But with 9.1 percent of the country unemployed, for the nation's most important newspaper to have an orgasm over $1,000 for "torchon of moulard duck foie gras from É levages Périgord" is more evidence that the nation's media elite are out of touch.
Boys, Football and College: Last week I supposed that ever-more boys spending ever-more time on football may be one (of many) reasons women are doing so much better in college than men. Sean McIntire of Los Angeles writes, "Your argument regarding football holding back males from the grades necessary for college admission is correct, but it's not tackle football, the problem lies with too much Madden football. I'm a high school teacher, I see the disparity between the achievement of male and female students. I believe boys spend too much time playing "Madden" and many other video games. This is what is causing them to not achieve in high school."
Anders Vorum of Randers, Denmark, writes, "I teach in the Danish public school system, and we see the same development here, though we have almost no American-style football. The general education level of girls is increasing much more than that of the boys. Our kids play a lot of soccer and handball, where concussions are a lot less common than in gridiron football, so neurological damage isn't likely a factor in the Danish trend to girls doing better in school than boys.
"What I think is a larger contributor is change in the structure of the public school system. The position of teaching has transformed from a highly respected, well-paid job to a reasonably paid but highly criticized one. This caused men to begin leaving the school-teaching profession; women, then leaving the home for the workplace, found teaching a desirable occupation. Today 70 or 80 percent of teachers in Danish public schools are women, and the fraction may be similar in the United States. One of the effects is a school system that caters to girls but views boys as problematic. As a result, many of our boys don't feel like they fit in and a fair few begin to 'bail out' when they hit the teenage years. A higher percentage of girls end up going on to our universities."
That column further said high school football had become too time-consuming, preventing many boys from posting better GPAs. Joe Lindsey of Boulder, Colo., writes, "My nephews, age 7, are playing little league football this year. They love it. But it's a significant time commitment for their family. The boys practice two hours two nights per week then have games on Saturdays, which can involve up to an hour's travel each way. They play eight regular- season games this year. Their club may qualify for a three-week playoff season that culminates in, I kid you not, a bowl game. When I was in junior high school, our JV team practiced twice a week for two hours. We played seven games, all at the school or a short drive to a nearby school. There was no postseason. Now we have 7-year-old kids in their first exposure to organized football potentially playing an 11-game season."
Ben Wachsman of Lancaster, Pa., writes, "You wrote, 'Traditionally, high school football players struggled in the classroom during the season, then made up ground in the spring.' I disagree from my own experience. When I played high school ball, my grades were best during football season. Having a set schedule and little free time helped. Lifting at 6, school from 8-3, practice 3:30-6:30, film study until about 7:30, I would come home and start homework right after a quick dinner, every night. But in the spring I would be home at 3:30 and would always find something more intriguing to do than schoolwork."
Sour Tactics: Trailing Baltimore 26-14 in its own territory with three minutes remaining, Houston was throwing super-short rinky-dink passes. You've got three minutes to score two touchdowns, why are you throwing short? Of course deep passes were unlikely to work in that situation. But short passes were certain not to work -- which is what happened.
TMQ Predicts Rob Ryan Will Respond to New England Defeat by Boasting: Game tied at 13, Dallas reached first-and-goal at the New England 10 with six minutes remaining. The previous time Dallas had reached goal-to-go, the Cowboys went incompletion, sack, short pass, field goal. The sack was particularly distressing as it came against a three-man rush.
Surely coach Jason Garrett won't make the mistake of going pass-wacky again. Instead the Dallas calls were short pass, incompletion, incompletion, field goal. At Princeton they teach you: Fool me once, shame on you. Fool me twice, shame on me. Dallas' final six snaps within view of the New England goal line were all passing plays. After the game, Dallas owner Jerry Jones criticized Garrett for not ordering more passes. TMQ saw events differently.
The field goal put Dallas ahead 16-13; the Flying Elvii had two minutes and one timeout to reply. They flew down the field as though no Dallas defense was present, going 80 yards in 2:09 for the winning touchdown. On the final drive, Dallas defensive coordinator Rob Ryan fielded only one or two defensive linemen on all but one snap. The one time Ryan lined up his charges in a regular defense was Tom Brady's sole incompletion on the drive. On every other snap, Ryan showed some type of funky front, and Brady ate the funky fronts for lunch. New England facing third-and-1 with 1:19 remaining and still holding a timeout, Ryan sent two defensive linemen into the game. Brady simply quick-snapped and dove forward for the first down, exactly what he did against a funky light defensive front by the Jets the previous week, generating exactly the same result.
TMQ got the feeling Ryan kept calling funky unconventional defenses because he wanted to be able to boast that his super-ultra-genius alignments stopped Brady. Instead they allowed New England to fly down the field as if the Dallas defense wasn't there.
One More "Terra Nova" Item: The previous "Terra Nova" item made sport of the plucky adventurers from 2149 using their time machine to go 85 million years into the past, where they immediately are attacked by dinosaurs. (Of course it's just a ridiculous TV show, but "Terra Nova" claims to be the most expensive television show ever, justifying a ridiculous level of scrutiny.) Many readers, including Jalyn Himes of Tucker, Ga., reported that if you listen closely in the pilot, in a scene set in 2149, you hear a newscaster in the background saying that scientists had discovered "a natural fracture in the time-space continuum" that leads to 85 million years in the past, and nowhere else. So, Jalyn contends, it's not really a time machine, it's a teleporter that can send people only to one place. The plucky adventurers have no choice about where they go.
Viewers are also told that the people of 2149 used the teleporter/time machine/whatever-the-blue-thing-is to send recording devices to the past, assuming that the instant the devices went through the machine, they would be found again in the present, having (however implausibly) sat somewhere undisturbed for 85 million years. None of the devices were found, causing people of 2149 to conclude that the "fracture" created "a new timestream" in a different dimension. This would seem to eliminate time-travel paradoxes. Finally, Jalyn notes, the blue machine offers a one way trip. The device carries objects, people or information in one direction only, to the far past of another "timestream."
Reader Jeff Kohl of Philadelphia writes, "This means the far-past "Terra Nova" settlement depicted in the show cannot communicate with Earth of 2149. Nor can the Terra Novans leave messages in 85-million-year storage to be read in the future, because "Terra Nova" and 2149 Earth exist in different dimensions. If this is true, the people of 2149, who built the device and stepped in, have no idea what happens when you go through. The fracture emits a strange blue energy field that you can throw things into, and those things are never heard from again. Surely it must be a time portal!
"Maybe if planet Earth were doomed, people might decide, 'What the heck, I'll jump into the weird blue energy field and take my chances.' But that's not what is represented in the show. In the show, the people of 2149 know it's a time portal, and also that there are dinosaurs on the other side, since they bring along their incredibly ineffective weapons. Based on the show's own premise -- how could they possibly know what's on the other side of the portal?
"By filling the script with vague nonsense, the writers have set up viewers for any number of twists they can make up as they go. For instance, it could turn out the 'Terra Nova' world is a different Earth-like planet existing at the same moment as the Earth of 2149, allowing the teen hunk to fulfill his vow of coming back for the teen babe he was compelled to leave behind in the smog-choked future metropolis of the pilot. There was swelling music when he promised to return for her. Though I doubt the show will last long enough to go in such directions, because really it's just about good-looking teenagers screaming as they are chased by what are obviously computer-animated fake dinosaurs."
How I wish there was swelling music when I said things! And maybe weapons of 2149 are manufactured by Halliburton. Here is TMQ's bet on the series finale, assuming "Terra Nova" lasts long enough to have one. In the final episode, the plucky adventurers discover they went not into the past, but 85 million years into the future. That's why none of the recording devices sent into the past were found in the present. The plucky adventurers realize the human race they knew has long since fallen extinct, Earth's climate has changed to return to Cretaceous period conditions, and thunder lizards have evolved for a second time. That could make for a haunting ending -- a final remnant of humanity, with one last chance to get things right. Or, maybe the finale will be good-looking teenagers screaming as they are chased by computer-animated fake dinosaurs.
Honk If You've Played Quarterback Under Dan Snyder: Mike "The Ultimate Leader" Shanahan has now changed quarterbacks twice in the Redskins' past eight games. Owner Chainsaw Dan Snyder has had 12 starting quarterbacks in his 12 seasons. Shanahan is fitting in nicely with the Washington program.
Did the Philadelphia Heat revive their troubled season by beating Washington? Philadelphia gets a bye, followed by Dallas and Chicago as opponents. The Heat must win both merely to break even at the season's halfway point.
College Football News from 1958: Against Virginia, there was one minute remaining in the third quarter when Georgia Tech completed its first pass of the game.
Obscure College Score of the Week: Heidelberg 56, Mount Union 7. That, at least, is the way the Washington Post listed the score; actual was Mount Union 56, Heidelberg 7. The Purple Raiders have 10 Division III titles and are 309-23-3 since coach Larry Kehres arrived in 1986. The program produced NFL star Pierre Garçon. Last year, Mount Union's Cecil Shorts got TMQ's vote for the Maxwell Award. Division III teams don't give athletic scholarships. Kehres recruits by convincing Midwest boys to come to his school and be assured of winning their college football games.
That's the good part. On the flip side, Mount Union plays an extremely weak schedule, rarely facing an opponent with a chance of winning, then engages in bully behavior by running up the score. Already this season, Mount Union has wins of 62-0, 66-7, 58-7 and 56-7. TMQ's rule is that when a football team wins by 50 points the victor, not the vanquished, should feel embarrassed. Mount Union recently outgained Wilmington of Ohio 671 yards to 115 yards. What's the point of a "game" against an opponent that has absolutely no chance? That's not an athletic contest, it's a staged stunt.
Many college teams have a gimmick date on their schedule. First-ranked LSU hosted Division 1-AA team Northwestern State, for instance. But Mount Union rarely plays anything except gimmick games. If Kehres and his players were true sportsmen, they would test themselves against strong opponents. Instead they run up the score against teams certain to lose. Bully behavior is a sign of low character.
Here, Bill Pennington of the New York Times details what it's like for Heidelberg, which does not recruit, to be clobbered by Mount Union year after year. The Times has a mixed record on vital questions such as whether there were weapons of mass destruction in Iraq. But in recent years, its coverage of high school and college athletics has been outstanding. More than any other mainstream news organization, the Times seems to understand how important high school and college athletics are to American culture, and often puts these issues on the front page.
Bonus Obscure College Score: Avila 27, Culver-Stockton 13. Previously winless and outscored 43-222, the Avila Eagles spoiled Senior Day for Culver-Stockton, which plays the remainder of its season on the road. Located in Kansas City, Mo., Avila University assures residential students of "the right to an adequate amount of sleep."
Single Worst Play of the Season -- So Far: Trailing 26-20 at City of Tampa, the Saints faced fourth-and-2 on the Buccaneers' 4-yard line with 3:24 remaining. Backup head coach Joe Vitt, sent in for injured starting head coach Sean Payton, decided to go for it. Drew Brees play-faked and rolled right. The New Orleans offensive linemen faked a zone block left -- and then all five Saints' offensive linemen simply stood there watching as Brees scrambled madly, making no attempt to block or help.
Bad enough the call was a pass. When Brees threw an interception into the end zone, the Bucs took possession on their 20: a failed run would have pinned City of Tampa against its own goal line with three minutes to play and New Orleans holding all its timeouts.
But it's fourth down at the endgame and all five New Orleans offensive linemen simply brushed their men then turned around to watch the play, making no attempt to do anything. New Orleans offensive line -- you are guilty of the single worst play of the 2011 season. So far.
Next Week: In Real Football, the sequel to "Real Steel," NFL players are replaced by robots programmed never to question their coaches.
In addition to writing Tuesday Morning Quarterback for Page 2, Gregg Easterbrook is the author of "Sonic Boom" and six other books. He writes a politics column for Reuters, and is a contributing editor for The New Republic, The Atlantic Monthly and The Washington Monthly. His website can be found here, and you can follow TMQ on Twitter.