Commentary
MLB's Fan Cave takes stock of first year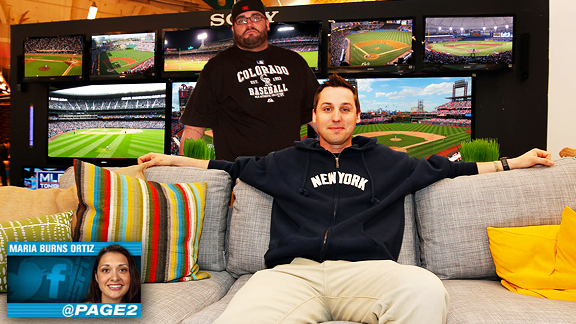 Major League BaseballMike O'Hara (front) and Ryan Wagner, pictured in their natural habitat, the MLB Fan Cave.
Opening Day seems like a million games ago with the World Series upon us. But from the first pitch of the year until the final out of the regular season, a scoreboard over Major League Baseball's Fan Cave counted down the games until October.
Inside, two fans, selected from more than 10,000 applicants, were tasked with watching every regular-season game -- documenting the experience with blogs, Facebook posts and tweets -- while everyone from the New York Yankees' Nick Swisher to Sammi from MTV's "Jersey Shore" dropped by.
In all, the total number of games tallied is 2,429. By all means, an impressive milestone for any baseball fan to hit.
However, in MLB's eyes, that figure pales in comparison to the other more important numbers to come out of what has became a social media hub for the league.
The Fan Cave has generated more than 100 million social media impressions, a number that represents the total number of people reached by Facebook and Twitter posts, in the span of six months. Between the official Facebook and Twitter Fan Cave pages and "cavemen" Mike O'Hara and Ryan Wagner's personal Twitter profiles, the Fan Cave has combined for 150,000 fans and followers. (That's more social media likes than the Washington Nationals.) More than 300 blog posts and 200 videos, including some viral gems such as David Ortiz hugging it out in NYC, have been generated from the Cave.
The push has continued into October, with Wagner hitting the road and O'Hara getting and gathering social media reaction back at the Cave as part of MLB's #postseason campaign. Their baseball epic will end with the Texas Rangers or St. Louis Cardinals crowned World Series champions.
"[The Fan Cave] accomplished exactly what we set out to accomplish, which was we wanted to become part of the online social conversation this summer," MLB executive vice president Tim Brosnan said. "Over 100 million social media impressions in and around the Cave that didn't exist the year before, I would say that put us into the social conversation."
For the league, it was about more than just wanting to be in the conversation because social media is the big buzzword. Social media has provided the league a way to reach out to a younger audience. The average avid MLB fan is 45 years old. The average Fan Cave fan is 28.
The endeavor also allowed MLB to reach out to a more casual fan without alienating die-hards. Players were a constant presence at the Fan Cave, as were celebrities, musicians and pop culture personalities. As O'Hara put it, the Fan Cave has served as "this hybrid Internet cafe, sports bar, TV show set, music venue, and through Facebook and Twitter, people get to enter the club."
Building that environment, the kind of place anyone would want to go and hang out to watch a game (although not necessarily every game like Wagner and O'Hara) was key -- even if the computer screen was the closest fans would get to the Fan Cave couch. The space became a place players wanted to stop by, with 65 players representing 24 clubs visiting throughout the course of the season.
Given all the noise the Fan Cave has made this summer, it's worthy to note it was actually a last-minute add. It was so late in the planning process that the 15,000-square-foot space wasn't even budgeted for.
In baseball, sometimes you make a decision based on data, analysis and careful consideration. And sometimes, you make a move because you just feel it in your gut.
"With some things, you move on instinct," Brosnan said. "This was one of them."
The full impact of the Fan Cave from a social media standpoint won't be fully quantifiable until after the postseason wraps and it can be analyzed in-depth. However, early social media numbers are more than promising.
According to MLB, 45 percent of tweets about the Fan Cave have been positive. For league and team pages, the number of positive tweets tends to be about 15-20 percent. When it comes to engagement, a third of Fan Cave Facebook fans have liked content or posted on the wall. By comparison, on team and league pages, that number hovers around 5-10 percent.
In an effort to sustain that success, the Cave's constant evolution has been central. According to Brosnan, the staff that makes the place run -- which includes members of MLB's marketing staff and a film production crew -- has poured over what has worked and what has fallen flat, constantly tweaking the plan.
"There's no question that the social landscape is a minute-to-minute undertaking," Brosnan said. "That's what was great about the Cave. It was such a dynamic place. ... How we reached people changed every day, and new approaches were made every week. We had a very aggressive team down there, and we gave them room to experiment."
Because -- much like baseball -- sometimes, social media success is building off of case studies and analysis, and sometimes, it's just going with what you think might work.
The real question is going to be the same one the eventual World Series champion will be asking itself: How do you follow up a winning season?
"Within sports industry circles, it's going to be hard to top that buzz, because the Fan Cave was such a novel undertaking," Brosnan said. "Novel is once. The next round, the challenge is going to be: How much more effective can we be?"
Postseason influence
To coincide with the Major League Baseball playoffs, social media company Klout released its list of the top 10 postseason baseball players based on its Klout score, a social media influence ranking.
Klout scores seek to identify the amount of influence a social media user has. Klout scores take into account multiple variables, including the number of followers a user has, how likely a user's post is to be acted on (responded to or reposted/retweeted) and how the user influences other influential users.
The list only includes players from the eight teams that qualified for the postseason. Philadelphia Phillies players hold down the top two spots, with Jimmy Rollins at No. 1 and Hunter Pence at No. 2. Yankees second baseman Robinson Cano sits third. With Brewers outfielder Nyjer Morgan at No. 4, Rangers pitcher C.J. Wilson is the only player in the top five with his World Series dream still intact.
Proving that it's not just about how many followers you have, Nick Swisher, whose 1.4 million Twitter followers are more than any other MLB player, comes in sixth on the list.
Seeing Twitter in a new light
The National Hockey League launched a new Facebook application to help fans keep up with the conversation on Twitter. With the NHL's Twitter Visualizer, users can see which teams are most talked about on the social media site, follow the conversation surrounding their favorite teams, view an interactive map that shows where tweets are coming from, see updates by NHL insiders and more. Users can join in the hockey conversation and update their Twitter status from Facebook using the app.
NBPA #StandUnited on Twitter
In light of the continuing NBA lockout, National Basketball Players Association president and Los Angeles Lakers guard Derek Fisher is looking to take the players' message viral on social media.
"Chris Paul and I will also be utilizing our personal social networking channels to show the fans and you all that we are united and want to get back to work under a fair deal," Fisher wrote in a letter inviting his fellow players to do the same.
Dozens of NBA stars responded on social media, tweeting messages of "Let Us Play" and using the #StandUnited hashtag. The campaign is similar to one NFL players orchestrated during their recent labor dispute.
Worth a follow
Seems like everybody has a Twitter account these days. Since making his world debut in the National League Division Series between the Cardinals and Phillies, the Busch Squirrel joined the Twitterverse, totaling more than 25,000 followers in just over a week.
Got a story we should feature? Have a site we should check out? Who's on your must-follow list? Tweet me at @BurnsOrtiz. If your idea gets mentioned in this column, so will you. Follow Page 2 on Twitter at @Page2.