Commentary
The brain behind 'Occupy Herbstreit'
Originally Published:
October 20, 2011
By
DJ Gallo
| Page 2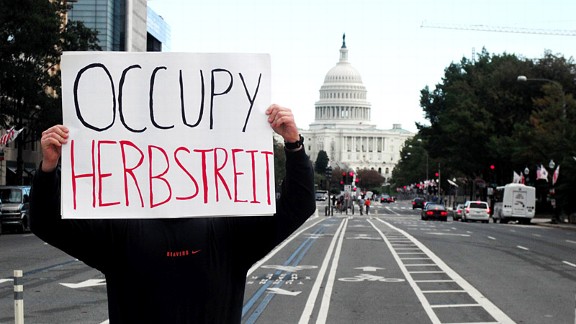 occupyherbstreit.tumblr.com
The Occupy Wall Street movement is dominating the news. Unfortunately, it's world and political news -- the important/depressing stuff. There's another movement that may be more to your liking: Occupy Herbstreit.
They have made their demands known in a 13-point manifesto. Among the 13 ...
4. Let the mascots unionize.
6. One trillion dollars so the Big East can buy some new teams.
8. Conferences with numbers in their names must have that many schools in them.
13. Penn State must reveal its secret for keeping Joe Paterno alive.
I spoke with Occupy Herbstreit -- who must remain anonymous for "professional reasons" -- to find out more about the movement.
Page 2: What has been the reaction of the Occupy Wall Street protesters to the Occupy Herbstreit signs? Do they understand them? Or do the 99 percent not follow college football?
Occupy Herbstreit: Most either haven't noticed us, or given us a weird look and moved on. The only time we were really forced to interact with anyone was over the "Mangino also has 13 Demands: Dunkin Donuts Baker's Dozen" sign. A couple people approached us wondering who Mangino was and what the sign meant. Thinking on our feet, we came up with a story how "Mangino" was our funny, chubby friend who really liked donuts, so we thought it would be amusing to send him this picture. We don't really like to think of that as a lie, though, rather exceedingly wishful thinking. We would love it if Mangino actually was our funny, chubby friend.
President Obama promised to investigate the BCS system, yet today, nearly three years into his presidency, we still have a computer picking the championship game. Do you believe that the Republican nominee could do a better job of bringing us a playoff system?
The Occupy Herbstreit movement has tried to avoid inserting itself into the politics of the protest, but if Herman Cain's 9-9-9 plan includes a nine-game playoff, he will be our guy.
Zuccotti Park, where the Occupy Wall Street protesters have set up, is reportedly covered in trash and human excrement. Would you say it is more or less dirty than the tailgating grounds before a West Virginia game?
More dirty, and less moonshine. Clearly Morgantown wins.
The right claims the Occupy Wall Street movement is fueled by corporate interests on the left. Is Occupy Herbstreit backed by anyone? From the pictures, it appears Dockers may be paying you for product placement.
We are currently a grass-roots organization but would sell out instantly and turn our signs into tiny Times Squares if some sponsor could get us four tickets to "Book of Mormon" sometime between now and the end of the bowl season in April. Also, commendable snark on the Dockers comment, but Occupy Herbstreit outfits itself almost exclusively in Tommy Hilfiger, Brooks Brothers and Under Armour.
Which group in our society has faced the greatest economic injustice at the hands of those in power: the 99 percent or unpaid college football players?
Well, some would argue if 99 percent of college football players were unpaid, the SEC would not have won the last five championships. But, it's really a tough call. Free education, free food and free housing versus student loan debt, Cup O' Noodles and a seven-floor walk up to an "artist's loft" shared with nine people and 7,000 bedbugs. We'll have to mull it over and get back to you on that one.
What better captures the greatness of America: freedom or SEC speed?
That is too difficult of a choice for us, so we will go with the perfect embodiment of both ideals: Tecmo Bowl Bo Jackson. You could literally run him in whatever direction you desired, and he would still eventually score a touchdown. If that is not the highest echelon of both freedom and SEC speed, we don't know what is.
In several of the pictures you are wearing a Maryland football sweatshirt. Is this to show that you identify with those who are forgotten in our society?
When you say forgotten, do you mean those who lose their job after a performance which exceeds expectations because of the massive incompetence of their newly hired boss, who tantalizes with the idea of replacing him with a brilliant, innovative successor destined to bring the organization success beyond its wildest dreams, but who actually hires an uninspiring replacement with a mediocre track record in a dying sector of the business? I am not sure how being a Maryland fan would relate to any of that.
You will not reveal your identity due to "professional reasons." And it would seem you work very close to, if not on, Wall Street. You are the 1 percent, aren't you? And one follow-up: Why do you hate America?
The first rule of the 1 percent is you do not talk about the 1 percent.
The second rule of the 1 percent is you DO NOT talk about the 1 percent.
The third rule of the 1 percent is you have to root for the Yankees, which is where we drew the line.
What is one thing you would tell Kirk Herbstreit if you met him?
We love you Kirk, but go easy on the bronzer. It's the last season of "Jersey Shore." If you haven't made it onto the show by now, it's not gonna happen. Well, that and the fact we think he does an excellent job on "College GameDay," which is a fantastic show, and that we hope he is somewhat entertained by our shenanigans in his and GameDay's honor.
To support the Occupy Herbstreit movement, follow @LostGamedayFan on Twitter and Facebook: www.facebook.com/occupyherbstreit.
All games on Saturday unless otherwise noted.


Game of the Week
No. 6 Wisconsin at No. 16 Michigan State, 8 p.m. ET on ESPN
It's late October and 6-0 Wisconsin has played five home games and one neutral-site game. The Badgers' offense puts up a lot of points, but the Wisconsin football program is among the nation's worst in accumulating airline and hotel points.


Another Game of the Week
No. 20 Auburn at No. 1 LSU, 3:30 p.m. ET on CBS
On paper this game looks like a bit of a mismatch. However, when you use that paper for rolling papers, it becomes much more competitive.
Cupcake of the Week
None
This is the first week of the season without a BCS team picking on a far lesser, out-of-conference opponent. So no cupcakes this week. However, 7-0 Alabama is welcoming 3-3 Tennessee, which is winless in the SEC (7:15 p.m. ET on ESPN2), and if you promise not to criticize Derek Dooley on sports radio, his mom will probably make you some cupcakes.


Rivalry Game of the Week
USC at Notre Dame, 7:30 p.m. ET on NBC
USC is 5-1 and Notre Dame is 4-2 with four consecutive wins. Yet both teams are unranked. It's an injustice. An injustice to those of us who like to complain that no matter how good or bad USC and Notre Dame are, voters always put them in the Top 25.

Heisman Candidate in the Crosshairs
Russell Wilson, QB, Wisconsin
The Michigan State defense shut down Denard Robinson last week, and it will be looking to do the same to Wilson on Saturday. If the Spartans pull it off, East Lansing could become known as the place where Heisman dreams go to die. While that sounds cool, in the long run it would probably really hurt Mark Dantonio as far as recruiting elite quarterbacks and running backs. "Come to East Lansing. It's where Heisman dreams go to die."

Mascot Fact of the Week
The students who wear Michigan State's Sparty costume are required to remain anonymous. However, we do have some clues as to who they are. The school's official Sparty page says that because of the "costume size, Sparty aspirants must be between 5-10 and 6-2 in height." Also, the site says that the $8,000 Sparty costume is "'washable,' which is a very frequent necessity." So, if you're on Michigan State's campus and see someone between 5-10 and 6-2 who is so filthy he (or she) would necessitate frequent washing of a mascot costume, you've probably identified Sparty.
Tailgate Tip of the Week
Get yourself a Wine Rack. A Wine Rack? That sounds a bit too classy for my tailgate, you say. Not at all! A Wine Rack is actually a bra that you fill with alcohol. Not only does the Wine Rack provide portable refreshment, but it counteracts the effects of beer goggles, too. "The more I drink, the smaller your chest seems to get. Weird."

Quote of the Week
"You all create so many problems. I mean, I hate to start on this, but whether guys are going off for the draft that shouldn't even be thinking about that right now, whether we're worrying about the Heisman Trophy, now we're worrying about playing Missouri rather than Tennessee sometime down the road. I could give a s--- about all that, excuse my French. I mean, come on. Let's talk about the game." -- Alabama coach Nick Saban at his news conference on Monday, annoyed at questions from reporters that weren't specifically about the Alabama-Tennessee game.
Are you a reporter who must sometimes interact with Saban? If so, please refer to this handy Q&A that I developed to help you determine if you have annoyed him.
Question 1: Have you asked Nick Saban a question?
A) Yes
B) No
Results: If you answered "Yes," your question has annoyed Nick Saban. If you answered "No," your stupid face has annoyed Nick Saban.
Hope that helps!

Greatest Conference Ever of the Week
SEC
The SEC has three of the top 10 teams in the first BCS standings of the season, including No. 1 and No. 2. Please don't tell SEC fans any of this information or they might start to get arrogant.


Worst Conference Ever of the Week
Mountain West/Conference USA
The Mountain West and Conference USA have agreed to create a 22-team football "super alliance." So now we know that you can have too much of both a good thing and a mediocre thing.

Stat of the Week
130
Houston quarterback Case Keenum needs just 130 yards against Marshall this week to break the all-time NCAA total offense record of 16,910 yards set by Hawaii's Timmy Chang. He also needs 1,178 passing yards to break Chang's career passing record. Tim does not seem as powerful as he once did.

Coach on the Hot Seat
Rick Neuheisel, UCLA
A week ago, UCLA athletic director Dan Guerrero was asked about his head coach's job security on 710 ESPN in Los Angeles and had this to say: "In intercollegiate athletics, we're pretty much all day-to-day."
While true, those in the sports world continue to believe their existence is so much tougher than it is for those outside of sports.
"Johnson, come into my office. Listen, you're terrible at your job and you routinely embarrass the company. However, this isn't intercollegiate athletics, so you're employed forever! Congratulations!"

Player Name of the Week
Gelo Orange, DE, Wake Forest
Submitted by reader Tim A., he notes that Wake Forest also has Godspower Offor at defensive end. Wake Forest may not be the best football program in the country, but reading their roster in the program is definitely the best.
(If you have a player/coach name submission, or a funny tailgate photo to share, send it to VarsityTailgate@gmail.com.)

Coach Name of the Week
Dino Folino, director of personnel/player development, Michigan State
If you don't like saying "Dino Folino," we can't be friends. What's that? We weren't friends already? I know. It's because you don't like saying "Dino Folino."
Stone Cold Lock of the Week
The Honey Badger didn't care about team rules, but he will now.
DJ Gallo is the founder of SportsPickle.com. His first book, "The View from the Upper Deck," is available from only the finest bargain-book retailers. His next book project will be released soon. You can follow him on Twitter at @DJGalloESPN.