Commentary
Uni Watch's 2011 NHL goalie gear guide
Originally Published:
October 20, 2011
By
Paul Lukas
| Page 2
No athlete in any team sport gets to customize his look more than an NHL goalie. And with a new hockey season now under way, there's a whole lot of new customization on display.
Let's start with the masks. About two-thirds of the league's goaltenders have new designs this season. Keeping track of all of them is like a game of Whac-A-Mole (someone's probably unveiling an updated mask design as we speak), but here are all the ones Uni Watch has been able to document, broken down by team: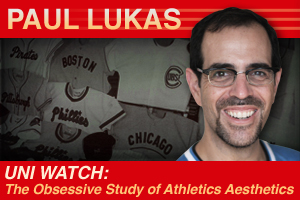 Anaheim Ducks: Dan Ellis
Boston Bruins: Tuukka Rask, Tim Thomas
Buffalo Sabres: Jonas Enroth, Ryan Miller
Calgary Flames: Henrik Karlsson
Carolina Hurricanes: Brian Boucher, Cam Ward
Colorado Avalanche: Jean-Sebastien Giguere, Semyon Varlamov
Columbus Blue Jackets: Steve Mason
Dallas Stars: Kari Lehtonen
NHL GOALIE MASKS GALLERY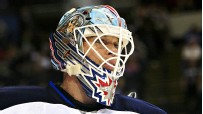 A new NHL season means a new round of goalie masks. Here are our picks for some of the best new designs. (Special thanks to InGoal magazine for research assistance.)
• Uni Watch goalie masks gallery

Detroit Red Wings: Jimmy Howard
Florida Panthers: Jacob Markstrom, Jose Theodore
Los Angeles Kings: Jonathan Bernier, Jonathan Quick (plus he has a separate retro design)
Minnesota Wild: Nicklas Backstrom, Josh Harding
Montreal Canadiens: Carey Price (that's a special breast cancer awareness design)
Nashville Predators: Anders Lindback, Pekka Rinne
New Jersey Devils: Martin Brodeur, Johan Hedberg
New York Islanders: Al Montoya, Evgeni Nabokov
New York Rangers: Martin Biron, Henrik Lundqvist
Philadelphia Flyers: Sergei Bobrovsky, Ilya Bryzgalov (additional pics here)
Phoenix Coyotes: Jason LaBarbera, Mike Smith
Pittsburgh Penguins: Marc-Andre Fleury (plus he has a separate design to go with the Pens' retro alternate uni), Brent Johnson
St. Louis Blues: Brian Elliott, Jaroslav Halak
San Jose Sharks: Thomas Greiss
Tampa Bay Lightning: Mathieu Garon, Dwayne Roloson
Vancouver Canucks: Roberto Luongo, Cory Schneider
Washington Capitals: Tomas Vokoun
Winnipeg Jets: Chris Mason, Ondrej Pavelec
---
Keeping track of masks is tricky business, but it's nothing compared to keeping track of goalie pads, blockers and gloves. Fortunately, Uni Watch is once again privileged to have the help of Tyler Hull, who works in the goalie gear industry and has generously agreed to provide his annual rundown of NHL netminders' equipment.
"The thing that makes goalie pads so different from other pieces of sports equipment is that each pad is unique to each goalie and his style of play," says Tyler. "Two goalies wearing the same pad may have it customized in different ways -- what it's filled with, how the straps are set up, how many breaks there are and where they're located, and so on."
With that in mind, here's Tyler's team-by-team commentary on who's wearing what:
Anaheim Ducks "Jonas Hiller is still wearing Koho 588 pads but went with a simpler color scheme this season. I'm generally down with simpler, but I prefer what he wore last year. Dan Ellis is also wearing Koho 588s, switching from the PS3s he wore last year."
Boston Bruins "Fresh off of winning the Cup, the Bruins' goalies apparently think there's no need to make changes, as both Tim Thomas and Tuukka Rask are wearing the same gear as last year. Thomas has a mix of Vaughn V4 pads, a Reebok Larceny blocker, and a Vaughn Epic glove (there's a great article about his equipment here), while Rask is wearing the Vaughn Vintage pads, V4 blocker, and Epic glove."
Buffalo Sabres "The only thing Ryan Miller has changed this year is that he is using a Reebok Larceny blocker to match the pads and glove he wore last year. New backup Jhonas Enroth gives us our first glimpse of the beautiful and highly customizable Reebok PS4s, by far the best-looking pad Reebok has made."
Calgary Flames "Miikka Kiprusoff is still wearing the extremely bland all-white Bauer X:60 pads he wore last year. Henrik Karlsson has made the move to the Reebok PS4s, but with an underwhelming design pattern. With all the options the PS4 offers, this is a disappointing look (and a step down from what he wore last year)."
Carolina Hurricanes "Cam Ward is still wearing the Vaughn Icebergs he wore last year. His new backup, formerly of the Flyers, is Brian Boucher, who's sticking with last year's Vaughn V4s, but now in Carolina colors."
Chicago Blackhawks "Corey Crawford has made the move from Revokes to PS4s this year but has maintained a similar design pattern -- a smart move, since he had a very good-looking setup. Ray Emery, newly signed with Chicago, is still wearing his custom-graphic Brian's Focus pads from his Anaheim days. He has a new set in Chicago colors but apparently hasn't broken them in yet."
Colorado Avalanche "The Avalanche have two new goalies, both of whom are wearing new gear this year. Jean-Sebastien Giguere made the move to the PS4s, with great effect. He has maybe the most unique-looking set of PS4s in the league, and his pads really show off the customization these pads offer. Meanwhile, Semyon Varlamov is now wearing the Reebok Larceny pads. He was wearing a mix of Vaughn pads and Reebok gloves last year and decided to go all Reebok this season."
Columbus Blue Jackets "At the end of last year, Steve Mason was wearing the then-new Vaughn 7900s, so I figured he'd be wearing them again this season. Instead he's made the move back to the V4s he wore earlier last year, with a very simple and plain color scheme. The Vaughn 7900s will be worn in Columbus, but by new backup Mark Dekanich, who has a very cool color scheme."
Dallas Stars "One of my favorite new setups of the year is being worn by Kari Lehtonen, who has a great-looking set of Vaughn V4s with a very unique color formation. Andrew Raycroft moved to the PS4s and is now using a rather bland design."
Detroit Red Wings "Jimmy Howard is wearing the same Vaughn Iceberg Pads and blocker he wore last year, but with a new glove -- the Vaughn Vision. (He toyed with wearing Vision pads in the preseason but decided to stick with the Icebergs.) Backup Ty Conklin is going with Warrior Ritual pads and Brian's Sub-Zero gloves. I like the Rituals -- simple and clean but not plain -- and the Sub-Zero graphic is nice."
Edmonton Oilers "The Oilers finally made the official move back to the old road jerseys, and they look fantastic. It also means the goalies this year only need one set of pads, instead of having separate home and road sets because of the different jersey styles. Nikolai Khabibulin is yet another goalie who's made the jump to the PS4s, with a very good-looking set of pads this year. Devan Dubnyk is wearing the same ONE100s he wore last year, with updated colors to match the new road jersey."
Florida Panthers "The Panthers updated their jerseys this season, which means updated goalie equipment. New Panther Jose Theodore is wearing Vaughn V4s with a plain color combo. Old Panther Scott Clemmensen has switched to the Warrior Rituals and done so in fine fashion, incorporating all the team's colors (including gold, which most other Panthers goalies haven't used over the years)."
Los Angeles Kings "Another case of new jerseys leading to new pads. Jonathan Quick is wearing the same Vaughn V4s as last year, but with new colors for the new jerseys (plus he's already shown what he'll be wearing for throwback games this season). Jonathan Bernier is wearing the Reebok PS4s but isn't taking advantage of all the design options. He could do much better."
Minnesota Wild "Niklas Backstrom has made no changes from last year. He's still wearing a hodgepodge of Vaughn equipment -- V4 pads, 7700 blocker, V3 glove. Josh Harding, who missed all of last year with an injury, is back and still in Vaughns, but he's now wearing 7900 pads and the V4 glove."
Montreal Canadiens "The biggest goalie gear story this offseason was the 'Will he or won't he?' involving Carey Price's potential move to Reebok. Price had tried out Reeboks in the past but never officially made the switch. This year, though, he finally moved over to the Reebok camp and is now wearing a very simple set of PS4s. (He also had a pink set for breast cancer awareness.) New Canadiens goalie Peter Budaj is still wearing Bauer ONE100s with the same color concept as he had last year, just in Canadiens colors."
Nashville Predators "Again, new jerseys mean new pads. Pekka Rinne is now wearing the PS4s -- a simple but good-looking set. Anders Lindback updated the colors on the Bauer ONE100s he wore last year. The result is unique but desperately needs some blue."
New Jersey Devils "Martin Brodeur designed a new custom set of Sher-Wood pads this year. I love them -- the team logo blended into the design of the pads is a beautiful look, and something I wish more players would think of doing. (He also has a new chest protector and shoulder pads, although you can't see that.) Backup Johan Hedberg is sticking with the same X:60 pads as last year.
New York Islanders "The craziest pad look last year was Rick DiPietro's blue-and-white camouflage RX-10s. This year he's gone with Warrior Ritual pads and a much simpler color scheme (or at least that's what he was wearing before being sidelined with his latest injury). Evgeni Nabokov is going with Vaughn V4s -- an excellent-looking set of pads with that great Islanders color scheme. Unfortunately, Al Montoya is going with the dreaded all-white look. Disappointing."
New York Rangers "For the third straight year, Henrik Lundqvist is going with a new color combo on his Bauer ONE100s. His current design is a little plainer than last year but is still a good look. He's been seen wearing a fantastic darker blue set, presumably to be worn with the Rangers' alternate sweaters, but that isn't confirmed yet. As for Martin Biron, he's wearing his same ONE100s from last year."
Ottawa Senators "Craig Anderson is wearing the Response 12 graphic T100 pads he wore last year. It's a great design that does a fine job of showing off all the Senators' colors. New Senator Alex Auld is wearing Piku custom-made pads and PS4 gloves. Wondering why there's no logo on these pads? Manufacturer Chris Piku hasn't paid for NHL licensing rights, so no logo or name can be put on his gear."
MORE UNI WATCH
Can't wait for Paul Lukas' next Uni Watch column? Get a daily dose of uni-centric news on the Uni Watch Blog.
Philadelphia Flyers "New Flyers goalie Ilya Bryzgalov is once again wearing Vaughn V4s, but now in Flyers colors. Not a bad look, but more could be done with this pad and color scheme. Sergei Bobrovsky is one of the few PS4 holdouts -- he's still wearing the PS3s he wore last year."
Phoenix Coyotes "Mike Smith made two moves this year. One was to become the newest member of the Coyotes, and the other was to start wearing the PS4 line -- and in spectacular fashion. Whereas most PS4 goalies have very plain color schemes, Smith's set is an example of the varieties and options offered by this pad. For a different approach, check out Jason LaBarbera, who's still wearing his beautifully simple pads. Jerseys are full of color, so why not goalie gear?"
Pittsburgh Penguins "The Penguins have two goalies on opposite ends of the spectrum. Marc-Andre Fleury, who used to wear some of the coolest-looking goalie gear of all time, is now wearing a very plain-looking take on the PS4s (plus he has a separate set to go with the Pens' new third jersey). On the plus side, teammate Brent Johnson has a new set that's one of the best designs I've seen in years, a beautiful mix of team colors that perfectly complements the jersey. This is what a goalie pad should look like."
St. Louis Blues "Jaroslav Halak has been wearing a custom-graphic Brian's Zero-G pad for a few years now. This year he's changed the graphic, and I really like how it creates an arch -- perfect for a St. Louis player. Brian Elliot, now on his third team in the past year, is wearing a very unique set of custom-colored RX-10s that I really like. Never seen anyone color them like that before."
San Jose Sharks "Antti Niemi, who's worn Sher-Woods for the past two years, is now wearing Vaughn V4 pads and a Vaughn Vision blocker and glove, but he continues to go very minimal with the colors. As for Thomas Greiss, he's wearing the Vaughn V4s. I love his inclusion of orange, but he needs more color, too. And where's the black?"
Tampa Bay Lightning "Dwayne Roloson is still wearing last year's pads. Mathieu Garon is yet another PS4 convert whose look is good enough but not great. There's more that can be done with this pad."
Toronto Maple Leafs "James Reimer is still wearing the same Bauer ONE100 pads he wore last year. It's a good look, with a nice amount of color and white to match the jerseys. Jonas Gustavsson was wearing Reebok Revokes last year, so I assumed he'd make the switch to PS4s this season. He did switch, but to the Warrior Rituals. I like the look, although more color would have been even better."
Vancouver Canucks "It was disappointing when Roberto Luongo went with the miserable solid-white look two years ago. Now that he's upgraded to PS4s, he's started wearing color again. Well, some color. Not great, but it's better than no color at all. Cory Schneider, meanwhile, is sticking with last year's look: Vaughn V4 pads and Reebok PS3 gloves."
Washington Capitals "When a goalie changes teams, he usually has to change the colors on his gear. But Tomas Vokoun has gone from the Panthers to the Capitals and didn't have to change a thing. I love his setup -- a unique design and a great use of the graphic and colors. His teammate Michal Neuvirth is still wearing Vaughn Pulse pads but he's changed to a marvelous red-based color scheme."
Winnipeg Jets "Last but certainly not least, we come to the return of the Winnipeg Jets. In a strange twist, the Jets' color scheme is close enough to the old Thrashers design that Ondrej Pavelec didn't have to change his pads. He's still wearing the Vaughn V4s he wore last year, although now he has matching V4 gloves (last year his gloves were from Epic). One thing that hasn't changed from last year: His set is in drastic need of some color. Fellow Jet Chris Mason is the first goalie to give us the full view of the new Brian's Sub-Zero line. I wasn't sure about this line when I first saw it, but I like how Mason's using it."
---
OK, now you're up to date. At least until these guys start swapping out their current gear for updated designs.
Paul Lukas still wants to be a goalie when he grows up. If you liked this column, you'll probably like his daily Uni Watch website, plus you can follow him on Twitter and Facebook. Want to learn about his Uni Watch Membership Program, be added to his mailing list so you'll always know when a new column has been posted, or just ask him a question? Contact him here.