Commentary
Tim Tebow, Tony Romo are America!
Originally Published:
October 24, 2011
By
DJ Gallo
| Page 2
With all due respect to Cam Newton, the quarterbacks who have dominated the news week after week this season have been Tim Tebow and Tony Romo. The two couldn't be more different.
Tony Romo owns the first three quarters. Tim Tebow owns the fourth quarter.
Tony Romo looks like a prototypical quarterback and puts up good stats. Tim Tebow is unorthodox, and his stat line can be ugly.
Tony Romo went to FCS doormat Eastern Illinois. Tim Tebow went to BCS power Florida.
Tony Romo lost in the playoffs in college and won no championships. Tim Tebow had no playoffs in college and won two championships.
Tony Romo was undrafted. Tim Tebow was selected in the first Round.

Tony Romo is married and previously dated starlets. Tim Tebow is single and mindful of avoiding harlots.

Tony Romo spends his offseasons at posh golf courses. Tim Tebow spends his offseasons helping the impoverished.

Tony Romo is laid back. Tim Tebow is intense.

Tony Romo has a close, personal relationship with Jerry Jones. Tim Tebow has a close, personal relationship with Jesus Christ.

Tony Romo failed at the lowly position of holder. Tim Tebow has been encouraged to try skill positions such as tight end and running back.

Tony Romo has great receivers. Tim Tebow has no receivers.

Tony Romo lacks bulk. Tim Tebow looks like the Hulk.

Romo and Tebow are perhaps the two biggest lightning rod quarterbacks in football, and they have nothing in common. They are the yin and yang of their position. Each has different strengths and weaknesses on and off the field. Of course, even the best quarterbacks in the game have weaknesses. Tom Brady struggles with defensive pressure. Peyton Manning struggles under pressure. Aaron Rodgers struggles … uh … hmm … when he's stuck on the bench behind Brett Favre? Sure. I'll go with that.

But if there were ever an NFL quarterback who would be great on the field and also live a balanced life off the field, his name would be Timmy Robow. And you would never tire of hearing of Timmy Robow, and you would never hate Timmy Robow. Because Timmy Robow is America. And Timmy Robow is perfection. And Timmy Robow is probably a lot like Andrew Luck.



Quote of the Week
"I had respect for [Ndamukong] Suh before the game. But when Matt [Ryan] was on the ground, the things [Suh] was saying and the trash he was talking was definitely uncalled for. There are certain things you don't do. [He said], 'Get the cart' and several other things that I can't repeat."
-- Falcons center Todd McClure, to The Atlanta Journal-Constitution, on Suh's behavior after Ryan was injured
The way McClure and other Falcons tell the story, it sounds as though Suh was saying "Get the cart" in a malicious way. But when you consider that he plays on the same team as Matthew Stafford, maybe Suh just has an eye for knowing when quarterbacks will need assistance getting off the field.
Stat of the Week: 6
The Saints scored 62 points Sunday night against the Colts. So there's a "six" there. And they scored eight touchdowns, which are worth six points each. But those aren't the sixes I'm going for. No, with 62 points, the Saints scored six more points in one game than the Rams have all season. The Rams have to play the Saints next week. May God have mercy on their souls.
This Week's Horrible Fantasy Team That Crushed Your Team
Mark Sanchez, QB, Jets -- 18-for-33, 173 passing yards, 3 TDs, 1 INT, 25 rushing yards
DeMarco Murray, RB, Cowboys -- 25 carries, 253 yards, TD
Darren Sproles, RB, Saints -- 107 total yards, 2 TDs
Plaxico Burress, WR, Jets -- 4 catches, 25 yards, 3 TDs
Michael Jenkins, WR, Vikings -- 3 catches, 111 yards, TD
Visanthe Shiancoe, TE, Vikings -- 4 catches, 45 yards, TD
Pictures of the Week
"People screaming in pain always makes me laugh."
"Wow. I wish we had guns like those."
"Come on, guys! We can blow this! Keep your eyes on the prize!"
MORE GALLO PHOTO CAPTIONS!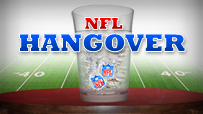 Give us 10 clicks, and we'll give you 10 laughs ... or your money back!
DJ Gallo's NFL Hangover photo gallery

"And please help the Dolphins to not be too sad about what I'm about to do to them. Amen."
"You realize you just beat the NFL version of Vanderbilt, right?"
"The accents here are so annoying."
"Great. I feel perfectly crisp."
"I can't believe I'm getting benched for this guy."
"Oh, great. Now they're doubled over in laughter."
"What we did here today was special and will never be forgotten."
"I bet this gets intercepted before it reaches my stomach."
"You have a good arm. Ever consider playing quarterback for the hometown team?"
"I don't remember us running any of these effective plays."
"Ha! He said they were actually trying … that is hilarious."
News Conference Questions Someone Should Have Asked
To Raiders coach Hue Jackson: "Do you now regret not having watched any Bengals games since 2006?"
To Lions coach Jim Schwartz: "Why are you scared to fight Mike Smith?"
To Browns coach Pat Shurmur and/or Seahawks coach Pete Carroll: "How can I unsee what I just saw?"
How They Spent Their Bye Weeks
49ers: Being harassed by Raiders-loving cops.
Bengals: Ripping off the Raiders.
Bills: Luring Scott Norwood into a trap.
Eagles: Referring to themselves in the third person.
Giants: Boldly predicting a win over the Dolphins.
Patriots: Having a gas with their fiancées.
Five Things You Think She Thinks We Think
1. I bet it was intimidating for Norv Turner to coach against Rex Ryan, a man who won several theoretical Super Bowls with the team he now leads. What large and fake shoes to have to fill.
2. The Crown Prince of Denmark was at the Jets game on Sunday. Putting royalty in the same building as Rex Ryan seems like an incredibly bad idea. "Denmark? You people make danishes? I love me some danishes. Good job there. Wait … are you the wooden shoe people? That's no way to treat a foot. You people are sick. Get out of my sight. But leave the danishes."
3. Jim Caldwell is probably going to lose his job after this season. In his career as a head coach -- with the Colts and at Wake Forest -- he is 24-8 with Peyton Manning as his quarterback and a slightly worse 26-70 without Peyton Manning as his quarterback. Mr. Caldwell, when you update your résumé, I encourage you to write the references section like this:
References:
• Peyton Manning
• Absolutely no one else; I beg of you, don't contact anyone else.
4. A recent SportsNation poll showed that 58 percent of sports fans say they are rooting for Tim Tebow, 30 percent say they have no rooting interest and 12 percent say they are rooting against him. As a writer, it is my job to write to my audience, so here's my attempt at pleasing all of you with a take on Tim Tebow: "How about that Tim Tebow on Sunday [vague facial expression]?"
5. Troy Polamalu's Week 6 fine for calling his wife from the sideline to say that he was OK after a blow to the head is no less ridiculous today. But NFL players obviously got the message. I didn't see any of the Colts players calling their wives to say they weren't being killed, even though it looked as though they were.
DJ Gallo is the founder of SportsPickle.com. His first book, "The View from the Upper Deck," is available from only the finest bargain-book retailers. His next book project will be released soon. You can follow him on Twitter at @DJGalloESPN.