Commentary
Tim Tebow didn't rally to victory alone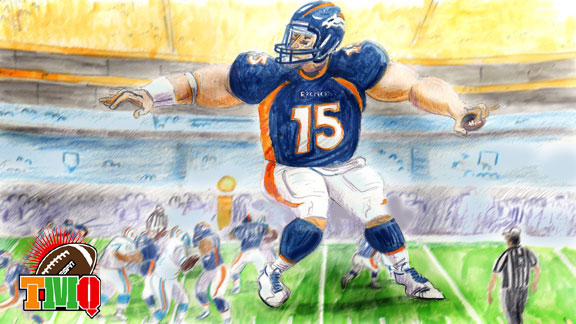 Kurt Snibbe/ESPN.com
Attention, Pro Football Hall of Fame in Canton, Ohio: Prepare to receive Tim Tebow's sweatbands from the Denver at Miami game. His admission to the Hall of Fame surely is a mere formality.
Yes, the zany final minutes of that contest were a lot of fun to watch. And the naysayers -- perhaps there is a National Association of Naysayers, with a motto such as, "Saying nay since 1908" -- predicted Tebow couldn't win in the NFL. Now he has.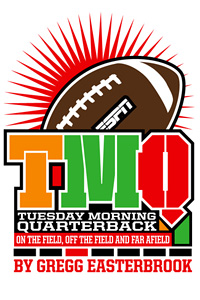 But football is a team game. Tebow didn't launch the onside kick or recover the onside kick. He didn't block for himself on the try that forced overtime. He was just one of many Broncos on the field, yet is receiving all the attention.
And it was just one game, against an opponent that came in having lost eight straight. The fan base of the South Florida Dolphins is so dispirited that Sun Life Stadium was half empty when the Denver comeback began. The Dolphins themselves are pretty dispirited. Tebow staged a comeback against what a military historian would call "light resistance."
True, there were some sharp plays. On the all-important deuce try with 25 seconds showing in regulation, the Broncos came out five-wide and Miami took the field in a dime. Tebow noticed nobody behind the defensive linemen on the offensive right and audibled to a quarterback sneak right, a move reflecting football IQ.
But Miami, and the officials, aided the comeback. After the first Miami touchdown, Dolphins coach-for-a-few-more-weeks Tony Sparano called timeout to prepare his hands team for an onside kick -- and Denver recovered the onside anyway. With 25 seconds remaining in regulation, Tebow hit a well-executed throwback screen to tight end Daniel Fells for a touchdown. Zebras cooperated by failing to notice Denver linemen Chris Kuper and Orlando Franklin downfield before the pass.
It must have been a miracle! The worst aspect of going overboard for Tebow's performance was use of that word. "MIRACLE IN MIAMI" read the main headline on NFL.com.
The fact that Tebow is religious had nothing to do with the outcome. God does not care who wins football games. Sports commentators are too quick to invoke the word miracle -- which means an event outside human understanding of physical law. World peace would be a miracle. A recovered onside kick with two minutes remaining is a nice play.
Athletes sometimes declare that God is controlling sports events or their careers. When Dez Bryant declared early for the NFL draft, he said, "This is what God wants me to do." After David Tyree made his incredible catch in the Super Bowl, he told Peter King of Sports Illustrated, "I said, 'Thank you, God.' It's just a testament to God. A play like that can't be explained any other way." After Brett Favre made his first start as Minnesota's quarterback against the Packers, he said he prayed to God for victory and the "good Lord answered my prayers."
Of course, attributing the course of events to the divine can be just a figure of speech. It also can be a form of egotism -- a billion people worldwide live in poverty, but God is more concerned with making Brett Favre happy? God certainly did not touch Tebow and cause his team to win Sunday or Tyree to make his catch, or cause anything else in sports. God does not care who wins football games. Or if God does, we're in even worse trouble than we think.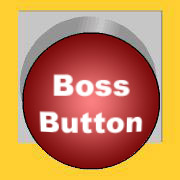 For commentators to imply the presence of supernatural forces in sports flies in the face of not only the unaddresed tragedies of the world, but this unsettling fact specific to sports: The 2011 season is not yet at the halfway mark, and already at least four football players have died as the direct result of high school or college games or practices. There have been deaths from heat stroke, from accumulated brain trauma and, last week, from seemingly routine game contact.
No athletic contest is worth any person's life. Do these deaths mean young people should not play football? See below.
Stats of the Week No. 1: Rookie quarterback Cam Newton has seven rushing touchdowns -- more rushing touchdowns than 22 entire NFL teams.
Stats of the Week No. 2: Seattle at Cleveland ended with more punts (12) than points (9).
Stats of the Week No. 3: If every pass a quarterback attempts clangs to the ground incomplete, his rating is 39.6 under the NFL system. In the Chiefs at Raiders contest, Kansas City quarterback Matt Cassel finished with a 38.3 passer rating, Oakland quarterback Kyle Boller with a 22.3 rating and Oakland quarterback Carson Palmer with a 17.3 rating.
[+] Enlarge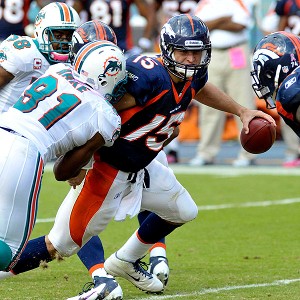 Lou Novick/US PresswirePerhaps Tim Tebow will retire and go directly into the Hall of Fame.
Stats of the Week No. 4: Darren Sproles is 6-1 in games against Indianapolis.
Stats of the Week No. 5: Since 2006, Tennessee is 30-17 with Vince Young at quarterback, 18-23 with anyone else.
Stats of the Week No. 6: New Orleans possession results against Indianapolis: touchdown, touchdown, touchdown, touchdown, field goal, field goal, touchdown, touchdown, touchdown, punt with 2:56 remaining.
Stats of the Week No. 7: Stretching back to 2009, Miami is on a 1-12 streak at home.
Stats of the Week No. 8: Seattle has been outscored 84-27 in the first half.
Stats of the Week No. 9: Against Stanford, Washington gained 430 yards on offense and lost by 44 points. Against Oklahoma State, Missouri gained 463 yards and lost by 21 points. Against Houston, Marshall gained 506 yards and lost by 35 points.
Stats of the Week No. 10: The defending champion Packers have won 13 straight.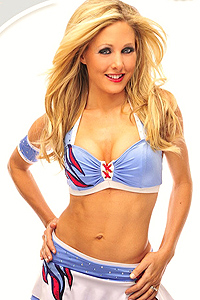 Tennessee Titans Molly of the Titans. Maybe skates would improve the team's performance.
Cheerleader of the Week: Molly of the Titans, who, according to her team bio, is a former professional figure skater who now works as a skating instructor. Also according to her bio, as a young girl, Molly fantasized about becoming Cyndi Lauper. Thirty years later, Lauper still can belt it out.
Sweet Play of the Week: With Houston leading 10-0, the Texans play-faked a power rush left, then Matt Schaub ran right on a naked bootleg -- no blockers. The entire Houston offensive line faked a zone block left. Tailback Arian Foster, who the defense thought was getting a handoff, paused briefly behind the offensive linemen on the left. Then he shot downfield on a "wheel" route for a 78-yard catch-and-run that turned the game into a rout. The sweetest aspect of the play was that the Houston offensive linemen, having faked their zone block left, all stopped at the line of scrimmage so as not to be downfield before the throw. The Flaming Thumbtacks' safeties should have noticed the offensive linemen stopping at the line of scrimmage and realized it meant pass. See more on Tennessee's woeful performance below.
Sour Quarter of the Week: Sometimes you learn a lot about a team when nothing is on the line. With New Orleans leading 41-7 at the end of the third quarter, the Saints pulled Drew Brees and other starters, and did not attempt another pass in the contest. Indianapolis allowed a touchdown drive of six consecutive rushing plays. Knowing the Saints would rush, the Colts, looking bored and listless, couldn't stop them. Then trailing 62-7 with seven minutes remaining, Indianapolis coach Jim Caldwell ordered a punt from midfield. Just two years ago, Indianapolis was in the Super Bowl. Ye gods.
Sweet 'N' Sour London Plays: With the London game scoreless, Mike "What The!" Martz put undrafted fullback Tyler Clutts, a former CFL player, into the game. Clutts split wide; when a fullback splits wide, defenses assume something is up. Then the Bears shifted to put two tight ends on the right side, creating a power look. At the snap, center Roberto Garza and guard Chris Spencer pulled right for the Fuzzy Thurston-style sweep Martz suddenly favors, each making a clean block. Tackle J'Marcus Webb got downfield for a second-level block, and Clutts got a downfield block as Matt Forte went 32 yards for an untouched touchdown. Sweet. Too bad for Forte that Chris Johnson had yet another awful game -- see below.
Leading 7-0, Chicago took possession on its 1-yard line. The Bears' offensive coordinator has a Dr. Jekyll and Mr. Martz personality, and this time Mr. Martz asserted himself. He split three wide receivers right in a trips. All ran vertical routes, hoping to drag defenders deep and out of the action. Forte took a handoff right, heading for the area that the play design said would be vacant. City of Tampa's Ronde Barber sensed that not even Mike Martz would send three guys deep from the same side from his own 1. Barber ignored the receivers and charged into the end zone, dropping Forte for a safety. Sweet for the Bucs, and sour for Martz.
Just Explain This, Baby: The Raiders, who recently traded at least first-, second-, third- and fourth-round draft selections for quarterbacks Carson Palmer, Terrelle Pryor and Jason Campbell, were shut out at home as their quarterbacks threw six interceptions, including two returned for touchdowns. Because Oakland already has also traded its next second-round selection to New England, the Raiders won't have their first, second, third or fourth choices in the 2012 draft, then will surrender either a first- or second-round selection in 2013 to complete the Palmer trade. But they did get six interceptions in the deals.
[+] Enlarge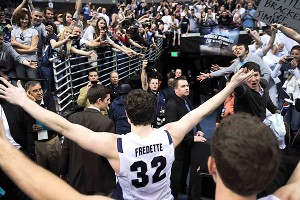 AP Photo/Jack DempseyBe sure your DVR is already set for March Madness.
Unified Field Theory of Creep: Reader Kyle Levenhagen of St. Charles, Mo., reports, "On October 17th, I came home from work to find the Eddie Bauer Spring '12 preview catalog in my mailbox. Only five months before the vernal equinox! I'll need to hurry with my order since spring 2012 catalog prices expire on January 12th." Jeff Nichols of Dupo, Ill., writes, "During a baseball playoff game on TBS, the station had a ticker scrolling at the bottom of the screen announcing the channels on which sports fans could watch March Madness. Too bad my DVR does not go that far into the future."
Wilson York of Atlanta writes, "The Atlanta Journal-Constitution has a section of its website currently dedicated to 'Atlanta's Year in Review.' This has been up since October 18, when there were 73 days remaining in 2011, fully 20 percent of the calendar." Included are the "15 hottest toys for 2011 holidays" for a toy-buying season that does not begin for another month.
[+] Enlarge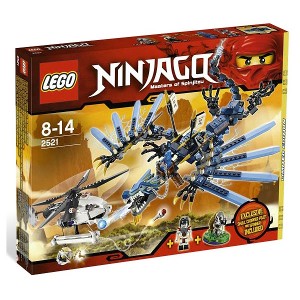 Lego This is a hot Christmas toy. Supposedly. Has anyone actually started Christmas shopping?
Concussion Watch: Will Stromeyer of Webster, Texas, writes, "I referee football in the Houston area. Recently, during a 7th grade game, the starting quarterback came off the field saying his head hurt. The coach made him take off his helmet and sit on the bench the rest of the game, despite the player protesting he was OK. I thanked the coach for doing the right thing."
This is good to hear; the word is spreading. Coaches -- if you suspect a player has sustained a concussion, not only remove him from the game, but take away his helmet. Increasingly, this is how high-level football programs handle the situation.
TMQ has been slamming Mike Gundy of Oklahoma State for running up the score and lauding him for trying to reduce injuries in practice by spending less time doing violent drills. On the latter point, reader Clint Spaulding of Tulsa, Okla., notes this story.
Declining Football IQ: San Diego led Jersey/B 21-17 with 11 minutes remaining and had third-and-5 on the Jets' 25. The Jets came into the contest with the league's 28th ranked rush defense. So why not run? Interception. Five snaps later, Philip Rivers threw another interception in a situation that might have called for a rush.
Now it's Jets 27, Bolts 21 and San Diego has possession on its 42 with 59 seconds remaining, holding no timeouts. The previous down took a full 30 seconds as Rivers wasted precious time changing formations at the line of scrimmage. Now any pass must go to the sidelines or deep. Instead Rivers throws a short checkdown, runner immediately tackled, clock continues to advance. On second down, he throws another short checkdown, runner immediately tackled, clock continues to advance. In this situation, throwing the ball away is a lot smarter than throwing a checkdown.
On third down, Rivers threw the ball away, stopping the clock with 11 seconds remaining and the Chargers at midfield. On the next down, he saw no one open and threw the ball away. But -- that was fourth down! And no Jets defender was pressuring him. Jersey/B rushed just two, against six San Diego blockers. Rivers did not need to get rid of the ball; he needed to find someone open. Instead he threw the ball away on fourth down. Ay caramba.
How did San Diego finish first in offense and first in defense in 2010, and yet miss the playoffs? The answer is low football IQ. In two weeks, the Chargers face the defending champion Packers, a total mismatch of football IQ.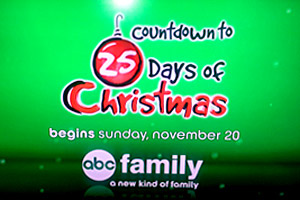 Credit/ Joseph Ciaramitaro It's the countdown to a countdown!
Christmas Creep: On Oct. 23, reader Joseph Ciaramitaro of Boston took the nearby screen grab from the ABC Family network: "Not only does this advertisement announce that the channel's '25 Days of Christmas' begins on November 20th -- which is 34 days before Christmas -- but the advert itself is a countdown to a countdown. To say nothing of containing a Christmas ornament graphic before Halloween."
Maroon Zone Play of the Week: Leading 20-16 early in the fourth quarter, Atlanta faced fourth-and-2 on the Detroit 39. This is the Maroon Zone, where it's too far for a field goal but too close to punt. Too many NFL coaches send in the punter anyway. The Falcons went for it, converted on a penalty, scored a field goal on the possession and took control of the tempo, going on to win 23-16.
There were too many penalties on both sides in this contest, but Detroit's defensive line continued to behave as the dirtiest unit in the league. On a play on which the Lions jumped offside and Atlanta players stopped, Detroit defensive tackle Corey Williams was penalized for what referee Bill Leavy announced as a "deliberate blow to the head" of defenseless quarterback Matt Ryan. Why wasn't Williams ejected? Ndamukong Suh got away with at least two cases of shoving an Atlanta player to the ground after the whistle sounded.
Suh is talented and at one point seemed to be a human-interest story. Increasingly he seems to be a hooligan. Falcons say Suh and teammate Cliff Avril mocked Ryan after he fell to the ground injured, which Suh has denied.. In football, hitting is admirable; applauding harm is shameful. No person of character mocks an injured man. If the taunting claim is true, why would the city of Detroit want to be associated with the Lions' malicious behavior? Why would any advertiser want a spiteful figure such as Suh associated with its products? Dirty play by Detroit defenders not only should be drawing ejections or suspensions -- it is rapidly eroding any feel-good associated with the Lions' season.
[+] Enlarge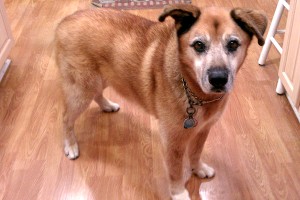 Bill Speros Rocky awaits his repast. But where is his Grey Goose martini, dry, up, with a slice of bacon?
What Should Rocky Drink: Readers have been suggesting high-end dining options for Rocky the dog. What about his beverage? Alex Lowery of St. Paul, Minn., suggests Rocky should jump into his SUV and go buy some Doffee, coffee for dogs. The product promises, "Now there's a way to share the coffee experience with a safe, healthy drink for your dog." Bonding for dog-owning caffeine addicts!
Andy Stern of New York suggests Rocky should drink bottled water for dogs: "This is the best: www.k9waterco.com. My favorite is the liver flavor." Andy, don't you mean your dog's favorite? Will Shaw of Malvern, Pa., advocates dog beer.
Disclaimer of the Week: Reader Marc Bazeley of Irchester, United Kingdom, reports, "I spotted this ridiculous disclaimer on my can of Lynx Dark Temptation deodorant. It reads: 'Chocolate fragrance/scented body spray. This is not a food. Do not ingest.' As my mum always says, they wouldn't have made a rule against it if someone hadn't done it." But Marc, doesn't this mean you walk around smelling like a chocolate bar?
Jonathan Gulsvig of Orange, Calif., reports, "I want to submit a disclaimer I noticed in my own firm's email: 'Any views or opinions presented are solely those of the author and do not necessarily represent those of the company.' Now consider this is a disclaimer for a law firm. The whole point of many of the firm's attorneys' emails is to express the view of the firm's attorneys! Of course, I disclaim the view or opinion presented in this email, too."
[+] Enlarge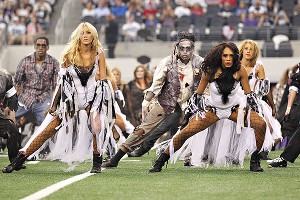 Matthew Emmons/US PresswireThe Dallas cheerleaders perform a Halloween dance -- the ghost of Jimmy Johnson is seen at center.
Untouched Touchdown of the Week: DeMarco Murray went 91 yards for a touchdown against 2A St. Louis Rams High School on a routine-looking handoff against a routine 4-3 front. The reason was perfect blocks from Tyron Smith and Kyle Kosier. It's pretty fun to run 91 yards for a touchdown if everyone in front of you has already been knocked to the ground.
Buck-Buck-Brawckkkkkkk: Green Bay leading 33-27 with 2:37 remaining, the Vikings punted -- and I scarcely need to tell you Minnesota never touched the ball again. So what if it was fourth-and-10? The Vikings were playing at home. They entered 1-5 on the season and 4-9 under Leslie Frazier. A successful conversion on fourth-and-10 could have led to an upset of the defending champion Packers and revived the team's season. A punt made a sluggish defeat likely. Frazier knew that if he went for it on fourth down and failed, he would be blamed for the loss; if he ordered a mincing, fraidy-cat punt, the defense would be blamed for failing to get the ball back. Blame-shifting is a huge factor in NFL coaching decisions.
Why Matt Forte Does Not Like Chris Johnson: Matt Forte is, as agents say, "outperforming his contract." There's an obvious case for the Bears giving him a new deal. But down in Tennessee, the Titans gave Chris Johnson a megabucks contract rewrite, and Johnson is celebrating by taking the season off. On Sunday he was awful -- 18 yards on 10 carries, obviously dogging, booed by his home-crowd fans. The Forte and Johnson contract situations are nearly identical, and it seems Tennessee made a major error by conferring lots of extra money on Johnson.
TMQ Readers Know Too Much: I noted that ancient cave paintings, by being placed in caves, seemingly were done in hopes the far future would see them. Philip Molter of Garden City, N.Y., rejoins, "Perhaps in the dangers of prehistory, the inside of the cave was the only place our ancestors could feel safe and relax. Or perhaps they made many outdoor drawings as well. But any paintings outside would have been worn away by the elements so by now we wouldn't be able to see them, creating the impression the ancients painted solely in caves."
I described "Your Love Keeps Lifting Me Higher," by Jackie Wilson, as "Motown's greatest single." Mary Delaquis of Lincoln Park, Ill., rejoins, "It is a great single, and Wilson was discovered by Berry Gordy, founder of the Motown label. But that song was recorded in Chicago and marketed by Columbia records."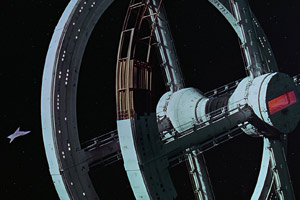 MGMNot only did Arthur C. Clarke envision moon settlements in 2001 -- he also envisioned that Pan Am would still exist.
I noted the hit movie "Real Steel" has robots replacing people in 2020, just nine years from now, and noted other sci-fi movies that depicted events seeming to happen too soon, such as the 1968 movie "2001: A Space Odyssey" depicting permanent colonies on the moon just 33 years in the future. Reader Holly Chancery of Atlantic Beach, Fla., rejoins, "Many movies that depict futuristic events happening too soon were based on novels or stories written long before, when the depicted year seemed distant. '2001: A Space Odyssey' was inspired by Arthur C. Clarke's short story 'The Sentinel,' originally published in 1948. 'Blade Runner' was based off the novel 'Do Androids Dream of Electric Sheep?' by Phillip K. Dick, published in 1968. 'I, Robot' is an amalgam of nine short stories by Isaac Asimov, published in two different magazines between 1940 and 1950 before being published as one volume in 1950. The movie 'Real Steel' is based on Richard Matheson's 1956 short story 'Steel.' Perhaps in 1956, it was not so unrealistic to forecast a robot society in 2020."
[+] Enlarge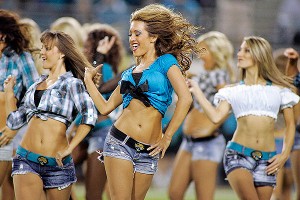 Phil Sears/US PresswireMaybe the Jacksonville cheerleaders' Halloween outfits frightened the visiting Ravens.
Hell's Sports Bar: Hell's sports bar has 28 wide-screen plasma TVs, although certain blackout restrictions may apply. On Sunday, the televisions in Hell's sports bar showed nothing but Seattle at Cleveland, which ended 6-3. The highlight show endlessly replayed Seattle, trailing 3-0 at the end of the third quarter, kicking a field goal from the Cleveland 2-yard line, then never entering Browns territory again.
Hell's sports bar saw lots of action from the Rams at Dallas game, although revelers -- Christmas ale is already out of stock in Hell's sports bar -- were shown only St. Louis offensive snaps. At about this time last season, Les Mouflons seemed on the verge of becoming a power team. Now they are on a 1-9 streak, and at Dallas, they looked like a 2A high school forced by a schedule quirk to face a 5A school. At least the St. Louis Rams outscored the St. Louis Cardinals playing the same day, but only because the Cardinals were shut out.
In Hell's sports bar, the highlights show also endlessly replayed Arizona quarterback Kevin Kolb, on a deuce try, retreating all the way to the 15 and then throwing the ball away. It's a point-after attempt; why are you throwing the ball away? Kolb is becoming a favorite of the Hell's sports bar crowd. In the past five years, he is 4-9 as a starter with more interceptions (21) than touchdown passes (18), yet recently was the subject of a major trade, receiving a huge signing bonus in the process.
[+] Enlarge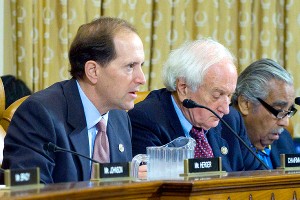 AP Photo/Harry HamburgWe could only wish that most congressional hearings were conducted in secret.
TMQ Wrote This Item in Secret: Commentators across the political spectrum are complaining that the debt-reduction supercommittee on Capitol Hill is meeting "in secret." Televised public hearings would turn the supercommittee into yet another political sideshow. That is what many interest groups want -- to ensure that supercommittee becomes a meaningless exercise in blather, because interest groups both liberal and corporate oppose any discipline in government spending. Being away from the cameras is essential to the supercommittee's chance of success.
This raises the misuse of the hype word "secret." Over the summer, when Barack Obama and John Boehner were talking about the deficit, Fox News ran a bright-red crawl that said, "SECRET TALKS ON DEBT DEAL." In 2008, before Hillary Clinton endorsed Obama's bid for the presidency, the pair had an evening meeting at the home of California Sen. Dianne Feinstein. Dozens of media types camped on the street in front of her house and did stand-ups expressing anger that they were not being allowed inside. ABC News and CNN grumpily complained that Clinton and Obama were holding a "secret meeting." Secret -- although television news vans were 100 feet away!
For hype reasons, journalists and politicians increasingly say "secret" when they mean "private." The debt supercommittee is not acting in secret -- every American knows what the supercommittee is doing. The sessions simply are private, to prevent their being taken over and converted into lobbyist theater. Clinton and Obama didn't sneak off to some remote location, using a cover story, to meet secretly. They met in private, with everyone knowing they had decided to do so.
Secret and private are very different concepts. If by "secret," commentators mean "not shown live on television," 99.99 percent of human events occur "in secret." By this standard, Fox News planned its coverage of the debt talks "in secret." You're reading this "in secret."
True secrecy is rare. Use of this loaded word to puff up what otherwise would be routine news is yet another example of the debasement of language.
[+] Enlarge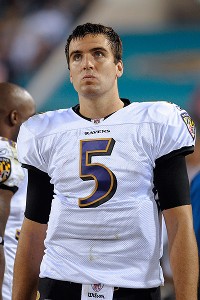 AP Photo/Phelan M. EbenhackJoe Flacco keeps checking the scoreboard: There must be errors in the Baltimore offensive stats.
A "Monday Night Football" Game Only the Football Gods Could Love: At 5:29 remaining in the third quarter, the Baltimore Ravens made their initial first down of their MNF encounter at Jacksonville. The 12-7 Jaguars victory invokes the perennial question of low-scoring contests: Was it terrible offense or terrific defense? The game was like a root canal in cleats. Put it this way: Jacksonville held the visiting favorite to 7 points, 146 yards on offense and just 2.8 yards per play, yet had to hang on for dear life in the final two minutes. Average out the Saints' 55-point victory on Sunday night and the Jags' 5-point win on Monday night, and you'd have two normal games.
Jacksonville's front seven performed well against the makeshift Baltimore offensive line. Baltimore general manager Ozzie Newsome has a sterling reputation -- how could he have allowed the team's O-line to enter such a state of decay? The Jaguars, a Cover 2 (that is, zone) defense, surprised Baltimore by playing man-to-man coverage. Why did it take the Nevermores 'til the fourth quarter to adjust and begin throwing up the field?
Credit the win to Jack of the River going for broke rather than doing the "safe" thing. Jax leading 9-7 'ere the clock struck midnight -- with 1:48 remaining on the clock -- the Jags faced fourth-and-6 on the Baltimore 33. A field goal forces the Ravens to play for a touchdown; a missed field goal gives them possession on their 40, needing only a field goal to win; a punt probably rolls into the end zone for a touchback. Del Rio sent out the place-kicker, whose 51-yard kick was true: Forced to play for a desperation touchdown, Baltimore threw an interception. Often a field goal attempt is the safe course. In this case, it was bold.
Jacksonville entered the contest 1-5, while Baltimore came in 4-1. The Jaguars had to win, or their season was over. The Ravens knew they could lose, and by December, no one will even remember this game occurred.
Blame Busted Coverage, Not Helmet-to-Helmet Rules: Second-and-4 at the Indianapolis 14, the Saints lined up four wide. Marques Colston, in the slot, ran a simple slant for the touchdown; no cornerback jammed him, no one even covered him. As he scored, a linebacker was jogging in his general direction. Trailing San Diego 21-17, Jersey/B faced third-and-goal on the Chargers' 3 and lined up four wide. Plaxico Burress, in the slot, ran a simple slant for the touchdown. San Diego corner Antoine Cason didn't jam Burress and acted surprised when he ran a slant -- the most common wideout pattern at the goal line.
Stricter enforcement of helmet-to-helmet contact rules is not causing bad coverages such as these. Bad coverages themselves are the culprit.
Sure, It's Just a Ridiculous Commercial, But Why Would a Ridiculous Claim Make Someone Want to Purchase a Product? Readers including Nora Podolak of Bremerton, Wash., noted that the the Nissan Frontier commercial -- in which a pickup truck races onto an airfield and catches the front wheel of a landing jetliner -- has a tiny-type warning, "Fictionalization. Do not attempt." OK, I won't drive my pickup truck in front of a landing jetliner. But the disclaimer also means the properties of the Nissan Frontier are fictional.
The fake computer-generated aircraft, described by an announcer's voice as a passenger plane, resembles a Boeing 727, which is an obsolete aircraft no U.S. passenger airline has flown in more than a decade. Owing to quirks of this 1960s-era design, such as its flap settings, the Boeing 727 had a high landing speed of 150 to 180 miles per hour. So even if the pickup truck actually could support the nose wheel of a landing jetliner, and even if the truck somehow could drive to precisely the correct spot synchronized with the descending plane, the pickup would need to be moving at least 150 mph. Talk about fictionalization.
Consolation for Miami, Indianapolis Seasons-Ticket Holders: Early in the season, TMQ noted this was a good year to be terrible, as two franchise-quality quarterbacks, Andrew Luck and Landry Jones, will be available in the draft. There's a chance of three franchise quarterbacks, depending on what transpires with Russell Wilson. The last time quarterbacks went 1, 2, 3 in the NFL draft was 1999. This is a really good year to be terrible.
[+] Enlarge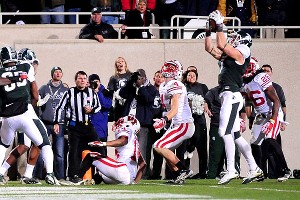 Andrew Weber/US PresswireWas Wisconsin defeated by an exciting Michigan State play -- or by its own schedule?
Needless to say Wisconsin at Michigan State was not Wilson's finest hour. The Spartans played the style the football gods reward -- going for it instead of kicking on fourth-and-2 in the Maroon Zone, sending an all-out rush to block a punt rather than timidly dropping men back. Wisconsin coach Bret Bielema's timeouts in the final minute, effectively sustaining the game for Michigan State, have been debated by the sportsyak crowd. TMQ thinks a case can be made for the timeouts, since Wisconsin had a good chance of forcing a late punt. The strategy just didn't work.
The weakness revealed was not so much in the Badgers as in their schedule. Wisconsin's seventh game of the season was its first true road game, following five played at home and one in Chicago. The ability to win in someone else's house is the test of sports champions, and Wisconsin had gimmicked its schedule to avoid that test. The Badgers' sked is seven homes dates, four road games and one neutral site. That's a gimmick schedule.
Football and Mortality: The first consideration is that both absolute numbers of football deaths and rates of death compared to participants are in long-term decline -- mirroring the decline in many forms of risk in society. Age-adjusted rates of all deaths in the United States have declined for 10 consecutive years. Auto fatalities have been declining for more than a generation. "Winning the War on War," an important new book by Joshua Goldstein -- he presents the ideas in this video -- shows that despite the impression created by cable news, exposure to violence is in decline both in the United States and worldwide. Schoolteachers especially should consult Goldstein's book and video.
If society generally is becoming safer, sports also should be becoming safer, and that is happening. Data from the National Center for Catastrophic Sport Injury Research reflects a steady decline in deaths caused by football. Table 1 of the center's most recent report shows that in the past decade, 34 high school, three pro and two college football players have died as the direct result of games or practices, with the primary cause of deaths being heat stroke. That is entirely awful -- but much lower than the rate of a generation ago. In 1968 alone, 26 high school players died as a direct result of football; last year, the number was two. Table 3 of the report shows the direct fatality rate from high school football peaked at 2.6 deaths per 100,000 players in 1969 and declined steadily to 0.13 deaths per 100,000 in 2010. That means a 1968 high school football player was 20 times more likely to die than a 2010 player. (The main reason for declining deaths was that football helmets were improved to eliminate skull fractures.)
But even if football deaths have declined, one loss of life is a tragedy. This is especially true for death due to heat stroke, which is 100 percent preventable. No athlete should die from heat stroke; coaches or trainers whose negligence allows heat-stroke death should face legal consequences. Deaths from brain swelling or undiagnosed heart defects are, by contrast, a challenge to prevent. Ridge Barden, the 16-year-old New York player who died earlier in the month, seemed fine moments before collapsing and had not been involved in any dramatic hits. Accumulating harm to his brain from many minor hits might have gone unnoticed. A conscientious coach or athletic trainer might have missed the signs.
How to compare the slight risk of a terrible football outcome to other common risks experienced by the young? Consider the risk of being in a car. About 3,000 teens die each year in car crashes. There are about 21.3 million Americans between 15 and 19 years of age. Teens average about 146 miles driven per week, roughly 150 hours per year of driving. These figures yield a roughly one in 1 million chance that a teen will die in an hour of driving. The National Federation of State High School Associations reports that 1.1 million boys (and a few girls) played high school football last academic year. A typical high school football season would include, in games and practice, perhaps 75 hours of exposure to contact. That's about 80 million total hours of exposure to contact on the part of high school football players. The National Center for Catastrophic Sport Injury Research reports a recent average of three deaths per year directly caused by high school football. That's a roughly one in 27 million chance of a high school player dying from an hour of football contact.
These are all rough estimates. Taking them together, a teenager has a one in 1 million chance of dying in an hour behind the wheel, compared to a one in 27 million chance of dying in an hour of football contact. Being in pads on a football field is less deadly than driving to high school for class. Many contemporary parents, especially moms, might say, "I don't want you playing football because it's so dangerous, but it's fine for you to drive to the mall." As regards mortality, this misperceives the risks.
Of course, death is only one of many risks in football. Other, more common harm, especially accumulated damage to the brain from concussions, is a greater negative to playing, since sports-caused death is very rare but sports-caused brain harm is not.
And even if the risk of any activity -- whether football, driving or anything else -- is low, society should work to make the risk lower. Cars are safer than a generation ago, but many safety features still could be added. Stricter enforcement of football rules, in games and in practices, would lower risk.
Risk, in turn, does not exist in a vacuum. It should be balanced against gains. The reason the chance of a crash does not stop people from jumping into cars is that automobile transportation offers many benefits. The benefits of cars almost always outweigh the risks. Benefits outweigh risks in many pursuits. Ballet dancers, for instance, might ruin their knees, but being a ballet dancer has many benefits. Bicycling is a leading cause of concussions, but bicycling also offers significant health benefits. If we thought only about risks, we'd never get out of bed. There are many rewards to playing football -- exciting experiences, a sense of worth in the community, admission boosts to college being among them. Most high school football players enjoy some benefits and never experience any harm. The benefits should not be overlooked.
Deaths of young athletes shock society, as has been the case at least since this 1896 poem. Recently two middle-aged, retired NFL players, Orlando Brown of the Ravens and Kent Hull of the Bills, died before their times -- Brown at age 40 from complications of diabetes, Hull at age 50 from intestinal bleeding. When former pro football players die in middle age, should this be seen as bad luck or as a sign of long-term degenerative harm from football? Last season, TMQ reviewed long-term health studies on football in this column.
Deaths of young athletes cause a second level of shock because rightly or wrongly, sports teams, especially football teams, are perceived as symbolizing the hopes of their community. Particularly in small towns or college towns, when the home team wins, this is seen as auspicious. Losses are perceived as bad signs. Deaths on the home team are the most awful signs imaginable. In August, four players from the high school football team of a New Jersey town were killed in a car crash that had nothing to do with sports. Any four students from any high school dying in a car crash would be a tragedy. But because the four deaths occurred on the football team, the community perceived the event as especially terrible. If a bicyclist dies, this does not always make the front page of newspapers, while a football death usually does.
[+] Enlarge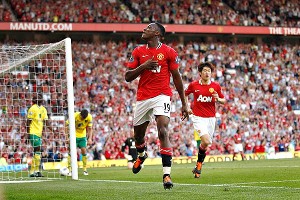 AP Photo/Jon SuperAt least the Glazers' helicopters did not land on the Manchester United game.
Absence of Wasteful Spending: TMQ pounds the table about football teams receiving police escorts and similar needlessly lavish travels perks. John Karp of Washington reports a refreshing counter example: "Not all sports teams are blocking traffic to get to their games. This article details how the basketball team from my alma mater, George Washington University, took the Metro to a game downtown at Verizon Center."
If only all the rich and powerful took the progressive attitude shown by George Washington University. Reader Joe Kaluva of Madison, Wis., notes the Glazer family, owners of the Buccaneers, had stadium parking near a Manchester United game closed off so they could use the area to land in helicopters, then fly on to London for the Bucs-Bears contest. Are the Glazers heads of state? Nobel Prize winners? No, just spoiled rich people.
Adventures in Officiating: Scoring on a pick-six against Oakland, Brandon Flowers of Kansas City briefly put his foot on the ball and flexed his muscles. He was flagged for unsportsmanlike conduct for "using the football as a prop." Celebration penalties have become ridiculous. Taunting should be penalized, but what's wrong with celebrating? The game is, at heart, entertainment. There is no reason players should not entertain the audience by dancing after a score. Plus, the rule is enforced inconsistently. In the Rams at Dallas contest, Dez Bryant used the ball as a prop to celebrate a touchdown, and there was no yellow. The only way to make enforcement of the celebration rule consistent would be to penalize any show of emotion following a touchdown. That, of course, would be silly. If consistent enforcement of a rule would be silly, the rule is silly.
Sportsmanship Watch: There are many examples of bad sportsmanship -- what about the good kind? On Friday night in Montgomery County, Md., where your columnist lurks, 2010 playoff high schools Damascus and Whitman met in a high-pressure contest. With about a minute remaining, Damascus, leading 28-14, reached first-and-goal on the Whitman 1. Rather than punch in a needless touchdown that would have made the final 35-14 and impressed pollsters -- even in prep football, style points influence national and local-newspaper rankings -- Damascus knelt twice to end the game. Congratulations to coach Eric Wallich of Damascus High School for a classy decision.
Obscure College Score of the Week: Indiana of Pennsylvania 35, Gannon 7. Tuneup No. 1 for the annual Tuesday Morning Quarterback Obscure College Game of the Year. Located in Erie, Pa., one of the country's small-gem cities, Gannon University offers students "lots of things to see and do without the traffic and hub-bub of neighboring Pittsburgh, Cleveland, and Buffalo." The "traffic and hub-bub" of Buffalo -- anybody from Gannon been there in the past 40 years?
Bonus College Score: California of Pennsylvania 32, Mercyhurst 26 in overtime. Tuneup No. 2 for the annual Tuesday Morning Quarterback Obscure College Game of the Year. Also located in Erie, Pa., Mercyhurst College urges students to "besiege the occasion, wage war upon it" and teaches, "For it is the resolute of mind who receives the greatest achievement and the highest fulfillment and reward." The latter statement is terrible grammar, in addition to being nearly incomprehensible.
Running Up the Score Watch: Last week TMQ hammered Mount Union, the 800-pound gorilla of Division III football, for running up the score on outclassed opponents. On Saturday, Mount Union got a strong game from Capital, needing late scores to win 27-7. A 27-7 victory is a lot more to be proud of than a 62-7 walkover. Located in Columbus, Ohio, Capital University should not be confused with Capitol College.
This week's sportsmanship offender is Marian University, which defeated Concordia of Michigan 77-3. After taking a late 56-3 lead against an obviously weak opponent, Marian still attempted multiple passes in a furious bid to run up the score, including throwing a touchdown pass to make the margin 63-3. Note that once the Saints led the Colts 48-7, New Orleans did not attempt another forward pass.
This season, Marian also has wins of 56-0, 52-0 and 47-0. If happening more than once in a blue moon, these kinds of scores don't mean a good team, they mean a gimmick schedule and bully behavior against opponents who have no chance. Marian says its vision is to "profoundly transform lives, society and the world." Maybe Marian should look first in its own backyard and bring a little sportsmanship to the football program.
[+] Enlarge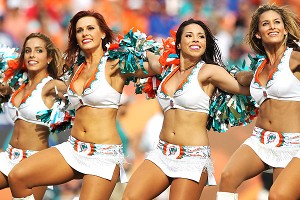 Robert Mayer/US PresswireThey were cheering in Miami! Nobody loses a 15-0 lead with three minutes remaining.
Single Worst Game of the Season -- So Far: There's no shame in losing. If you give your all and are denied, congratulations to the victor. But the Tennessee Titans didn't even seem to try as they were blown out 41-7 at home by division rival Houston. The Flaming Thumbtacks were outgained by 370 yards, a pathetic stat.
Trailing 34-7 at the start of the fourth quarter, they could not even be bothered to play for pride. When Brice McCain of Houston intercepted a pass, most Tennessee players didn't chase him; they merely watched as he returned the interception for a touchdown. Tennessee had two speed players on the field on this play, Javon Ringer and Donnie Avery. Ringer chased McCain for a moment, then quit. Avery jogged in the general direction for a moment, then quit.
Highly paid professional athletes might lose, but they must never quit -- and "quit" was the word for the Tennessee performance. Tennessee Titans, including coaches, you are guilty of the single worst game of the NFL season. So far.
Next Week: Results of the annual Tuesday Morning Quarterback Obscure College Game of the Year: California of Pennsylvania versus Indiana of Pennsylvania. This year the contest is at historic George P. Miller Stadium in Indiana, Pa. Watch live.
In addition to writing Tuesday Morning Quarterback for Page 2, Gregg Easterbrook is the author of "Sonic Boom" and six other books. He writes a politics column for Reuters, and is a contributing editor for The New Republic, The Atlantic Monthly and The Washington Monthly. His website can be found here, and you can follow TMQ on Twitter.