Commentary
Page 2 revisits Trinity-Millsaps miracle
Originally Published:
October 26, 2011
By
Doug Williams
| Special to Page 2
You'd think the football -- the very object that caused such a fuss -- would be on an ivory pedestal, bathed in spotlights and in a place of honor, a shrine to the football god of Never Give Up.
But you'd be wrong.
The ball that was pitched around like a circus act and carried across the goal line on the hot afternoon of Oct. 27, 2007, in Jackson, Miss., is downstairs under lock and key in the football offices at Trinity University in San Antonio.
Out of sight, but hardly out of mind.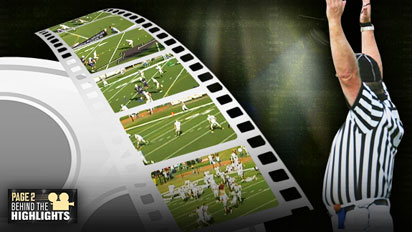 In a game dubbed "the Mississippi Miracle" -- the mother of all lateralfests -- little Trinity University leaped from obscurity to fame in a span of 62 seconds. One forward pass was followed by 15 laterals involving seven players in a 61-yard scoring play that started with just two seconds left in the game.
Fifteen laterals. No penalties. A blind, over-the-head pitch by an offensive lineman and a final, perfectly bounced toss that could have been thrown by Steve Nash -- all against one of the nation's top Division III defenses -- for a 28-24 Trinity victory.
Completely unscripted genius. "It was craziness," one player says. Trinity coach Steve Mohr still can't believe it happened.
"Just an inch one way or another here or there, and that ballgame's over with," says Mohr, who once said the play couldn't have been run "against air," much less 11 defenders. "Everything had to fall into place so perfectly."
---
The game played at Harper Davis Field that day was essentially for the championship of the Southern Collegiate Athletic Conference. Trinity (ranked No. 19 in the nation) and Millsaps (No. 24) were each 6-1. And Millsaps, under former Alabama coach Mike DuBose, had beaten Trinity 34-12 the year before.
SHAWN THOMPSON, Trinity wide receiver: They beat us pretty good [in 2006]. Stormed the field. It was a pretty awesome environment, especially at the Div. III level. Tore down the goalposts, shot off fireworks. It really put a bad taste in our mouths.
RONNIE WHEAT, Millsaps linebacker: That was a pretty big win [in 2006]. … Trinity had won the conference, like 13 straight. So to snap that, at home, in front of a crowd that really cared about it was pretty cool.
STEVE MOHR, Trinity coach: What's lost is the fact both teams really went at one another. … A lot of people just forgot about what happened during the (previous) 59 minutes and 58 seconds.
---
With 4:20 left in the game, Millsaps held a 24-16 lead. But Trinity drove 72 yards in a little more than two minutes, with quarterback Blake Barmore passing 13 yards to wide receiver Riley Curry to cut the lead to 24-22 with 2:11 remaining.
MOHR: To come back from being eight points down to the possibility of tying it and taking it into overtime was remarkable.
RILEY CURRY, Trinity wide receiver: When we scored, it wasn't a huge deal because, without the two-point conversion, it really wasn't going to mean anything. But we went for two and didn't get it, so at that point, we imagined the game was a little bit out of hand.
WHEAT: We kind of thought then, all right, that should be it. Get the ball back, run it out and that'll be that.
MOHR: Our quarterback was looking for Riley Curry (on the conversion) and got flushed and really had no choice but to throw the ball away. And that set up the onside kick to try and get the ball back.
---
Millsaps recovered the onside kick but couldn't run out the clock. On fourth down, with eight seconds left, backup quarterback Burt Pereira was brought in to take the snap out of the shotgun and eat the remaining time, but he couldn't.
MOHR: [Pereira] started to roll out to his right, and we shut him down on that end and he ducked back left. Instead of going backwards, he continued to go toward the line of scrimmage and went down, probably figuring that time had expired. … If he had just retreated a few more yards, time would have expired.
CURRY: Somehow, he slides with two seconds left and so we get the ball back. I had to go find my helmet and put it back on and walk out on the field. Nobody expected us to get the ball back.
WHEAT: Uh, no big deal. One snap, and we're finished with it. Our defense that year, we were a top-five-ranked defense. So, you know it wasn't the first time we'd been in a situation where we had to, you know, put out a fire. Didn't think too much of it. Just go out there and do our job.
---
With two seconds left and the ball at its own 39, the Trinity offense gathered briefly with Mohr and wide receivers coach Jason Guthrie before going out to the huddle. With the distance and the wind against them, Trinity coaches decided against a Hail Mary and opted for an underneath route.
MOHR: We just got into an empty set, and the plan was more or less to throw underneath, maybe 10 or 15 yards, because we knew -- being 60 yards away -- that the chances of throwing anything down the field were probably pretty remote, as far as a completion was concerned, and we didn't have time to set up any kind of field goal.
"

If you go back and watch the film, I close on [Shawn Thompson], tackle him and of course I didn't end up tackling him. He threw it back, lateraled it, and so I got back up and went to tackle the next guy, and he lateraled it and I went to tackle the next guy and the next guy …

"

-- Ronnie Wheat, Millsaps linebacker
BLAKE BARMORE, Trinity quarterback: Yeah, you would have had to have an otherworldly arm to make that throw.
CURRY: [Guthrie] said everybody go deep except for Shawn Thompson will go 10 yards and across. Blake was going to throw it to Shawn.
THOMPSON: So we went out to the field, got into the huddle, and I turned to Riley Curry and was like, "All right, man, I'm gonna pitch it to you." And I think [lineman] Josh Hooten in the huddle said, "OK, let's make it happen." I said, "Yeah, let's make it happen." Kind of funny, kind of surreal that we all had this positive attitude not knowing that what was going to happen would be craziness.
MOHR: I think, for some reason, the kids really had some good vibes in [the huddle]. They weren't depressed. They weren't down. They were excited that they had one more opportunity left.
CURRY: As we broke the huddle, Shawn kind of looked at me and said, "Hey, if I catch it, just stay behind me, and I'll lateral it to you," and I was like, "All right, whatever," and we went out there, and it was just like a circus.
---
On defense, Millsaps was in a deep prevent.
WHEAT: I was in the middle of the field at linebacker. I guess I was 15 yards deep, something like that.
MICHAEL SIMS, Millsaps safety: We were so far back off the line of scrimmage. We didn't think the ball would get that far back to us where we were standing.
WHEAT: I'm thinking, "Just tackle 'em." You need to make sure you get a tackle or an incomplete pass and the play's over, that's it.
---
Up in the press box, Millsaps play-by-play broadcaster Jon Wiener and color man Justin Thompson were setting the scene. "They're going to have to throw the ball as far as they can," Wiener said. "Or perhaps …" "Start lateraling it," Thompson interrupted.
---
BARMORE: At the line of scrimmage, when I saw the four guys deep, I had an inkling where I was going but didn't know for sure. But as the play developed and I saw everybody retreating, Shawn really became the only viable option.
THOMPSON: Coming off the line, everybody was bailing like I expected, and I was wide open across the middle.
BARMORE: When I saw him open, it was just, OK, I'll try to hit him.
THOMPSON: I remember thinking, "Don't drop this ball. You are wide open." And Blake put it right in my gut, and I turned, and I remember running to the right. … And there was a guy there, and I literally turned and Riley was there and I pitched the ball.
CURRY: I think on the first lateral I was like, you know, get as much yardage as I can. I knew I was going to have to pitch it back eventually, but I wasn't extremely confident that the first lateral would even work and then …. once I caught the first lateral, we kind of went into survival mode. It was kind of a blur from there.
WHEAT: If you go back and watch the film, I close on [Thompson], tackle him and of course I didn't end up tackling him. He threw it back, lateraled it, and so I got back up and went to tackle the next guy, and he lateraled it and I went to tackle the next guy and the next guy, and it just kind of progressed like that.
---
In the weeks after the game, student groups at Trinity made and sold T-shirts about the play. One said, "I caught a lateral in the Trinity-Millsaps game," and another showed a diagram of the laterals, a confusing mishmash of lines, numbers and dots that graphically illustrated the sequence:
THE LATERALS:
Thompson pitched to Curry (No. 1).
Curry advanced to the Millsaps 43 and pitched to Hooten at the 50 (2).
Hooten quickly threw a no-look, two-handed pitch over his head to receiver Michael Tomlin (3) at about the Trinity 47.
Tomlin pitched to lineman Stephen Arnold (4) about the Millsaps 48.
Arnold pitched to Thompson (5).
Thompson then pitched to receiver Brandon Maddux (6) at about the Trinity 46.
Maddux cut back across the field and pitched to Curry (7) at about the 50.
Curry pitched back to Maddux (8).
Maddux passed across the field to Barmore (9), who advanced to Millsaps' 34.
Barmore pitched back to Thompson (10).
Thompson threw it back to Curry (11).
Curry eventually pitched to Tomlin (12).
Tomlin gave it up to Hooten (13).
Hooten tossed it to Maddux (14) near the sideline at about Millsaps' 31.
Maddux then threw a cross-field backward pass (15) that was tipped and skipped off the turf into the hands of Curry at the Millsaps 34. Curry then darted through the open field for the touchdown.
CURRY: [Maddux] kind of made fun of himself for a while about it [the bounced throw]. He kind of threw it like a girl, kind of like a chicken wing. He flopped the ball out there. Luckily, it was a perfect spiral, that's why it bounced so well to me. He made fun of himself, but it was a perfect throw, a perfect bounce.
THOMPSON: Linemen, they never touch the ball. That's kind of the funny thing. Josh [Hooten] touched it three times, and it was like, as soon as he touched the ball, it was, "How do I get the ball out of my hands? Somebody take it from me." We still laugh about that.
---
On the Millsaps sideline, linebacker Canaan Farris -- who had had one of his best games with 11 tackles but was out because it was a prevent situation -- could only watch helplessly.
CANAAN FARRIS, Millsaps linebacker: It took everything in me to not just run on the field … all I could think was "Don't run on the field and tackle this person" because I was ready to go.
MOHR: It's amazing from the standpoint that the kids had enough sense to stay behind one another and trail the ball.
WHEAT: I was just trying to tackle the guy with the ball. I was running all over the field. You know, it was 62 seconds long, and the average football play lasts about seven seconds. So once you start getting up into the 35-, 40-second range, it's a different type of feeling. I've never been that tired in my life.
THOMPSON: It was utter chaos. I remember my calves were cramping up during the play. I was thinking, "Wow, this thing's still going. OK, OK, I better get back. There's another, OK, OK. Huh. Well, it's still going." That's all I can remember.
SIMS: We were in limbo. We didn't know whether to go up, stay back, get the ball or hit the person.
CURRY: The whole time, you really don't know what to do. … If I'm not running around or have the ball, I'm blocking, normally. But in this case, sometimes I should be blocking, but I need to be ready for the ball as well because you know they might lateral it again.
---
On the final lateral, as the ball hit the turf and bounced up to Curry -- who then broke free to score -- some players appeared to think the play was over, including Millsaps' Sims, the closest defender to Curry. On the video, Sims relaxes and turns away as Riley catches the ball. Some players say they heard Millsaps shoot off celebratory fireworks late in the play, when the ball bounced; others say fireworks erupted just seconds into the play, when it seemed certain Millsaps would win.
CURRY: The ball bounced into my chest and you can see on film some of the guys put their hands up like, "Yeah, finally, it's over."
FARRIS: When the ball hit the ground at one point, I know I saw three or four players stop. I'm standing there thinking, "What are you doing? Go get the ball and go tackle the guy."
"

My dad was at the game. But he left with about two minutes left ... to catch a plane. I scored the last two touchdowns and my dad missed both of them.

"

-- Riley Curry, Trinity wide receiver
SIMS: That one hesitation. I had turned and started walking to the sideline and, when I heard the crowd yelling, I was like, "What's going on?" That's when I turned around and noticed he was running toward the end zone.
WHEAT: I think a few guys definitely thought that was a dead ball and it was over.
SIMS: When the ball hit the ground the last time, we had fireworks going off, people yelling, a lot of whistle blowing. I'm not making excuses, but a lot of whistle blowing, a lot of cheering, and everybody stops except for Curry, who gets the ball. Everybody stops except him. … But when he got the ball and started running, I hear Trinity's sideline yelling and I turned around and I'm like, "No, this can't be happening."
---
When Curry scored, he was mobbed. Players, friends and family stayed on the field for more than an hour relishing the moment and taking photos.
CURRY: I was so tired, they were dogpiling on me after I scored, and I was kind of frantically screaming at everybody to get off me. I couldn't breathe. I thought I was going to suffocate.
BARMORE: It was pure shock. Immediately, I started to scan the field looking for flags. I figured for sure this would be called back, and then I saw my teammates running on the field. I've never had a feeling like that.
CURRY: My dad was at the game. But he left with about two minutes left because he had to go back because my little brother had his last high school football game in Houston, so he had to catch a plane. I scored the last two touchdowns and my dad missed both of them. And I didn't know he left. I was looking for my dad after the game.
MOHR: You're looking around, as a coach, instinctively looking for a flag on the field. But I didn't see any. All I saw were the official's hands go up.
---
Like Mohr, others were looking for flags, too. With a broken play and 15 laterals, the chances for infractions were countless.
RICK MITCHELL, referee on the officiating crew: I think the two things that we tried to get in position the most for were making sure all the passes were backwards and making sure there were no illegal blocks.
WHEAT: I was kind of skeptical at first that maybe these refs really did miss it. We're in Division III. We don't have replay, so it's not going to matter anyway, but maybe one of those was a forward lateral. But when I actually watched the play later at the hotel. … No, it's clean.
MITCHELL: Right after this happened, of course, it hit YouTube and other sources. I've seen it many, many times and, quite honestly, almost every time I watch it, that's what I'm watching for. Was there a pass that went forward or was there a block that was illegal that was missed? But you know what? It was clean. There were no fouls on the play. I have never spoken to a soul that has indicated to me that a foul occurred on the play or that we missed something.
---
Within a matter of hours, video from the game was on YouTube, ESPN and other networks. Trinity just that year had started broadcasting both home and away games on the Internet. Wiener, a Trinity sophomore -- who grew up just minutes from the Millsaps campus -- was in his second year of doing play-by-play under the direction of longtime executive producer Bob Edwards. The video and the excited play-by-play of Wiener and color call of Justin Thompson -- brother of receiver Shawn Thompson -- were getting national airtime.
JON WIENER, Trinity play-by-play broadcaster: When the game was over, that was one of the first things [Bob] said, "We've got to get this to ESPN or get it to whoever." Bob was all over that. Bob gets all the credit.
JUSTIN THOMPSON: When we got on the bus [after the game], somebody was like, "Hey, you know, we might be on ESPN tonight."
MOHR: We were all sitting around, watching "SportsCenter" that evening, and they had run down the 10 top plays, and we weren't on there, and we were disappointed and everything, and then they came on and said, "We've got a bonus feature for you that's just come in," and they threw that thing on there, and all of a sudden it became the No. 1 play of the day. All of a sudden, there were phone calls and messages and everything else.
WIENER: It was a dream come true, certainly, as it was for everybody involved in some ways. I always joked my goal was to get on ESPN calling games, and there it was. It was sort of a fluke and a once-in-a-lifetime deal, but that's what made it special.
WIENER: I think I just sound like a crazy country kid screaming my head off. Which, you know, is understandable. … I go back and it's fun, I laugh, but I've heard it so many times now it's hard not to be critical. In some respects, I can't imagine anyone calling that play and not becoming hysterical. … I could be critical and be like, "Oh man, that's just an 18-year-old kid who didn't know anything, just caught up in the moment," but that's exactly what it was.
SHAWN THOMPSON: I watched [the video] so many times, just laughing at my brother's reaction. … Ellen DeGeneres even had my brother's voiceover as her [TV show] intro. It was in the month after, she was like, "Why can't my team be as excited as this guy," and she played it: "Go, go, go!"
---
In the days and months after the game, Trinity's miracle workers were interviewed by national print and electronic media, and the seven players involved in the laterals were invited to the ESPYs, where their play was nominated for best play of the year. Time magazine chose it as its No. 1 Sports Moment of 2007, and the play also was voted the Pontiac Game Changing Performance of the Year, which earned a $100,000 scholarship donation to the school.
MOHR: All of a sudden, Trinity University got on the map. They said donations spiked and there was an increase in our application pool. And it helped from a recruiting standpoint.
BARMORE: We got more media attention than our little school has probably ever received. The [San Antonio] Spurs had a Trinity Day where they brought the Trinity football guys, not just the guys on that play but the whole team was invited to come out. We were recognized at halftime, so that was kinda cool. They put the play on the big video screen as we walked out.
THOMPSON: People definitely remember it. I went to a Yankee game in New York, and the people beside me, I got to talking to them during the game, and I guess it came up that I was in [the play], and they were, "Oh my God, you were in that play? That's incredible that I'm sitting next to you." That was pretty cool to be across the country and people recognize you.
BARMORE: The ESPYs, that was incredible. It was kind of a mix of major sports stars, celebrities. We really met a lot of people.
---
For the Millsaps players, Curry's touchdown was a punch to the gut. Wheat, who took a crunching block that knocked his helmet off as Curry broke free, remembers being exhausted.
"

I've seen it many, many times and, quite honestly, almost every time I watch it, that's what I'm watching for. Was there a pass that went forward or was there a block that was illegal that was missed? But you know what?
It was clean.

"

-- Rick Mitchell, referee
WHEAT: It's probably one of the longest plays in the history of the game, and at that point in time you're gassed. You don't have much left in the tank. So, the guy threw a pick, knocked my helmet off and, when I hit the ground, I looked up and [Curry] was crossing the goal line and I said, "No way. No way that just happened."
SIMS: We went straight into the locker room. Our entire side, the fans' side, was silent. They couldn't believe it. We couldn't believe it.
FARRIS: Honestly, when I got to the locker room, I bawled my eyes out.
DUBOSE: The worst part about it is we had five or six guys just quit on the play. That type of thing shouldn't happen. Sure we were tired. But so was Trinity. You have to finish the play. We stopped.
SIMS: Coach DuBose, he came to me to ask me why did I give up. You know, he got in my face and was yelling at me and everything, but hey, that's Coach D. He's very intense. He always tells us not to give up, and, at that time, he felt we had let him down.
SIMS: The following day [DuBose] came and apologized after going back and studying the film all night. … He told us, "Guys, y'all fought. You gave it all you had. I looked at the play, I've gone over and gone over it, and I can't fault you all." He took the blame for the entire game. And we were good from there. We just learned from that play. To fight to the end."
WHEAT: I don't think you can prepare for all the variables on that play. Guys flipping it back to offensive linemen and then catching it and making perfect laterals. … We were really a good football team and just had one really, really crazy, terrible play.
---
Millsaps' Sims says he refuses to watch video of the play after watching it once, and he says some teammates feel the same way. He's especially been a target of posters on YouTube, who see him turn away from Curry when he believes the play is dead.
SIMS: Because I was the last one that could have stopped him from running in. So they blamed it on me. I was the one that got blamed because of it. Because, you know, I stood there and I turned my head and started walking away.
---
Today, the play has a physical presence at Trinity, with memorabilia and photos in a hallway that Mohr calls "the Miracle segment" of the football offices. There's the enlarged $100,000 check from Pontiac, newspaper articles, a letter from Lou Holtz that congratulated Trinity's players on not giving up, and pictures of the team from the game and the seven players at the ESPYs.
Steve Mohr is in his 22nd season as head coach at Trinity.
Mike DuBose is defensive line coach at the University of Memphis.
Riley Curry, who graduated with a degree in Spanish, is doing missionary work in Honduras.
Blake Barmore is a commercial lending officer for Texas Citizens Bank in the Houston area.
Shawn Thompson is a treasury analyst at Agro Group U.S. in San Antonio.
Rick Mitchell is an attorney in Jackson, Miss., and continues to officiate college football games.
Jon Wiener graduated from Trinity with a degree in English and just completed his master's in television and reporting at Syracuse University.
Ronnie Wheat received a B.A. and master's from Millsaps and is linebackers coach and recruiting coordinator at the school.
Canaan Farris is a patient care tech at the University of Alabama-Birmingham.
Michael Sims received his degree in psychology and works in patient care with a mental health facility in Jackson, Miss.
---
Although much has been written about the play itself, some of those involved in it relish the side stories that make them smile or shake their heads in wonder.
MOHR: In the spring, we play a game called trash-can basketball. Which, basically, you divide the whole team up and you may have 30 guys on a side, and the object of the game is to get the ball into a trash can in the middle of the field, and the only stipulation is you cannot pass the ball forward and you can only take three steps once you have the ball, and then it has to go backwards. It's just a fun thing. We have done that in the past, and it's amazing some of the similarities, looking at that play and watching what happened in those practices.
THOMPSON: My roommate and best friend, [receiver] Chris Coleman, was on the field but didn't touch the ball. But I'd say he is probably the best athlete on that field, so we always give him a hard time, "If you'd have touched the ball, you would have messed up and tried to score or something."
WIENER: A mother on the team, I can't remember who, and some other women went into the bathroom of the hotel that morning [of the game], and there were all these black Baptist women in there [who were attending a convention], and so they got to talking and explaining to them the stakes of the game that day, and this woman said, "It's a blessed day. There's going to be a miracle that happens for y'all. We're going to pray for it, and it's going to happen."
(Mike DuBose was unavailable to comment on this story. His comments come from the Clarion-Ledger newspaper of Jackson, Miss., in 2007.)
Doug Williams is a freelance writer based in San Diego.