Commentary
The greatest reality show on dirt
Originally Published:
October 25, 2011
By
Alecia Hamm
| Page 2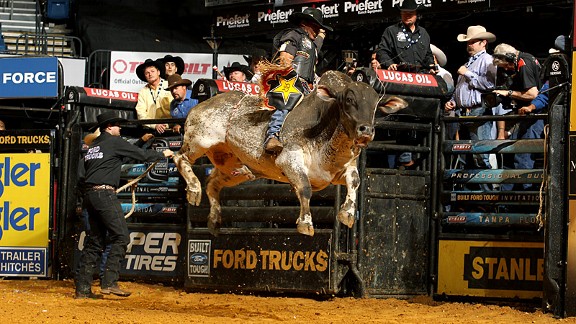 Andy Watson/Bull Stock MediaValdiron de Oliveira of Brazil attempts to ride Circle T's Speckled Ivory at a series event in Tampa, Fla.
Cord McCoy is a reality TV star.
He and his brother Jet made it to CBS' "The Amazing Race" Season 16 finale. And after finishing second and earning fan-favorite status, the McCoys landed a spot on the show's 18th season, "The Amazing Race: Unfinished Business," where they finished sixth.
But the title might be more fitting for his day job.
We're talking about his bull riding gig -- in the Professional Bull Riders' Built Ford Tough Series, a reality show waiting to happen complete with plenty of "Amazing Race"-like reality theater.
"There are a lot of similarities," McCoy said. "We have a lot of travel as professional bull riders, and every time we get to one of these events there is a challenge. But it usually weighs about 1,800 pounds here."
PBR WORLD FINALS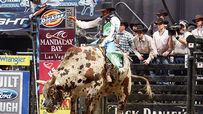 The Professional Bull Riders Built Ford Tough World Finals runs from Wednesday to Sunday in Las Vegas.
Official site
TV: Versus, 9 p.m. ET Wednesday-Saturday; NBC, 4 p.m. ET Sunday
Take a look at some serious bull-riding action. PBR photo gallery

Known as "the toughest eight seconds in sports," PBR has a propensity for creating TV gold. More than 100 million viewers worldwide tune in to watch a guy risking limb and life on the back of a 2,000-pound animal that just wants to catapult him somewhere in less than eight seconds -- with only a padded vest and a 10-gallon hat to protect the human from the bull's residual anger.
And consider these reality TV staples:
A race for the cash: At the PBR Built Ford Tough World Finals in Las Vegas on Wednesday through Sunday, 40 of the best bull riders from all over the world will compete for $1 million.
What's the catch? On the PBR tour, money isn't guaranteed. The riders are responsible for their hotel accommodations and their transportation to and from the event along with all the other expenses that come with moving around so much. And if any of those things goes wrong and a rider can't make it to the event, he gets nothing for his efforts. You have to earn your way in this sport. And that sets it apart in the riders' eyes.
"We have the opportunity to win lots of money, but we also have the opportunity to waste lots of money, so we take care of what we make because it's not a guaranteed paycheck," said Austin Meier, who sits fourth in the BFTS standings and was featured on the short-lived CMT show "Posse."
"It ain't like other sports where you stub your toe and you're out for six months and you still get paid millions. If we get hurt, we're out six months, we don't make a dime. And that is why we handle our business and we take care of what we make."
The quirky entertainer who opens the show and warms up the crowd: Yeah, the PBR has that covered.
Flint Rasmussen has been painting his face with clown makeup and dancing around arenas for the PBR for the past six years. A former high school teacher and football coach from Montana, Rasmussen spent his summers and weekends touring as a rodeo clown. He gave up teaching to be a full-time entertainer in 1996 and since has become the premier entertainer on the bull-riding circuit. And he said he feels right at home.
"I fit what they are trying to accomplish here," Rasmussen said. "There will always be tradition here, the whole cowboy thing will always be tradition, but it is a little more edgy.… What I do out there, the singing, the dancing, the crowd involvement -- it is like a concert tour. I always want to be a rock star, and this is the closest I'll get."
The breakout star: There is one PBR veteran who knows what it is like to reach rock-star status. Ty Murray is arguably the most famous bull rider in the history of the sport because of his contributions on and off the dirt. The rodeo veteran won just about everything there is to win on the professional rodeo circuit during his career, including winning the Professional Rodeo Cowboys Association's all-around world championship seven times.
The spin-off series: Toward the end of his riding career, Murray and 19 other bull-riding athletes broke away from the rodeo circuit to found the PBR tour, which focuses on bull riding, rodeo's most popular event. The two-time world bull-riding champion and current PBR president said the founders broke away with a worldwide television viewership in mind. He wanted the sport to be one that fans set their DVRs to record every week. He wanted a true die-hard base.
"We wanted to make this more of a followable sport," Murray said at the XL Center in Hartford, Conn., the 28th stop on the 29-city tour. "Fans could tune in to every week on TV and know they were going to see the very best guys and the very best bulls every time they tuned in."
The reality crossover: Murray is also no stranger to the reality TV circuit, either. After a stint on CMT's "Ty Murray's Celebrity Bull Riding Challenge," in which he attempted to teach such personalities as Stephen Baldwin and Vanilla Ice proper technique, Murray joined the cast of Season 8 of "Dancing with the Stars." Murray and his partner, professional dancer Chelsie Hightower, finished fourth, and the competition was enough to bring the seven-time World All-Around Rodeo Champion to his knees.
His assessment? "Brutal."
Still, not quite as brutal as PBR.
"It is dangerous every single time," he said.
Must-see reality TV.
Alecia Hamm is an editor for ESPN.com.