Commentary
Don't throw that home run ball back!
Originally Published:
October 26, 2011
By
Jim Caple
| Page 2
The baseball gods gave Jordan Hartsell a piece of history during Game 3 of the World Series. And due to the worst tradition in baseball, she threw it back in their faces.
Or more accurately, she threw it onto the field.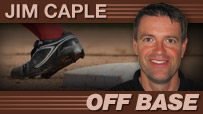 Hartsell was sitting in the stands in left-center at Rangers Ballpark during the ninth inning Saturday night when Albert Pujols hit his record-tying third home run of the game. Fans reached up to catch the home run ball as it landed two rows in front of her, the ball deflected off their hands and smacked Jordan in the chest. Her mother picked the ball up from the ground and handed it to Jordan. For a brief moment, she held baseball history in her fingers. Just three players in history have hit three home runs in a World Series game -- Babe Ruth (twice), Reggie Jackson and Pujols. And she had the historic ball in her hand! But because the ridiculous trend is for fans to throw back opponent's home runs, Hartsell immediately whipped the valuable souvenir onto the field.
She did so much to the frustration of her father, who pretty much gave her 24/7 grief afterward. "Especially since I go to SMU," Hartsell said. "They were like, 'That could probably have paid for half a semester.' Yes, they were not very happy."
Hartsell is a big baseball fan. She played competitive softball until last year and the Hartsells are season-ticket holders so devoted they sat through their team's entire 16-7 loss. Jordan attends a lot of games and she knew what she was doing. And still the only regret she expressed when I talked to her Sunday is that people were making such a big deal about throwing the ball back.
"If I had kept it and someone had paid me money for it, that would have been dirty money -- like it's not even cool," Hartsell said. "If you were a true Rangers fan, you would have thrown it back in a heartbeat."
Unfortunately, Hartsell is all too correct about that. Far too many fans are throwing home run balls back onto the field, copying a stupid tradition started by Cubs fans. Why anyone would happily copy a tradition begun by baseball's ultimate losers is beyond me. But just as The Wave did three decades ago, this trend has inexplicably and disturbingly spread around the country to other teams.
It's ridiculous. As ESPN analyst and former outfielder Chris Singleton says, from the moment the gates open, fans beg the players to give them a baseball. Many fight for batting practice balls in the stands. They push and shove and crowd and scrap and claw and bite and generally embarrass themselves for a mere foul ball from the likes of Nick Punto. And then someone like Pujols hits a home run and they throw it back? That's insane.
I talked to fans in Texas who said that throwing an opponent's home run back is a way to support your team. But that makes no sense. It's not like the umpires take the run off the scoreboard if you throw the ball back. The only thing you're doing is cheating yourself of a precious souvenir. Most of us never get the chance to catch (or drop) a home run ball. Why would you throw it away just because the batter who hit it happened to be wearing a different jersey than the one for which you paid $150 at the team store?
The players don't want you to throw it back, either.
"If you talk to most players, they'll say keep the souvenir," Singleton said. "It's a unique opportunity to catch a home run ball or foul ball. You paid a lot of money to come to the game -- hold onto the ball! We'll still love you just the same. You're not going to help us by throwing the ball back on the field."
Outfielders dislike fans tossing balls back onto the field for a couple of reasons. One, they get nervous when anything is thrown their way from the stands. And two, Singleton says, "You have to go and pick it up. I don't need to be chasing after another ball. I'm trying to save my legs and I don't need to go chase a ball you threw."
This tradition needs to stop and it needs to stop right now. If the baseball gods bless you with a home run ball don't blaspheme them by throwing it back. Keep it! Resist the considerable peer pressure and hold onto that ball. Throwing it back is a meaningless gesture. Even if the ball doesn't hold that much value to you, take it home to give to your child or your neighbor's kid. Brighten up the life of someone else instead of momentarily pleasing the loud drunks around you.
If you're not convinced, let me put it this way: Don't ever, for any reason, under any circumstances, copy the Cubs. I mean, look where it's gotten them.
Oh, by the way, despite her foolish throw, Hartsell did leave the ballpark with at least one souvenir from the historic home run. "I have a nice bruise on my chest," she said.
CSI: BOX SCORE
You know the rules. You get a fragment from an old box score and the challenge of determining what game it is from and why it is significant. I give this one a difficulty rating of 5.0.

Kurt Snibbe/ESPN.com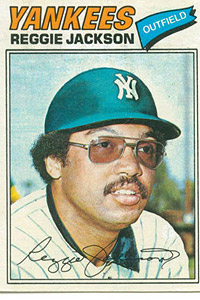 Courtesy of ToppsReggie Jackson, in the pre-Photoshop era.
BASEBALL CARD OF THE WEEK
This card (1977 Topps No. 10) is from 1977, when Reggie hit his three home runs in Game 6 of the World Series. But if you look, you can see the clumsy air-brush technique used by someone to paint a Yankees batting helmet and pinstripes on the photo. That's because Reggie played the previous season for the Orioles (how many people remember that season?) before signing with the Yankees as a free agent in November 1976. Topps, therefore, didn't have a photo of Reggie in a Yankees uniform and made do the best it could. Yeah, standards were a little lower in those days.
BOX SCORE LINE OF THE WEEK
Thanks to either faulty communications or a simple managerial screwup, St. Louis reliever Lance Lynn had an unbelievable performance in Game 5 of the World Series when Tony La Russa brought him in only to intentionally walk a batter (0 IP, 0 H, 0 R, 0 ER, 1 BB, 0 K). I've never seen that before and none of the players I asked could recall it happening, either. La Russa, meanwhile, would like to forget it ever happened, as well.
But there is no doubt this week's award must go to Pujols, who put up a line for the ages in Game 3 when he matched the World Series records for most hits in a game (five), RBIs (six) and home runs (three), while setting the record for most total bases (16). His historic line:
6 AB, 4 R, 5 H, 6 RBIs, 3 HR
Asked how much Albert might receive as a free agent this winter, teammate Skip Schumaker replied: "Who's his comparable? I have 50 guys like me in my arbitration cases. Who's his?''
Short answer? No one.
CSI: BOX SCORE ANSWER
There were a couple of clues you should have spotted. One, the wild pitch attributed to (Bob) Stanley. The bigger clue, however, is the name Buckner amid all those Mets pitchers. Yes, this fragment is from the infamous Game 6 of the 1986 World Series, played 25 years ago this week.
May the remaining World Series provide us as much drama as that night. Though, perhaps not quite so much pain for one team.
Jim Caple is a senior writer for ESPN.com. You can follow him on Twitter at jimcaple.