Commentary
Predicting next 25 World Series champs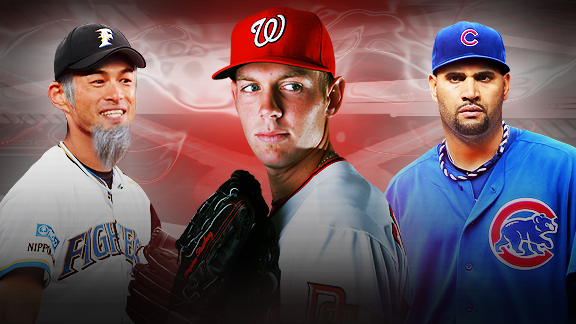 ESPN.com Illustration
In this world of instant gratification, the 2011 World Series is already old news. So in a nod to our short attention spans, Page 2 presents the second part of its predictions for the next 25 World Series champions:

2024: New York Mets
Mets def. Boston Red Sox, 4-3
On his 50th birthday, Mets knuckleballer R.A. Dickey baffles the Red Sox, throwing a two-hit shutout in Game 7. The matchup stirs memories, as fans hearken back to the bizarre events of the Mets' improbable World Series win over the Red Sox 48 years earlier. But strangely enough, no one in the New York or Boston media plays up the story, and former Red Sox first baseman Bill Buckner and his family are left alone to peacefully go about their business at their Idaho home.
2025: Las Vegas Athletics
Athletics def. Cincinnati Reds, 4-2
Unable to ever break ground on their proposed stadium in Sacramento, the Athletics are lured to an expanded Cashman Field with the promise of a 46,000-seat domed stadium to be located just off the Strip. After sweating away 50 pounds during the Nevada summer, svelte Athletics ace Joba Chamberlain throws two shutouts to earn World Series MVP honors.

2026: Colorado Rockies
Rockies def. Minnesota Twins, 4-3
Resurgent veterans Carlos Gonzalez and Troy Tulowitzki combine to drive in 20 runs and lift Colorado to its first World Series title. Game 7 is finally played on Dec. 1 after multiple snow postponements in both Denver and Minneapolis. President Tim Tebow welcomes the Rockies to the White House after the series, which conveniently culminates two days before Tebow must return to the Broncos following their bye week.

2027: Hokkaido Nippon-Ham Fighters
Fighters def. Chicago White Sox, 4-3
Ichiro Suzuki, finishing the first year of a seven-year contract with the Fighters, hits .450 and steals seven bases in the World Series to help Hokkaido become the first team from outside North America to win the Fall Classic. Yu Darvish, back with the Fighters after a lucrative stint with the Yankees, tosses two shutouts and six scoreless innings of relief in Game 7 en route to MVP honors.

2028: Houston Astros
Astros def. Los Angeles Dodgers, 4-2
After two decades of mostly last-place finishes, the Astros use a lineup and rotation comprised entirely of No. 1 overall draft picks to beat their onetime division rivals and capture the first World Series title in franchise history. Following the series, Dodgers owner Lindsay Lohan and veteran ace Clayton Kershaw acknowledge a longtime romance and elope to Cabo San Lucas.
2029: Yomiuri Giants
Giants def. Arizona Diamondbacks, 4-2
Jamie Moyer tosses a pair of complete games and hits the winning three-run homer in Game 6 to become the oldest World Series MVP at age 66. In his first season with Arizona, Phil Hughes is named NL Comeback Player of the Year for going 22-6 with a 2.34 ERA following two underachieving decades with the Yankees.
2030: Mexico City Athletics
Athletics def. Tokyo Yakult Swallows, 4-0
Frustrated by stalled plans to construct a domed stadium after five seasons in Las Vegas, the Athletics relocate and become the first major league team based in Latin America. The club enjoys a 101-win season and captures the World Series championship in its first season in Mexico's capital, playing in 26,000-seat Foro Sol while awaiting construction of a 74,000-seat retractable-dome stadium.

2031: Detroit Tigers
Tigers def. Yomiuri Giants, 4-1
Buoyed by climate change that transforms Detroit into the crown jewel of the Great Lakes Riviera, the Tigers load up on elite free agents who are suddenly eager to soak up the Motor City's tropical weather, rich cultural offerings and plethora of casinos. Detroit mainstay Rick Porcello earns two victories in the World Series. Victor Jose Martinez hits three homers from each side of the plate to capture MVP honors for the Tigers, just as father Victor Martinez did 17 years earlier.

2032: Cleveland Tribe
Tribe def. Miami Marlins, 4-3
In the franchise's inaugural season under the Tribe nickname, Cleveland wins its first World Series in 84 years and ends a 68-year championship drought for the city. Fans who suffered further when the NBA's Cavaliers moved to Cincinnati in 2018 and subsequently won 11 consecutive championships set the Cuyahoga River ablaze during the ensuing celebration. Days later, Jack McKeon retires after his seventh stint as Marlins manager.

2033: Hiroshima Toyo Carp
Carp def. Orix Buffaloes, 4-1
In the first all-Japan matchup in the Fall Classic, Hiroshima captures the title in front of an overflow crowd of 44,891 at newly renovated Mazda Zoom-Zoom Stadium. Carp general manager Hiroki Kuroda is feted as a hero for assembling the team that wins Hiroshima's first championship since beating the Hankyu Braves in the 1984 Japan Series.
2034: Shanghai Athletics
Athletics def. St. Louis Cardinals, 4-2
After stadium plans in Mexico City fall through, the A's move into a sparkling new 93,000-seat ballpark overlooking the East China Sea with a roster that boasts the highest payroll in baseball. No longer the scrappy purveyors of Moneyball, the team capitalizes on its new status as big-market bully to win the Far East Division title and become the first franchise to win championships in six different cities. A's skipper Jose Canseco receives lavish media praise for outwitting his Cardinals counterpart, Mark McGwire, in a six-game managerial chess match.

2035: San Diego Padres
Padres def. New Jersey Yankees, 4-0
Tony Gwynn III bats .398 during the regular season, nearly becoming the first major leaguer to reach the .400 plateau since Ted Williams in 1941. Nevertheless, Gwynn bats .500 in the World Series and drives in seven runs as the Padres avenge the sweep San Diego suffered at the hands of the Yankees in 1998. At the team's victory parade, Gwynn, manager Tony Gwynn Jr. and team president Tony Gwynn are presented with keys to the city by Mayor Trevor Hoffman.

2036: Andromeda Galaxy Quasars
Quasars def. Chicago Cubs, 4-3
A reincarnated Ted Williams hits .407 during the regular season, becoming the first major leaguer to top the .400 plateau since he did it in his previous life, 95 years earlier. Playing on a massively muscular animatronic body modeled after Barry Bonds, Williams hits six home runs in Games 4-7 as the Quasars rebound from losing the first three games and win the first World Series title after the intergalactic merger. With two outs in the bottom of the ninth in Game 7, superagent Trent Boras announces that client Alex Rodriguez Jr. will opt out of his contract with the New Jersey Yankees.
Thomas Neumann is an editor for Page 2.