Commentary
Learn what you missed in NFL Week 8!
Originally Published:
October 31, 2011
By
DJ Gallo
| Page 2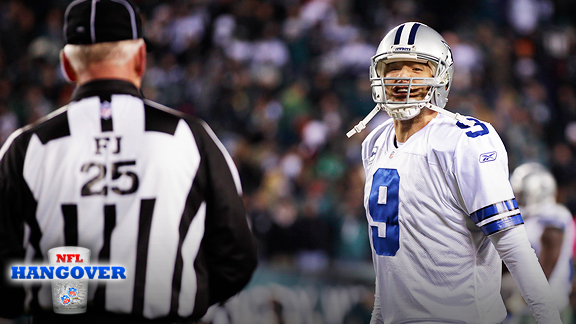 AP ImagesLook out for the Cowboys, who have clearly solved the biggest obstacle in the road to the Super Bowl.
A freak October snowstorm left millions of people in the Northeast without power this weekend. No power means no watching NFL football. And millions more football fans all across the country miss games each week due to work and family obligations.
But lucky for you, this column is designed so you can catch up on all the NFL action and speak intelligently about football with your friends, co-workers and fantasy football buddies.
So here's a quick rundown of all you need to know about Week 8 ...
The Colts showed huge improvement over last week; that's a team on the rise. As predicted, the Saints-Rams game was a mismatch. Pro Bowler Drew Brees threw for 94 more yards than career backup A.J. Feeley. And the Dolphins and Cardinals came through with clutch second halves to get closer to their season goal.

What else?

Oh, the Redskins. Their defense held Buffalo's high-scoring offense to just two touchdowns. And speaking of defense, the old, slow, washed-up Steelers defense lost the turnover margin in a game again. They're hopeless.

Then there were the Cowboys. No second-half collapse for them on Sunday night's big stage. And the Titans won, thanks to finally getting some production out of their backfield.

And then, of course, just like every week, Tim Tebow worked his usual fourth-quarter magic, as two of his passes resulted in touchdowns.

There you go. That pretty much covers it. Now go wow people with this information. You're welcome!



Quote of the Week
"It's too early to say. I haven't even taken a shower yet, let alone look at the tape."
-- Broncos coach John Fox, on who will start at quarterback for Denver next week
Yes, Tebow played so poorly that the first step in moving on from his performance is taking a shower.
Stat of the Week: 135-24
That's the combined score of the last three Sunday night games -- Bears 39, Vikings 10; Saints 62, Colts 7; and Eagles 34, Cowboys 7. Faith Hill should feel free to tweak the last part of her "Sunday Night Football" lyrics to: "Half the players are ready / kick that ball off the tee / Because someone's gonna get killed on NBC!"
This Week's Horrible Fantasy Team That Crushed Your Team
Matt Hasselbeck, QB, Titans -- 23-for-33, 224 yards, TD
Maurice Morris, RB, Lions -- 65 total yards, TD
Mewelde Moore, RB, Steelers -- 45 total yards, TD
Nate Washington, WR, Titans -- 37 total yards, 2 TD
Laurent Robinson, WR, Cowboys -- 5 catches, 103 yards, TD
Brent Celek, TE, Eagles -- 7 catches, 94 yards, TD
Pictures of the Week
"I'll put this on for now, but I plan to change jerseys every few minutes."
"Wow. I can't believe I just beat an NFL quarterbacking legend."
"Yes! My defense won't kill me in the locker room for at least another week!"
MORE GALLO PHOTO CAPTIONS!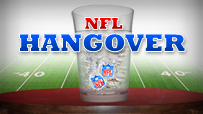 You haven't done your due diligence as an NFL fan until you've clicked through this week's bonus captions!
DJ Gallo's NFL Hangover photo gallery

"Are you OK?" "No. I heard someone on Twitter made fun of my hair."
"Grrrrrr. Me no like scoreboard."
"Ha! No, seriously. What team do you play for these days."
"What do you think, Mr. Puppet? Yeah, I think we're going to kill them, too."
"And thank you for creating Internet memes."
"Ah, man. I wanted to grab my chest. I'm so inaccurate."
"I can't watch this anymore. Gonna poke my eyes out."
"I'm sorry. You can't challenge your team's quarterback acquisitions."
"But what if I make this face, then am I convincing?"
"Hey, red and blue Jerry Jones ... down in front!"
"I think everyone is looking because they like my costume, you guys!"
News Conference Questions Someone Should Have Asked
To Eagles coach Andy Reid: "You are 13-0 in your career after a bye. Why do you think your team gets better by spending a week away from you?"
To Patriots coach Bill Belichick: "When did you stop being a defensive genius?"
To Saints coach Sean Payton: "Do you think fronting a boy band takes away too much time from your coaching duties?"
How They Spent Their Bye Weeks
Bears: Watching the World Series
Buccaneers: Not attempting to fool their parents.
Falcons: Not watching the World Series.
Jets: Remaining confident, no matter how bad they are.
Packers: Taking in a Broadway show.
Raiders: Catching up on current events.
Five Things I Meant To Think I Thought
1. Huge respect to the folks at the NFL RedZone channel. The six Week 8 early games featured the Colts, Rams, Dolphins, Jaguars, Vikings, Cardinals and Ravens. Yet even though it was unlikely that the 1 p.m. games would see any red zone action, the channel was still up and running as usual. True professionals.
2. It's very disappointing that the NFL gave the Raiders a bye week on Halloween weekend. I would have liked to see how their fans dress for Halloween. I assume as normal members of society.
3. Michael Vick got a parrot during the bye week. As you can imagine, this upset some people due to his history with animals. But I've never heard of anyone mistreating a parrot. Because parrots can talk to the authorities. If only dogs were outfitted with those speaking devices from "Up," Vick probably never would have done anything illegal.
4. I don't think it's time to give up on Tebow as a quarterback. We seem to be stuck in this post-1906 mentality that a football is supposed to be thrown forward.
5. Ndamukong Suh has asked to meet with Roger Goodell and NFL officials. Here's live footage of Goodell in his office.
DJ Gallo is the founder of SportsPickle.com. His first book, "The View from the Upper Deck," is available from only the finest bargain-book retailers. His next book project will be released soon. You can follow him on Twitter at @DJGalloESPN.