Commentary
James Harrison softens on social media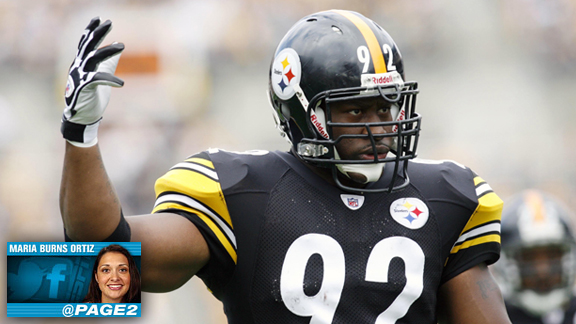 US PresswireThrough social media, fans see a different side of fearsome Steelers linebacker James Harrison.
Pittsburgh Steelers linebacker James Harrison has no illusions about how he is perceived by many football fans. After all, in the past month alone, he was named "Meanest Player in the NFL" and "Baddest Dude in the NFL." An especially impressive sweep considering he's been injured since Week 4.
"I'm known as the guy that I am on the field," Harrison said. "That's not really the person that I am -- mean, crazy, blah, blah, blah, you know. I play a game that is a violent game, and you can't go out there with a smile on your face and do your job. It's just not possible. I've never seen somebody tackle somebody with a smile on their face. That's just part of the game. Outside of the game, I'm me. I'm laid back. I joke. I laugh. I play with my kids."
For years, athletes have been making claims that they're misunderstood, that they're painted as villains, wrongly portrayed by the media. People usually roll their eyes with a skeptical uh-huh.
But social media is providing players with a legitimate avenue to change those perceptions. Harrison has more than 280,000 combined fans and followers on his various Facebook, Twitter and Tout pages, and to all of them, the Steelers' linebacker appears more like the person he describes away from the game than the player known for generating controversy.
"I'm going to be me regardless of what I'm doing or where I'm doing it at," Harrison said. "[Social media] changed everything. … It's all about giving the fans more of you that is outside of football, but still has something to do with the game."
Harrison understands social media as an evolution. Behind Shaquille O'Neal, the Steelers' All-Pro is one of the highest-profile sports personalities on Tout.
"You've got to go through using different things," Harrison said. "Especially with the videos, when they see those little Touts, it really lets them know it's you. And they want to interact with you more."
Since working to give fans a greater glimpse behind the scenes, Harrison has seen his social media following grow almost exponentially in the past seven months. His Twitter following has jumped from 35,000 in March to almost 135,000. Over that same span, he's gone from 75,000 to more than 150,000 Facebook "likes."
"What I've really been impressed with is how James has really bought into video and pictures," said Jeff Weiner, founder of TheSocialMediaCoach.com, who has worked with Harrison to develop a social media strategy. "It really has helped strengthen the bond between him and his fans. Fans get to see a side of him they don't see often in the media. I think it really humanizes him."
What Harrison puts out there isn't necessarily what fans might expect: A behind-the-scenes look at "Dancing with the Stars." Regular ticket giveaways. An update about watching "American Dad." (His favorite character is resident alien Roger.) Photos of everything from his sons to his birthday cakes to javelinas in his backyard. A picture of himself looking like a self-described "pirate" following surgery to repair his fractured orbital bone. And recently, lots and lots of posts about acupuncture.
"I'll tweet anything, to be honest with you," Harrison said. "[Often, the inspiration] is really from reading some of the tweets that I get. Some people want to know what does [acupuncture] feel like? What does it look like? How long are the needles? Whatever it may be. It's just, 'What are you doing? What does your hyperbaric chamber look like?' Basically, whatever they ask for, if I can do, I'll do it."
That doesn't mean Harrison will post absolutely anything. He uses social media to raise awareness about his James Harrison Family Foundation, but is reserved when it comes to tweeting about his charitable efforts. He posts about himself and what he's up to, but not about other players or team-related information. As he succinctly explained, "You don't tweet all your business."
Although he's built a reputation as a player known for speaking his mind, he also knows the cardinal rule of social media.
"If it's something you really feel strongly about, then go ahead and roll with it, but make sure it's not something that's going to come back to bite you in the butt," Harrison said. "Because the next thing you're going to hear if it's something like that is [he hums the "SportsCenter" theme], and it's going to be across ESPN."
While that can be a potential drawback, Harrison sees the power in the platforms.
"It sort of gives me an opportunity to be the reporter," he said. "It's gotten to where I can tweet something out before any local or national media gets it. ... It gives you an easier way to put your story out there without anything being twisted around or someone trying to put it in a different angle than actually how you feel or meant that you said it."
Following a controversial story that ran in Men's Journal this past summer, Harrison took to his own Facebook page to respond. The post was titled, "This statement will be my only response to the Men's Journal article." That was really all it took. After that, the story and the hoopla surrounding it pretty much died out.
"James is a very smart guy, and he recognizes the power of social media," Weiner said. "There's a couple of things, where he's been able to utilize Facebook to give his perspective, which is one of the greatest things about Facebook and Twitter. If you get misquoted or you feel like you get misquoted, you have the power with a click of a button to get your side out."
And as Harrison has proven on social media, sometimes there's more than one side to an athlete.
Analyzing the #WorldSeries
The World Series provided a wealth of data for social media analysts, yielding some interesting insights.
The St. Louis Cardinals may have won the World Series, but according to Visible Technologies, the Texas Rangers took the title for most talked about on Twitter. The social media analytics provider found the Rangers drew 57.5 percent of Twitter mentions during the Fall Classic, while only 42.5 percent centered around the Cardinals. These findings shouldn't come as a huge surprise since IBM and USC researchers found that the Rangers generated 56,600 tweets in the American League Championship Series compared to the Cardinals 11,500 in the NLCS.
Visible Technologies also found Cardinals first baseman Albert Pujols to be by far the most talked about player on Twitter, drawing almost 20,000 mentions in their data. Rangers outfielder Nelson Cruz was the only other player to garner more than 10,000 mentions. World Series MVP David Freese was the eighth-most talked about player, but more than a quarter of his nearly 8,000 mentions came in Game 7 alone.
Findings from IBM/USC researchers included the analysis of more than 7 million tweets over the seven-game series. Rangers outfielder Josh Hamilton was the subject of 13 percent of total tweets -- 86 percent of the social media conversation surrounding him was positive -- earning him the nod as World Series Social MVP from the Annenberg Social Sentiment Index.
In the same study, Texas manager Ron Washington also came up big on Twitter, generating five times more tweets than Cardinals manager Tony La Russa.
New app on the sports market
The IMG New York Marathon has unveiled an app to make Saturday's 26.2-mile race an interactive event. The app, which is targeted at both racers and race fans, allows users to track up to 10 runners -- from elite racers to celebrity entrants to friends -- throughout the course. Available for Apple and Android devices, users also will be able to use the app to get the location of live music, giveaways, mile markers and cheer zones along the race route.
Elsewhere in the social mediasphere
With the Breeders Cup set for Nov. 4-5, the event has launched the "Tweeters Cup" as part of its social media initiatives. Horse racing fans and Twitter followers can join celebrities in discussing the races and vote online for their favorite horse to take the Breeders Cup Classic. One voter will win a trip to next year's race, and for every vote cast the Breeders Cup will make a donation to the V Foundation.
In September, Spanish soccer team Valencia made a statement when the team, lacking a sponsor, plastered its @valenciacf Twitter handle across player jerseys. Mexico's Jaguares de Chiapas has gone a step further. The soccer club has replaced player names on the back of jerseys with individual Twitter handles. The social media shirts also include the Twitter handle of the team's sponsor @CervezaSol.
Got a story we should feature? Have a site we should check out? Who's on your must-follow list? Tweet me at @BurnsOrtiz. If your idea gets mentioned in this column, so will you. Follow Page 2 on Twitter at @Page2.