Commentary
Are Cardinals fans the best in baseball?
Originally Published:
November 2, 2011
By
Jim Caple
| Page 2
The Cardinals cap-wearing cabbie who drove me to the St. Louis airport the morning after Game 7 asked how old was "No. 5,'' said the Cardinals wouldn't be any good without him and asked how much money I thought he would get in the winter. Then he asked me who St. Louis played in the next round. He was very pleasantly surprised when I told him there were no more rounds, that the Cardinals were the champions.
If the cab driver was slightly confused about how the World Series works, there was good reason. He was from Egypt. But like everyone else in St. Louis, he loves the Cardinals.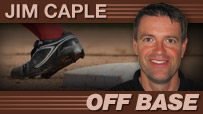 Baseball is king in St. Louis, a city where the news station announced "Breaking News'' last week when the Clydesdales started making their way to Busch Stadium. St. Louis fans love their Cardinals but are they really the Best Fans In Baseball, as they so often and (so annoyingly) proclaim? Let's take a look.
WHY THEY MIGHT BE:
1. Incredible Passion: Despite playing in a market smaller than Sacramento, the Cardinals have drawn at least 3 million fans 12 of the past 13 seasons and have surpassed the league average (and usually by a lot) 29 of the past 30 seasons. Apparently a city ordinance also requires residents wear a Cardinals cap because everyone does. And I'm happy to say none of them are pink! I have never seen one city so proudly bear the local team's colors and it really is impressive. These are such devoted fans I'm only surprised they don't wear replica pants and stirrup socks in addition to caps and jerseys.
2. Loyalty and Civility: Cardinals fans are famous for never, ever booing, not even opponents. This is somewhat exaggerated -- I remember hearing fans boo their beloved Cardinals when they were getting swept in the 2004 World Series -- but such things are rare. These fans are amazingly polite, supportive and respectful (the workers in the Busch Stadium concession stands even stop serving when the national anthem plays). The only thing they would dare throw at players is ticker-tape. How nice are these fans? I think they would even have cheered for Milton Bradley.
3. Knowledge: Before taking my order, a waiter who could not have been older than 30 bragged about his Bob Gibson autograph collection and talked about the 1964 World Series as if he had box seats to it. St. Louis fans know the game so well they can probably explain to you how it made sense for Tony La Russa to have a pitcher pinch-hit for a pitcher who was pinch-hitting for a pitcher in Game 6. (Hmmm, maybe it was time for Tony to retire.)
WHY THEY MIGHT NOT BE:
1. The Whole Squirrel Thing: OK. A squirrel ran on the field when the Cardinals lost Game 3 of the division series. A squirrel also ran in front of the plate the next day in Game 4 -- when the Cardinals were already leading -- startling batter Skip Schumaker so much it just might have led to the oblique strain that kept him out of the NLCS. And suddenly it's Squirrel-Mania in St. Louis! Stores could barely keep Rally Squirrel T-shirts in stock, fans started attaching toy squirrels to their caps and the Cardinals had someone dress up as squirrel to help shoot T-shirts into the crowd. I asked that aforementioned waiter whether the restaurant had squirrel road kill on the menu and he replied, "No, squirrels are sacred in St. Louis now. Like cows in India.''
I'm sorry, but that's just embarrassing.
2. The Not-Booing Thing: Look, it's nice to support your team. And it's commendable to applaud the other team for a good play (though fans in other cities do that, too). But at the same time, you have to have some standards. Good fans shouldn't applaud mediocrity. I mean, when Anthony Reyes was 2-14 with a 6.06 ERA in 2007, it would have been fine to shout something a little stronger than, "That's OK! You'll get that ERA below 5.00 next season!''
3. Have They Really Been Tested? It's easy to root for a winner. And in this century alone, St. Louis has had 11 winning seasons, eight playoff seasons, seven 90-or-more-win seasons, three World Series seasons and two world championship seasons. It also hosted the All-Star Game. The Red Sox have finished in last place more recently (1991) than St. Louis and the Yankees just as recently (1990). St. Louis fans have had one of the greatest players in history to watch the past 11 years, were able to follow Mark McGwire's 1998 record home run season before that and enjoyed one of the greatest shortstops in history before that (I won't even mention Stan Musial or Gibson here). Their only three managers over the past 30 years have been La Russa, Joe Torre and Whitey Herzog. The Cardinals have won more World Series than every team but the Yankees, who are also the only team to appear in more World Series than St. Louis.
St. Louis fans are great but before we declare them the Best Fans In Baseball, we need to see how they respond in more challenging times. The true test of fans is how they respond when their team loses repeatedly, year after year, generation after generation, until all hope has been crushed.
You know, like Cubs fans.
CSI: BOX SCORE
You know the rules. You get a fragment from an old box score and the challenge of determining what game it is from and why it is significant. I give this one a difficulty rating of 8.0.

Kurt Snibbe/ESPN.com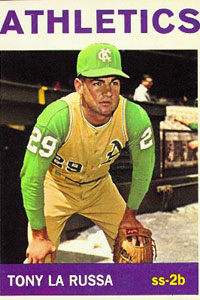 ToppsTony La Russa, already keeping a keen eye on the bullpen.
BASEBALL CARD OF THE WEEK
What is the 20-year-old Tony La Russa thinking in his rookie card (1964 Topps No. 244)? Probably: "Why do we have so few relievers in our bullpen? I only see five. We need at least four more, maybe five, including two left-handed specialists. That way, we wouldn't have to pitch Moe Drabowsky so many innings and we could use three or four relievers in the seventh inning and still have someone for a lefty-lefty matchup plus a setup man available in the eighth and a closer in the ninth. Things would be a lot different if I was manager.''
Or perhaps he's just thinking, "Why are we wearing yellow uniforms?''
BOX SCORE LINE OF THE WEEK
There were a lot of extraordinary moments in the 2011 World Series. Albert Pujols' three home runs in Game 3. Series MVP David Freese hitting a game-tying triple in Game 6, followed by a game-winning home run his next at-bat, followed by a game-tying double in his first at-bat of Game 7. La Russa's mess with the bullpen in Game 5. La Russa using a pitcher to pinch-hit for a pitcher, who was pinch-hitting for a pitcher in the 10th inning of Game 6, which gave us this interesting sequence of lines:
Motte p 0 0 0 0
Jackson ph 0 0 0 0
Lohse ph 0 0 0 0
But the most amazing performance was Texas reliever Alexi Ogando, who struck out a batter with one pitch in Game 7. Yes, one pitch! How did he do it? Well, with two out in the eighth inning, Mike Gonzalez got the first two strikes on Allen Craig before tearing the meniscus in his left knee. Ogando took over and threw one pitch that Craig took for strike three and the final out of the inning. Under the rules, the reliever who finishes the strikeout receives credit for it even if he throws only one pitch, giving Ogando this award-winning line:
1/3 IP, 0 H, 0 R, 0 ER, 0 BB, 1 K, 1 pitch
It's the last box score line award of the season, but I imagine Ogando still would rather have the world championship.
YEAH, WELL, THAT'S JUST LIKE YOUR OPINION, MAN
When Does Occupy Dodger Stadium Begin? So Frank McCourt bought the Dodgers in 2004 for $420 million and ran them into disgrace (a team astrologist?) and bankruptcy court, yet now is expected to sell the team at somewhere near $1 billion, which would be more than a doubling of his investment. Is there any wonder so many people are fed up with the uber-rich these days? …
Advertisers Might Miss Him Most of All: Baseball is losing a great manager in La Russa but also probably chopping seven minutes off the average length of a major league game. As colleague Jayson Stark pointed out last week, La Russa made more than 70 pitching changes during the postseason. With an average of three minutes per change, that's 3½ hours of the postseason devoted solely to pitching changes. Hey, who doesn't love the drama of watching a 67-year-old in stirrup socks stroll to the mound and touch his arm? …
Meanwhile … I really feel for the Rangers, who not only lost the World Series for the second year in a row but also did so in truly painful fashion. Texas, which has never won the Series in its four decades (five decades if you count the years in D.C.) led by two runs in the ninth inning and two runs in the 10th inning of Game 6 and were within a strike of winning the World Series each time. Stadium crews duct-taped plastic sheets above each locker in the Rangers' clubhouse for Game 6 in anticipation of the champagne shower but the sheets remained taped in place both that night and the next. If this had happened to the Red Sox, Ron Washington would have been fired, C.J. Wilson and Derek Holland accused of drinking, Nelson Cruz accused of eating fried chicken between innings and at least seven books detailing the collapse would already be on store shelves. The Rangers and their fans, however, accepted the loss without disturbing anyone else with their pain. Life goes on and there's always next year, after all. As Washington says, That the way baseball go.
BTW: Asked how he planned to spend the winter, Wilson replied he would attend a friend's wedding in the Bahamas, surf and apply for a concealed handgun license. He said he didn't really want a handgun, he just likes to collect as many licenses as possible. …
CSI: BOX SCORE ANSWER
There were two clues here: Overall and Detroit. The superbly named Orval Overall pitched his entire career in the National League, so for him to appear in a box score with Detroit means this had to be a World Series game. And since his only World Series games were with the Cubs, this had to be from either the 1907 or 1908 series. Well, it was Game 5 of the 1908 World Series, when the Cubs won their last world championship. And notice the attendance. Just 6,120 fans -- the smallest crowd in World Series history -- were at the park that day, which means only a precious few fans saw the Cubs win that World Series.
Jim Caple is a senior writer for ESPN.com. You can follow him on Twitter at jimcaple.