Commentary
On the field, wearing a band of gold
Originally Published:
November 3, 2011
By
Paul Lukas
| Page 2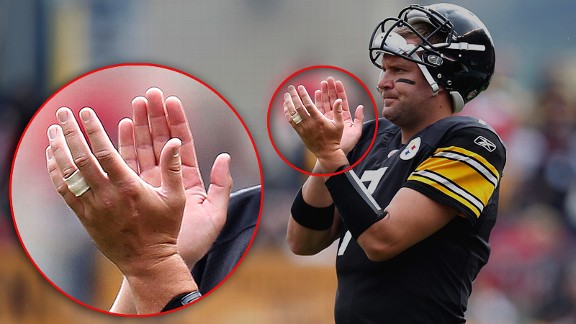 Gregory Shamus/Getty ImagesBen Roethlisberger is one of a small group of athletes who wear wedding rings on the field.
If you follow TMZ as closely as you follow ESPN, you may be aware that Ben Roethlisberger got married over the summer. The hope among Pittsburgh Steelers fans was that getting hitched might have a mellowing effect on some of Big Ben's more, uh, adventurous off-field tendencies. The jury's still out on that, but being married has had at least one visible effect for Roethlisberger on the field: He's been wearing his wedding band, covered with tape, while playing.
"I don't ever take it off," Roethlisberger says. "I wear it because it's special to me, but I cover it with tape because I don't want it to get caught on something and rip my finger off. My wife thinks it's really neat. She likes it when other people notice that I'm wearing it."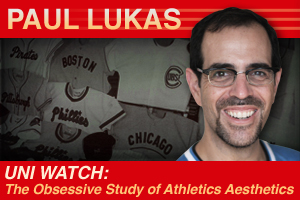 Roethlisberger is part of a small subset of athletes -- including a surprising number of NFL players -- who compete while wearing their wedding rings, a move that seems both charming and risky. Most of these players don't tape over their rings like Roethlisberger does, so there's always a chance that their rings could get snagged on something. And even if that never happens, what if the ring just gets dinged up? What if another player steps on it? What if it falls off somehow and gets lost?
In the NFL, most of the ring-clad players are quarterbacks and kickers. Or at least those are the ones we know about, because they're just about the only players on the field who are bare-handed. It's not clear how many additional players may have rings lurking under their gloves, but there's at least one: Roethlisberger's teammate Troy Polamalu. Polamalu declined to comment for this article, but his wedding ring -- which is much more elaborate than a traditional band -- is occasionally visible when he removes his gloves on the sideline. The ring is even included in the new Madame Tussauds wax figure of Polamalu.
Who else wears a wedding band on the gridiron? Here's a list of all the ring-clad players Uni Watch has spotted, along with their thoughts -- sometimes brief, sometimes expansive -- on this unusual subject (click on each player's name to see a photo of his ring):
• David Akers, K, San Francisco 49ers: "I think it started when I was playing in NFL Europe back in '99, and the only way my wife could see me was during a game. So what I would do, I would kick a field goal and I would put my ring up to my facemask as if I was kissing it. That was just my little signal to my wife. Since that point I've always kept my ring on. I'm a kicker, so most of the time my hands are OK. I'm willing to take the chance. My wife loves it, of course. Some of my teammates have been like, 'Man, you actually wear your ring out there?' But I've actually gotten more reaction from fans who've seen me wearing it. I'm proud to be married, I'm proud that I'm a faithful husband, and that's who I am."
• David Carr, QB, New York Giants: Carr is on this list with an asterisk, because he doesn't actually wear his ring -- he wears a band of tape instead of his ring, something he's been doing since his college days at Fresno State. "I just started doing it when we got married in college," he says. "My wife thought it was pretty cool, so I kept doing it. My teammates always ask, 'Why are you wearing your ring? You're going to break your finger.' But it's just tape, not my ring."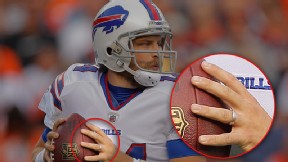 Justin Edmonds/Getty ImagesRyan Fitzpatrick decided last year to keep his ring on while on the field.
• Ryan Fitzpatrick, QB, Buffalo Bills: Fitzpatrick opted not to be interviewed for this piece, maybe because he has already talked at length about his wedding band in this 2010 article.
• John Kasay, K, New Orleans Saints: Kasay is another player who preferred not to discuss his wedding ring, but he's been wearing it for years. (Interestingly, another Saints kicker, Garrett Hartley, who's currently on injured reserve, has played while wearing a ring -- but not a wedding ring, because he isn't married -- on his middle finger.)
• Rian Lindell, K, Buffalo Bills: "I just wear it because it doesn't really matter, I guess. Not too much contact as a kicker, so I'm not really worried about jamming fingers. I wore it one game and maybe I forgot to take it off and had a good game, so I keep wearing it. My wife likes it -- she gets a kick out of seeing the pictures of me wearing it."
• Neil Rackers, K, Houston Texans: "I've done it my entire career. I like for people to know that I'm married. And quite frankly, I'm a strapping young lad, so I have to ward off the chicks any way I can. [Laughs.] Seriously, I've been wearing it since the day I got married 10 years ago. My wife likes it -- it lets her and my family know that they're always with me. The only time I've had issues with it is when I've been playing catch and it's gotten caught on the laces. One time I had a special teams coach who wanted me to take it off -- he was worried about it getting snagged on something -- but I put tape over it instead. He eventually realized I wasn't gonna take it off, so I stopped taping it up. You know, I've never been asked about this before -- you get points for originality!"
• Steve Weatherford, P, New York Giants: "I wear it in the offseason when I train, and it feels awkward if I take it off, so it's kind of a comfort thing with me. The ring cost me like $42, so it's easily replaceable if it gets damaged. Every once in a while one of my teammates or coaches will be like, 'Hey you forgot to take your ring off.' I'm like, 'No, I always wear it.' In 2008 I was playing for New Orleans and was Martin Gramatica's holder when he missed a 40-yard field goal to win the game. When they zoomed in on TV, they noticed I had my wedding ring on and it was a big thing on ESPN. 'Did the ring mess him up when he missed the kick?' You could see that the hold was perfect -- Martin just missed the kick. For me, the ball feels weird when I catch it if I don't have it on. I'm a punter or a kicker, so everybody kind of expects me to be a little quirky anyway. If wearing a wedding ring in a game or a practice is the weirdest thing I do then so be it." (By coincidence, Gramatica, who's no longer active in the NFL, was another player who wore his wedding ring on the field.)
So that's the NFL contingent of ring-a-ding-dings. But what about other athletes? Here's a sport-by-sport rundown:
MLB
Whitey Ford was notorious for doctoring the baseball by cutting it with his wedding ring, until an umpire got wise to it. According to Jim Bouton's seminal book "Ball Four," "The ump could have caused real trouble, but he went out to the mound and said, 'Whitey, go into the clubhouse. Your jock strap needs fixing. And when you come back, it better be without that ring.'"
[+] Enlarge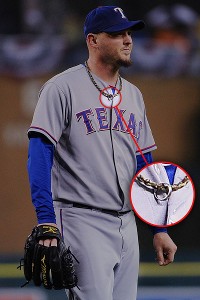 Harry How/Getty ImagesMatt Harrison wears his wedding ring on his titanium necklace for safekeeping.
Aside from Ford, wedding bands are rare in baseball, because it's hard to grip a bat while wearing a ring. That eliminates every player in the game except for American League pitchers. Left-handed pitchers presumably wouldn't want to have a ring on their throwing hand, so we can take them out of the mix too. That leaves right-handed AL pitchers. And if any of them are wearing their rings on their glove hands, Uni Watch hasn't spotted it yet.
There is one pitcher, however, who wears his ring on the mound -- just not on his finger. Matt Harrison of the Texas Rangers (who's left-handed) wears his wedding band on his titanium necklace.
"Honestly, it's to make sure I don't lose it," he says. "They don't allow us to wear rings on our [pitching] hands. Maybe I could wear it on my glove hand but I just don't. I'm just comfortable with it there. In spring training once I put it in my pocket because I forgot to wear my necklace that day. I had something else stuffed in there and when I took the other thing out, the ring fell out. I didn't know I'd lost it until I got back to my apartment. I came back to the field and I found it on the floor. Luckily. My wife would not be happy with that."
NHL
You don't expect to see wedding bands during an NHL game. For one thing, hockey players wear gloves. For another, NHL Rule 46.15 stipulates a match penalty for anyone who injures an opposing player in a fight while "wearing tape or any other material on his hands." A ring would definitely qualify, as it would be like a miniature brass knuckle.
[+] Enlarge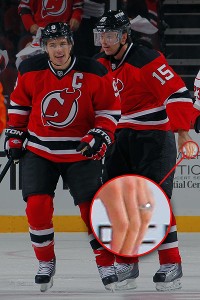 Paul Bereswill/Getty ImagesPetr Sykora is a rarity: An NHL player who wears his ring on the ice.
Nonetheless, Uni Watch has spotted two NHL players who wear their rings on the ice. One of them is Petr Sykora, now with the New Jersey Devils, who says he has never taken off his ring since getting married in 2005.
"A lot of people have told me, 'If you break your finger, they won't be able to get it off,' something like that," Sykora says. "But it's something that means a lot to me, and it would feel weird if I played without it. Sometimes on the bench, I even take my glove off and kind of click the ring against my stick, just to make that little noise. It's just part of me."
And what about fights? "I don't fight too often," Sykora says. "But if that's what it comes down to, I'm gonna fight with the ring on."
Radek Martinek of the Columbus Blue Jackets, who's been wearing his wedding ring since getting married in 2004, says he feels the same way. Like Sykora, he rarely fights. But last season, while playing for the New York Islanders, he got in a scrap with Ryan Carter of the Anaheim Ducks, and his ring was clearly visible.
"I fought that fight with my right hand," Martinek says. "I'm naturally a lefty and stronger with my left hand, but I fight with my right hand so I won't get fined or suspended if someone were to get cut."
Interestingly, as Martinek was escorted to the penalty box after that fight, his left hand barely peeked out from its sleeve. Did his jersey get stretched out a bit during the scuffle, or was he trying to hide his ring from the linesman?
[+] Enlarge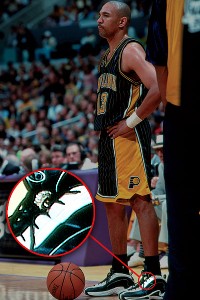 Nathaniel S. Butler/NBAE/Getty ImagesMark Jackson wore his ring on his left shoelace for his entire career, and still does when working out.
NBA
One former NBA player was known for wearing his wedding band on the court -- but not on his hand. That would be Mark Jackson, who used to tie his ring into the laces of his left sneaker.
"It was my way of showing appreciation for my wife, and how blessed I am to have her," says Jackson, who's now the head coach of the Golden State Warriors. "I started doing it after I got married in 1989 and I did it for the rest of my career -- every practice, every game. I still do it now when I'm working out. One time, at Madison Square Garden, my sneaker came untied and the ring came loose. I didn't even realize it, but fortunately one of the ballboys found it and returned it to me. I put it right back in there."
Jackson says he's seen a few other NBA and college players tie their rings into their shoelaces over the years, although the only two he could remember by name are former Siena player Tommy Mitchell and former NBAer Kenny Smith. According to this 1993 article, Smith stopped doing it after he gave one of his sneakers to a fan and forgot to remove the ring first.
"That's a true story," Jackson says. "That's what he gets for copying."
Soccer
Several prominent soccer players have worn their wedding bands on the pitch, including David Beckham, Roger Milla and Raul Gonzalez (who wears his ring on his right hand and kisses it after scoring a goal).
Then there are the Da Silva twins, Rafael and Fabio, who play for Manchester United. At one point team manager Sir Alex Ferguson admitted that the only way he could tell them apart was that Fabio wears a wedding band and Rafael doesn't.
MORE UNI WATCH
Can't wait for Paul Lukas' next Uni Watch column? Get a daily dose of uni-centric news on the Uni Watch Blog.
And then there's the case of Nery Pumpido, the former Argentine goalie who suffered a horrific ring-related accident in the late 1980s. The specifics of this incident are a bit sketchy and take a while to explain. For the full scoop, look here.
Additional Notes
Although MLB players don't wear their rings on the field, at least one coach does: Dave McKay of the St. Louis Cardinals. … At one point it looked like Doug Davis was wearing a ring on his pitching hand, but some additional photo research revealed that it's actually a tattoo. … You can sometimes spot rings on umps and zebras. … At least one prominent volleyball player wears his ring on the court: four-time Olympian Lloy Ball. … And in the 2008 Beijing Olympics, beach volleyballer Kerri Walsh lost and then retrieved her wedding band during a match. … Cyclist Rory Sutherland wears his ring under his glove. … Another sport where rings are often lurking under gloves: auto racing. Examples include F1 drivers Michael Shumacher and Rubens Barrichello. … Right-handed pro bowlers, such as Pete Weber, Norm Duke and Marshall Holman, often wear their wedding bands on the lanes. But lefties tend to go ring-free.
Of course, this is probably just the tip of the iceberg. What about tennis players? Golfers? Thoroughbred jockeys? If you know of any ring-clad athletes who weren't covered in this article, you know what to do.
(Special thanks to Jim Caple for additional reporting.)
Paul Lukas wonders if there are any female athletes who wear their engagement rings. If you liked this column, you'll probably like his daily Uni Watch website, plus you can follow him on Twitter and Facebook. Want to learn about his Uni Watch Membership Program, be added to his mailing list so you'll always know when a new column has been posted, or just ask him a question? Contact him here.