Commentary
LSU has carefully built up its credibility
Originally Published:
November 3, 2011
By
Sarah Phillips
| Special to Page 2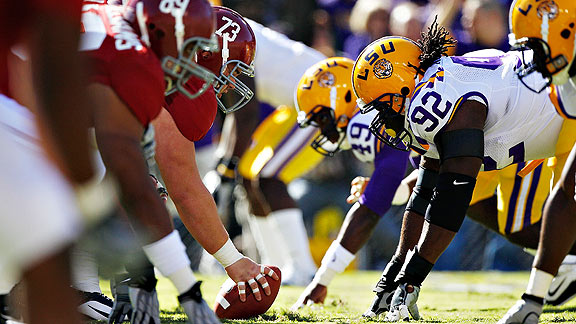 Chris Graythen/Getty ImagesIt's the "Game of the Century" and "College Football Armageddon." LSU-Alabama is kind of a big deal.
LSU versus Alabama wasn't supposed to be this big of a deal.
Before the season began, most pundits expected Alabama to emerge in the SEC behind Trent Richardson and a loaded, NFL-ready defense, but LSU was a question mark.
On June 10, the Golden Nugget sports book conducted its annual college football betting kickoff by releasing about 100 point spreads for this season's potential marquee college football games. Alabama was set as a nine-point favorite against LSU, and there was sentiment around Las Vegas that the Tide should have been favored by double digits.
On Aug. 26, LSU quarterback Jordan Jefferson and linebacker Josh Johns were suspended indefinitely after being arrested for their alleged involvement in a bar fight a week earlier. The Tigers subsequently went from being a three-point favorite to being a three-point underdog in their opener against Oregon.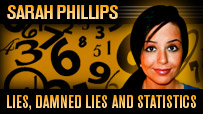 A lot of pundits thought LSU's season was doomed at that point, but LSU acquitted itself nicely over the next two months.
On Sept. 3, LSU beat Oregon 40-27 in Arlington, Texas. Tigers fans chanted, "S-E-C, S-E-C, S-E-C," at the tops of their lungs, but oddsmakers still weren't buying LSU. The future line had LSU as an 8½-point underdog to Alabama.
On Sept. 10, a 49-3 romp over Northwestern State didn't affect the line one way or the other.
On Sept. 15, LSU's offense struggled, but cornerback Tyrann Mathieu and the Tigers' defense introduced themselves to the nation at Mississippi State. But the offense sputtered. Despite LSU's earning a 19-6 SEC road win, there was no change in the LSU-Alabama future line.
On Sept. 24, with nine days to prepare for its game at West Virginia, LSU was favored by only 5½ points. LSU throttled the Mountaineers 47-21, and oddsmakers dropped the LSU-Alabama spread to 7½.
On Oct. 1, Jefferson returned from suspension and scored a touchdown during LSU's 35-7 win over Kentucky. Uncertainty about his playing time remained a huge variable, but oddsmakers began to sense a showdown between No. 1 and No. 2 was on the horizon.
On Oct. 8, LSU beat Florida 41-11. But it wasn't a true test for the Tigers, because the Gators were without their top two quarterbacks.
On Oct. 15, LSU put it all together in a 38-7 dismantling of Tennessee. Oddsmakers dropped the Tigers to a 6½-point underdog to Alabama.

On Oct. 19, LSU indefinitely suspended Mathieu, defensive back Tharold Simon and running back Spencer Ware for violating the team's drug policy, and oddsmakers took the LSU-Alabama game off the board. But, let's be real -- the only people who thought the Tigers would play the Tide without Mathieu, Simon and Ware also believed the Humphries- Kardashian marriage could last three months.

On Oct. 22, LSU destroyed Auburn 45-10 without Mathieu, Simon and Ware. With those suspensions set to be lifted, the LSU-Alabama line went back on the board at 6½.

Fast forward to this week, and most shops still favor the Tide at home, but the line is only four points.

LSU would be a 2½-point favorite if the game were played in Baton Rouge, according to oddsmaker Dave Mason. That's a testament to how much LSU's credibility has risen in oddsmakers' eyes.

Pick: This game could absolutely go either way. Flip a coin. The Tide have proven they're one of the top two teams in the nation. But seeing as how I've just written an entire column top on the Tigers, put me down for LSU (+4) this weekend.




This week's college picks
Both games are Saturday.


No. 14 Kansas State at No. 3 Oklahoma State, 8 p.m. ET, ABC/ESPN2
Last week, I offered to write an entire column on Kansas State if the Wildcats could beat Oklahoma, Oklahoma State and Texas A&M in succession. Then the Wildcats humiliated themselves against the Sooners. This week, it doesn't get any easier, but Bill Snyder will have his team ready to play against Oklahoma State. I don't expect the Wildcats to win, but I do expect them to put up a fight. Kansas State is 4-0 against the spread in its past four games as an underdog of 10½ points or more.
Pick: Kansas State (+21)


No. 9 South Carolina at No. 7 Arkansas, 7:15 p.m. ET, ESPN
Despite featuring two top-10 teams, this matchup is greatly overshadowed by the showdown in Tuscaloosa. Arkansas has nearly lost the past two weeks against unranked Ole Miss and Vanderbilt. South Carolina's offense has been painful to watch since the dismissal of Stephen Garcia. After watching Arkansas the past two weeks, it's difficult to side with the Razorbacks. However, Arkansas is 5-1 against the spread versus South Carolina in its past six meetings at home.
Pick: Arkansas (-5½)
This week's NFL picks
All games are Sunday.


Packers at Chargers, 4:15 p.m. ET, Fox
The Chargers botched a come-from-behind win at Kansas City on Monday, and now they face the undefeated defending Super Bowl champions, who are coming off a bye week. But it's November, and if history is any indication, the Chargers are going to correct themselves this month. San Diego is 7-0 against the spread in its past seven November games and 5-0 in its past five games as a home underdog. Even though Aaron Rodgers is making his first professional start in his home state of California, the calendar says it's time for a San Diego uprising.
Pick: Chargers (+5½)


Giants at Patriots, 4:15 p.m. ET, Fox
Nobody likes to lose. But the Patriots really don't like to lose. Dating to 2003, the Tom Brady-Bill Belichick brain trust has lost consecutive games only twice. This season, following a loss to Buffalo, the Patriots beat Oakland 31-19 as a four-point favorite. New England is 6-0 against the number in its past six games following a loss. Plus, the Super Bowl XLII rematch subplot should give the Patriots extra motivation. You don't really think Belichick has forgotten that one, do you?
Pick: Patriots (-8½)


Ravens at Steelers, 8:20 p.m. ET, NBC
When asked about this game during a conference call, Ravens linebacker Terrell Suggs said, "Ravens-Steelers gets everybody's piss hot." Either Suggs is suggesting the players from both squads need to see a urologist, or he's really pumped to play Pittsburgh. The Steelers haven't done well against the number, going 1-4 in their past five games following a cover, so give me T-Sizzle and the Ravens this Sunday.
Pick: Ravens (+3)
Last week's picks: 5-1
Season record: 42-31-2 (57.5 percent)
You can follow Sarah Phillips on Twitter @SarahPhilli.