Commentary
A glimpse into Eli Manning's personality
Originally Published:
November 7, 2011
By
DJ Gallo
| Page 2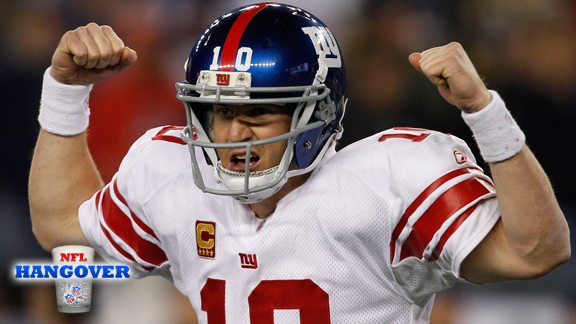 AP Images
What are we to do with Eli Manning?
Is Eli Manning a privileged elitist -- someone most people instinctively root against? He's the youngest son of a blueblood football family and had every advantage growing up. His college career was solid, but far from spectacular, yet he still was drafted No. 1 overall. He then sat by while his dad engineered his way out of San Diego and into the media capital of New York.
Up until this season, Manning's pro career has been seven years of mostly mediocrity surrounding a stretch of good play in 2007 that ended in an improbable Super Bowl title. Many have said he would have been benched in New York at times if not for his name. That's debatable. But what's not debatable is that if his name were Eli Jones, his on-field performance and awkward personality wouldn't have earned him even a fraction of the endorsements he currently enjoys. Manning was born into privilege and has only gotten luckier since then.
Or is Eli Manning the scrappy underdog -- someone we can all identify with? He's always been the overlooked younger brother of Peyton Manning. Eli's Ole Miss college career was inferior to Peyton's at Tennessee. Eli doesn't have his brother's talent. Eli doesn't have his brother's stats. Peyton has a great sense of humor, while Eli is wooden. Yet Eli has as many Super Bowl rings as his brother. And Eli has made his brother's supposed rival -- Tom Brady -- his personal punching bag. Brady is the handsome jock with the cheerleader girlfriend, yet he can't beat the shy, strange-looking kid in the corner.

It's all very confusing.

And that's just one quarterback. Who knows what to make of Joe Flacco?



Quote of the Week
"Everybody looks at the quarterback position saying, 'That's the guy.' ... I'm not saying that John [Beck] played the perfect game -- I'm not trying to go that way -- but as a head coach, you know that you've got to have 11 pieces of the puzzle. And if you don't, everybody looks pretty ordinary."
-- Redskins head coach Mike Shanahan
So while the average fan thinks the Redskins just need a quarterback, Shanahan knows that they're bad at all 11 positions. Chin up, Redskins fans. John Beck isn't your team's biggest problem. He's barely even one of their top 11 problems.
Stat of the Week: 65-39 vs. 59-45
Eli Manning is 65-39 through his first 104 regular-season games. His brother was only 59-45. Eli also has a 4-3 playoff record to this point in his career compared to Peyton's 2-4 mark. Have we been making fun of the wrong brother all these years? Maybe Roger Clinton would make a great president.
This Week's Horrible Fantasy Team That Crushed Your Team
Matt Moore, QB, Dolphins -- 17-for-23, 244 yards, 3 TDs
Reggie Bush, RB, Dolphins -- 142 total yards, TD
Mike Tolbert, RB, Chargers -- 142 total yards, TD
Jacoby Ford, WR, Raiders -- 5 catches, 105 yards, TD
Torrey Smith, WR, Ravens -- 5 catches, 71 yards, TD
Anthony Fasano, TE, Dolphins -- 2 catches, 38 yards, 2 TD
Pictures of the Week
"I have to find a new barber."
"Sometimes I feel like I should try to do something about this. Nah."
"Let me know if you want some of my painkillers for when you watch the game tape."
"NOOOOOO! What are you doing?!"
MORE GALLO PHOTO CAPTIONS!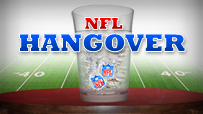 Give us 10 clicks. We'll give you 10 laughs. Or your money back!
DJ Gallo's NFL Hangover photo gallery

"OK, I'll have to adjust all of my coaching decisions slightly to the left."
"Any tips on going from awful to above adequate?"
"Look, I've got lots of friends and family in this state and they're at the game. If we've got any good plays, now's the time."
"I'm the former president of the United States. You can't force me to watch a Browns game against my will."
"I wonder if I should buy a Maybach."
"If you ever want to trade for Kyle Orton or Brady Quinn, I would be more than happy to take some high draft picks off your hands."
"I'm going to sarcastically catch this to show Ochocinco how it's done."
"I'll just let them take a few more photos. Hopefully this will get the word out that I don't always wear ladies shoes."
"I used to get thrown out of church for doing this all the time."
"What are you doing out there? It's my job to destroy this team, not yours."
"I'm seeing stars. And not the B-list dancing kind either."
News Conference Questions Someone Should Have Asked
To Chiefs coach Todd Haley: "Have you considered growing a beard until the AFC West becomes relevant again?"
To Ravens coach John Harbaugh: "Would you mind having Terrell Suggs, aka T-Sizzle, conduct your news conference? You're kind of boring."
To Dolphins coach Tony Sparano: "Is this the lowest moment of your professional career?"
How They Spent Their Bye Weeks
Jaguars: Making fun of college kickers
Lions: Not listening to Nickelback
Panthers: Watching "Tom & Jerry" and eating Lucky Charms with extra marshmallows
Vikings: Encouraging women to shave their body hair
Five Things I Think We Thought They Thought
1. Justin Tuck after the Giants win: "You can't spell 'elite' without 'Eli.' This is true. You can't. It's also true that you can't spell 'elimination' without 'Eli.' See? It works for most any situation. It's why word play like that is stupid. Or, to use an anagram for 'Eli Manning': Meaning Nil.
2. Miami cornerback Vontae Davis didn't play on Sunday because the team reportedly believes he showed up to practice hung over on Saturday. If only the rest of the Dolphins had his dedication, the team wouldn't be saddled with a win.
3. Congratulations to Ravens head coach John Harbaugh on receiving a Gatorade shower after winning a regular-season game in Week 9. However, the Ravens should expect to get a letter from Gatorade asking them to use other brands if they intend to douse people for regular-season victories. The Ravens treat the Gatorade shower ceremony with less respect than the Kardashians do marriage ceremonies.
4. Bengals quarterback Andy Dalton doesn't like the nickname "Red Rifle" very much. He told NFL.com: "It's all right. It seems like everybody is going to find a nickname with 'red' or something for my hair. So, the 'Red Rifle' is all right." Asked if he has a preferred nickname, he said: "Andy. Andy works. It's just Andy." OK. We hear you loud and clear. Red Andy it is.
5. A great comeback, followed by an awful game, followed by a solid game. We have finally found Tim Tebow's true position: Troll. He has no intent of ever allowing us to escape round-the-clock Tebow coverage.
DJ Gallo is the founder of SportsPickle.com. His first book, "The View from the Upper Deck," is available from only the finest bargain-book retailers. His next book project will be released soon. You can follow him on Twitter at @DJGalloESPN.