Commentary
The Uni Watch college hoops preview
Originally Published:
November 8, 2011
By
Paul Lukas
| Page 2
College basketball is under a cloud -- a gray cloud.
It started earlier this year with college football, and now the inexplicable trend toward gray uniforms has spread to the basketball court. You've heard of "Gray's Anatomy"? Call this trend gray's monotony. How did the blandest, most blah color on the spectrum end up as the trendiest look of the year? Like, did someone have a few spare vats of gray dye that were about to go bad or what?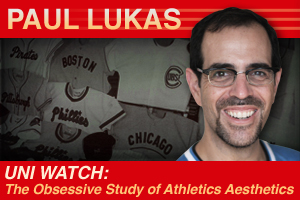 The answer probably lies with the Color Mafia -- the cabal of trend forecasters, color consultants, apparel manufacturers, fashion mavens, decorating experts and Pantone executives who periodically meet to decide what the next "hot" colors will be. (Yes, that's really how it works.) But they usually pick rarefied tones with annoying names, like chartreuse or persimmon or hyacinthine. So how did they decide that this year's hot color would be gray? What, was khaki unavailable?
But for better or worse, the gray cloud is here to stay (at least until the next trendy color comes along). So with the season just getting started, here's Uni Watch's annual team-by-team rundown of uniform changes, gray and otherwise:
• Akron: Now 100 percent zippier! And hmmm, what have we here? A gray alternate uni. Actually, they're calling it silver, but come on -- it's gray. Probably nobody else will think of doing that this season, right? Additional views in this video clip.
• Appalachian State has added some shoulder stripes. This can sometimes look clunky, but Uni Watch likes the effect on this set.
• The entire Arizona State athletic program has undergone a rebranding, and that certainly includes the basketball team.
• Beautiful upgrade for Baylor, which now has one of the best designs in the nation. Additional photos here.
• Butler is going with a more modern look.
• Downgrade for Bryant, a school that just doesn't look right with a modern collar design.
• Cal State Bakersfield has added a sharp-looking new gold uniform.
• No visuals yet, but Cincinnati will have new uniforms for the Big East and NCAA tourneys.
• Colorado is the rare school that's moving away from gray. For the first time in several years, the Buffs will be wearing white at home this season.
• Colorado State has scrapped the green shoulder panels, which feels like addition by subtraction. The gold trim on the side piping is an upgrade, too.
• Creighton has new road uniforms, although the home set is staying the same.
• You know how the "D" logo on Duke's shorts has a little basketball going through a hoop? Not anymore it doesn't.
• Florida has made some trim adjustments and added a rear watermark. If you're missing the NBA, the road version is very Knicks-ish. And if you're missing the sensation of having hot sauce poured onto your eyeballs, you'll love the orange alternate.
• Georgia Southern has added some serious barber-pole striping to its side panels. You can get a peek at the home version here.
• Teeny-tiny change at Georgia, where the silver stripe in the side panel has been removed.
• Georgia Tech is going with a blockier typeface.
• Illinois has changed the lettering color and the collar style on its orange jersey. No changes to the rest of the Illini's set.
• No uni changes for Iowa, but it's worth noting that Josh Oglesby's name was misspelled at media day. Let's hope they got that fixed.
• Kentucky is one of the schools moving under the gray cloud. Also: The Wildcats are one of three teams wearing an exclusive LeBron 9 sneaker design this season. (The other two are Miami and Ohio State.)
• Uni Watch always prefers it when Louisiana Tech uniforms include at least a splash of red, so let's count this year's uni set as an upgrade.
• Louisville, which seems to get a new uniform every year, has tinkered with its collar and armhole trim this season.
• Marquette has toned down the shoulder panels and added a rear watermark (which is based on this photo). Here's a close-up of the shorts, and you can see lots of additional photos of the blue alternate uni here.
• Miami is another school wearing an exclusive LeBron 9 colorway this season.
• Michigan State will be wearing camouflage uniforms for the Carrier Classic game against UNC on Nov. 11. Instead of player names on the back, each jersey will have "U.S.A." You can see a video clip of the players wearing the jerseys here.
• Milwaukee is another school sitting under the gray cloud.
• No uni changes for Navy, but the Midshipmen are running an interesting uni-related promotion: All fans who show up at Alumni Hall with an article of clothing, program or ticket stub featuring the logo of a professional basketball team can purchase tickets for only $3. Full details here.
• New Mexico has moved from one Nike template to another. Uni Watch counts this as an upgrade.
• North Carolina has added a rear watermark. In addition, UNC will be wearing camouflage uniforms for the Carrier Classic game against Michigan State on Nov. 11.
• N.C. State is now just State.
• Remember how lots of adidas schools were wearing that necklace-ish collar style last season? Northwestern was one of the few exceptions -- until now. Here's the rear view.
• Ohio State is the third of three schools wearing an exclusive LeBron 9 sneaker design this season.
• Oklahoma State already had white, black, and orange uniforms, but apparently that wasn't enough, because the Cowboys now have a new set -- gray, of course.
• Penn State has a new alternate uni. Can you guess what color it is? Hint: rhymes with gray.
• Providence has simplified its uni and added a memorial patch for former coach and athletic director Dave Gavitt, who passed away in September. Here's the road version.
• The good news is that Purdue has a nifty new chest insignia (based on the school's train logo, natch). The bad news is that it's often impossible to see. The hunch here is that they'll be adding a black outline to that lettering soon after the season starts. There are also black and gold versions, and there are strong rumors of -- of course -- a gray set being added as well. Here's a close-up of the rear watermark.
• Radford has added a welcome dash of additional color.
• South Alabama is going with a much slicker look. But whereas the old uni design included player names on the back, the new one does not.
• South Carolina is yet another team that's going gray. Pfeh.
• No uni changes for Temple, but it's worth noting that coach Fran Dunphy has lived up to a bet with one of his former players by shaving his signature mustache.
• Utah has switched from adidas to Under Armour, and has a much bolder look as a result. Also: Remember how the Utes' new football pants this season were imprinted with a Salt Lake City topographic pattern? That same motif will now appear on the basketball jerseys.
• Nice upgrade for Utah State, whose chest mark is now less droopy-looking.
• Love the checkerboard piping on VCU's new shorts (additional photos here). Also: no photo, but expect to see an alternate set in -- of course -- gray.
• Washington State already had a gray uniform, so they were ahead of the curve on that trend. But Uni Watch swears their new gray is even grayer than their old gray.
• West Virginia is adding a new alternate uni -- and it isn't gray!
• Wichita State is adding a new jersey color, and would you believe it isn't gray? If so, you're much too gullible.
• Wyoming is switching to an old-school typeface. You can see more of the uniform in this video clip.
• Xavier tried something interesting during the preseason: They held an intrasquad scrimmage with uniforms based on the NBA's old Cincinnati Royals uni design. There are no plans to wear these unis for a real game, but it was an intriguing experiment. Lots of additional photos here.
---
Meanwhile, what about new court designs? The big news on that front is at Cal State Bakersfield, which has unveiled the NCAA's first blue floor. Should be interesting when the visiting team is wearing blue.
Lots of other schools have given their courts less radical facelifts, including Arkansas, Ball State, BYU, Duke, Evansville, Georgia, Illinois, Kansas State, Marshall, Michigan, N.C. State, Northwestern, Ole Miss, Purdue and Syracuse.
Did we miss anything? Probably. If you know of additional uniform or court designs floating around out there, do tell.
Paul Lukas sincerely hopes his khaki joke doesn't give the Color Mafia any bright ideas. If you liked this column, you'll probably like his daily Uni Watch web site, plus you can follow him on Twitter and Facebook. Want to learn about his Uni Watch Membership Program, be added to his mailing list so you'll always know when a new column has been posted, or just ask him a question? Contact him here.