Commentary
10 promising candidates to buy Dodgers
Originally Published:
November 9, 2011
By
Jim Caple
| Page 2
Frank McCourt is finally selling the Dodgers, which is very good news for Dodgers fans. Who will the next owner be? Mark Cuban says he's not interested unless the estimated $1 billion price tag goes down, but former Dodgers greats Orel Hershiser and Steve Garvey are trying to assemble a group to make a bid. Best wishes they follow in the big boot steps of Nolan Ryan.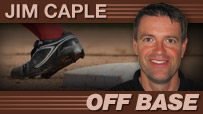 Who should they seek in buying into the Dodgers? Here are 10 promising candidates in the Los Angeles area:
1. Kim Kardashian
Pros: Thanks to considerable family wealth plus the $18 million in revenue generated by her "wedding" to basketball player Kris Humphries, the neo-celebrity has enough money to buy a sizable stake in the team. More importantly, she can add an important revenue stream to the club's bottom line. At her current pace of 73 days per marriage, she could marry the entire five-man starting rotation next year (5x73=365, plus one day of rest for leap year). That would generate close to $100 million and allow the Dodgers to re-sign Matt Kemp. And that leaves the starting lineup, the bullpen and the bench for future seasons, not to mention the entire farm system.
Cons: It's bad enough sharing the remote with my wife now -- I really could not handle the inevitable "Kim and Kourtney Take Chavez Ravine" reality show. Nor the probable line of Kardashian locker room fragrances.
2. Brad Pitt
Pros: He earns roughly $20 million a picture, so by "Ocean's 23," he could have enough to buy a majority share. He also showed in "Moneyball" that he knows how to successfully run a team on a tight budget, though it's unclear whether he could get the Dodgers to the World Series. Plus, attendance would return to pre-McCourt levels with just the addition of his and Angelina's children.
Cons: Pitt's formula might have been successful in the movie, but the legendary Scott Hatteberg has retired, Ron ("It's incredibly hard") Washington has moved on to manage the Rangers, and Dodgers fans probably don't want anything to do with that Jonah Hill character after the real-life Paul DePodesta tenure as GM. Worst of all -- after the McCourt divorce, Dodgers fans wouldn't be able to handle a Brangelina breakup.
3. Jack Nicholson
Pros: As one of Hollywood's biggest stars and most notable sports fans, Nicholson would instantly return cachet and star power to the team. His scene in "One Flew Over the Cuckoo's Nest" in which he gives imaginary play-by-play to the World Series is as entertaining as listening to Vin Scully himself. And with the NBA lockout, he also needs a team to watch.
Cons: In late-inning rally situations, he might show scenes from "The Bucket List" on the video board.
4. Charlie Sheen
Pros: Sheen earned almost $2 million an episode while on "Two and a Half Men" so he could easily buy into the team, depending, of course, on how lawsuits play out. And he's already got his next project lined up. He is a huge baseball fan who starred in "Eight Men Out" and "Major League," so he will bring passion to the job as well as a winning attitude. Plus, he could solve the Dodgers' bullpen issues by making himself closer!
Cons: Anger management issues could increase stadium danger. Sheen showed in "Eight Men Out" he would be willing to throw the World Series, though this would require the Dodgers actually getting there again. While he could acquire his friend, Brian Wilson, from the Giants, that could be offset by signing Milton Bradley. Worst of all, there would be no more inexpensive seats left for real fans in the bleachers because Sheen will reserve the entire section for himself and his posse in hopes of catching home run balls.
5. Arnold Schwarzenegger
Pros: Hugely influential in Hollywood and politics and with a background in sports, The Arnold could deliver for the Dodgers in many different and important ways.
Cons: Would be a more attractive candidate if he still had access to the Kennedy family money. And it's probably not a wise move to have a baseball owner who has admitted to steroid use.
6. Aaron Sorkin
Pros: The superb screenwriter has the wealth to buy into the team. He created "Sports Night," wrote the "Moneyball" script, and his "West Wing" show and "A Few Good Men" script were littered with baseball references as well, so he can write about the game nearly as well as Scully talks about it.
Cons: Four-hour games due to lengthy (but wonderfully entertaining) mound conversations (check out Ken Levine's terrific Sorkin parody here).
7. Eva Longoria
Pros: Recently ranked on Forbes' list of the highest-paid TV actors and People Magazine's Most Beautiful list, Longoria would bring equal parts sex appeal and business savvy to the position.
Cons: She is not Evan Longoria.
8. Scott Boras
Pros: Infamous high-powered sports agent has an in with the game's best players and could direct coveted free agents to Dodgers.
Cons: Will break team budget by bidding ceaselessly against himself for his own clients.
9. Lindsay Lohan
Pros: Would divert negative publicity from team's poor performance to herself.
Cons: Probably will not be able to attend board meetings for a while.
10. Mike Brady
Pros: World-renowned architect and real estate developer has been a Dodgers season-ticket holder since oldest son, Greg, met Don Drysdale.
Cons: Might redesign Dodger Stadium into split-level ballpark with shag turf. Inheritance issues could pose potential problems due to six annoying children and their offspring.
CSI: BOX SCORE
You know the rules. You get a fragment from an old box score and the challenge of determining what game it is from and why it is significant. I give this one a difficulty rating of 4.0.

Kurt Snibbe/ESPN.com
YEAH, WELL, THAT'S JUST LIKE YOUR OPINION, MAN
The Vatican Turns Over Less Often: It was sad to see the Twins let go Bill Smith, a good man. He's the first general manager the Twins have ever fired since moving to Minnesota (though they certainly were not going to get rid of Calvin Griffith, who was owner and GM from 1961-84). Terry Ryan, the team's former GM, takes over as interim general manager and he faces quite a challenge with the Joe Mauer and Justin Morneau contracts. But if anyone can do it, it's Ryan, who is the general manager who should have been the subject of "Moneyball," if only they could have convinced Brad Pitt to shave his head.
The Knuckleballer of Kilimanjaro: Best wishes to R.A. Dickey, who plans to climb Mount Kilimanjaro to raise money for the Red Light District Outreach Mumbai charity that fights human trafficking in India. Dickey told New York magazine he was inspired for the climb by reading Hemingway's "The Snows of Kilimanjaro," which is not exactly on most major league reading lists and just goes to show you what an interesting dude the pitcher is. He leaves in early January.
And speaking of climbing, grab a copy of Wade Davis' spectacular new book, "Into the Silence" about the Mallory expeditions to Everest and the WWI generation. It's not a fast read but the book has had me spellbound for the first 260 pages and they haven't even gotten to Everest yet. I have never read a more harrowing, precise account of life in the trenches during WWI.
Calling Cooperstown: The Hall of Fame released its "Golden Era" ballot of veterans and I'm crossing my fingers that Ron Santo finally gets his due. I also agree with colleague Dave Schoenfield that Minnie Minoso belongs in as well, and I would add Luis Tiant, too. But no more executives -- please!
[+] Enlarge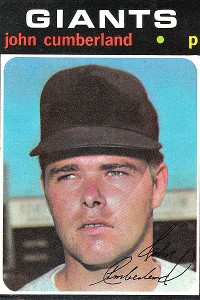 ToppsJohn Cumberland's no-logo hat proves he's a man without a team.
BASEBALL CARD OF THE WEEK
To mark the start of the free agency season, I give you this hideous card (1971 Topps No. 108) of San Francisco pitcher John Cumberland with the logo on his cap blacked out. He's a man without a team. (And boy, he looks happy about it, doesn't he? I assume Topps blacked out the logo because Cumberland was wearing a Mets cap in the original photo; he started the previous season with New York.) But the odd thing is he was with the Giants the last two months of the 1970 season and the flip side of the card shows him in a Giants cap. Plus, Topps usually airbrushed the new logo onto the cap when a player changed teams between sets. So why did they give Cumberland the no-logo treatment?
I don't know, but it's the cap all free agents should wear during the winter.
CSI: BOX SCORE ANSWER
The only clues you needed were all those Alous. This box score was from the Sept. 15, 1963, game when the three Alou brothers -- Felipe, Jesus and Matty -- played in the same outfield for the first time. The three brothers had batted in the same game five days earlier (two as pinch hitters) but this was the first time they actually were in the outfield together. It was a wonderful moment for a family that would also give the game Moises Alou and Mel Rojas (a nephew of the Alous).
Matty went on to bat .307 for his career, including seven .300 seasons and a league-leading .342 in 1966. He passed away at age 72 last week, leaving baseball one outfielder short of perhaps its greatest family.
Jim Caple is a senior writer for ESPN.com. You can follow him on Twitter at jimcaple.