Commentary
Uni Watch: Even more college hoops!
Originally Published:
November 10, 2011
By
Paul Lukas
| Page 2
Lots of new college basketball uniforms have surfaced over the past two days -- so many that Uni Watch's college hoops season-preview column, which was published on Tuesday, is already out of date.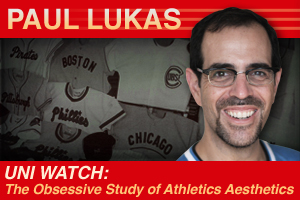 If you haven't read that column yet, start there and then come back here for all the updates. If you already read that one, here's the latest:
• Ball State has switched from Wilson to Nike and now has a slightly more modern look. Here's the side view.
• Small change at BYU, where the "Y" logo on the shorts has been tweaked. The new version matches the "Y" on the school's football helmet.
• Central Connecticut State has moved to a slick new look, which is part of a university-wide rebranding.
• Charlotte has added some nice-looking green and gold side trim.
• Cornell has gone from classic to modern.
• Dayton has simplified its side paneling.
• Fairfield is going with more of a stripped-down look.
• Fresno State is apparently changing its primary lettering color.
• Bit of a shame that George Mason is scrapping the arched lettering. And what's this -- a black alternate?
• George Washington has moved to a more modern template.
• Huge changes for Houghton, including switching the home uni from white to gold.
• No photo, but Memphis is adding a "21" patch in memory of former Tigers player and coach Larry Finch.
• Montana is going with much bolder numbering and lettering.
• Uni Watch had already mentioned NC State's uni changes but neglected to mention that the Wolfpack has also added an "LC" memorial patch for former player Lorenzo Charles.
• Serious downgrade at North Dakota State, where the unis weren't broken but they fixed them anyway.
• Oregon State will once again honor the Native American community by wearing turquoise uniforms on Nov. 12.
• Interesting move at St. Bonaventure, where the Bonnies now have candy-striped side paneling.
• No photo, but Seton Hall is another school going gray. The new gray set, which will replace the black uniform, should debut on Saturday.
MORE UNI WATCH
Can't wait for Paul Lukas' next Uni Watch column? Get a daily dose of uni-centric news on the Uni Watch Blog.
• Uni Watch originally reported that South Alabama was going without player names. Turns out that was wrong. Not only do the jerseys have names, but they're impossible to miss.
• Southern Illinois has climbed aboard the gray bandwagon. That's a new alternate uni; no changes to the Salukis' basic home and road sets.
• Stetson is going for a slicker typographic treatment.
• Temple has added a red alternate uni to its wardrobe.
• Texas A&M has added a 100th-anniversary patch.
• Stunning upgrade for Towson, which suddenly has one of the sharpest looks in the nation.
• UConn's rear watermark had included two stars, signifying the Huskies' two previous national championships. After winning the NCAA tourney last spring, they've now added a third star to the design.
• Western Kentucky has tinkered with its collar, arm holes, and side paneling. In addition, the outlining on the numbers and letters has changed from gray to black.
---
We also have several additional new court designs, this time for Appalachian State, Bowling Green, Butler, Iowa, Loyola, Marist, and Towson. Oh, and Washington State has added a center-hung scoreboard ("Finally!" says one long-suffering fan).
Do you know of still more college hoops uniform developments that we haven't covered? (Before responding, make sure to check Tuesday's column as well as this one.) If so, send your updates here.
Paul Lukas thanks all the readers who contributed tips for this update. If you liked this column, you'll probably like his daily Uni Watch web site, plus you can follow him on Twitter and Facebook. Want to learn about his Uni Watch Membership Program, be added to his mailing list so you'll always know when a new column has been posted, or just ask him a question? Contact him here.