Commentary
'Hoosiers' myth: Norman Dale takedown
Originally Published:
November 14, 2011
By
Barry Locke
| Special to Page 2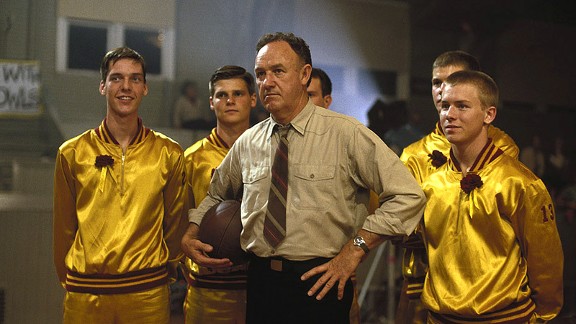 MGM To celebrate the 25th anniversary of "Hoosiers," Page 2 offers a relentless takedown of Norman Dale.
It's been 25 years since "Hoosiers" immortalized the legend of Hickory High, the small school that beats long odds to make underdog history by winning the Indiana state basketball championship. Yes, it's been a generation since we were inspired by the story of a coach seeking redemption, a team coming together and a town being transformed in one of the greatest sports films ever made.
But every time I watch the movie -- and who hasn't seen it at least five times -- I come to the same conclusion:
Norman Dale can't coach.
There, I said it. The Wizard of Hickory High, at least as he was shown in the film, manages a game about as well as Shooter manages his booze. Sure, Dale took an undermanned, undersized, undisciplined group of farm boys all the way to the state title. But watch closely. Time and again, they won in spite of their coach.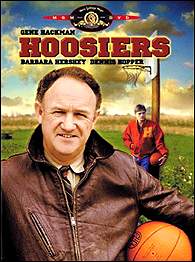 MGM"Hoosiers" is one of the finest sports movies ever -- in spite of Norman Dale's lack of expertise.
Don't get me wrong. Norman Dale is a great teacher of fundamentals. Just watch Gene Hackman snap off one perfect chest pass after another, all the while imploring the boys to "pop it, pop it." He's a brilliant psychologist. Having his players measure the height of the basket and the distance to the free-throw line before the state final is genius. You can even say he's a strong leader, if you think running off two players in the first minute of your first practice is the way to establish authority. (I prefer the longer-view approach of Herman Boone in "Remember the Titans," when he quietly asks Gerry Bertier, "You know who your daddy is, doncha?")
But put Coach Dale on the bench, with folks in the stands and pressure in the air, and he crumbles.
Take Hickory's first road game of the season, a tough, physical battle where emotions are running high. Classic Norm. Instead of being the calming influence his team needs, he instigates a brawl by dressing down the referee, taunting the opposing coach and slapping -- yes, slapping -- the hand of a kid on the other team.
Remember, this is a coach with a history of assault, having punched one of his own players at Ithaca College and receiving a lifetime ban for it. Luckily for Dale, the Internet didn't exist in 1951, and only one person in town -- Myra Fleener (Barbara Hershey) -- knows how to look up information in a library.
Luckily still, cranky Myra turns out to be a little bit human by not revealing Dale's past, thereby saving the coach his job. (Actually, Jimmy Chitwood saves it with his "I play, Coach stays" edict.) Music up. The Huskers shift into high gear.
Here's the funny thing. The better the team gets, the worse Dale coaches.
Jump ahead to the sectional final against Terhune. Shooter's road to redemption takes a drunken detour into the middle of the court, stopping play. It's OK, Norm tells the referee, he's an assistant coach. Oops. Expecting compassion, Dale instead draws a technical foul. Today, it seems like every coaching staff has one assistant devoted to keeping bench players -- and other assistant coaches -- off the court during play. With no such luxury, Dale still should have known better.
Nevertheless, Hickory advances to the regional final versus Linton, where Everett's shoulder injury -- the result of another on-court fight on Dale's watch -- forces him out of the game. Dale inserts Strap with instructions not to shoot unless he's under the basket all alone. Luckily, Strap doesn't listen and, scoring from all over the court, he has the game of his life and pushes Hickory into a comfortable lead.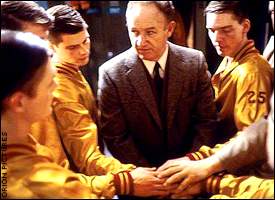 MGMWith the state title on the line, Dale was going to use Indiana's best pure shooter as a decoy.
Yet there's still work to do, and when Dale is forced to put in team manager/bench warmer Ollie, there's no instructions or strategy to keep the ball out of the little man's hands. Quickly, the lead evaporates. Yet Dale fails to call a timeout in the closing seconds, resulting in Ollie's frantic, falling-out-of-bounds shot with three seconds left.
But it's a charmed life these Huskers are leading, as Ollie is fouled on the shot. Under strict orders from his coach -- Dale prepares his team for no other possibility -- Ollie makes two free throws to win the game and send Hickory to the state final.
If Indianapolis is Dale's final exam, he fails miserably. When Hickory quickly falls behind against South Bend Central, and Dale is left searching for a game plan, it's left to one of the players to deliver. That's right, Merle points out the obvious -- that "Jimmy can take the guy that's guarding him if we set him up." And that's what happens, with Hickory battling back to tie the game and holding the ball for one last shot.
It's also one last shot for Dale to get it right. And what does he do? He tries to revive Shooter's picket fence play for Merle, using Jimmy as a decoy. You're left wanting to reach through the screen and grab Dale by his lapels and scream, "Norm, haven't you been paying attention to this movie? Jimmy is the best shooter in the state. You're going to use him as a decoy? Are you nuts?"
Sanity prevails only after the team is left speechless, and Jimmy calmly tells his coach what everyone already knows: "I'll make it." He does, completing the miraculous march to the state title and perceived redemption for Dale.
After the celebration, we're left reflecting on a championship team photo as Coach Dale's words echo through the Hickory gymnasium and history. He says, simply, "I love you guys."
He ought to. They sure made him look good.
Barry Locke is a freelance writer based in Portland, Ore.