Commentary
If the NFL postseason started today ...
Originally Published:
November 14, 2011
By
DJ Gallo
| Page 2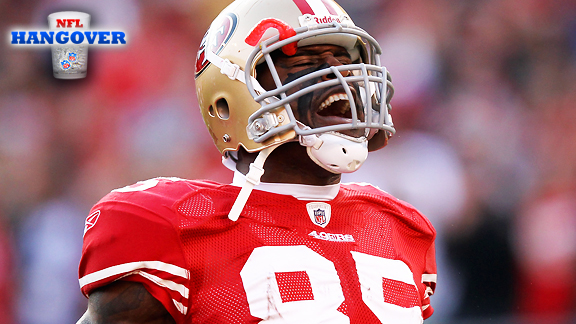 Getty ImagesIf the playoffs began today, Vernon Davis would have the 49ers in the mix for the first time since '02.
We always seem to hear "if the playoffs started today." Well, what if they did? If the playoffs started today ...
... the 8-0 Green Bay Packers and 7-3 Houston Texans would have home-field advantage throughout the playoffs. So the Texans would make the playoffs without winning more than seven games. It's just what they've always tried to do!
... the 7-3 Steelers and 8-1 49ers would have the No. 2 seeds. In a nine-game season, the 49ers already have more wins than last year's NFC West champion.
... the other AFC division champions would be the Patriots and Raiders with the Ravens and Bengals getting the wild cards. So Baltimore would have to go on the road in hopes of winning its third Super Bowl of the season. Tough.
... the other NFC division champions would be the Saints and Giants, with the Bears and Lions grabbing the wild cards. Yes, the cratering Lions would be in the postseason. Just in case you needed a reminder: The playoffs don't start today and this is all for fun.
... the preseason champion Jets and Eagles would miss the playoffs. That's disappointing. I know I don't care to watch a Super Bowl knowing the two best teams are at home.
... the winless Colts would get the first pick in the draft, followed by the Panthers, Rams, Dolphins and Vikings with two wins, and then the Redskins, Cardinals, Browns, Jaguars, Seahawks and Eagles with three wins. So the Eagles are in line for a top-10 pick. It's almost unfair how much talent they have. Almost.
... Fred Jackson would win the rushing title, Wes Welker would have the receiving title, DeMarcus Ware would win the sack title and Jim Caldwell would no longer have a job title.
Quote of the Week
"On those plays, I'm always upside down and never see a thing. From my point of view, everything was normal. But as soon as it came out, I knew something was wrong. It looked like a snap I had never snapped before."
-- Browns long-snapper Ryan Pontbriand, on the botched field goal snap that led to Cleveland's loss to the Rams
The Browns were saddled with another loss, but the Browns' marketing department may have found a winning marketing slogan. "Browns Football: It Looks Like Football You Have Never Seen Before."
Stat of the Week: 102.6
Despite throwing eight passes and completing just two, Tim Tebow put up a 102.6 passer rating in a win against the Chiefs. That dwarfed the passer ratings put up by supposedly superior contemporaries such as Cam Newton, Mark Sanchez, Matthew Stafford and Joe Flacco -- all of whom lost. Speaking of the Ravens, running back Ray Rice put up a 118.8 passer rating. Maybe not being able to throw is the new being able to throw.
This Week's Horrible Fantasy Team That Crushed Your Team
John Skelton, QB, Cardinals -- 21-for-40, 315 yards, 3 TD, 2 INT, 15 rushing yards
Michael Bush, RB, Raiders -- 240 total yards, TD
Chris Johnson, RB, Titans -- 174 total yards, TD
Denarius Moore, WR, Raiders -- 5 catches, 123 yards, 2 TD
Laurent Robinson, WR, Cowboys -- 3 catches, 73 yards, 2 TD
Ed Dickson, TE, Ravens -- 10 catches, 79 yards, 2 TD
Pictures of the Week
"Don't worry, buddy. I'll throw an interception for you."
"Sometimes when I try to say why I have a job, no words come out."
"Are you still up there, bangs?"
"Orange ya glad you get to play us again? Nah, I kid. I kid."
"Yeah, I see your hair, OK? You don't have to be a jerk about it."
"I hope your leg heals." "I hope your brain heals."
"Father, please forgive the sins against football that you will see here today."
MORE GALLO PHOTO CAPTIONS!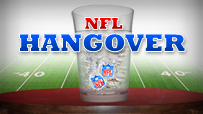 We're more than halfway through the NFL season, so get your funny bone in midseason form.
DJ Gallo's NFL Hangover photo gallery

"So what is written there is the only page of your playbook?"
"Remember college? Those were the days. Maybe we should take some grad classes."
"I think the best thing you can do is work on making disappointed faces. Look at me. Try this."
"Why are you doing this to me? You know I don't want to play him."
"Whoa. How'd the ball get airborne? I better catch it and run before we get yelled at."
"Whoops. Just threw up in my mouth a little bit."
"I was an offensive line coach, too, and that dummy made me a defensive coordinator."
"Whoa. Déjà vu. I feel like I did this a long time ago."
"This game was a lot easier when I was young."
"I wish I hadn't been killed at the end of the last 'Transformers' movie."
"It's all on me to make these faces now."
"No more handshakes. I'm going full-on bear hug until I hear some ribs break."
"Even if only one of your legs works, you can still play for us in the secondary."
"That doesn't look right. I'm pretty sure coach told us we were going to win this one."
News Conference Questions Someone Should Have Asked
To Falcons coach Mike Smith: "Would you agree that not all people with white hair are wise?"
To Broncos coach John Fox: "Do you regret not using an offense that never throws the ball during your time as Jake Delhomme's coach?"
To Colts coach Jim Caldwell: "What exactly would you say you do here?"
Five Things To Think We Think They Think
1. Denver's offense was a sight to behold. I mean that as a compliment. They were trying something new. And it worked. Kansas City, on the other hand, was running a pro-style offense that's been in place for some time, and Matt Cassel only went 13-for-28 for 93 yards. Passing in that game was about as crisp and natural as what you'd see in a game of old-timey electric football. In fact, this appears to be footage of Tebow's 56-yard touchdown pass to Eric Decker.
2. Don't think the Broncos' offense will leave them unable to attract elite wide receivers. Quite the contrary. Most elite wide receivers would love to stand around and do nothing while collecting a big paycheck. Randy Moss is probably already on his way to Denver. Slowly. Very slowly. There are many rest stops on I-70.
3. On Oct. 30, Kim Kardashian confirmed reports that she would file for divorce. Prior to Oct. 30, Reggie Bush had 232 rushing yards and one touchdown through six games. The Dolphins were 0-6. Since Oct. 30, the Dolphins are 2-1 and Bush has 242 rushing yards and three touchdowns in three games. This shows the power of true love -- true love mixed with Miami getting to play the Chiefs and Redskins the past two weeks.
4. Bills running back Fred Jackson lived a childhood dream on Sunday. We all grew up playing football in our backyard, imagining that our yard was actually an NFL stadium and that we were a star player. Jackson came home to Dallas to take on the Cowboys at the $1.2 billion Cowboys Stadium -- which could only be built after his boyhood home was demolished. That's where it goes more from dream to nightmare. Because if you grew up imagining that one day your home would get razed by a scary-faced man to build a massive shrine to largesse and greed, and that you would return to play in that stadium as an adult in front of all your friends and family, only to get crushed 44-7, fumble and fall out of first place, well ... that's the kind of stuff that keeps child psychologists in business.
5. Tough loss for the Bengals at home to the Steelers. But Cincinnati has something building with Andy Dalton at quarterback. The playoffs are still within their reach. The Bengals just have to take it one game at a time. Or, as Dalton always tells them, they just have to put one foot in front of the other.
DJ Gallo is the founder of SportsPickle.com. His first book, "The View from the Upper Deck," is available from only the finest bargain-book retailers. His next book project will be released soon. You can follow him on Twitter at @DJGalloESPN.