Commentary
Watch football in person to understand
The Wall Street Journal recently reported that the NFL will not release to the public "All-22" game video -- high-angle shots that show all players on the field. The A22 views are so super-secret, the Journal maintained, that only NFL coaches and a few network insiders are allowed to glimpse them.
Psssssst, buddy -- wanna see what all 22 players are doing? Attend a game.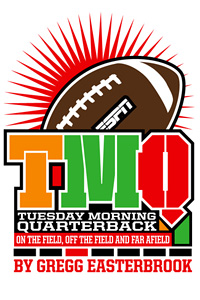 In this era of wall-sized high-def plasma televisions, watching football on the tube has never been better. But to understand what's really happening, you must trek to a stadium and plunk into a seat.
Television shows the little tetragon around the football, but TMQ's law holds that Ninety Percent of Football Action Occurs Away From the Ball. How the defense lines up, how receivers move through the secondary: television doesn't really convey this, nor does highlight film that focuses on the ballcarrier. That's why NFL coaches want the coveted A22 video. It shows everything about a play, including a team's tendencies far from the ball.
At games, your columnist rarely watches the ball. Attend a game and force yourself to take your eyes away from the ball. Watch the line play or the secondary -- you'll see football in a whole new light. You may be able to point to who will catch the pass before the pass leaves the quarterback's hands. With practice, you may be able to point to who the ball with go to even before the snap, simply by seeing the All-22 perspective on how both sides line up.
In Sunday action, TV viewers got a shot of tight end Jimmy Graham of New Orleans standing all alone in the end zone for a 21-yard touchdown catch. But how did he get by his lonesome? Graham lined up as a slotback, inside a wideout. He ran a down-out-and-up, an unusual pattern for a tight end. The Atlanta linebacker on his side did not jam him, then chased him for a moment then let him go, because Graham was headed straight toward big-bucks cornerback Dunta Robinson. But Robinson never moved a muscle, letting Graham roar past, Robinson stood guarding no one. Was he in Cover 2? Something was amiss because the Atlanta safeties were both in the short middle. If you'd been at the game watching all 22 players, you'd have known it would be a touchdown to Graham (unless he dropped the ball) the instant the tight end cut up the field past a stationary cornerback.
Consider the second Dallas touchdown against Buffalo. It was third-and-goal for the Cowboys on the Bills 5. Buffalo blitzed six, which for someone at the game is a cue to move your eyes downfield -- a big blitz often means a big play for the offense. Tony Romo spun away from a blitzer and rolled into the left flat. If you'd been at the game, you would have seen the Buffalo corner on that side move toward the center of the field, because he thought Romo would spin the opposite way. That meant the Buffalo corner on the left failed to guard his man, totally ignoring Dallas wide receiver Laurent Robinson. From the all-22 perspective available only at the game, you would have cried "touchdown!" before the ball left Romo's hand -- because you would have seen a Dallas receiver all by himself, exactly in the place Romo was headed.
Attending NFL or big-college games can be expensive, time-consuming and irritating -- especially if guides are there to help cars enter in an orderly way and take parking money, but disappear after the games, causing stadium-exit gridlock. The NFL is worried about losing ticket-buyers to HD TV. The single most important thing the league could do to improve the game-day experience is devote as much effort to getting cars out afterward as to getting cars in before. People tend to remember the last thing that happened. For those who attend an NFL game, the contest may be great, while often the last thing that happens is a two-hour gridlock at the exit ramps because no one is directing traffic.
But even considering the cost and hassle, you cannot fully appreciate a football game unless you are present. And bear in mind -- you can appreciate the super-secret full A22 view by attending a high school game, with a $5 ticket and free parking.
Regarding Penn State, in advertising that aired during the Penn State-Nebraska contest on Saturday, Rodney Erickson, the university's interim president, began by declaring, "My heart goes out to those who have been victimized."
Wait -- how does Penn State know there are victims? A retired Penn State football coach is accused of pedophilia, while fired Penn State officials are accused of perjury and failing to report child abuse. Arrests aren't proof, and accusations may be false; whether the alleged crimes occurred must be decided by a judge or jury. The legal system has not yet determined if in this case there exists a group of "those who have been victimized."
Yet the school's interim president spoke of child molestation at Penn State as factually established. So what does Penn State know that it is not telling? If Penn State already knows there are in fact victims, this scandal is even worse.
Erickson's "those who have been victimized" statement makes sense only if the college was in possession of proof of child molestation well before the moment, about 10 days ago, when the grand jury presentment was unsealed and arrests occurred. The presentment and the arrests in and of themselves prove nothing, while Penn State could not possibly have gotten to the full truth of the matter in just 10 days. So if Penn State already knows children have been "victimized," the cover-up is worse than assumed. And if Penn State already knows children were victimized, then the Penn State interim president went on television to ask for the nation's sympathy, yet is not disclosing everything he knows about the school's involvement.
Erickson closed the commercial by declaring, "We are Penn State." Supporters of Penn State have used this phrase for decades, commencing at a time when the words reflected well on the college. How can the phrase be appropriate here, if Penn State acted dishonorably?
In recent years the "we are" formulation is best known from "We are Marshall" and "We are Columbine." In neither case, the 1970 Marshall plane crash nor the 1999 Columbine mass murder, was there any moral failing on the part of authority at either school. By contrast, at Penn State several people in high authority stand accused of criminality and substantial moral failings.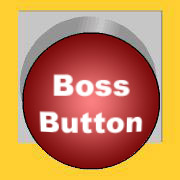 For the college's interim president to say "We are Penn State" expropriates a noble expression in order to suggest that the Penn State of today deserves the kind of empathy accorded to Marshall and Columbine, or to Penn State when it opposed segregation. Unless it is shown the Penn State charges are false, and the school's own interim president appears to believe the charges are true, Penn State has no business wrapping itself in the language of nobility. If the charges are true, "We are Penn State" should be replaced with "We are ashamed to be Penn State."
In other football news, the Houston Texans are 7-3 and have the league's No. 1-ranked defense. The Lone Star NFL teams, sputtering in recent years, combined Sunday to outscore opponents 81-16. I was planning to write an item predicting something no one in the local space-time continuum has ever predicted -- that the Texans would make the Super Bowl. Now, with Matt Schaub reportedly out for the season, the Moo Cows are more likely once again to miss the playoffs.
In Tuesday Morning Quarterback news, half the season is in the books, meaning I am heading into my bye week. There will be no regular column next Tuesday, though a modest reminder of TMQ will appear. I am taking my own advice and attending an NFL game, Chargers versus Bears in Chicago. I will use the bye week to get healthy, draw up no-huddle sentence structures, and continue to seek corporate sponsors for my celebrity Yahtzee tournament. The regular column resumes on Nov. 29.
Stats of the Week No. 1: With 3:58 remaining in the third quarter, Tim Tebow completed his first pass of the game.
Stats of the Week No. 2: Cam Newton was 25-1 in college and is 2-7 in the pros.
Stats of the Week No. 3: Pittsburgh is on a 10-1 streak at Cincinnati.
Stats of the Week No. 4: Against the Lions, the Chicago defense (14 points) outscored the Detroit offense (13 points).
Stats of the Week No. 5: Norv Turner, the active coach with at least 10 seasons as an NFL head coach and also with a career losing record, is now 107-114-1.
Stats of the Week No. 6: The Eagles have been outscored 74-20 in the fourth quarter.
Stats of the Week No. 7: Miami won at home for the first time in 11 tries.
Stats of the Week No. 8: Against the University of Toledo, Western Michigan gained 635 yards on offense, scored 63 points, and lost. In its past two outings, Toledo has gained 1,393 yards on offense (697 yards per game), scored 126 points (63 points per game), and gone 1-1.
Stats of the Week No. 9: (Two stats that will never be topped.) In its five losses this season, Texas A&M has averaged 522 yards of offense. In NAIA action, Union of Kentucky gained 696 yards against Faulkner University, scored 89 points, and lost.
Stats of the Week No. 10: Buffalo and Detroit opened a combined 9-1 and since have gone a combined 2-6.
Cheerleader of the Week: Marissa of the Jaguars, who according to her team bio is a college student majoring in psychology -- which means your lines would not work on her.
Cheerleader Professionalism Watch: With cold weather setting in, cheer-babe professionalism comes into play as a factor in game outcomes. In NFL cheerleader terms, professionalism means skin or at least skin-tight. This propitiates the football gods. At Jersey/B, the cheerleaders wore tracks suits for a kickoff at 56 degrees, and the home team was hosed. At San Francisco, the cheerleaders wore bikini-styled summer outfits for a kickoff at 58 degrees, and the home team triumphed.
Sweet Play of the Week: Nobody draws 'em up better than Gary Kubiak. Houston leading 9-0 at City of Tampa, the Moo Cows had first down on their own 22. Houston faked a power run up the middle to Arian Foster, who then ran through the line and sprinted into the left flat, uncovered, for a swing pass. Foster went 78 up the sideline for a touchdown. Atlanta employed a similar action for a touchdown against New Orleans.
Buccaneers safety Sean Jones had a clean shot to stop Foster at midfield. But Jones used terrible "leverage" -- meaning how you position your body to force the opponent in the direction desired. Jones ran toward the out-of-bounds line, allowing Foster to cut back. Had Jones stayed to the inside of Foster, he would have "leveraged" him toward the out-of-bounds line, and the run would have ended.
The Bucs are now 4-5 and regressing; in the second half, the home crowd booed loudly. The sole thing that went wrong for Houston was a blocked PAT. This was a disaster for fantasy owners, because in the ESPN fantasy format a missed PAT is minus-10 points, five times as bad as your quarterback throwing an interception.
Sweet Ruling That Went Against Him: At Philadelphia, the Cardinals were trailing 17-14 when backup John Skelton hit Larry Fitzgerald with a 37-pass to the Eagles' 1 with 2:55 remaining. Fitzgerald thought he lunged across, and argued vociferously for the touchdown. Zebras spotted the ball at the 1 -- and Arizona was better off at the 1! The Cardinals were able to grind another minute off the clock before scoring, get past the two-minute warning and force Philadelphia to spend a timeout. Had Fitzgerald been awarded the touchdown, Philadelphia's comeback chances would have improved sharply.
Sour Series of the Week: Jersey/B completely botched the closing moments of the first half, all but inviting New England to take command. Flying Elvii leading 6-2, the Jets had third-and-goal on the Pats' 2 when Mark Sanchez called timeout at 1:24. This was the first mistake: Sanchez could have let the clock run another 15 seconds. Jersey/B got a touchdown, and New England was called for unnecessary roughness during the PAT, meaning the Jets would launch their kickoff from the 50. The Jets kicked away, touchback. This was the second mistake: Jersey/B should have launched a "deep onside," kicking the top of the ball so it bounced madly halfway down the field. The Jets might have recovered; if New England recovered, the ball would be about in the same place as after a touchback anyway. Rex Ryan took pains to blame-shift to Sanchez for his error but didn't blame himself for the kickoff decision.
Taking the ball at its 20 with 1:10 remaining, the Flying Elvii flew down the field as if the Jets' defense was not there, aided by a dumb face-masking penalty against Jersey/B. New England scored a touchdown with 17 seconds remaining -- time that would not have been available if Jersey/B managed the clock properly.
Just to prove their low-football-IQ play was no fluke, in the third quarter, the Jets seemed totally unprepared for New England to go quick-snap (see more below). Now it's Flying Elvii leading 16-9, facing third-and-3 on the Jets' 5. Tall tight end Rob Gronkowski lined up wide as a wide receiver. To that point, Gronkowski already had seven touchdown catches. Across from Gronkowski in single man coverage was 5-foot-10, third-string corner Donald Strickland, no safety in sight. Seeing Gronkowski in man coverage wide, who might Tom Brady look for? If you'd been at the game, you would have pointed at Gronkowski presnap. Strickland didn't jam Gronkowski as he ran a simple slant for the score, and no safety came over to help. Ye gods.
Over on the New England side, Brady finally hit a long pass to Chad Ochocinco. If the Pats' drip-drip-drip passing attack could add just one deep strike per game, New England would look a lot more promising of the playoffs.
Sweet 'N' Sour Overtime Fourth Down: In overtime, Atlanta faced fourth-and-inches on its 29, and went for it. This absolutely was the right decision, as Brian Burke of Advanced NFL Stats shows in detail. If you can't gain a few inches you are not likely to win, while punting to the Saints would have given Drew Brees good field position to seek a field goal and victory. TMQ contends that NFL coaches do not go for it enough on fourth down because if they kick and lose, the players are blamed; if they go for it and lose, the coach is blamed. Sure enough, that's what happened to Mike Smith.
Stuffing the Falcons' run was sweet for New Orleans -- the sour part was a good decision but a bad play call by Atlanta. TMQ's lead last week was that bland straight-ahead rushes don't work on short-yardage downs. Atlanta's call was a bland straight-ahead rush to the power side of the formation, exactly what New Orleans expected. There was no misdirection -- and misdirection is essential on short-yardage downs, when the defense is cranked to charge straight ahead.
To top it off, the extra blocker at the point of attack was skinny wide receiver Roddy White, while running back Michael Turner took the handoff four yards deep in the backfield, meaning he would have to fight just to reach the line of scrimmage. Atlanta might have employed some misdirection; or simply had Matt Ryan sneak, starting the play much closer to the line of scrimmage; or play-faked and gone deep for the win. Instead a bland straight-ahead call, and seemingly no audible available to Ryan if the defense was overstacked. TMQ's law holds: Do a Little Dance If You Want to Gain That Yard. Here is theme music for TMQ's law of short yardage.
Starting head coach Sean Payton returned to the sidelines for New Orleans, though he lacked his usual burst and explosiveness because of crutches. Payton had trouble when he tried to plant and accelerate to the Gatorade table. Saints faithful hope their starting head coach will get all the snaps in practice this week.
Sweet 'N' Sour Fourth Down Tries: Trailing 27-20, Jersey/A went for it on fourth-and-6 from its own 35 with 3:33 remaining, conversion. Then on the same drive Jersey/A went for it on fourth-and-5, conversion. Giants' coaches know San Francisco is an efficient power rushing team. Punting back to the Squared Sevens on their home turf at the endgame was likely to mean not touching the ball again.
Now there is 1:19 remaining and Jersey/A faces fourth-and-2 on the Forty-Niners' 10, holding two timeouts. The Giants deliberately let the clock advance, then made a sudden decision to change offensive personnel. Rather than use a timeout, Jersey/A hurried to the line looking confused, Eli Manning shouting at players about where to line up. Incompletion and San Francisco wins, sweet for the home team. A shaggy fourth down snap when the Giants had timeouts was sour for the visitors. At least the unused timeouts can be donated to charity.
Harbaugh/West has the Niners at 8-1 using the same traditionalist style of football he employed at Stanford -- lots of power rushing, often with six offensive linemen on the field. In this pass-wacky shotgun spread era, power rushing takes defenses by surprise. And Harbaugh/West is wily. Defenses expect a power-rush team to run on first down, making that the ideal down for a pass. Against the Giants, San Francisco threw on 16 of 24 first downs, discounting kneel-downs. Defensive coordinators are likely to notice that tendency.
This Is a Public Service Announcement: Attention, attention -- do not punt directly to Devin Hester. Do not punt directly to Devin Hester. This is for your own safety.
The Detroit Lions have not one but two special teams coaches, and neither knew that it is not a good idea to punt directly to Hester, who added an 82-yard touchdown return to his lengthy resume. Why does anyone ever punt the ball to Hester, or to any hot return man? On Monday Night Football, the Vikings punted directly to Randall Cobb, who already had a kick return touchdown this season, and he ran the punt back 80 yards for a score. Deliberately kicking out-of-bounds on every punt would net around 35 yards of field position for the punting team, and eliminate the chance of a touchdown return. That's not a bad bargain.
Sunday, the Lions punted to Hester three times for a net average field position improvement of six yards per punt. For the remainder of the game the Lions deliberately punted out-of-bounds, for a net average field position improvement of 39 yards per punt. How can an NFL team have not one but two special teams coaches who do nothing all year long but NFL special teams, yet don't know about this basic math for dealing with hot punt returners?
Sweet 'N' Sour Fake Punt: Chargers leading 3-0 in the season's first Thursday game, Oakland faced fourth-and-1 on the Bolts' 34. Normally, strong-legged Sebastian Janikowski would attempt a field goal, but Janikowski has been nagged by injuries. Hue Jackson sent out the punting unit. Not even in the ultra-conservative NFL would a team punt on fourth-and-1 from the opponent's 34. San Diego assumed fake, and lined up in a "safe" set.
Punter Shane Lechler threw deep, and receiver Jacoby Ford was run into by cornerback Quentin Jammer. No flag for pass interference was tossed; the Raiders' sideline erupted, and the NFL Network announcer Mike Mayock declared of the replay, "That's as obvious as pass interference gets." Referee Ed Hochuli explained to the audience that the outermost two players in a punt formation do not receive pass interference protection. They can be hammered (though not held) all the way down the field. See Note 5. The quick, clear explanation was sweet officiating.
Typically, the two outermost players in a punt formation are "gunners" whose job is to reach the returner first. Typically they are hammered all the way down the field by defenders. In years past, teams in punt formation would snap and simply hurl the ball toward the feet of a gunner, drawing a pass interference flag and a first down. This got tedious fast, hence the rule change.
The Raiders' play was drawn up as a deep pass to speed receiver Jacoby Ford. This was sour for several reasons. First, Ford does not normally play as a gunner -- the first time the Raiders punted against San Diego, safety Tyvon Branch was the right-side gunner. When Ford, an offensive specialist, took Branch's place, this all but announced a fake was coming. Second, special teams coach John Fassel seemed not to know there is no pass interference against the outside men in a punt formation. The play could have worked only if no one covered or jammed the right gunner, and what were the chances of that? Finally it was fourth-and-1. The Raiders would have been better off simply keeping the offense on the field.
Fortune Favors the Bold! Last week, TMQ noted "Coaches tend to feel that on the road, one should gamble to win rather than accept overtime, since the home team is likely to win in overtime." This maxim was on display in the TCU at Boise State collision. Scoring late to pull within 35-34 on the road, the Horned Frogs went for two and the win, rather than kick and try to force overtime. And verily, the football gods smiled.
TMQ Readers Know Too Much: I noted Mike Shanahan had a sterling won-loss record when John Elway was his quarterback, but has been an average NFL coach with anyone else. Mike Glowacki of Centreville, Md., writes, "As an NFL head coach, Bill Belichick is 131-40 with Tom Brady as his quarterback and 52-63 with anyone else. If you want to be a great coach in the National Football League, it may help to have a great quarterback."
Last week TMQ noted the existence of MIT cheerleaders. Andy Phelps of New York writes, "Your item brought back pleasant memories from my time at the school as a student and football player. A brass plaque outside the locker rooms held an unofficial MIT sports motto of sorts: 'Not the Quarry, but the Chase. Not the Laurel, but the Race.' That certainly is at odds with the win-at-all-costs attitude at most D1 programs today." Mark Anderson of Evergreen, Colo., writes, "My wife, Kate, is an MIT Alum, and she recounts this authentic cheer used at MIT during her school years:
I'm a Beaver, you're a Beaver, we are Beavers all And when we get together, we do the Beaver call. E to the U, D U D X,
E to the X D X Cosine, secant, tangent, sine, 3.14159 Integral Radical, U D V, Slipstick, sliderule, M I T!"
Anderson reports that although the MIT sports nickname is the Engineers, students refer to each other as Beavers, "because the beaver is very industrious." Beaver has become a politically incorrect term, though -- sorry, Castor Canadensis -- as evidenced by the 2001 decision of Beaver College to change its name to Arcadia University. And you'd think MIT could do better than Engineers. Propose your improved MIT sports nickname at TMQ_ESPN@yahoo.com.
Madden Curse Update: With Madden cover boy Peyton Hillis sidelined by -- well, by something -- the Madden Curse seems nasty as ever. Reader Tony Tovar of Shanghai, China, a Green Bay supporter, writes, "Last year, when EA Sports was holding its vote for the Madden cover, Packer fans lobbied each other to vote for Hillis in the semifinals so that Aaron Rodgers would not end up on the losing end of the Madden Curse."
Mars Curse Update: A space probe launched by Russia last week, in an attempt to return a scoop of soil from the Martian moon Phobos, appears to have failed while in Earth orbit. This is another example of the Mars curse. Of the 18 unmanned probes the Soviet and now Russian space agencies have launched toward Mars, 16 failed outright while two worked only briefly. Six U.S., one Japanese and one European Space Agency probes bound for Mars have failed as well.
Sure, Mars is hard to reach. And sure a few probes have succeeded -- at least, that's what they want us to believe. TMQ continues to suspect space aliens have a Mars military base that is shooting the probes down. Or that Martians have cloaked their planet in a super-advanced optical shield that makes the place look lifeless. Or that there is a giant black monolith buried on Mars, and governments in Moscow and Washington don't want the public to know about attempts to contact the monolith.
Start the Cave Man: The 1-7 Dolphins facing second-and-goal from the Redskins 1, guard Rich Incognito pulled left and wiped out megabucks Washington safety LaRon Landry; left tackle Jake Long wiped out Geico celebrity linebacker Brian Orakpo; Reggie Bush jogged left for an untouched touchdown. Later in the game, Ryan Kerrigan of Washington was called for a personal foul for hammering a defenseless receiver after the ball had gone past. Launching yourself into a player who can no longer participate in the down should always have been illegal. At least finally it is.
Counting the Donovan McNabb and Jason Campbell trades he made upon arrival, at Washington, Mike Shanahan has changed starting quarterbacks four times in 25 games. Could this possibly be a reason The Ultimate Leader is 9-16 with the Redskins? After the loss to Miami, Shanahan said he would begin making starting quarterback decisions "week to week."
If the Allegations Are True, Penn State Should End Its Football Program: Next week, Penn State plays Ohio State in a battle of scandal-plagued programs. The thought of these two facing off ought to send chills through the NCAA, any alum of either school, and anyone who loves college sports. Penn State and Ohio State seem determined to convince America that big-college athletics is beyond redemption. Just bear in mind: What Penn State is accused of is 10,000 times worse than what Ohio State did.
At Penn State, one of two must be the case: Either the accusations are false or they are true. If false, then Penn State, Joe Paterno and all others implicated deserve their honor back. If the grand jury presentment is true, we have barely scratched the surface of Penn State's disgrace.
If the charges are true, not only did the Penn State football program allow its facilities to be used for the abuse of children, Penn State athletic officials and academic administrators were more concerned with preserving their money and power than with stopping future molestation. (The grand jury found the Penn State administrators' explanations for inaction "not credible.") If the charges are true, the phrases "Penn State" and "Joe Paterno" forever will be synonymous with the word "shame."
Barry Switzer told Jenni Carlson of the Daily Oklahoman, "Everyone on that staff had to have known." ESPN football analyst Mark May echoed the sentiment, and maintained that all members of the Penn State football staff should be fired. Big-college football facilities are more like dorms than office buildings -- staffers are present at all hours year-round. It seems implausible that a former coach could have brought numerous young boys into the football facility, taking them into the showers or sauna, without others knowing.
May supposed on ESPN that the reason Penn State did not cancel the remainder of its season is money. Penn State has given no one any reason to believe May is wrong. Joe Nocera of The New York Times notes, "In 2009, Penn State football generated a staggering $50 million in profit on $70 million in revenue, according to figures compiled by the Department of Education. Protecting those profits is the real core value of college football."
If Penn State's trustees and new administration really cared about shame at the school, the remainder of the football season would have been canceled. Their actions suggest that what Penn State's trustees and new administration really care about is making the public think honor has been restored, in order to keep the money flowing.
If the charges are shown to be true, the way Penn State could prove contrition, and recover perspective, would be to end its football program. Penn State is talking about contrition, but talk is cheap. Ending the Nittany Lions' football program would prove contrition.
How Much Contempt Does Mike McQueary Deserve?
Penn State assistant coach Mike McQueary alleged to the grand jury that in 2002, he walked by the football showers in the late evening and saw former defensive coordinator Gerald Sandusky sexually abusing a boy of about 10 years. Sandusky denies the charge. According to the grand jury, McQueary "left immediately, distraught." He went to his father's house that night and did nothing. By the grand jury's account, McQueary did not so much as cry, "Stop!" He simply left, allowing a helpless child to suffer.
In most circumstances, law does not require that a bystander take any personal risk to thwart a crime in progress. But on that day, McQueary was a 28-year-old strapping recent college football player, while Sandusky was 58 years old. Had McQueary tried to stop the alleged crime, risk to him likely would have been minimal. Perhaps McQueary did not act because he is a coward. Even so, he could have called police without any risk to himself. Instead, McQueary later told Paterno, but said nothing to campus or local police. Years would pass before McQueary spoke to a law enforcement officer.
Commentators, including May and Robert Smith of ESPN, have expressed the view that McQueary is a loathsome figure. It is hard to disagree. Perhaps there is some mitigating fact about McQueary not yet known publicly. Based on what is known, he appears to be so heartless and selfish that he considered his career prospects in the football program more important than stopping an apparent act of child abuse. Having displayed low moral character, McQueary should never coach again in any sport at any level.
Even if McQueary deserves to be shunned, the allegation that he witnessed a coach in the act of a violent crime against a child and "left immediately" tells us something about the culture of football. A high school and college football star who was then working as a Penn State graduate assistant, McQueary had spent much of his life immersed in the culture of football. Surely, like most football players, he had been conditioned never to question coaches, never to criticize coaches, never to doubt coaches. Any player deeply involved in football culture is told over and over again -- by words, by actions and by peer pressure -- that football coaches are godlike figures, and this message is reinforced with physical pain, including the punishment drills nearly all football players endure. Plus McQueary had been offered significant rewards (a turn at being a sports star, then the chance of a high-paying college job) with the condition, stated or implied, that he must never speak against coaches or question the values and priorities of football culture.
None of this excuses McQueary. But the allegation that a prominent figure in football culture saw a child being sexually abused and reacted by running away indicts not just him, but all football culture. This man who a grand jury alleges would not protect a child is the product of a system that psychologically conditions large numbers of American boys and men, and look what that system turned McQueary into.
Some Penn State Kids Are Setting a Better Example Than the Grown-Ups: "Admirable" is not an adjective being used about Penn State much at the moment, but the Daily Collegian, the Penn State student newspaper, has done an admirable job of covering the scandal. From the second day the scandal broke, the Daily Collegian has offered better coverage than any mainstream media organization. The paper has been thorough and fair to all viewpoints.
The Daily Collegian's Christina Gallagher was first with the news that accused pedophile Sandusky had taken $400,000 in pay from a children's foundation of modest resources. That is, a significant amount of donors' contributions went into Sandusky's pocket. Gallagher also broke the news that Penn State's child care center was named the Gary Schultz Child Care Center "in honor of Schultz for his 'family values.'" Schultz, till recently a top Penn State administrator, has been charged with perjury and failing to report child abuse. Danae Blasso of the Daily Collegian reported that fired Penn State president Graham Spanier, implicated in the cover-up though not charged with any crime, taught a class titled Developing Critical Thinking for Leadership.
The Basketball Gods Chortled: A promo for the North Carolina-Michigan State basketball contest held aboard the USS Carl Vinson declared it was the first sporting event ever staged on "an active aircraft carrier." Perhaps it is just as well that jets did not land during the game.
Cognomen Change: Longtime readers know this column for years has called the Eagles the Philadelphia Nesharim. Why? Nesharim is Hebrew for Eagles; Hebrew is read right to left; Philadelphia has the NFL's sole logo that faces right to left. This year, TMQ has been calling the club the Philadelphia Heat, owing to its Heat-like aggregation of expensive stars who don't perform. Reader Jonathan Duker of Beit Shemesh, Israel, proposes switching the name to the Philadelphia Hom -- "Hom, with a long O, is Heat in Hebrew," he reports. The Philadelphia Hom -- Mr. Data, make it so!
Philadelphia Hom Watch: At 3-6, the sun is setting on the Eagles' megabucks season. The Hom have failed to hold fourth-quarter leads in five of those six defeats. There were loud boos at Lincoln Financial Field when Philadelphia began sputtering in the fourth quarter again. DeSean Jackson was suspended for oversleeping. Most high school districts don't allow an athlete to participate in a game if he or she is late for school on game day. So are the Eagles a professional franchise or a high school team?
The Eagles continue to look nearly uncoached. Consider the 37-yard deep strike to Larry Fitzgerald that set up Arizona's winning score. The Eagles have three young Pro Bowl cornerbacks: Nnamdi Asomugha, Asante Samuel and Dominique Rodgers-Cromartie. One had left the game injured, neither of the others were anywhere in the picture as safety Jaiquawn Jarrett was in a single coverage deep against the opponent's best receiver.
Taking possession with 1:46 remaining and one timeout, Philadelphia showed no urgency to snap the ball, casually jogging into formation rather than sprinting -- exactly as the Andy Reid's team showed no urgency when trailing late in their Super Bowl date versus New England. The Philadelphia fight song, "Fly Eagles Fly," might as well be rewritten as "Jog Eagles Jog."
Krumble on the Play! TMQ thinks the kickoff return fumble -- the "krumble" -- is the most damaging turnover, since a team that just scored gets immediate possession deep in opposition territory. Twice at Seattle, the Baltimore Ravens krumbled the kickoff after a Seattle score. In both cases the Blue Men Group followed with field goals. The krumbles led to six Seattle points in a game ultimately won by the Seahawks by five.
Unhappy Hour in Hell's Sports Bar: At Unhappy Hour in Hell's sports bar, nacho platters are just $5, but the peppers are Bhut Jolokia instead of jalapeno, and you are not allowed to take the peppers off.
Sunday, patrons at Hell's sports bar did not see any of the fabulous Atlanta-New Orleans overtime contest, but did view every snap of Jacksonville at Indianapolis, combined records 2-15. (The Colts are now 0-10, one season after making the playoffs.) The highlights endlessly replayed showed the woeful Browns botching a field-goal snap in the closing seconds with a chance to win at home. When patrons in Hell's sports bar tried to change the channel to watch Tim Tebow, divine lightning came out of the satellite dish.
Rookie Quarterback Comparo: Andy Dalton looked awfully good against the Steelers till a bad interception in the closing minutes. He has Cincinnati at 6-3 and playing solid football. A big factor in Dalton's success is that he started 49 games in college, taking over at TCU as a redshirt freshman. Quarterbacks need time on the field to mature, and Dalton came into the NFL with an unusually high number of starts for a collegian. Since the beginning of his senior year in high school, Andy Dalton is 62-11 as a starting quarterback.
Cam Newton started only 14 Division I games in college, yet is also playing well. But he's tailed off from a hot early season, throwing for just 212 yards and a 61.7 passer rating as the Panthers were punched in the nose at home, 30-3, by Tennessee. Early in the season, defensive coordinators had safeties up close to the line to stop Newton from rushing, allowing him to throw deep against man coverage. Lately, defensive coordinators have been using a regular Cover 2 secondary, while having a linebacker or third safety to "spy" Newton, following wherever he goes. This is frustrating Newton, who in college did not face defenses designed specifically for him. (College teams have little choice but to go with similar game plans every week, because of practice-time limitations.)
Not that Newton is getting much help. With Tennessee leading 17-3, the Carolina offensive line allowed a sack despite just three Titans' rushers. Panthers linemen Geoff Hangartner and Byron Bell just brushed their men, then turned around to watch Newton go down. And he's not getting much help from the coaches. Trailing 17-0 late in the third quarter, Carolina reached fourth-and-2 on the Tennessee 11. Coach Ron Rivera sent in the field-goal unit; the crowd booed, then began filing to the exits; TMQ wrote the words "game over" in his notebook.
What to make of the Flaming Thumbtacks? In the last month they have a 41-7 defeat and a 30-3 victory. Next week they face Atlanta, a good team smarting from an overtime defeat.
Best Game That Might Have Been Played in 1922: Everyone's talking about Denver winning a game in which the Broncos completed just two passes. Denver coaches called 55 rushes and eight pass attempts. Even with Kansas City knowing the Broncos would rush, and even with Denver down to its third-string tailback, the Chiefs could not stop the rush -- and at home. Tebow's 56-yard touchdown throw to Eric Decker looked like standard high school tactics: run, run, run, run, then throw deep. Kansas City, for its part, posted only 124 net yards passing. The Chiefs did not turn the ball over, yet lost at home to a team that completed two passes. Ye gods.
Being a quarterback, Tebow will get the ink from this game, but the essence of the contest was that Denver's offensive and defensive lines dominated the Chiefs'. Tebow's inspirational qualities must play some role; he gets his teammates fired up. All NFL players exert themselves; Tebow seems to make his teammates believe in themselves. Those golden rays of celestial light emanating from his eyes also help. Tebow might not complete many passes, and does things with the ball that make purists wince, but at the end of the game, his team has more points than their team. Tebow is now 3-1 as a starter on the season and bear in mind, he's at the controls of the NFL's second-worst franchise of 2010.
Unified Field Theory of Creep: Sharon Keld of Southampton, N.Y., writes, "I was walking by a Duane Reade drugstore in Manhattan last week and saw a Bud Light Super Bowl display. At the halfway point of the season?"
Matt Toaz of Ann Arbor, Mich., reports, "My wife's alma mater sent her a publication titled Reflections 2013. They're already looking back on the future."
Jon Miller of Nashville was among many readers to note the sad news that Target and Wal-Mart have announced they will start their Black Friday sales on Thanksgiving night. Not only does shopping sound like a horrible way to observe Thanksgiving -- this means Wal-Mart and Target must cancel the holiday for staff. With the category leaders saying they will open Thanksgiving night, will others follow? Perhaps it is just as well that Tisquantum ("Squanto") did not live to see this.
Readers, including Marti Scheffer of New Canaan, Conn., note that the current Mercedes Benz Winter Event sale ends on November 30th -- that's 22 days before solstice and the beginning of winter in the northern hemisphere.
Bills, Lions Lose Favor of Football Gods: Early season darlings Buffalo and Detroit are fading fast, both blown off the field on Sunday. The Lions seem so wrapped up in their tough-guy late-hits imagery that they are forgetting to play. Ndamukong Suh, fresh off vowing to clean up his act, ripped the helmet off Jay Cutler's head. The Lions seem a lot more interested in starting fights than in performing well, and coach Jim Schwartz seems a lot more interested in denying the problem than dealing with it.
The Bills had 16 takeaways in their first five games, and four takeaways since. There is a big luck component to takeaways. Increasingly it seems Buffalo had good luck with takeaways early, and now is being exposed as second-echelon. Buffalo has been blown off the field in consecutive games against the Jets and Cowboys, outscored 71-18. The Bills' defense allowed Tony Romo to complete 23 of 26 passes and post a close-to-perfect 148.4 rating. Luck is nice but no substitute for quality. So far Pittsburgh has four interceptions, versus 15 for Buffalo -- and whose defense do you like? Chan Gailey told Mark Gaughan of the Buffalo News, "I think what we're doing is good. I think we're not doing it very well."
The sole thing that went well for Buffalo was wide receiver David Nelson scoring a touchdown and running to hug girlfriend Kelsi Reich, a Dallas cheerleader. Nelson gave her the ball. Wasn't that using a ball as a prop?
"Mr. Scott, Warp Speed for the Offense": The University of Houston offense averages 55 points per game, with 41 touchdown passes versus four interceptions by its two quarterbacks. The University of Toledo has scored at least 60 points in consecutive games, the result being a 66-63 win over Western Michigan and a 63-60 loss to Northern Illinois. These are football scores, not basketball scores.
Two weeks ago your columnist suggested that one force at work in this year's college points-a-plenty is that mid-majors such as Houston and Toledo are putting their best athletes on offense. Defense wins championships, offense sells tickets. In its last outing, Toledo had 66 points and 813 yards of offense yet had to survive a last-minute onside kick to win.
With college programs, including Toledo, Houston, Oregon and a few others making the scoreboard spin, will the Warp Three Offense look come to the NFL?
Here are the considerations:
NFL coaches long have said the words "college offense" with a bit of a sneer. Having the quarterback rush 15 to 20 times per game, common in college, might work at the NCAA level where a successful quarterback will play 30 to a maximum of about 50 games. In the NFL, the goal is a franchise quarterback who starts more than 100 games. So protecting the quarterback from injury means more in the pros than in college. Plus in the NFL the starting quarterback is paid millions; in college, he gets the training table and a book allowance. NFL teams are more concerned than NCAA teams with protecting their quarterbacks from hits for simple economic reasons -- NFL teams invest more money in their quarterbacks.
But there's a snobbery aspect, too. NFL coaches may tend to think of "college offense" as meaning a simplistic offense that has been dumbed down so kids who were just out at a frat party can run it. A pro offense, why, our playbooks have 300 pages! This bias is diminishing. When Urban Meyer made the spread offense work at Utah and then Florida, the NFL first responded with disdain. Then Bill Belichick spent some time with Meyer and folded spread ideas into his 2007 Patriots' offense, highest-scoring in NFL annals. Today, most NFL coaches gladly would glom on to any college offense idea that worked in the pros.
So could the Warp Three Offense succeed in the NFL? Its main features, as employed at Houston, Oklahoma and Toledo, are very rapid snaps, often fewer than 20 seconds between plays; simplified blocking schemes; lots of bubble screens; simplified playbooks; and lots of snaps to wear out the defense. Toledo snapped an incredible 103 times against Western Michigan. A typical NFL team snaps 60 to 70 times, taking 25 to 35 seconds between plays (the play clock does not start until officials signal the ball ready).
The rapid-snap concept isn't unknown in the NFL -- the Bills used it under Jim Kelly, and Tom Brady and Drew Brees both use very rapid snaps in some situations. Trailing Jersey/B by 9-6 with less than 30 seconds remaining before intermission, facing third-and-12 and on the Jets' 18, Brady surprised the defense by rushing to the line and quick-snapping, rather than using a timeout. Touchdown. During the third quarter, Brady surprised the Jets again by snapping very quickly. Jersey/B acted unprepared and out of position though this tactic is in all New England film -- but coaching problems at Jersey/B are a separate issue. Nevertheless, rare are NFL quick-snaps in the contemporary college style. When Oregon decided to go for it on fourth-and-2 at the Stanford 4, the Ducks managed to snap just 16 seconds after their runner went down on the previous play, just four seconds after the ball was spotted as ready for play. That's Warp Nine.
The drawbacks to the super-rapid approach in the NFL are several. Almost all NFL players are very well-conditioned; lots of rapid snaps might tire them, but not as notably as happens with college players. NFL defenders are more experienced than college defenders; catching the wrong personnel group on the field, a goal of a quick-snap offense, causes more confusion at the college level than it would in the NFL. A no-huddle super-fast snap pace requires a simplified playbook -- 10 or 15 basic plays each with a check option, all info brief enough to memorize or wear on a single wristband. Kelly has said that when the Bills' no-huddle fast-snap offense was tearing up the league in 1990 and 1991, the team had only about 15 plays, each with a check option. But film analysis has gotten so much more obsessive in football that a super-simplified playbook might be figured out by opponents.
The same with simplified blocking schemes. Toledo uses only a few: zone block left or right, screen block left or right, man-over pass block; slide block left or right on rollouts. At the NFL level of sophistication, the "keys" to simplified blocking would be so analyzed that defenders would be able to guess most plays from the blocking. One of Toledo's best actions is to show, show, show zone blocking on several consecutive runs -- then zone block as if for a run, play-fake and throw deep. At the college level, the safeties bite. In the pros, they might not.
The bubble screens that Oregon, Houston and all super-fast college offenses rely on -- both to gain yards and to pull the secondary up, allowing deep passes -- are not legal in the NFL. Under NCAA rules, offensive linemen may be downfield before a pass that is caught behind the line. In the NFL, they can't be. This is why the Patriots throw hitch screens but not bubble screens, and the bubble is integral to Blue Offense tactics.
Don't be surprised if an NFL team samples the Oregon-, Houston- or Toledo-style offense late this season or early next. Toledo is on to a new idea the pros have seen, and that could be explosive. The Rockets go four-wide super-fast hurry-up -- and then mostly run. Against Western Michigan, Toledo rushed 60 times for 419 yards, almost all the rushes from a hurry-up four-wide.
Everyone assumes that when a team is no-huddle, four-wide and snapping fast, the point is to pass. At Toledo, the point is to run against a dime defense: the blockers are taking on skinny defensive backs rather than muscular linebackers. Same with the Ducks -- last season as Oregon lit up the scoreboard on its way to the BCS title game, Oregon ran a lot more than it threw. Spreading the field with lots of wide receivers, hurrying up to a very fast pace and then mainly running is a scheme that really works in college. It might work in the NFL.
Why Line Calls Matter: "Line calls" -- blocking assignments and protection schemes -- are deceptively important. On Buffalo's first snap at Dallas, the Bills botched the line call. The left tackle and left guard both turned inward, meaning no lineman even tried to block right defensive end, and then-league sack leader, DeMarcus Ware. He sacked Ryan Fitzpatrick, setting the tone for a blowout of the visitors.
When New England surrendered a safety at Jersey/B, the Patriots, backs to their goal line, had six to block four rushers. But the Flying Elvii botched the line call. Right tackle Sebastian Vollmer turned inward to double-team. That left 180-pound Danny Woodhead to block Jets' linebacker Jamaal Westerman, and soon the zebras were signaling safety.
With the Eagles trailing the Cardinals 21-17 with 46 seconds remaining, Michael Vick completed a first-down pass, and a comeback seemed brewing. But tailback LeSean McCoy was called for holding, and on the next snap, Vick was intercepted. On the holding down, Philadelphia had six blockers to check four rushers. The Eagles' botched the line call. Both the left tackle and left guard turned inward to double-team, leaving McCoy one-on-one against linebacker. This was one of many snaps on which the fading Eagles seemed uncoached.
Concussion Watch: The Buffalo News reports Cookie Gilchrist, the CFL and old-AFL star who died recently at age 75, "suffered from significant brain damage associated with repeated head trauma, researchers have determined." His brain was autopsied at the Center for the Study of Traumatic Encephalopathy of Boston University.
Gilchrist played when helmets were crude compared to today's, and when concussion symptoms were viewed as "having your bell rung." Coaches told concussed players the manly thing would be to go right back into the game. Evolving awareness of concussion safety creates the hope that future former football stars dying at age 75 won't exhibit "significant brain damage associated with repeated head trauma."
Similarly, many former NFL players of Gilchrist's cohort now walk with canes, or have needed hip or knee replacement surgery. In their day orthopedic medicine was relatively crude, and coaches told players whose knees or backs hurt that the manly thing to do was to get a shot of Novocaine and return to the game. Better orthopedic medicine, combined with reduced use of injected painkillers (which allow the athlete to withstand actions that cause degenerative damage) creates the hope that future 75-year-old former football stars won't have trouble getting out of bed because of back or knee pain.
That's the hope, anyway.
Stat-a-Rama Update: The supposed "explosion" in offense continues to tail off. In Week 10, NFL teams averaged 40 points per game. (That's both teams combined.) In 2010, all regular season games showed an average of 44 points. In 2009, all regular-season games averaged 43 points.
Obscure College Score of the Week: MacMurray 43, Crown of Minnesota 32. Located in Jacksonville, Ill., MacMurray College has only 528 undergraduates. With the student body 63 percent female http://colleges.usnews.rankingsandreviews.com/best-colleges/macmurray-college-1717/student-life, that means about a quarter of the school's boys are on the football team.
Bonus College Score: Whitworth 40, Puget Sound 34. Located in Spokane, Wash., Whitworth University offers an undergraduate major in athletic coaching.
Next Week: No regular column next week -- my bye week -- though check in for a TMQ placeholder. Regular column resumes on Nov. 29.
In addition to writing Tuesday Morning Quarterback for Page 2, Gregg Easterbrook is the author of "Sonic Boom" and six other books. He writes a politics column for Reuters, and is a contributing editor for The New Republic, The Atlantic Monthly and The Washington Monthly. His website can be found here, and you can follow TMQ on Twitter.