Commentary
Alaska Fairbanks is NCAA rifle dynasty
Updated:
December 12, 2011, 11:50 AM ET
By
Doug Williams
| Special to Page 2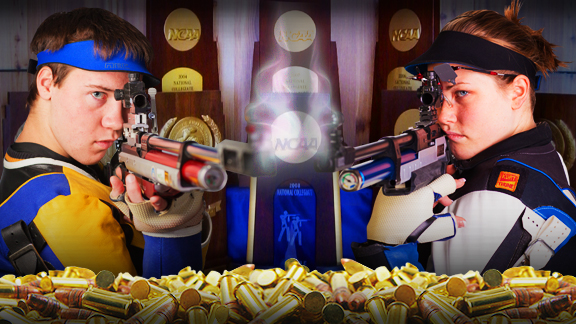 ESPN.com Illustration
At first, there seems only one plausible explanation for all those NCAA trophies gathered in one case, displayed in a room about 130 miles south of the Arctic Circle.
"Well, of course," you think. "It must be all that moose hunting."
What else could it be?
Since 1994, the University of Alaska Fairbanks has been the most dominant program in the sport of collegiate rifle, winning 10 NCAA team championships, finishing second twice and claiming 14 individual championships while producing 44 All-Americans.
Obviously, the descendents of those hardy Sourdoughs who ventured north with a gold pan in one hand and a rifle in the other can still hit a buzzing mosquito at 50 paces.
After all, Alaska is the Last Frontier, a land of wide-open spaces, jagged peaks, intrepid fishermen, crackling temperatures, the Iditarod and a hunting and shooting culture as native as the Kodiak bear. Nearly 58 percent of all Alaskans own at least one gun and, in 2009, about 15 percent of all residents -- man, woman or child -- had a hunting license.
Clearly, a lot of folks around Fairbanks know their way around a firearm, and they take a lot of pride in their Nanooks, who can shoot the Northern lights out.
[+] Enlarge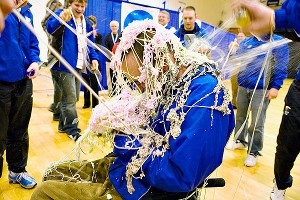 Todd Paris/U. of Alaska Fairbanks UAF coach Dan Jordan gets a shower of silly string while his team celebrates the 2007 NCAA title.
"There's a whole lot of support for us," says coach Dan Jordan. "That probably comes from Alaska and being part of the outdoors lifestyle and shooting and stuff like that. ... It's part of Alaska's heritage. You go up here, there's hunters and trappers, and guns are just part of it."
While rifle is a niche sport on most campuses, at Fairbanks the team and its shooters are big shots with a big following, one of the best programs in a rare co-ed collegiate sport that's mostly unheard of in the Lower 48.
When Fairbanks hosted and won the national championship in 2007, nearly 1,000 fans showed up for the finals, far and away an NCAA record for the sport.
Kelly Mansfield, a three-time NCAA individual champion and a member of the 1999 and 2000 championship teams, remembers how exciting it was to step off the plane in Fairbanks while holding the championship trophy for waiting fans.
"A lot of people got very excited for us," she says.
The flawed theory
Yet when it comes to the "us" -- the sharpshooters who've won all those trophies in the UAF Hall of Fame -- throw out the moose-hunting theory.
It's way off target.
While the program might be pure sourdough on the outside, inside the shooters are a melding of men and women from far (Europe) and wide (the Lower 48, plus Alaska).
Jordan is from Colorado. Mansfield came from Vermont.
Returning second-team All-Americans Cole Bures and Anna Hjelmevoll are from Nebraska and Norway, respectively. This year's team also has shooters from Arkansas, Louisiana, Virginia, Poland and Sweden, as well as two Alaskans.
Perhaps the program's most famous alum is Matt Emmons, a New Jersey boy who won four NCAA individual championships before winning Olympic gold and silver medals in Athens (2004) and Beijing (2008).
[+] Enlarge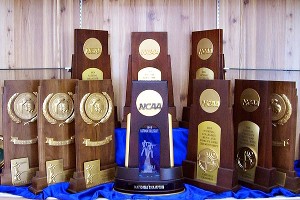 U. of Alaska Fairbanks The Alaska Fairbanks trophy case proudly displays the spoils of the school's 10 NCAA rifle titles.
Julia Redzia, a sophomore from Poland and a member of her national team, knew very little about Alaska before she arrived, yet was tuned in to the UAF rifle team, its "really, really good coach" and the fact it has sent three shooters to the Olympics.
"I could choose," she said about her many options for schools in the U.S. "It was my favorite."
Now, after two years in Fairbanks, Redzia -- who hopes to shoot for Poland at the 2012 Olympics in London -- says it's been the perfect place to raise her game, thanks to Jordan's coaching and input from talented teammates. Also, she never wants to leave Alaska.
"Alaska is like me," she says. "I love nature. ... And it's sort of like the end of the world, you know? I can be there and relax."
Some reasons for success
So how does a school "at the end of the world" stay so good, so long?
First, to be accurate, UAF is not the most successful program in rifle, which became a sanctioned NCAA sport in 1980.
That would be West Virginia, which has won 14 titles, including 10 in 11 seasons from 1988-98 and its most recent in 2009. But the Nanooks have been top dogs since, winning nine of 10 from 1999-2008. They also were runners-up in 2010 and went into this season ranked No. 1, before getting off to a rocky start. UAF ranks fifth in the latest national poll.
And consider: The school's success has come despite not only being far off the beaten path, but also while being much smaller than most collegiate rifle powers. The Fairbanks campus has fewer than 6,000 students, compared to West Virginia (29,000), reigning champion Kentucky (27,000), Nebraska (24,500), TCU (10,000) and Murray State (10,000).
Yet, the Nanooks have their advantages:
Coaching: Most dynasties flourish under one or two long-term coaches. Since 1994, the Nanooks have won three championships under Randy Pitney -- considered the architect of the program's title run -- three under Dave Johnson, one under Glenn Dubis and three under Jordan. Johnson is now the U.S. national coach, Dubis was a four-time Olympian and Jordan, a three-time NCAA Rifle Coach of the Year, is a former All-American at Fairbanks and a Paralympic silver medalist at Athens in 2004.
[+] Enlarge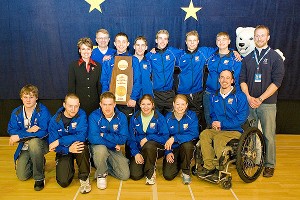 Todd Paris/U. of Alaska Fairbanks The 2007 Nanooks team poses with Gov. Sarah Palin after capturing the NCAA championship at home.
"I came in not one of the best shooters in the nation, but since I've been up here, I've increased my skills a lot," says Bures. "It's just good coaching. ... Good shooters want to come here."
Recruiting: Alaska's reach is long, thanks to a pipeline built by Pitney to attract Europeans (especially Scandinavians) and the best from the U.S. His successors have fared just as well by selling success, support and atmosphere. Jordan, in fact, was placed No. 11 in an ESPN The Magazine story in January that ranked the nation's top college recruiters among all sports -- one spot ahead of Kentucky basketball coach John Calipari.
"With [recruits from] Norway, Sweden and Finland, bringing in kids from national teams, it definitely boosts their status," says Maj. Ron Wigger, the longtime head coach at Army, which broke UAF's streak of six consecutive championships in 2005 and has finished second to the Nanooks twice, in 2007 and '08. "They've been able to recruit well, and obviously if you win six in a row, it attracts kids from the Lower 48 to be part of a top-notch crew, maybe the No. 1 team."
Plus, with current U.S. coach Johnson being a former Nanooks coach, top shooters at UAF know they'll be on the radar for national-team consideration.
Environment: Though rifle became an official NCAA sport in 1980, Alaska Fairbanks has had a team since 1937, and it was highly successful in the 1960s under former Army Master Sgt. E.F. Horton, who was recruited specifically by the university president. Pitney coached some individual national champions and guided UAF to three consecutive runner-up finishes before winning the school's first title in 1994.
[+] Enlarge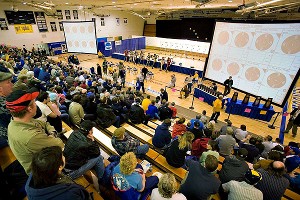 Todd Paris/U. of Alaska Fairbanks Fans packed the Patty Center to watch the Nanooks compete in the 2007 NCAA Rifle Championships.
Longtime community interest has translated to support through program fund-raisers such as gun shows and trap-shooting contests. Plus, the school's natural resources programs and locale make it a draw for many outdoors-oriented shooters such as Mansfield, who went on to become a fisheries biologist for Alaska Fish and Game.
"Alaska appeals to certain people, the more adventurous people, who want to go out and try new things," she says.
And, being part of the rifle program at Fairbanks is a much bigger deal than being a shooter for TCU or Kentucky.
"When we go on these shooting [road] trips, and there's people around when we go eat somewhere, they're like 'What are you guys here for?'" says Bures, laughing. "'We're here for shooting.' 'Shooting what?' But if you're up in Fairbanks, you go out anywhere it's like, 'The shooting team. Oh, that's huge.' Like, famous."
Says Army's Wigger: "There's probably no school that gets more attention for its rifle program than Alaska Fairbanks."
Plus, he adds with a laugh, "What else are you going to do in that part of Alaska?"
Staying on top
Maintaining excellence in any sport for a long period can be daunting, and rifle is no exception, especially when "period" -- as in the size of the punctuation at the end of a sentence -- is the size of the center point (think: bull's-eye) of the target used in collegiate rifle.
That doesn't leave much margin for error.
[+] Enlarge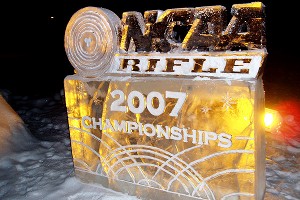 Courtesy of Todd Paris/U. of Alaska An ice sculpture welcomes spectators to the 2007 NCAA rifle championships in Fairbanks, Alaska.
Rifle competitions include smallbore and air rifle classes. In smallbore, shooters take 20 shots each in standing, kneeling and prone positions over a two-hour span with a .22 caliber rifle at a target 50 feet away. In air rifle, each competitor takes 60 shots with a .177 caliber compressed-air rifle from 10 meters (roughly 33 feet) over an hour and 45 minutes.
The target for both is about an inch and a half in diameter, which has scoring rings down to the 10-ring which, says Jordan, "is half a millimeter. About the size of a period."
Though shooters don't sprint, hit each other or have video games named after them, those involved say they are athletes nonetheless because of hand-eye coordination, concentration and stamina under pressure.
"Every other sport, adrenaline helps you," says Jordan. "It makes you run faster, jump higher. In shooting, you have to completely shut all that down to hold steady enough to hit that half-millimeter goal."
Says Wigger: "It's so mentally involved, it makes it physical."
For three seasons now, the Nanooks have missed hitting that ultimate 10-ring, an NCAA championship. It may be that the days of one school dominating the sport are over. Jordan and Wigger say there's more parity these days, with schools benefiting from the growth of ROTC and junior shooting programs.
Bures, who followed his older brother Jace from Nebraska to shoot for the Nanooks, says "competition is getting tougher and tougher" every year, but believes another NCAA trophy for the display case is possible this year.
Jordan certainly won't shy away from the challenge of working to keep his team at the top. He's overcome bigger challenges, and his mental toughness -- even in a state that prizes rugged individuals -- is well known.
Jordan, who coaches from a wheelchair, was paralyzed over much of his lower body when he broke his back in a 40-foot fall while rock climbing in 1999.
When EMTs arrived on scene to give him painkillers and take him to the hospital, they asked if he were allergic to anything.
His answer: "Rocks."
Doug Williams is a freelance writer based in San Diego.