Commentary
What if Heisman candidates debated?
Originally Published:
November 17, 2011
By
DJ Gallo
| Page 2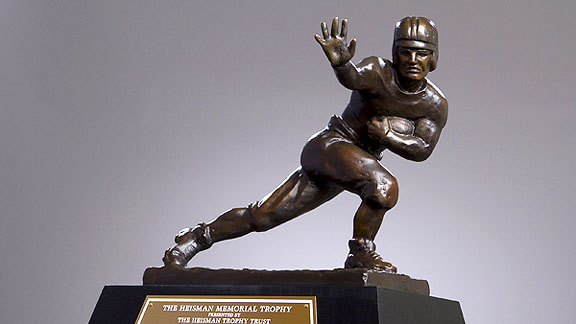 Kelly Kline/Getty ImagesPage 2 imagines what would happen if the Heisman Trophy hopefuls had to justify their candidacy.
Moderator: Welcome to the 2011 Heisman Trophy candidates debate.
[hold for applause]
We are excited to have the five top players in college football here tonight to discuss the issues: quarterback Andrew Luck of Stanford, running back Trent Richardson of Alabama, quarterback Brandon Weeden of Oklahoma State, quarterback Case Keenum of Houston and running back LaMichael James of Oregon.
[hold for applause]
Let's jump right in.
It's been said that the Heisman Trophy has lost some of its importance and prestige in recent years. If you were the Heisman Trophy winner, how would you help raise the profile of the award? Mr. Weeden, I direct this first question to you.
Weeden: Unlike my colleagues up here, I remember a time when the Heisman Trophy was the biggest award in all of sports. As a 28-year-old man, I understand the history of the Heisman better than any of my competitors and would take very seriously the task of being the Heisman winner. I have great memories of guys like Gino Torretta, Rashaan Salaam and Charlie Ward winning the Heisman. It would be an honor for me to join their ranks, while I'd imagine that the other gentlemen up here have never even heard their names.
Moderator: Is that the case? I'll go down the line and ask each of you -- have you heard the names that Mr. Weeden just mentioned?
Richardson: No.
Luck: Nope.
Keenum: Did he say Hines Ward?
Moderator: No. Charlie Ward.
Keenum: Doesn't ring any bells. Sorry.
James: I don't care for these "gotcha" questions. I'm pretty sure most, if not all, of those guys are made up.
Moderator: Part of the luster the Heisman has lost is because so many Heisman winners go on to have subpar careers in the NFL. Do you think NFL success is important for a Heisman winner? Mr. Luck?
Luck: It's an award for excellence on the college football field. Nothing else. However, it is no secret that I am projected to be the No. 1 overall pick in the draft. I don't see any NFL teams sucking for Trent or sucking for Case or sucking for any of these guys.
Weeden: If I may, getting picked No. 1 overall doesn't ensure NFL greatness. Just look at Carson Palmer or Sam Bradford. The NFL shouldn't come into play when discussing the Heisman.
Richardson: Again, I've not heard of the people my aged colleague Mr. Weeden is referring to, so I can't speak to them specifically. However, I do know that running backs are a much better pro bet than quarterbacks.

James: I couldn't have said it any better.

Weeden: Unless you're talking about Reggie Bush, Ron Dayne or Rashaan Salaam.

Luck: Again with ridiculous names from history. Look, you asked before about making the Heisman relevant again? One way to do it is by not giving the award to an old man.

Moderator: Next topic. The last Heisman winner to come from a school outside of the major conferences was BYU quarterback Ty Detmer in 1990.

Weeden: Good year. I still listen to my Wilson Phillips cassette.

Moderator: Thank you, Mr. Weeden. But please don't interrupt the questions. Continuing on. ... It's been 21 years since a player from outside the major conferences won the Heisman. Do you think it's important for a Heisman winner to play against top-tier teams to prove his worth? Mr. Keenum, I direct that question to you.

Keenum: Well, I think it's a ridiculous premise. Strength of schedule shouldn't be picking winners and losers. And, in fact, there are three quality football programs on our schedule this year: UCLA, SMU and ... the, uh ... what's the third one there? Let's see. UCLA, SMU and ...

Richardson: LSU?

Keenum: LSU, there you go. No.

Moderator: Seriously? Is LSU the team you were talking about?

Keenum: No, sir. No, sir. I was talking about teams we -- LSU is a good team, there's no doubt about that.

Moderator: But you can't name the third one?

Keenum: The third good program we play ... UCLA, SMU and ... let's see ... I can't. The third one, I can't. Oops.

Moderator: OK. Hmmm. That might be a good place to end the debate. We should probably just determine this on the field.



All games are Saturday unless otherwise noted. All times Eastern.


Game of the Week
No. 5 Oklahoma at No. 22 Baylor: 8 p.m., ABC
To keep its slim BCS title hopes alive, Oklahoma will have to get past Baylor, which is 5-0 at home this season. But the Sooners also have some momentum in their favor: They're 20-0 all time against Baylor and 10-0 in Waco. (Note to self: Print up T-shirts that read "11-and-Waco" and sell them in Norman.)


Another Game of the Week
No. 16 Nebraska at No. 18 Michigan: noon, ESPN
Nebraska throws the ball 32 percent of the time. Michigan throws the ball 35 percent of the time. John Fox should watch this game with Tim Tebow. Nebraska-Michigan will feature the kind of offense that Denver wants Tebow to be able to run in five to 10 years.

Cupcake of the Week
Georgia Southern
The SEC has spent long hours in the kitchen baking up four varieties of delicious cupcakes for us this week. First, No. 12 South Carolina welcomes the Citadel (noon on ESPN3). Then, No. 24 Auburn plays Samford (1 p.m. ET on ESPN3). Next, Florida takes on Furman (1 p.m. on ESPN3) and, finally, No. 3 Alabama goes head-to-head with Georgia Southern (2 p.m. on ESPN3).
Georgia Southern is 9-1, is ranked No. 2 in the FCS, averages 320.4 rushing yards per game and actually received a vote last week in the AP poll. It's the best of the SEC's cupcake row. Or is it? Here's Eagles head coach Jeff Monken, quoted on the GSU website, on his team's chances against Alabama:
"We've got a huge challenge on our hands just to be in the ballgame and not be completely embarrassed. They are so far superior at every position. I don't know whether to laugh or cry."


Rivalry Game of the Week
Cal at No. 9 Stanford: 10:15 p.m., ESPN
The band probably won't come out on the field. But it would be appropriate if one trombone player came out to perform a two-note solo about Stanford's national title hopes.

Heisman Candidate in the Crosshairs
Brandon Weeden, QB, Oklahoma State
With Andrew Luck coming off a subpar performance, Weeden can step forward as the top quarterback candidate. He'll get a shot in prime time against Iowa State (8 p.m on ESPN). Although no matter how many yards Weeden puts up, it will be hard for him to be more entertaining than Iowa State head coach Paul Rhoads.

Mascot Fact of the Week
Colorado's Ralphie has not been decapitated.
Two University of Colorado students came home this past weekend to find a buffalo head in their yard. There was initial concern that the head belonged to Ralphie IV or Ralphie V. The school confirmed that it did not. Whew! But considering Colorado is 2-9 and hasn't had a winning season since 2005, it's probably best that we keep the Ralphies on suicide watch.
Tailgate Tip of the Week
Get some Spirit Fingerz: The weather is getting colder, so you'll want to keep your hands warm. And nothing says you're a tough, macho football fan like having team color pom-poms on all 10 of your fingers. Just be careful not to get your Spirit Fingerz in the dip when eating at your tailgate. They're Spirit Fingerz, not Flavor Saverz.

Quote of the Week
"Call of Duty, the new video game out, so it was a call to duty and they got called to duty Saturday. It's young people. We're dealing with young guys who see something new, they want to try it and it just engulfs them. I heard them talking about it all week."
-- Louisville head coach Charlie Strong, blaming his team's loss to Pitt last week on the release of "Call of Duty: Modern Warfare 3."
Strong definitely might be on to something there. "Modern Warfare 3" probably is why Louisville lost. I wonder what video games came out the weeks the Cardinals lost to FIU, Marshall, North Carolina and Cincinnati.

Greatest Conference Ever of the Week
Big 12
In the biggest upset from last week, TCU knocked off Boise State in Boise. Tough loss for the Big East.

Worst Conference Ever of the Week
SEC
Yes, we all know how tough your in-conference schedule is. "We play SEC teams every week!" But it's no tougher than the nonconference schedules of every FCS team in the South. "We play SEC teams every week!"

Stat of the Week
$7,000,000
If undefeated No. 11 Houston makes it into a BCS bowl, it will earn $7 million for Conference USA. That's money the Cougars likely will never benefit from if, and when, they go to the Big East. Conference USA has a great divorce attorney.

Coach on the Hot Seat
Mike Sherman, Texas A&M
Texas A&M was ranked No. 8 in the preseason. Thanks to three consecutive losses and five defeats overall, the Aggies are no longer ranked No. 8. This week, Sherman and his 5-5 team welcome fellow hot seat coach Turner Gill and Kansas. While Kansas has lost eight in a row, gone are the days of weekly 40-point defeats. The Jayhawks lost by three points two weeks ago at Iowa State and fell by one point in overtime last week against Baylor. Texas A&M doesn't need to be facing an improving Kansas right now. Or maybe it does. If the Aggies lose, they can end the Mike Sherman era. Firing him worked out pretty well for the Packers.

Player Name of the Week
Capers Williamson, WR, The Citadel
Two things to know about me: I like my eggs Benedict and my Capers Williamson.

Coach Name of the Week
Paul Hogan, strength and conditioning coach, Samford
Who needs a weight room when you can get in shape by spending time out in the bush killing crocs? (This dated "Crocodile Dundee" joke written specifically for Brandon Weeden.)
(If you have a player/coach name submission or a funny tailgate photo to share, send it to VarsityTailgate@gmail.com.)

Stone Cold Lock of the Week
When Missouri moves to the SEC, Gary Pinkel will not be allowed to drive the moving van.
DJ Gallo is the founder of SportsPickle.com. His first book, "The View from the Upper Deck," is available from only the finest bargain-book retailers. His next book project will be released soon. You can follow him on Twitter at @DJGalloESPN.