Commentary
Black Widow captures turkey eating title
Originally Published:
November 23, 2011
By
Ken Derry
| Special to Page 2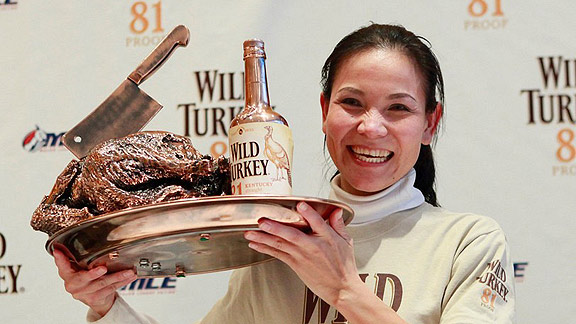 Stuart Ramson/Insider ImagesSonya "Black Widow" Thomas proudly hoists her trophy after consuming 5.25 pounds of turkey.
Sonya Thomas, a 5-foot-5 Korean woman who recently ate 183 chicken wings in 12 minutes, stood to the side of the stage with her head down and eyes on the floor. Thirty minutes earlier, she was nervous. But not now, not with the slow gong of AC/DC's "Hells Bells" blasting from overhead speakers. As she walked on stage, an emcee described her to a hungry crowd as having eyes "as dark as the loneliness of deep space."
This was Thomas, a 105-pound competitor at the Wild Turkey 81 Eating World Championship on Tuesday. She was the last competitor to be introduced, and she took her spot in front of an admiring crowd in Times Square. At the competition table with her were five men and one other woman.
SportsNation: Turkey Chat!

Sonya "The Black Widow" Thomas is stopping by to take your questions about her record feat.
• Chat at Noon ET!
The biggest among them was Eric "Badlands" Booker, who measures up at at 6-5, 400 pounds. Booker, a train conductor on the MTA's No. 7 line, treated the crowd by performing a rap from his new album before the competition began.
The rest of the field was just as formidable, with the possible exception of Maria "Edible." She was listed at 5-5, 125 pounds, but she once managed to eat 11 cannolis in six minutes.
The field was strong.
A 10-pound roasted turkey sat in front of each eater. Ten minutes to binge. At the end, the turkey would be weighed. The winner would take home $1,581, a belt and a bronze turkey trophy with a removable cleaver.
This was Thomas. She was calm. She had rows of hot green tea in clear plastic cups at her ready. She pushed the sleeves of her white turtleneck up to her elbows.
This was Thomas, the fourth-ranked competitive eater in the world, who overtook Joey Chestnut by nine chicken wings on Labor Day.
This was the one they call "The Black Widow."
---
No formal blessing was said prior to the dinner bell. But "Crazy Legs Conti," a window washer, nude model and sperm donor from the East Village, said he felt blessed to be a competitive eater.
He's ranked 20th in the major league eating circuit and is currently the reigning sweet corn champion. At a recent contest in Singapore, he ate 115 wontons in eight minutes, falling short to the Black Widow's winning number of 130.
[+] Enlarge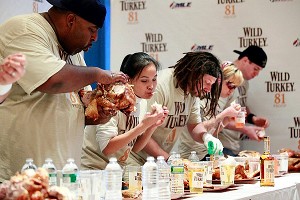 Insider ImagesFrom left, Eric "Badlands" Booker, Thomas, "Crazy Legs" Conti, Maria Edible and Kevin "L.A. Beast" Strahle constitute a murderers' row of gurgitators.
"This is a communal meal," Conti said as he practiced yoga on the sidewalk in front of The TimesCenter on West 41st Street, minutes before the competition. "Thanksgiving, it's one of the few times you sit down for the express purpose of eating and the company. These are my favorite people in the world. I am fortunate."
Conti and Booker delivered 81 turkeys to the City Harvest charity on behalf of sponsor Wild Turkey. Conti grew up in Boston, and he said he admired Jim Rice and Carl Yastrzemski for their charitable efforts.
"The fact that Major League Eating has hit the point where Badlands and I were on a truck, driving around to donate 81 turkeys to families that needed them, it was awesome," Conti said.
Crazy Legs said he felt he could compete with the Black Widow. He said he jogs the Williamsburg Bridge three times a week and hits the gym, but weightlifting is for what he called his vanity muscles.
"Sonya's beaten me for nine years," he said before the competition. "I'm so close. Am I going to beat her today? I really want to. I want that trophy. And I think I can, if everything comes together."
Crazy Legs had a simple plan. Dark meat first, given its moisture. Then white. But he was going to do two things at once.
"I'm going to tear off a drumstick," he began. "Then I'm going to work on that while I do my management. I think of my hands as my carving tools. I'm going to very gently, very delicately carve this beautiful bird."
---
Maria Edible wore sunglasses and headphones. She was listening to Rammstein as she shoveled turkey into her mouth. She had said beforehand that she didn't want to think about anything. She just wanted to feel the energy. She didn't expect to actually taste the turkey.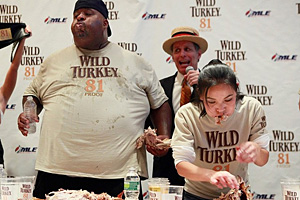 Insider Images Booker and Thomas devour the birds that lie before them at the Wild Turkey 81 Eating World Championship.
No gravy was allowed for the competition, and that threw Edible off her game, but she adjusted by chasing each bite with water.
"Turkey is a tough meat," she said. "There's a lot of chewing."
She didn't practice with a turkey in preparation for the event, and the biggest obstacle she anticipated was tearing the meat off.
"Hopefully it breaks apart easily so I can dig my claws into it," Edible said.
Next to her in the lineup was Crazy Legs, The Black Widow, and Badlands.
The competitors' facial expressions were pained and choked, but no one suffered the dreaded reversal of fortune.
Kevin "the L.A. Beast" Strahle ate 3.45 pounds. It was his first Major League Eating competition, and he was awarded the invite based on the rumblings he made on YouTube videos.
Pete "Pretty Boy" Davekos, ranked 14th in the world, ate 3.475 pounds of turkey.
Edible finished fourth after eating 3.7 pounds. She took home $250.
Allen "The Shredder" Goldstein, ranked 23rd in the world, placed third with 3.94 pounds. He won $500.
Booker, ranked 15th, came in at second place with 4.3 pounds and a $750 check.
The Black Widow, who will return to her job as a manager at a Burger King on Andrews Air Force Base in Maryland at week's end, won by consuming 5.25 pounds of turkey.
The Black Widow had a different strategy than Crazy Legs, who finished fifth with 3.6125 pounds. She started with dry breast meat and chased it with hot green tea.
"Hot tea is better because it will help lubricate," she said. "I tried eating dark meat first one time, and it didn't work at all. Eating big pieces of breast meat at the end didn't work."
Whatever she did this time absolutely did work. And after injesting five percent of her body weight in turkey in a mere 10 minutes, she can rightfully call herself the world champion of turkey eating.
Ken Derry is a New York-based writer.