Commentary
Who is the NFL's boldest gunslinger?
Originally Published:
November 28, 2011
By
DJ Gallo
| Page 2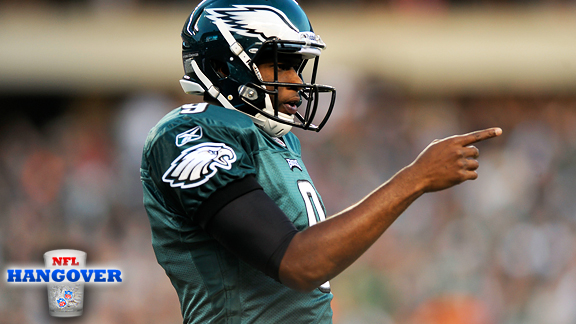 AP ImagesVince Young isn't afraid to take chances or to fail. Is he the gunslinging heir to Brett Favre?
The NFL's passer rating statistic was developed in 1971. This year, ESPN introduced the Total QBR passer rating system. Both have their merits. Yet there is room for a third quarterback rating system, one I developed that ranks quarterbacks not by how good or efficient they are, but by how much of a gunslinger they are.
I call it Total GunslingR. In this post-Brett Favre NFL, it's the one quarterback rating we need more than any other. Here is how Total GunslingR is determined:
Touchdowns
Quarterbacks get 10 points for each touchdown thrown. If there's one thing gunslingers do, it's throw touchdown passes.
Interceptions
If there's a second thing gunslingers do, it's commit a ton of turnovers. Total GunslingR awards six points for each interception. The number was set at six in honor of the many pick-sixes a true gunslinger throws. Also, if a quarterback doesn't throw any interceptions, he loses 60 points off of his total score because he obviously didn't have the guts to take chances with the ball.
Yards
The more yards you throw for, the more you're slinging it like a kid out there. That's common gunslinging sense. Total GunslingR bumps the decimal point in one place. For example, if a quarterback throws for 402 yards, he gets 40.2 points.
Late-Game Touchdowns and Interceptions
A true gunslinger lets it fly in the fourth quarter, becoming more reckless and daring as time ticks away. Touchdowns thrown in the fourth quarter are worth 15 instead of 10 points. Touchdowns thrown in the final two minutes of the fourth quarter and overtime are worth 25 points. Interceptions go up to 12 points in the fourth quarter and 18 points in the final two minutes and overtime.
Pass Attempts Multiplier
Game managers throw the ball as little as possible. Gunslingers chuck it up constantly. Total GunslingR multiplies a quarterback's point total by the number of pass attempts he makes in a game. This helps ensure that no lowly game managers receive high Total GunslingR ratings.
Total Points
The NFL's quarterback rating maxes out at 158.3. ESPN's Total QBR at 100. Total GunslingR has no ceiling, because gunslinging is about excess: the most touchdowns, the most turnovers, the most pass attempts, the most defensive backs you can throw toward.

That is the Total GunslingR system.

Here is an example of how it works with one quarterback.

Caleb Hanie, QB, Bears
Yards: 254 (25.4 GunslingR points)
Touchdowns: One in the first three quarters (10 points) and one in the fourth quarter outside of the final two minutes (15 points)
Interceptions: Three, but none in the fourth quarter (18 points)
Subtotal: 68.4
Pass attempts multiplier: 36
Total: 2462.4 Total GunslingR for Week 12

Let's take a look at the Week 12 ratings.
Top 10 Total GunslingR performances for Week 12
1. Vince Young: 3408.0 2. Matthew Stafford: 3177.0 3. Mark Sanchez: 2765.0 4. Caleb Hanie: 2462.4 5. Rex Grossman: 2394.0 6. Tom Brady: 2357.4 7. Ryan Fitzpatrick: 2139.6 8. Tony Romo: 2026.4 9. Matt Ryan: 2020.8 10. Curtis Painter: 1960.4
Bottom 10 Total GunslingR performances for Week 12
23. Christian Ponder: 780.0 24. John Skelton: 676.2 25. Joe Flacco: 655.3 26. Blaine Gabbert: 568.4 27. Cam Newton: 501.6 28. Alex Smith: 480.0 29. Tim Tebow: 377.4 30. Matt Leinart: 144.1 31. T.J. Yates: 45.0 32. Luke McCown: 8.2

Vince Young is a gunslinger. Luke McCown is a game manager. Numbers don't lie.



Quote of the Week
"Haha wow I can't believe you guys really telling me I 'dropped' the GWinner. Smh. Pitt was a drop. This was QB&WR not on the same page." -- Bills wide receiver Stevie Johnson, on his Twitter page following Buffalo's loss to the Jets.
Well, at least he didn't blame God this time. Although Ryan Fitzpatrick, a slightly less intelligent being than God, seems to be partly liable now. But perhaps we should take Johnson at his word. Maybe he and Fitzpatrick weren't on the same page. Fitzpatrick's page said that NFL wide receivers should catch passes that hit them in the hands, while Johnson's page did not. Really, whoever is printing up these contradictory pages is the main culprit. THIS HOW YOU DO ME!!!!! WITH MULTIPLE PAGES???!!! ILL NEVER FORGET THIS!! EVER!!! THX THO.
Stat of the Week: 1-8
The Eagles are 1-8 in the regular season and postseason at Lincoln Financial Field since beating the Texans on Dec. 2, 2010. Temple football has five wins at Lincoln Financial since then, Penn State football has one win, Toledo football has one win and even Real Madrid football has one win there. Perhaps we've finally found the best way to describe the 2011 Philadelphia Eagles: they're as good at football as a Spanish soccer team.
This Week's Horrible Fantasy Team That Crushed Your Team
Mark Sanchez, QB, Jets -- 17-for-35, 180 yards, 4 TD, 1 INT
DeAngelo Williams, RB, Panthers -- 15 carries, 69 yards, 2 TD
Roy Helu, RB, Redskins -- 162 total yards, TD
Johnny Knox, WR, Bears -- 4 catches, 145 yards, TD
Reggie Wayne, WR, Colts -- 5 catches, 122 yards, TD
Jermaine Gresham, TE, Bengals -- 5 catches, 68 yards, TD
Pictures of the Week
"Who cares what you saw! I'm telling you what I want you to believe you saw!"
"Time for some requests. Which of the three chords we know do you want to hear?"
"I can't believe I'm on this idiot's head. So embarrassing."
MORE GALLO PHOTO CAPTIONS!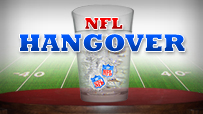 You can never have too many of Gallo's NFL photo captions! Trust us on this.
DJ Gallo's NFL Hangover photo gallery

"Rock, paper, scissors. Loser has to play quarterback in the fourth quarter."
"Gah! I knew I shouldn't have thrown paper!"
"We're obviously better without you. Maybe you can be our dance coach."
"I can't believe I got out game-managed."
"Looks like you still have to sit at the kids table at Thanksgiving."
"Also, please know that this is a sincere prayer, and not a mockery of Tim Tebow."
"Comin' at you Philip Rivers-style!"
"Any idea if your kid can play quarterback?"
"I wonder if I should try to do something about this. Nah."
"I just want you to know that when you leave here as a free agent in a few years I really enjoyed coaching you."
"Thanks for blowing our season, idiot."
"Can't believe we found a team with a worse quarterback situation."
"Give us another 'O'! What's that spell? BOOOOO!"
"I can't believe I should have stayed with the Raiders."
"Wait. Am I right-handed? That could explain everything!"
"Keep faking it ... keep faking it ... you're doing good ... keep faking it."
"Thank God. This page is all rushing plays, too."
"Ha-ha! You can't throw, loser!"
"Finally, help the haters learn the error of their ways."
"You know what helps a thumb injury? Doing curls. I also find curls are good when you have a cold. And when you wake up and when you go to bed and before and after every meal."
News Conference Questions Someone Should Have Asked
For Chargers coach Norv Turner: "Would you say your team's biggest problem is turnovers, defense, coaching, lack of execution or lack of sideline bathroom facilities?"
For Eagles coach Andy Reid: "I would like to pose my question in the form of a chant. Fi-re An-dy? (clap, clap, clap-clap-clap) Fi-re An-dy? (clap, clap, clap-clap-clap) Fi-re An-dy? (clap, clap, clap-clap-clap)."
For Chiefs coach Todd Haley: "Can you explain the thinking behind kicking a field goal on fourth-and-2 from the Pittsburgh 22 with seven minutes left in the game, when a field goal still required you to score a touchdown on your next possession? If there was no thinking, just grunt."
Five Things We Think She Thinks He Thinks
1. Considering that Matt Leinart has been injury prone and using ice packs his whole pro career, it's really a great injustice that Matt Ryan has the nickname "Matty Ice." Just as players sometimes give their jersey numbers to new teammates, Ryan should give "Matty Ice" to Leinart in exchange for a gift. And, when Ryan opens that gift, inside the box would undoubtedly be a bottle of Smirnoff Ice, because if there's anyone in the world who is still doing that, it's Matt Leinart.
2. On the TV series "Friday Night Lights," Dillon Panthers head coach Eric Taylor led his team out of the locker room each week with the saying: "Clear eyes, full hearts, can't lose!" San Diego Chargers head coach Norv Turner probably leads his team out of the locker room each with the saying: "Weak legs, empty bladders, can lose!"
3. The Bengals have endured TV blackouts for every home game this year except for the Steelers two weeks ago, and that was only because Paul Brown Stadium was packed with Pittsburgh fans. Considering the Bengals are a young team that is currently in line for a playoff spot in the AFC, it's difficult to think what else they can do to draw fans. Perhaps they need to try out some new marketing slogans.
Bengals Football: Andy Dalton's Hair is Even More Amazing than Pete Rose's Hair. Really!
Bengals Football: Now Featuring Zero Reality Star Wide Receivers!
Bengals Football: Witness the Excitement Before Mike Brown Inevitably Ruins It!
4. The problem with Stevie Johnson on Sunday wasn't his mocking finger-guns celebration or the penalty that ensued, it's that he forgot to put the finger guns away. Have you ever tried to catch a football with finger guns? It's almost impossible.
5. I am tired of the Tebow haters and the non-practicing Tebowists trying to diminish the accomplishments of Our Dear Leader by saying that Denver is winning primarily because of its defense. In fact, Denver's defense is its biggest problem. That defense is ruining every Broncos game. What if Denver was entering the fourth quarter each week trailing 45-10 or 50-0 instead of 13-10 or 6-0? We'd be getting to see far more miraculous Tebow comebacks. Denver's defense is robbing us of history week after week after week. If we're lucky, and if we Tebow hard enough, one day Tebow will be paired with a defense as bad as Philadelphia's and we will have ourselves the Dream Team to end all Dream Teams.
DJ Gallo is the founder of SportsPickle.com. His first book, "The View from the Upper Deck," is available from only the finest bargain-book retailers. His next book project will be released soon. You can follow him on Twitter at @DJGalloESPN.