Commentary
Don't bet against Tim Tebow or Broncos
Originally Published:
December 1, 2011
By
Sarah Phillips
| Special to Page 2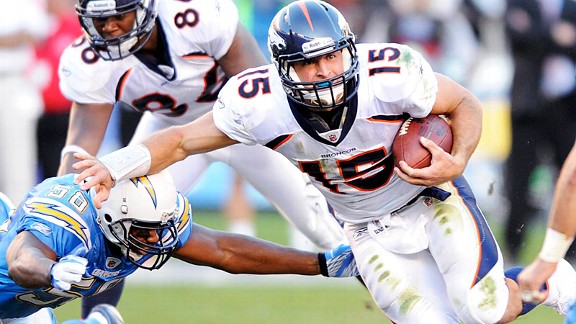 Christopher Hanewinckel/US PresswireTim Tebow and the Broncos have been underdogs in four straight games. They won outright each time.
The Denver Broncos are currently a 2-to-1 underdog to win the AFC West.
Not likely.
The Broncos are currently a 20-to-1 long shot to win the AFC championship.
Puh-lease.
The Broncos are currently a 75-to-1 long shot to win Super Bowl XLVI.
Yeah, right!
Yet somewhere deep down inside, there's something that won't allow you to close the door of possibility on Tim Tebow. I've doubted Tebow countless times this season -- before every game, before every pass and after every incompletion. And each week, Tebow has taken that doubt and squashed it.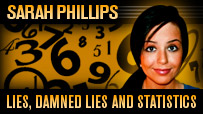 Denver has allowed just 15 points per game during its current four-game winning streak. Von Miller and Elvis Dumervil are playing exceptionally well while anchoring the defensive front seven, and Champ Bailey and Brian Dawkins continue to outrun Father Time in the secondary. The old adage says defense wins championships, and this group is playing at a championship level right now.
The Broncos' offense has been awful ... ly good. Tebow's fourth-quarter results rival those of Aaron Rodgers. Tebow is unorthodox, but effective. Denver has outscored its opponent in the fourth quarter in each of its five wins with Tebow under center. The Broncos are redefining what it means to be clutch.
You probably still believe the fairy tale is going to end soon, right? Tebow can't continue the fourth-quarter magic. The defense will get worn down at some point. Opposing defensive coordinators will figure out how to stop the Tebow-led option.
I'm as guilty as anyone of not believing in the Broncos. A playoff berth seems slightly out of reach. Representing the AFC in the Super Bowl seems laughable. Winning the Super Bowl seems utterly preposterous.
As we've seen, doubting Tebow is nothing new. The Broncos have been between a three- and seven-point underdog in each of their past four wins with Tebow as the starting quarterback. Even this week, oddsmakers have Minnesota (which is 2-9!) listed as a 1½-point favorite over Denver.
Nevertheless, despite the lack of respect, Tebow and the Broncos just keep winning. Since Tebow became the starter, Denver's in-season odds to win Super Bowl XLVI have dropped from 500-to-1 to 75-to-1. Bear in mind, extreme long shots have won the Super Bowl previously, with the 1999 Rams and 2001 Patriots being the most notable examples.
Forget everything you know about the Broncos for a moment. Instead, think of Denver as a run-first team allowing 15 points per game with a clutch quarterback at the helm. Compare that formula to that of the 2000 Ravens, 2001 Patriots, 2002 Buccaneers and 2005 Steelers, each of whom parlayed similar strategies into Super Bowl championships.
Behind a ball-control offense and a rejuvenated defense, Denver has an excellent opportunity to make the playoffs. At that point, all bets are off. Sure, the thought of Denver winning the Super Bowl is still farfetched. But are you willing to bet against Tebow's determination?
Keep in mind, you can't spell Tebow without a W.


Broncos at Vikings, 1 p.m. ET, Fox
Pick: Broncos (+1½)
This week's NFL picks
All games are Sunday.


Packers at Giants, 4:15 p.m. ET, Fox
It's been a rough few weeks for Eli Manning, and it's only going to get tougher. Already riding a three-game losing streak, the Giants welcome Aaron Rodgers and undefeated Green Bay to town. Pundits expect a track meet in this game. If we take the metaphor a step further, the Packers are Usain Bolt. Green Bay is undefeated against the spread in its past six games against teams with a winning record.
Pick: Packers (-7)


Bengals at Steelers, 1 p.m. ET, CBS
It's unclear whether Troy Polamalu, who's suffering from concussion-like symptoms, will be active for this game. What is crystal clear is Polamalu's importance to the Steelers. In his absence, Pittsburgh has been a sub-.500 team since 2007. Even if Polamalu plays on Sunday, Cincinnati should be able to keep the game within a touchdown. Without him, the Bengals might win outright. Cincinnati is 6-0-1 against the spread in its past seven road games.
Pick: Bengals (+7)


Lions at Saints, 8:20 p.m. ET, NBC
Ndamukong Suh stomped Evan Dietrich-Smith of the Packers on Thanksgiving, and then offered up a ridiculous excuse for his behavior. This game will establish a trend for a team playing without a star who stomped an opponent the previous week. All signs point to 0-1. New Orleans is 5-0 against the spread in its past five home games.
Pick: Saints (-9)
This week's college picks
All games are Saturday unless otherwise noted.


No. 14 Georgia vs. No. 1 LSU, 4 p.m. ET, CBS
The SEC is currently the premier football conference in the nation, but it isn't known for having a premier championship game. The average margin of victory in the 19 previous SEC championship games is 16 points. Although it's cutting it close, 2½ points of breathing room should be enough to back LSU as a 13½-point favorite at the Georgia Dome. Both LSU and Georgia rank in the top five nationally in total defense, but the Tigers are allowing more than seven fewer points per game than the Bulldogs. That's a significant number.
Pick: LSU (-13½)


No. 10 Oklahoma at No. 3 Oklahoma State, 8 p.m. ET, ABC
In order to have a legitimate rivalry, don't both teams have to enjoy some measure of success in the series? Oklahoma leads the Bedlam series 82-16-7, with a 35-6-5 record in Stillwater, including a current eight-game winning streak overall. Side note: If you want to see a little BCS chaos, then root for the Cowboys to win by about six touchdowns. That might be enough for voters to move OSU ahead of Alabama in the human polls.
Pick: Oklahoma (+3½)


No. 15 Wisconsin vs. No. 13 Michigan State, 8:15 p.m. ET, Fox
After starting the season 6-0, the Badgers began to sputter. First, Michigan State beat Wisconsin with a last-second Hail Mary from Kirk Cousins to Keith Nichol on Oct. 22. The following week, Ohio State beat the Badgers on a 40-yard touchdown pass in the final minute. But the Badgers persevered, and now they're in position to clinch a Rose Bowl berth if they can avenge their loss to the Spartans in the inaugural Big Ten title game at Indianapolis. Michigan State is 0-4 against the spread in its past four neutral-site games and 2-8 against the spread in its past 10 games as an underdog of 3½ to 10 points. On Wisconsin!
Pick: Wisconsin (-9)
Last week's picks: 4-1
Season record: 57-41-2 (58.2 percent)
You can follow Sarah Phillips on Twitter @SarahPhilli.