Commentary
What's the secret of Packers' success?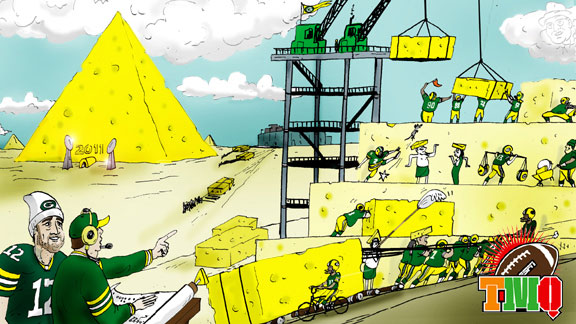 Kurt Snibbe/ESPN.com
The Green Bay Packers have won 18 consecutive games, and Sunday required just 58 seconds to drive 68 yards for the game-winning kick against Jersey/A, overcoming the defense and the home-crowds din as though neither were there. Next Sunday, if Green Bay defeats Oakland, the Packers will get to a 19-0 streak -- similar to the barrier the 2007 Patriots couldn't pass. Green Bay's offense is ultra-efficient, with Aaron Rodgers on a pace to set the quarterback rating record. Green Bay's defense gets the job done. Odds of a Lombardi Trophy repeat are strong.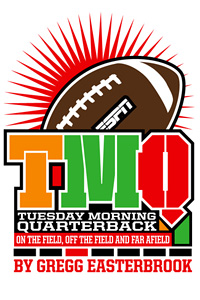 What are the Packers' secrets? First, the personnel:
• Great players: All championship teams must have a few. Rodgers and Charles Woodson will be Hall of Famers. If they continue to perform at their current levels, Clay Matthews and B.J. Raji could be, too. Donald Driver and Chad Clifton have had great careers, and Greg Jennings is getting into that territory.
• Undrafted players: The Packers have 16 on their roster -- Jarrett Bush, Tom Crabtree, Evan Dietrich-Smith, Ray Dominguez, Rob Francois, Brett Goode, Ryan Grant, John Kuhn, Jamari Lattimore, Tim Masthay, Brandon Saine, Sam Shields, Shaky Smithson, Vic So'oto, Tramon Williams and Frank Zombo. Football is a team sport, and for team sports, little-known role players are as important as great players. Unlike highly drafted crybabies who think the rules don't apply to them -- Exhibit A, the Detroit Lions -- undrafted players listen to the coaches and give you what they've got.
• Home-grown: Since Ted Thompson took over as general manager in 2005, he has rarely traded away draft choices. All NFL general managers say they want to build through the draft, then many blink and give up picks. Thompson never blinks, holding his picks and trading for others. In Thompson's seven drafts, he has selected an average of nine players per draft, versus seven that the league hands each club. He has had 17 first- or second-round choices in that period, versus the 14 the league hands out. And the Packers scout the sixth and seventh rounds as intently as the first. Many Green Bay players were late choices, selected by a point in the draft where many teams were just winging it.
• Green Bay won the Brett Favre mess: Had the Packers not shown Favre the door, Rodgers would have departed. Offloading the franchise's most accomplished player was wrenching. Leaders make decisions for the future rather than the present -- if only those in Washington, D.C., thought this way -- and Green Bay made a smart decision for the future regarding Favre.
• The only NFL roster with five tight ends, as TMQ has noted before: Green Bay has five tight ends, and has won 18 straight games. Why don't other NFL teams notice this rudimentary fact? Multiple tight ends allow for multiple offensive sets that confuse defensive game plans. All contemporary defensive coordinators have some experience dealing with multiple wide receiver sets. Most don't have experience dealing with multiple tight end sets.
• Aaron Rodgers: Quarterback is the most important position in football, and Rodgers is football's best quarterback. Accuracy and decision-making are the key attributes of an NFL quarterback -- practically all of them have strong arms -- and Rodgers excels at both. He throws accurately while moving, creating roll-out opportunities. He runs, but only in an efficient manner, mainly when he sees a clear lane to the sidelines. On a third-and-5 against the Giants, Rodgers saw a clear lane to the sidelines and ran for the first down, then stepped out of bounds. This is the way Joe Montana used to run. When the quarterback consistently picks up first downs by efficient runs that don't expose him to hard hits, the offense prospers.
Plus Rodgers is handsome. Just as the football gods are propitiated by cheerleaders with sex appeal, the gods also smile on handsome quarterbacks. Rodgers, Tom Brady, Cam Newton, Drew Brees -- it may not be fair, but this seems to be the way it is.
Now Green Bay's tactical secrets:
• Sideline passing: Both Manning brothers excel at hitting receivers along the sidelines; for Rodgers, this has become his forte. Twice against the Giants, Rodgers hit Jordy Nelson with perfect strikes smack on the sideline for big gains. On the Packers' touchdown drive that made the score 35-27 Green Bay, both big plays were sideline receptions.
The deep sideline pass is the hardest throw in football, so only the best offenses feature this action. When a receiver is smack at the sideline, the quarterback knows there will be only one defender -- by definition, there's no defender on the sideline side. Working the sideline is a way to create one-on-one matchups. The throw must be perfect. If it is, the sideline route is the hardest for even the best cornerback to defend.
• Pass first, then rush: Victory can happen with a rush-first offense, as the Broncos are showing. But passing plays gain more yardage per attempt than rushing plays. Green Bay employs this simple insight to start most games pass-wacky; once the Packers have a lead, they switch to rushing to grind the clock. Passing early to build a margin, then running late after the opposition defense begins to tire, is an ideal formula. It's the Packers' formula.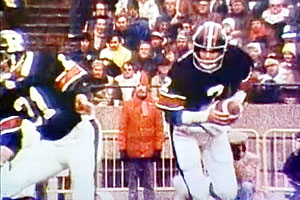 Canadian Football League That CFL spirit -- three tries to make the first down, not four -- helps the Packers' super-efficient offense.
• Canadian influence: Green Bay quarterbacks coach Tom Clements played quarterback for Ottawa, Hamilton, Saskatchewan and Winnipeg of the Canadian Football League. In the CFL, it's move the chains or lose. First downs matter more than deep strikes. The Packers' offense operates as though it assumes only three downs, like in Canada. Plus Joe Philbin has been the offensive coordinator in Green Bay for eight years. The Indianapolis Colts and New England Patriots offenses of the past decade were successful partly because of coaching stability.
• Funky defenses: Pittsburgh, Baltimore, the Ryan Brothers and others have been using oddball fronts with two or one defensive linemen, married to a zone rush. Green Bay employs this tactic too. In a zone rush -- a better term than zone blitz -- five to eight defenders are in a position to rush. Only four actually do, but the offense doesn't know which four will be coming. At least one defender who looked like a rusher before the snap drops into one of the slant lanes, since every quarterback's standard anti-blitz tactic is the quick slant.
Against the Giants, on one down Green Bay showed a conventional 3-4 front. Then two defenders walked up for what appeared to be a six-man blitz. At the snap only four rushed, with Matthews dropping into a slant lane that Eli Manning thought would be uncovered. The Giants had a receiver open deep, but because a rusher was in Eli's face -- after the choreography, Jersey/A had five to block four but lost track of one rusher who came toward Manning unopposed -- he never looked deep. Manning threw what he thought would be a safe quick out; Matthews intercepted the pass and returned it for a touchdown.
Lots of funky fronts and jumping around pre-snap cause Green Bay to surrender yardage -- statistically, the Packers' defense is not flashy. But these tactics also generate defensive touchdowns, against Jersey/A, against the Steelers in the Super Bowl and in other games. Nothing drops a 16-ton weight on your head like watching the opponent's defense score.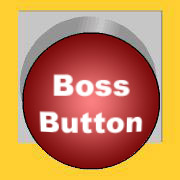 There are two other big factors:
• Mystique: The Packers have won four Super Bowls, 13 conference and/or league titles. Green Bay has the oldest consistent winner in football. The place is Titletown. Vince Lombardi is looking down. The Packers exist in a college-town atmosphere -- they are even the sole NFL franchise with college cheerleaders, not professional cheerleaders, on the sidelines. The aura around the Packers is unmatched by any other NFL organization.
• Bicycles: Packers players ride bicycles to the opening of camp, an annual summer ritual attended by thousands of children. Cheesy? Well, it is Wisconsin. Corny? Gets the season off on a fun note. And Packers faithful sure are having fun.
In other football news, Denver Broncos High School won its fifth straight, using prep-flavored offensive tactics. Adjusting for sacks and scrambles, Broncos coaches called 19 passes and 30 rushes. Minnesota coaches called 53 passes and 29 rushes. The high school approach prevailed.
In high school football it's run-run-run then play-fake and throw deep. So it was for Denver at Minnesota. Tim Tebow's third quarter touchdown pass came on a play-fake during a drive of mostly runs. His next touchdown pass came when he play-faked the zone-read option run, then spun out and threw.
Obviously, Tebow is not a polished passer like Rodgers or Brees. But sportsyak is selling his passing short. Tebow has thrown just one interception, and would lead the league in lowest interception percentage -- if the league would allow him into its stats club. See more below.
In his seven weeks of starting, Tebow has committed just three turnovers. Eagles quarterbacks Michael Vick and Vince Young have 13 turnovers in the same period; Ryan Fitzpatrick has 12 turnovers in same period. Everybody's talking about Tebow's runs. That Tebow is not turning the ball over may be the key fact about him.
Right now Tebow's wacky style of play and his personality are the cat's meow of professional football. Let's hope he bears in mind how fickle public opinion is. If Tebow has a couple of bad games and the Broncos stumble, the crowd could turn against him. As the song says, "They will never forget you/ Till somebody else comes along."
[+] Enlarge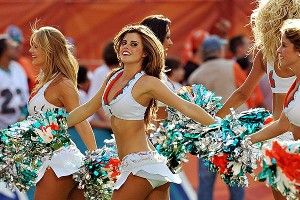 Steve Mitchell/US PresswireSuddenly cheering at Miami home games is fun.
Stats of the Week No. 1: Philip Rivers is 23-2 in December.
Stats of the Week No. 2: Miami has followed a 1-10 home streak with a 3-0 home streak.
Stats of the Week No. 3: Tony Romo is 19-2 in November, 8-11 after Dec. 1.
Stats of the Week No. 4: San Francisco won its division with a month to go.
Stats of the Week No. 5: Tom Brady has 134 victories as a starter; the record is 199, held by Brett Favre. On Brady's pace, he will pass Favre in 2016.
Stats of the Week No. 6: All AFC West teams have been outscored on the season.
Stats of the Week No. 7: Buffalo, Detroit and San Diego opened a combined 13-2, but since have gone a combined 4-17.
Stats of the Week No. 7: Tom Brady is on a 33-1 home streak in the regular season and a 0-2 home streak in the postseason.
Stats of the Week No. 8 (high school bonus): In the Illinois 5A state title game, Joliet Catholic Academy gained 791 yards on offense, and lost. See below.
Stats of the Week No. 9 (college bonus): Old Dominion gained 560 yards on offense, scored seven touchdowns, was plus-one for turnovers, and lost. See below.
Stats of the Week No. 10: Tim Tebow, 6-1 as a starter, still does not have enough pass attempts to qualify for the NFL passer ranking. In 158 attempts, he has 10 touchdown passes versus one interception. His interception rate is lower than that of Aaron Rodgers, official league leader for lowest interception rate.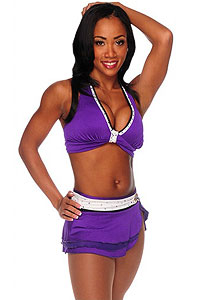 Baltimore Ravens Kellie Lee of the Ravens -- how come the soccer moms at Page 2's local field do not look like her?
Cheerleader of the Week: Reader John Fries of Baltimore nominates Kellie Lee of the Ravens, who according to her team bio calls herself a "soccer mom" and is studying to become an occupational therapist.
Sweet Short-Yardage Plays of the Week: Game tied in the fourth quarter, Houston faced fourth-and-1 on the Atlanta 9. Do the "safe" thing and kick, especially with a third-string quarterback at the reins? The Moo Cows took the manly-man course and went for it.
TMQ's law of short-yardage hold: Do a Little Dance If You Want to Gain That Yard. The Texans sent a man in motion one way, then ran the opposite to create misdirection: first down, and the winning touchdown followed. Later, Houston leading 17-10 with 2:35 remaining, Atlanta faced third-and-1 on the Texans' 20. The Falcons got called for delay of game, then failed on fourth-and-6.
Leading Indianapolis 10-3, New England faced goal-to-go on the Colts' 1. An extra offensive lineman took the field as a fullback; a man in motion went one way, then the run went the other way, touchdown. Here is a soundtrack for short-yardage misdirection.
I don't wish to alarm anyone, but the Texans, who have never made the playoffs, are 9-3 and have the league's second-ranked defense. Oft-befuddled Wade Phillips, who struggled as a head coach, always has done well as a defensive coordinator. His arrival at Houston to orchestrate the defense may end up being seen as the league's most important coaching change of 2011. Last season, Houston finished 30th in defense. From 30th to second is quite a jump.
Sour Play of the Week: Godfrey Daniel, what happened at the end of regulation in Arizona? Game tied, Dallas completed a pass to the Cardinals' 31 with 26 seconds remaining, holding two timeouts. Dallas let the clock run down to eight seconds, then spiked the ball. Why spike with two timeouts in your pocket? Why didn't Cowboys head coach Jason Garrett call timeout right away, so there was time for another snap to improve field-goal position? Apparently they don't teach clock management at Princeton. Then Garrett appeared to ice his own kicker by calling timeout just before his team's kick was launched -- good, but wiped out by the coach's timeout. Dallas kicked again and this time missed; Arizona prevailed in overtime. Godfrey Daniel!
Sour Plays Against an Undefeated Team: Reader Jason Gibbs of Dover, Del., notes Jersey/A reached first-and-goal on the Packers' 2 with 1:16 remaining and holding a timeout, trailing 35-27. Rather than rush at least once to move the clock and deny the super-efficient Packers time to reply, Jersey/A went incompletion, incompletion, touchdown pass. The deuce play to tie the score was sweet -- seeing Green Bay in its two-man defensive line with no "mike" in the center, Eli Manning audibled to a draw, two points. But Jersey/A left 58 seconds on the clock -- more than sufficient for Green Bay to go the length of the field for the winning kick as the clock hit all-naughts.
This is the same mistake the 18-0 Patriots made against the Giants in the Super Bowl -- throwing incomplete twice at the Jersey/A goal line before scoring late, but leaving the Giants enough clock to reply and win. Seeing Tom Coughlin commit the same mistake Bill Belichick made against him, the football gods chortled.
Sweet 'N' Sour Play of the Week: Cam Newton tossed right to flanker Legedu Naanee, on what appeared to the defense to be a hitch screen. But it was a lateral: Newton ran a pass pattern left for a 21-yard reception that was the first of many big plays in Carolina's destruction of fading City of Tampa. Sweet. Bucs safeties fell for the initial fake -- though the offensive linemen who had pulled in front of Naanee were pass-blocking, which should have been a giveaway. Sour.
Several times during the contest, Newton ran the zone-read option play. Considering Newton and Tebow, this action is advancing from gimmick to standard NFL strategy.
[+] Enlarge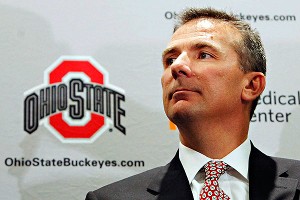 AP Photo/Terry GilliamUrban Meyer becomes CEO of OSU Football Inc. How soon 'til it has an IPO?
Never Forget That, Fundamentally, Sports Is Entertainment and Colleges Are Businesses: In his important new book "Pay for Play: A History of Big-College Athletic Reform," Ronald Smith notes that major college athletics, especially football and men's basketball, are marketed mostly to people who are not affiliated with the college -- not to students or alums, but to television viewers. Students care about education (they want their tuition dollars' worth), alums care about a college's reputation. Television viewers care only about exciting games. To them big-college football seems little different from the NFL, except with campus traditions attached.
So when big-college sports programs hire coaches, appeal to the TV audience may mean a lot more than technicalities such as having players in class and getting their degrees. Ohio State just hired Urban Meyer, who has proven TV marketing appeal. According to the News-Suns of Springfield, Ohio, Meyer's contract includes maximum annual bonuses of $550,000 for victories and $150,000 for players' academic achievements. This suggests that football is 3.7 times more important than education at Ohio State.
Stop Me Before I Blitz Again! St. Louis blitzed seven; San Francisco threw a 56-yard touchdown pass to Kyle Williams for the icing score. Arizona blitzed seven; Dallas threw a 5-yard touchdown pass to Dez Bryant.
Sure, the blitz sometimes produces a big play for the defense -- New Orleans got a sack against Detroit by rushing seven. But on the big blitz, a big play for the offense is as likely. The 36-yard late third-quarter catch by Tony Scheffler that put Detroit back into its game at New Orleans came against a mega-blitz.
Lions note: Playing without suspended Ndamukong Suh, the Lions committed three personal-foul penalties after the whistle, one of which pushed the team back from a goal-to-go situation into a field-goal situation. Tuesday Morning Quarterback noted a month ago, "The Lions seem a lot more interested in starting fights than in performing well, and coach Jim Schwartz seems a lot more interested in denying the problem than dealing with it."
[+] Enlarge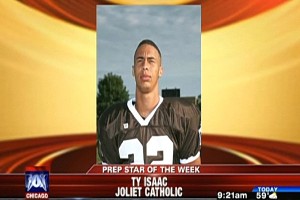 FOX Chicago Prep star Ty Isaac rushed for 515 yards in a single game -- which his team lost.
Friday Night Fireworks: The Illinois 5A title game, won by Montini Catholic, featured 115 points, 1,644 yards of offense, 1,032 return yards, 16 touchdowns and two punts. Running back Ty lsaac of runner-up Joliet Catholic had 515 yards rushing, averaged 20 yards per carry and scored five touchdowns of more than 50 yards in defeat. Noted by reader Michael Frain of Chicago.
Unified Field Theory of Creep: Reader Michelle Fox of Los Angeles writes, "Recently I received an offer to sign up for life insurance from the AARP. Seeing as how you have to be 50 years old to join, that leaves me 18 years to prepare the paperwork." Chris Webb of Takoma Park, Md., reports, "I just logged into my bank account to find this message, "Retirement is getting closer.' I am 34 years old, my wife just had our first child. While it's technically true that with each day retirement is getting closer -- with each hour dinner gets closer, too."
AARP -- which once meant American Association of Retired Persons but now officially has no meaning, the way KFC doesn't mean Kentucky Fried Chicken anymore -- is itself a creep phenomenon, since it allows you to join at age 50. Once, 65 was viewed as retirement age. The retirement age ought to be rising as longevity increases -- indeed, the country's finances will fall apart if the Social Security retirement age doesn't increase. But AARP dropped its member age to 55, and now accepts members at 50.
Of course being "accepted" as an AARP "member" means being granted the chance to pay an annual fee. The extremely strict requirement for AARP membership is paying the fee. So why stop at 50? Why not let Michelle Fox, at age 32, become an AARP member?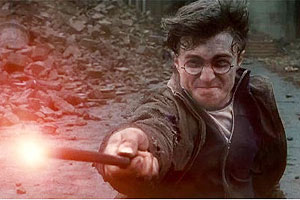 Warner Brothers Entertainment Harry blasts Voldemort with an authentic replica of something that doesn't exist.
TMQ's Christmas List: I hope Santa brings me a Potter wand that is an "authentic recreation" -- bearing in mind that in this case, the original never actually existed. Or perhaps Santa will bring a dagger that is an "authentic prop replica." Since props are, by definition, fakes, this is an "authentic replica" of a fake.
In a section on gifts, last week the New York Times recommended this "hand-painted rocket, in walnut." On Page 1 of the day's print edition, in a box touting what was inside the paper, the Times showed the rocket model with a tagline saying it was "a gift perhaps suitable for an aesthetically refined person or a NASA scientist." The Times appeared not to recognize what the $225 rocket model represented. Would an "aesthetically refined person" really want a model of the Nazi V2 rocket used to kill civilians in London and Antwerp?
Yours truly just ordered something to put under the "holiday tree" from L.L. Bean, which is giving $10 coupons with most transactions. Using the coupon required entering 23 digits. Many account numbers are long because they are generated by algorithms. But nine digits are required to assign a unique number to each person in the United States. Are 23 digits really required for a $10 coupon?
Scariest Words I Have Heard All Year: The Federal Reserve's moves to grant special favors to European governments "pose little risk to the U.S. taxpayer, Fed officials said, because the Fed is doing business with foreign central banks viewed as trustworthy." Fannie Mae and Freddie Mac, Bear Sterns, Lehman Brothers, Merrill Lynch, Dexia Bank of Belgium -- they were "viewed as trustworthy," too. U.S. taxpayers once were told they would never, ever have to cover Fannie Mae losses. Now U.S. taxpayers are being told they will never, ever have to cover losses for European bonds.
[+] Enlarge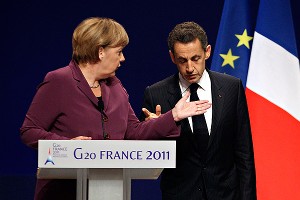 AP Photo/Michel EulerEuropean leaders call a news conference to thank United States taxpayers for subsidizing the euro.
What happened last week was that the Fed offered deeply discounted "liquidity swap lines" to European banks. This mumbo-jumbo means European banks can borrow U.S. dollars from the United States at 0.5 percent interest. If you need to borrow for a car or credit card debt, can you get a 0.5 percent loan directly from the United States government? Now wealthy Europeans can!
As collateral, the Federal Reserve received promises of euros. Possibly you have read a newspaper at some point in the past year. If so, you know there is a real chance the euro might go out of existence. In that case the collateral becomes worthless. The Fed will have given a large amount of U.S. dollars to Europe to be squandered.
The Federal Reserve did not say how many U.S. dollars have been offered to European governments. The last time transactions of this sort happened, Fed "swaps" to Europe peaked at $580 billion. And as Bloomberg News pointed out last week in an important investigative story by Bob Ivry, Bradley Keoun and Phil Kuntz, the Fed recently has been handing insider companies huge subsidies without even disclosing that it is doing so.
The reason European banks seek dollars in the first place is that, at the moment, companies and investors don't want to borrow euros: corporations and investors know there is a risk the euro will become worthless. Last week that risk was shifted onto American taxpayers. Now European banks can make loans in dollars rather than in euros. If the loans succeed, the rich of Europe keep the profits. If the loans fail, average Americans will be handed the bill. Perhaps that's why the Fed announcement was written so as to be incomprehensible.
At the Fed, when high-level staffers leave, one year later they may seek lucrative jobs at the banks whose profits rise because of Fed actions. Banks and other big businesses often hire former regulators to cushy jobs, in order to send this message to current regulators: sell the public down the river, and there will be a cushy job for you too.
A Fed defender would say that if the economy rebounds and the euro stabilizes, then there will be GDP growth with no losses to taxpayers. Let's hope. Yet in this best-case scenario, the wealthy of Europe get their capital at a half percent courtesy of Uncle Sam, while typical Americans pay 4 to 20 percent interest to borrow. That's the best case!
Washington has not only put the younger generation on the hook for at least $14 trillion in debt -- now young Americans may end up on the hook for money squandered in Europe. TMQ asks again: Why aren't voters under age 30 outraged about this?
How Times Have Changed: "Boy, it would really be something if we could pick up a first down," Colts flagship radio announcer Bob Lamey said during the Indianapolis at New England game. Previously, Lamey broadcast nine consecutive Colts' playoff seasons plus a Super Bowl victory.
Manly-Man Play of the Day: Tennessee led Buffalo 17-10 midway through third quarter, Flaming Thumbtacks facing fourth-and-1 on the Bills' 18. Tennessee went for it and converted. The result of the drive was still a field goal, but Titans coach Mike Munchak sent his players a message that he was challenging them to win, as they did. Tennessee leading 23-17 with 1:13 remaining, tremendous punt coverage pinned the Bills on their 15, sealing the victory.
[+] Enlarge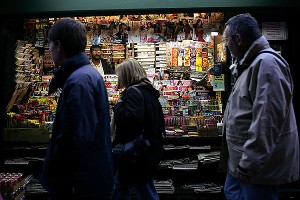 Spencer Platt/Getty ImagesSnap up some printed newspapers and periodicals, while you still can.
Best of Times, Worst of Times in News: Maddening as the mainstream media are, everyone worries they will collapse. Sales of most newspapers are declining; each year fewer Americans read newspapers than in years past; ratings for evening news shows are down too. Perhaps many Americans think, "If big newspapers or CBS News go out of business, I can still get my news from the Web." The problem is that the big newspapers and TV news organizations are the source of much of the news that lives on the Web. It's a nervous time in the news biz.
But -- it has never been a better time to be a news consumer. The year 2011 is the best year ever for being informed about public events. The year 2012 is likely to be better still. The mainstream media may be retrenching. News consumers never had it so good.
People speak of an amorphous past Golden Age for the media -- when was this, exactly? A generation ago, a higher percentage of Americans had a newspaper delivered to their homes, or bought one on the street or at a subway stop; the three network evening newscasts were watched in most houses; subscriptions to The Atlantic and the New Yorker were the marks of a well-informed household. On the other hand, back then if you missed the dinnertime and 11 p.m. TV news, there was no other news programming; no national newspaper was available for home delivery; nothing resembling the Web existed; if you wanted to look up past news coverage, you trudged to a library and spent hours manually loading microfiche into cumbersome reader devices; if your copy of The Atlantic didn't arrive, you were out of luck. Some Golden Age.
Today there are three national 24-hour news channels, plus many local news channels. The New York Times and Wall Street Journal are available for home delivery in most of the country. Most newspapers and magazines are instantly available on the Web, free or at low cost. Most newspaper and many magazine Web pages are updated throughout the day as events unfold, you so don't have to wait till tomorrow morning to find out what happened. Most of the world's newspapers are on the Web -- it was a major hassle to get ahold of Le Monde or Die Zeit back in that supposed Golden Age. Major newspapers are archived, allowing anyone to do in seconds, from any desk, what took a full day at the library back in that supposed Golden Age. And today many newspapers, major magazines and news organizations, including ESPN, offer mobile access via tablet and smart phone. No person seeking to be informed on current events would exchange the reality of 2011 for any year in the past. Times are tense in the mainstream media, yet this is the best time ever to be a news consumer.
Throw in that many academic and government studies, once only obliquely referred to in news reports, are now on the Internet so they can be read in the original. You don't have to take a journalist's word for what is in a study or congressional report -- you can read the original, conveniently. For instance, did reporters and newscasters accurately characterize the content of the report of the 9-11 Commission? Decide for yourself.
What's really going on may not be the collapse of the mainstream media, rather, just another period of adjustment. The communication business has long been sensitive to technology. Once multiple competing dailies in major cities were said to be a threat to the news; then television was going to knock off the printed word; now the Web is said to threaten television, as the printed word transitions from ink to electrons. The news biz has been under attack by technology since Gutenberg.
Recent signs indicate that the Web-versus-home-delivery problem is shaking itself out. The New York Times now charges for most Internet content, and just reported that its combined print and digital paid readership in the past year rose 31 percent during the week and 22 percent on Sunday. Bloomberg and Reuters, important news organizations that increasingly present themselves to the public mainly via the Internet, are expanding and have sound financials. (Last week's shakeup at Reuters mainly concerned the financial services division of the parent firm.)
[+] Enlarge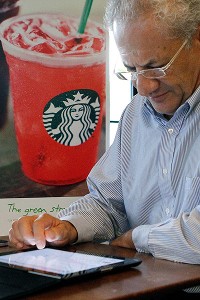 AP Photo/Alan DiazIf the news jumps from dead trees to electrons, it won't matter as long as the news business continues.
In the first six months of 2011, ABC's "Nightline" was the ratings leader in its time slot, besting the Leno, Letterman and O'Brien entertainment programs. The Pew Research Center for the People and the Press reports that when Internet news reading is taken into account, Americans are spending an ever-increasing amount of time with the news. And if you believe the nonsense about the written word being dead -- bear in mind, right now you are reading a complicated column that's full of asides on politics and science, that averages 8,000 words per week (10 times the length of a newspaper column) and that is among ESPN.com's most popular features. Tuesday Morning Quarterback could never work in a newspaper. But on the Internet, huge numbers of people read it.
Perhaps the current media shakeout will result in most written forms of communication leaving paper for screens. There will be some sadness involved, but also important new efficiencies. I pay $744 per year to make the New York Times go thunk in my driveway every morning. Millions of people either won't or can't pay that. But if it becomes standard to read the Times daily via the Web for, say, $50 a year, the paper could find both more readers and secure revenue. A primary impact of affordable Web news coverage will be to democratize the news. There are scenarios in which the mainstream media end up totally fine. And it's the best time ever to be a news consumer.
Boise State Once Again Stopped Outside the Nightclub by the Doorman: For the fourth time, Boise State finished in the BCS top 10 and did not get a BCS invite. The Broncos will face 6-6 Arizona State, which just fired its head coach, in the MAACO Bowl Las Vegas -- no small comedown. TMQ loves Boise State; what's not to like about blue turf and trick plays? But the school publicly denounces the BCS, and being blackballed is the price. The BCS is a private club. There's no right to belong to private clubs. The private-club nature of the BCS is annoying and transparently about the big conferences maximizing profit. But if Boise State wants to say the BCS is bad, it can't also complain about not being allowed in. Boise State's attitude recalls the old joke: the soup is terrible, and such small portions!
[+] Enlarge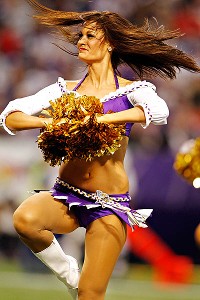 Bruce Kluckhohn/US PresswireAt Minnesota, the cheerleaders had to resist the urge to cheer on Tim Tebow.
Arkansas finished sixth in the BCS, ahead of Boise State, is a megabucks insider school, yet didn't reach the BCS either. In the Razorbacks' case, because LSU and Alabama made the title tilt, by BCS rules no other SEC school could enter. But that shows the BCS isn't entirely rigged -- Arkansas, an insider, is out. Though to the immense relief of the Bowl Championship Series organization, there's no BCS buster this year -- no Boise State, no TCU, no University of Houston. Schools from beyond the insider conferences are 5-2 in BCS bowls, consistently embarrassing the insiders.
How Long Till a Reindeer Recruiting Scandal? One indicator of the increasing commercialization of big college football is that coaches at major schools (UCLA, Kansas, Illinois, Texas A&M, among others) were fired last week not for being bad people or for having low graduation rates among players but for not winning. Fresno State fired coach Pat Hill. Sure you put our program on the national map, but what have you done for us lately?
The chair of the English department is not fired if the faculty fails to publish enough that year. But then the English department does not have boosters. At most big-deal colleges, the boosters could not care less whether the athletes are in class -- all the boosters care about are victories. And at many large public universities especially, the boosters have more access to the college president than does the dean of students.
The NFL coach-a-rama, always active in January, looms too. With many jobs open or opening soon, Comet the Reindeer Games coach, from the "Rudolph The Red-Nosed Reindeer" special, should be considered.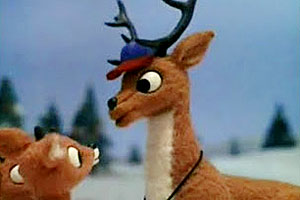 CBS The NCAA is investigating free trips to nightclub parties for bucks who played in the Reindeer Games.
This year CBS aired Rudolph on Nov. 30, not even waiting for December -- more creep. Comet seems like a tough-guy who commands the respect of his reindeer, though he's pretty closed-minded about red noses. Santa doesn't come off so good in the special either. His nose-ism prejudices are never explained -- maybe it's a generational thing with right jolly old elves of his age.
Cheer-Babe Professionalism Watch: Now that the weather has turned cold, cheer-babe professionalism comes into play. Professionalism in this sense means skin or at least skin-tight: this appeases the football gods.
Reader Barry Negrin of New York City notes that, with the kickoff temperature 53 degrees, the glamorous Washington Redskins cheerleaders came out in miniskirts, and the Skins took a 13-10 halftime lead against the Jets. For the second half the cheerleaders donned track suits, and needless to say, the home team went on to defeat. "It seems the cheer squad, like the players, needs to remember the game has four quarters," Negrin notes.
Skins-Jets note: Pass rush specialist Aaron Maybin, who had zero sacks in two seasons at Buffalo, has six sacks in his first nine games with Jersey/B, leading Rex Ryan's pressure-obsessed defense in the category. Maybin hit Rex Grossman to force the fumble that turned the game in the Jets' favor.
Buffalo used the 11th overall selection of the 2009 draft on Maybin, then rarely let him on the field, criticized him relentlessly in public, then waived him early this season. Nonsensical? Not if Buffalo's new front office, which took over shortly after the Maybin choice, is more concerned with protecting its high-paid jobs than with winning. Tuesday Morning Quarterback noted just before Maybin became a Jet, "Making a great show of discussing how bad the previous Bills regime's high draft pick was creates an excuse for [Bills head coach Chan] Gailey and [Bills general manager Buddy] Nix to present a losing team in 2011 -- 'What did you expect, when the guys who came before us blew the team's 2009 first-round pick?'"
The Bills are 5-7 and last in the NFL in sacks. If everything about their season was the same except they'd simply kept Maybin, the Bills might be in the playoff hunt. But to the coach and general manager, lining up excuses for losing was the first priority.
[+] Enlarge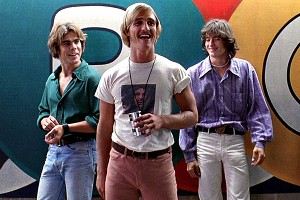 Gramercy Pictures "Man, I'm telling you, we gotta go to the next Denver Broncos High School game. Tebow is even bigger than Aerosmith."
High School Tactics Watch: Denver Broncos High School isn't the only program discovering that Friday night tactics can surprise defenses in the era of the shotgun spread. Nate Daniels of Richmond, Ky.: "The Kentucky-Tennessee game didn't get much national notice because neither college is bowl-bound. Kentucky started a wide receiver at quarterback, ran 56 times versus attempting six passes, and posted its first win against the Volunteers in 26 years. The outcome was hardly thrilling at 10-7. The key point is Kentucky surprised Tennessee with very simple tactics and won -- just as the Broncos are surprising NFL opponents."
Yawn, Another Steelers Win: Cincinnati was on the field at Condiment Coliseum, though you'd never know it from the final score. Pittsburgh set up its first touchdown with four consecutive rushes. It then set up its second touchdown with three consecutive passes, the touchdown play coming on a toss with two offensive linemen pulling right. Green Bay may be near-flawless by using a pass-first mindset. But old-fashioned football works, too. Baltimore basically toyed with the Cleveland Browns, with a 231-yard rushing margin on Cleveland's own turf.
As for the Bengals, they are fading, losing three of four after a fast start. But Andy Dalton to A.J. Green gives the team a bright future.
Undrafted Quarterback Plays of the Day: Undrafted Miami quarterback Matt Moore threw a touchdown pass to undrafted Miami receiver Davon Bess versus Oakland. Undrafted Tyler Palko threw a touchdown pass against Chicago. In the Carolina-City of Tampa game, undrafted quarterback Rudy Carpenter, called up from the practice squad just hours before the contest, handed off to undrafted tailback LeGarrette Blount.
[+] Enlarge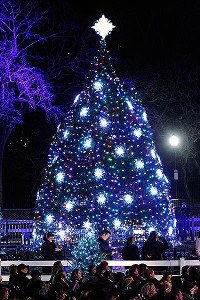 AP Photo/Pablo Martinez MonsivaisThis year's National Christmas Tree, which the White House announcement called a "Christmas" tree.
Report from the Front of the War on Christmas: Rhode Island Gov. Lincoln Chaffee declared the decorated object at the statehouse is a "holiday tree," specifically rejecting "Christmas" tree. Chaffee justified use of "holiday tree" on the grounds that the centuries-old Rhode Island Charter grants "full liberty in religious concernments."
There are reasons to object to nativity scenes at public buildings because the nativity scene is explicitly Christian. But the Christmas tree is not a religious symbol! No Christmas trees are in the Bible, no Santa, no chuckling elves, no flying reindeer. Though, the King James translation does include six references to unicorns.
Santa, trees and the rest are secular aspects of the secular gift-giving part of Christmas. Yes, it can be confusing that Christmas is simultaneously a religious and a secular holiday. But governors of states should be able to understand that scripture says nothing about trees with twinkling lights and tinsel! If anything, the secular part of Christmas that is exemplified by the tree detracts from the spiritual meaning of the day.
This is even true in legal terms. Reader Jeff Jackson of Phoenix, a graduate of Arizona State University law school, notes, "Though some may believe that a Christmas tree on public property violates the Constitution's Establishment Clause mandating separation of church and state, the Supreme Court does not think this. In Lynch v. Donnelly (465 U.S. 668, (1984), the Court ruled that a nativity scene is fine in a public park so long that there were other secular "figures and decorations traditionally associated with Christmas," including Santa, reindeer, a Christmas tree and lights. So not only is a Christmas tree not in violation of the Establishment clause -- its presences helps make a nativity scene not violate the Establishment Clause (which it would alone, based on the Court's 5-4 decision in Allegheny County v. ACLU, 492 U.S. 573, 1989) because the presence of the tree reminds the viewer that Christmas has meanings that are not related to religion."
[+] Enlarge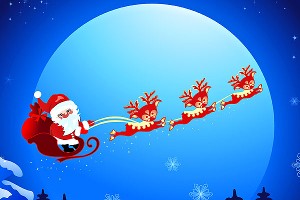 ThinkStock.comDon't tell the governor of Rhode Island, but this scene is not described anywhere in the Bible.
It is yet another sign of the low state of political discourse that the governor of Rhode Island doesn't know the difference between religious and secular symbols. One reason respect for government keeps declining is that public figures, such as Gov. Chaffee, make themselves look ridiculous on basic subjects. If a governor of a state makes himself look ridiculous on something a schoolchild can understand, how can government be trusted with complex matters? And whether a holiday frill is a "holiday" tree or a "Christmas" tree is a trifling matter, but speaks to the inability of modern political correctness to use straightforward language. As Orwell warned, we cannot think clearly unless we call things what they are.
TMQ Readers Know Too Much: I noted the disassembly of the last B53 city-buster nine-megaton nuclear bomb, designed to cause mass civilian deaths rather than to destroy military targets. I called the B53 the "most powerful" U.S. nuclear bomb. Francois Dauphin, of Malden, Mass., responds, "While the B53 was indeed the most powerful nuclear bomb the United States had in its arsenal until the last one was dismantled last month, it was not the most powerful U.S. weapon ever built. That would be the B41, first fielded in 1960, with a theoretical maximum yield of 25 megatons, more than 2,000 times the blast of the Hiroshima device. The last B41 was disassembled in 1976. Had that monstrosity or its Soviet counterpart ever been used, everyone in an entire large city and all surrounding suburbs would have died."
Class of 1983, Meet Class of 2012: Sports touts, and Indianapolis Colts faithful, are focused on the destiny of Andrew Luck in the 2012 draft. Landry Jones will be available too. Matt Barkley may come out of college, and this season he's looked like he was expected to look when he was the most sought-after prep player in the country. Don't forget Case Keenum, Russell Wilson and Robert Griffin, all of whom have spectacular touchdown-to-interception ratios. A little bird told me that Griffin is the one whose draft stock is likely to soar should he decide to go pro. He has a rocket arm and is a former track star, a rare combination.
[+] Enlarge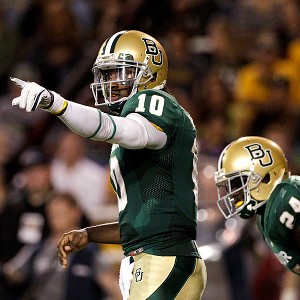 AP Photo/Tony GutierrezA little birdie told TMQ that Griffin may soar in the NFL draft.
That's six quarterbacks with a legit shot of going in Round 1, plus a realistic shot of at least one Hall of Famer among them. This could turn out to be a wonderful year to be a bad NFL team.
Barkley played well but USC coach Lane Kiffin had him throwing in the fourth quarter of its final game, though the Trojans were ahead 43-0. Barkley was still on the field, and still throwing, when it was 50-0 and two minutes remained. Who cares if USC feels sorry for itself about being on bowl probation? USC has only USC to blame for its probation, which would not justify bad sportsmanship no matter what the cause. What happens last is what we remember, and what happened last for USC football in 2011 was a display of bad sportsmanship. Kiffin, of course, is the one to blame -- Barkley didn't leave himself in. With all the negative light cast on USC football, why did Kiffin make a point of ending the season on a negative note? Maybe to please fans who care more about the final score than the college's reputation.
Unhappy Hour in Hell's Sports Bar: At Unhappy Hour in Hell's sports bar, pigs-in-blankets are free. But they are actual wild boars and you are chained inside a blanket with them. Hell's sports bar did not see any of the fantastic Packers at Giants contest, or the fantastic Denver at Minnesota ending. But Hell's sports bar saw every snap of the 10-3 Kansas City at Chicago game, including the Bears gaining just 181 yards at home while throwing three interceptions.
For the highlight show, patrons endlessly re-saw Chicago reaching first-and-goal at the Kansas City 7, then ending up missing a 41-yard field goal attempt. They endlessly re-saw Kansas City getting its sole touchdown on a fluke Hail Mary on the final snap before the first half. Bears Brian Urlacher and Chris Conte both were trying to do the smart thing -- knock the ball down. But they collided and managed to deflect the pass to a Chiefs receiver. During the postgame interviews, patrons endlessly saw Mike "What The!" Martz trying to explain why, with a shaky backup quarterback -- Caleb Hanie has thrown six interceptions in his two starts -- he called a pass on fourth-and-2 from the Chiefs' 35, rather than rely on a power rush at home. Needless to say the result was an incompletion.
Chicago, once 7-3, has now dropped two in a row and Sunday looked more like a practice squad than an NFL team. But then in Hell's sports bar, they know all about falling from grace, and they certainly know about not executing Hail Marys properly.
Buck-Buck-Brawckkkkkkk: Trailing Southern Mississippi 35-21 at the end of the third quarter, one victory away from a first-ever undefeated season and first-ever BCS berth, possessing college football's No. 1 ranked offense -- entering the contest averaging 608 yards of offense per game and 7.7 yards gained per offensive snap -- the University of Houston faced fourth-and-1 at midfield, and punted. TMQ wrote the words "game over" in his notebook. It took Southern Mississippi just two snaps to pass the point where the ball would have been if Houston had gone for it and failed. What good is the nation's No. 1 offense if you won't use it?
[+] Enlarge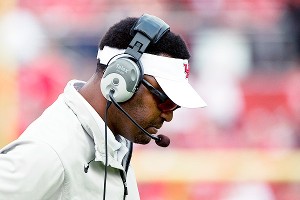 AP Photo/Dave EinselKevin Sumlin of the University of Houston. Is he the latest college weasel coach?
Perhaps Kevin Sumlin has joined the ranks of weasel coaches. He could not control the fact the Arizona State, UCLA, Texas A&M and other big programs were mentioning him for their coaching vacancies. But if media reports are correct, in the week before the biggest game ever for University of Houston football, the head coach's agent was talking to other schools about him jumping ship. Then his team went on to lose, with Sumlin seeming distracted. If any player (excuse me, "student athlete") had an agent speaking to another college in the week before a big game, there would be outrage. How come this is fine for coaches?
Obscure College Score of the Week: Georgia Southern 55, Old Dominion 48 (Division I-AA playoffs). The teams combined for 1,167 yards of offense, 15 touchdowns and two punts. Located in Norfolk, Va., Old Dominion University offers an "electrified" atmosphere.
Bonus College Score: Wesley 27, Mary Hardin Baylor 24 (Division III playoffs). Located in Belton, Texas, the University of Mary Hardin Baylor assures prospective students it is near "numerous golf courses, movie theaters and great shopping and dining options."
Single Worst Play of the Season -- So Far: Everybody's seen the highlight clip of Lions defensive back Eric Wright being turned inside-out for a 67-yard catch-and-run touchdown by Saints receiver Robert Meacham. When TMQ watches this clip, about a minute in here, I think -- where's the rest of the Lions team?
Leading 10-0, New Orleans lined up in a power set with just one wide receiver, a fullback and an extra tight end. Detroit looked confused, bringing 10 men to the line of scrimmage or into the box. The extra tight end went in motion right, drawing the attention of defenders on that side. There was pointing and shouting on the Detroit side. At the snap, the motion tight end simply blocked. Only two New Orleans players, the wide receiver and the tight end in-line left, went downfield. The protection call was max protect, with eight back to block and Detroit rushing five. That meant Detroit had six defenders to cover two receivers -- yet Robert Meacham was single-covered going deep. Watch Meacham and Wright dueling: Where is the rest of the Lions team? The safeties never appear in the picture. They are busy triple-covering a tight end short. Two Lions covered no one at all on the play. At least there was no personal-foul penalty.
Sure, Detroit has injuries in the secondary -- everyone in the NFL has injuries. Six defenders to cover two receivers and the speed receiver goes deep one-on-one: Detroit Lions, you are guilty of the single worst play of the season. So far.
Next Week: The governor of Rhode Island says reindeer must be called "holiday ruminants."
In addition to writing Tuesday Morning Quarterback for Page 2, Gregg Easterbrook is the author of "Sonic Boom" and six other books. He writes a politics column for Reuters, and is a contributing editor for The New Republic, The Atlantic Monthly and The Washington Monthly. His website can be found here, and you can follow TMQ on Twitter.