Commentary
Uni Watch's 2011 holiday gift guide
Originally Published:
December 7, 2011
By
Paul Lukas
| Page 2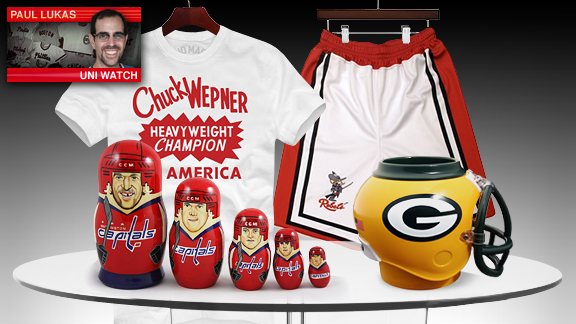 ESPN.com Illustration
Now that we've gotten Black Friday, Small Business Saturday and Cyber Monday out of the way, we can proceed to the main event of the holiday shopping season: Uni Watch Wednesday, in which we present a slate of unusual sports-related gifts you won't find at your local mall or pro shop.
As per our annual custom, not every item in the following list is strictly uni-related, but they all relate to the visual culture of sports. So whether you're shopping for that special someone who's obsessed with athletics aesthetics or just looking for something to slip into your own stocking, you'll probably find something worthwhile in this year's dandy dozen (one for each day of Christmas, or one and a half for each day of Hanukkah). Let's take a look:
1. Throwback college basketball shorts from Retro College Cuts. How often have you said to yourself, "You know, what this world really needs is a place where I can buy some retro college hoops shorts"? OK, probably not all that often, but it's actually a pretty cool idea. Retro College Cuts is a fairly new operation, so its catalog is fairly small at the moment, but a bunch of additional designs are about to be added (1972 Long Beach State, 1979 Penn, 1988 Iowa, 1990 Loyola Marymount, 1995 UMass, 1998 Rhode Island and 2000 Butler), with more to follow in the new year. A company to keep an eye on.
2. St. Louis Cardinals infographic poster from Chartball. Hey, Cardinals fans, want to relive your team's championship season? You can immerse yourself in all sorts of visually engaging details with this groovy poster. (And speaking of baseball and infographics, any geeky MLB fan will appreciate a copy of "Flip Flop Fly Ball" by Craig Robinson, the book version of his excellent website.)
UNI WATCH HOLIDAY GALLERY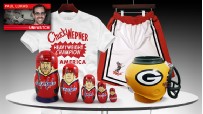 Take a closer look at 10 of our favorite gift ideas for the 2011 holiday season.
• Uni Watch gift guide photo gallery

3. Custom NFL-themed wash basins from Anawalt Custom Sinks. Has your favorite team been performing so poorly that you're ready to wash your hands of them? Well, now you can -- literally. No word on whether the company also makes custom urinals, but Vikings and Rams fans are welcome to inquire.
4. Sausage Race socks from the Brewers Team Store. One longstanding tradition of the Uni Watch Gift Guide is to point out that sometimes the best stocking stuffer is a pair of stockings. This year it's these awesome socks featuring Major League Baseball's best mascots. They're available in a variety of sizes, from toddler to adult. For details, contact the Brewers Team Store at 414-902-4750. (And in case you missed out last year, Uni Watch's hosiery recommendation from 2010 -- these killer Bears throwback socks -- are still a fine option.)
5. Helmet-shaped beverage holders from HelmetMug. Why use a standard beer koozie when you can have a koozie shaped like your favorite football team's helmet? That's the idea behind HelmetMugs. Perfect for tailgating or couch-spudifying.
6. Jersey wallets from Tokens & Icons. If you're going to be spending a lot for the holidays, you might as well be reminded of uniforms each time you reach for your cash, so check out these wallets lined with game-used jersey fabric. They're available in a variety of MLB and NHL selections.
7. "The Jersey Project," by Bill Humphreys. Given all the colorful cycling jerseys out there, there are surprisingly few books on the topic. This one -- a new American edition of a book originally published in the Netherlands -- features photos and information on over 1,200 jerseys. The colors and designs practically leap off the page, as you can see in this slideshow:
Looks good, right? The translated text is occasionally a bit choppy, but the photography is sensational. You can learn more about the book here, and you can purchase it here. (And if you want an actual jersey for that cold-weather cyclist on your list, you could do a lot worse than the LGC long-sleeve jersey from Cannondale, which has been the favored attire this season for Uni Watch's daily Tour de Brooklyn.)
8. Pete Hill baseball card set by Gary Cieradkowski. Pete Hill, a Negro Leagues player and manager, was a lifetime .326 hitter and was elected to the Baseball Hall of Fame in 2006. Now designer Gary Cieradkowski, who created many of the graphics at Camden Yards in Baltimore, has produced a limited-edition set of baseball cards chronicling Hill's career. "For a uniform geek like myself, Hill was an interesting player to tackle, because he played on lots of different teams, many of which had great uniforms," Cieradkowski says. "Historical documentation of Negro Leagues uniforms is scant, so I'm proud of the research I did to get each design as accurate as possible." You can order this beautiful card set here.
9. Chuck Wepner T-shirt from No Mas. Did you catch ESPN's recent movie about Chuck Wepner, the journeyman heavyweight who fought Muhammad Ali in 1975 and was the inspiration for the "Rocky" movies? If so, you may have seen the shot of Wepner wearing a spectacular T-shirt while training for the Ali bout. Now perennial Uni Watch favorite No Mas has come out with an authorized reproduction of that shirt. Just the thing for your next "Rocky" movie marathon party.
10. Sock-based toques from Hockey Sockey. You wouldn't wear a sock on your head -- or would you? These NHL-branded toques are made from genuine fleece-lined hockey socks, so now your head can be are warm as your legs, and/or vice-versa. (And if you're shopping for a Blackhawks fan, you might also be interested in this hat design.)
11. Washington, DC-themed Matryoshka dolls by Moscow on the Potomac. Matryoshka dolls -- those little Russian nesting dolls -- make irresistibly cute stocking stuffers. And cute might be the best thing you can hope for if your city's football team stinks. And its baseball team. And its basketball team. But hey, at least your hockey team is playing well!
12. Green Bay Packers stock certificate. It's not every day that you can become an NFL team owner. But thanks to the latest stock offering by the Packers (North America's only publicly owned team, don'tcha know), now you can do just that. A single share costs $250, and you (or your lucky gift recipient) will get a very cool-looking stock certificate to hang on the wall.
Honorable Mention: The Logo Board Game, by Spin Master. This one isn't sports-related, but Uni Watch readers tend to be very into logos, so there's a good chance you'll like this board game about popular consumer logo designs.
And here are some favorites from past years: For old-school throwback jerseys and caps, the go-to source is Ebbets Field Flannels. … If you want an authentic reproduction of an old college football helmet, look no further than Gridiron Memories. … In addition to that Chuck Wepner T-shirt, the No Mas folks have the world's coolest Wiffle Ball tee and are still partnering with Uni Watch on the Naming Wrongs T-shirt series. … You can get beautiful MLB screen prints from Sports Propaganda and Ohio State football screen prints from Grandman. … Robert Marshall is still the czar of baseball stirrups. Further details on his site, or just contact him directly for the full scoop. … And Lise Munsie continues to offer dresses made from NHL jerseys.
'Tis the season …
Two other surefire signs of the holiday season: First, the NHL has unveiled the jerseys for the Winter Classic, which will take place in Philly on Jan. 2. Love that Rangers design, and the Flyers jersey is solid if unspectacular. Here's hoping for a light snow on game day.
Second, December is the time for Uni Watch's favorite holiday beverage preparation: homemade Irish cream, which is guaranteed to make you the hero of your next holiday party. Honest.
And this year we have a bonus Yuletide treat: new NBA uniforms. Originally scheduled for unveiling in late October, they've now been pushed back into the holiday season by the lockout. With the season set to tip off on Christmas Day, Uni Watch will have the full rundown on this year's new designs soon.
Paul Lukas knows who's been naughty and who's been nice, but he's not telling. If you liked this column, you'll probably like his daily Uni Watch web site, plus you can follow him on Twitter and Facebook. Want to learn about his Uni Watch Membership Program, be added to his mailing list so you'll always know when a new column has been posted, or just ask him a question? Contact him here.