Commentary
Reasons we can't stay mad at the NBA
Originally Published:
December 8, 2011
By
Steve Etheridge
| Special to Page 2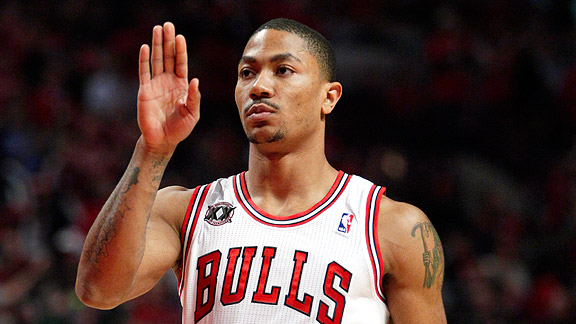 AP Photo/Nam Y. HuhMaybe this year Derrick Rose will muster up some bravado worthy of his athletic exploits.
It's been a couple of weeks now since Occupy Ball Street came to an end, and the NBA hype machine has only until Christmas to get us excited about basketball again. Many of us had already made the decision to move on, including the Sweat Moppers Union, who found interim work attending to Cee Lo. But despite any emotional separation, we Americans are a forgiving people, and how long could we possibly resist the electrifying spectacle of gangly millionaires bouncing leather spheres back and forth across a rectangular expanse? It's what we live for.
Regardless, the NBA is gonna have to wine us and dine us a little, maybe pack a couple of extra T-shirts into the T-shirt cannon. But ultimately they'll earn our loyalty again, and here are some of the things from the upcoming season that will likely win us back.
The Chris Paul saga
On this week's episode of "Tycoons Stymie the Huddled Masses," David Stern breathed his miserly, curmudgeonish breath over a three-team trade featuring Chris Paul, shamelessly wilting the deal to please his ownerly concubines. Paul, forbidden to pursue a fantastic opportunity with the Lakers, must now remain in New Orleans in servitude to Stern's whims. It's an ugly regression, voiding with Scrooge McDuckian flair any meager glimmer of compromise demonstrated during the labor talks. And the players aren't having it. Lamar Odom, who was also involved in the deal, didn't show up when the Lakers opened their training camp on Friday. Who knows what other forces of rebellion could be brewing? Sometimes the only way to achieve Metta World Peace is to violently overthrow the tyrants.
Dallas Mavericks defend their title
Can Dirk Nowitzki carry the Mavs to another Cinderella season, or will it be more of a "Your Backcourt's Aging, Charlie Brown" kind of season? Competing in a vastly improved West, it's difficult to tell. What we do know for certain is that Mark Cuban will hold the most Mark Cubanly of banner ceremonies, declaring the team that Mark Cuban owns NBA champions, thereby making Mark Cuban the best in the world.
The long-awaited arrival of Ricky Rubio
Fun fact: Minnesota is Spanish for "Dear God, I can't believe I have to live here."
Shorter season, higher stakes
Gee, I'm tellin' ya, the 2011-12 season is as short as they come. It's so short, it once asked Earl Boykins how the weather was up there. It's so short, it went undrafted despite averaging 22 points a game in the ACC last season. If the season were any shorter, it'd be forced to go to the North Pole to make toys. How short is it, you ask? The 2011-12 season is so short that the league decided to rename the Larry O'Brien Trophy the DeVito Prize. Seriously though, did you hear about this? The season was going to be even shorter, but then David Stern saw his shadow on Labor Day. The jokes just keep coming, folks!
But, yeah. Fewer games mean that each victory will hold a higher proportional value than usual. And the same goes for losses. Expect player performance to adjust accordingly.
Shaq the commentator
Shaquille O'Neal will be bringing his large arms and large torso and -- most importantly -- large mouth to the commentators' booth on TNT broadcasts. A perfect fit, considering He Know Drama.
[+] Enlarge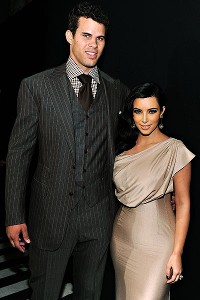 Dimitrios Kambouris/Getty ImagesWhat will the post-Kardashian Kris Humphries play like?
Depressed Kris Humphries
It's always fascinating to see how athletes respond in the wake of hardship, and though being separated from a Kardashian doesn't technically qualify as hardship, I imagine Kris Humphries might bring some of his sadness to the court this season. I predict that he'll suit up in a fresh pair of Air Eeyores, along with a black armband in remembrance of his own marriage. Although ultimately I think his stages of grief will pan out as follows: denial, anger, bargaining, depression and then six months of perpetual celebratory fist pumps.
Players who let themselves go
Because of the lockout, players weren't allowed access to team trainers or fitness facilities. So who's going to show up at game time with a second chin? Will Glen Davis be able to resist Paul Pierce's succulent calves?
And what about the old guys? How will they perform after a long offseason of no preservative baths or regular joint oiling? Expect many of the older players to literally fall apart limb by limb, including Kevin Garnett, Ray Allen and Greg Oden, who, based on looks alone, must be at least 60.
Maybe the biggest shame in all this is that Shawn Kemp is no longer playing. The guy would've ballooned to 400 pounds, at least. He'd have to take a Hoveround from the locker room to the bench, and you'd have to lure him on the court with Reese's Pieces, like E.T. What a joy it'd be to see him thundering down the court like a floppy-eared Kool-Aid Man, begging George Karl for oxygen. In conclusion: Dude could eat.
Sophomore spotlight
After a long offseason spent practicing dunks over his mom's Corolla, Blake Griffin will be eager to resume the spotlight and star in a new onslaught of amateur YouTube highlight videos set to Linkin Park. Rookie of the year runner-up John Wall will continue trying to dribble out of Blake's shadow, conspicuously leaving a trail of forget-me-nots everywhere he goes.
Derrick Rose suppressing emotion after doing cool things
Derrick Rose is very humble. So humble, in fact, that he deferred his MVP award to Brian Scalabrine just to make him feel like part of the team. His humility is at its most exhilarating after throwing down, say, a massive tomahawk, when the look on his face says, "I have done nothing today but clean out my inbox." A more appropriate reaction might be to take a Tebow between two pyrotechnic fountains while cheerleaders fan him with giant palm leaves. In this day and age, his no-big-deal attitude feels like a very big deal.
Players returning from overseas
Like that guy who spent a semester in Germany and came back to school with a whole bunch of next-level drinking games, expect the players who went overseas to bring back some European flair. Maybe Deron Williams, home from a stint in Turkey, will teach his fellow Nets to call the sport by its proper name, "hand football." Or maybe he'll teach them the European way to dunk, which is pretty much a normal dunk except wearing a turtleneck.
In other news, it'll be interesting to receive periodic updates from the handful of players stuck playing in China under strict no-escape contracts. If it's anything at all like the Beijing opening ceremonies, I think Kenyon Martin will be living in a perpetual state of terror and paranoia. Can't we send Bill Clinton or someone on a diplomatic mission to rescue these guys?
I suppose it could be worse. They could be playing in Cleveland.
Those guys from Miami
What are their names? Lorne James and Darien Wyane? And then there's the one guy who looks like one of the blue things from "Avatar." Anyway, we can all go back to vilifying them for their spectacular athletic accomplishments.
Steve Etheridge is a Chicago-based writer. You can follow him on Twitter at @stetheridge.
Conor McKeon contributed to this article.