Commentary
76ers still listening to fans on mascot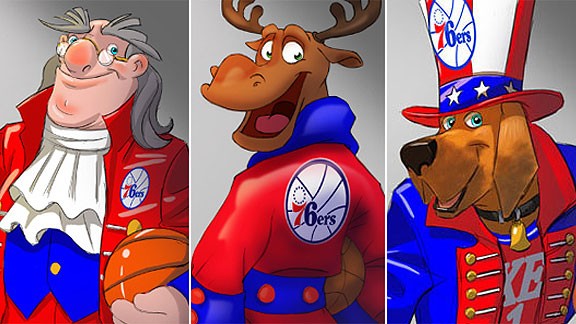 Philadelphia 76ersSixers fans can choose either Big Ben, Phil E. Moose or B. Franklin Dogg as their new mascot.
The Philadelphia 76ers unveiled the three final candidates for the team's new mascot Monday, a move that resulted in some "SMH" or virtual headshaking -- or at least head scratching -- from Philly fans on social media.
Turns out a lot of Sixers supporters aren't huge fans of Big Ben (the founding father, not the Steelers' quarterback), B. Franklin Dogg or Phil E. Moose to replace slam-dunking rabbit Hip Hop.
Sixers CEO Adam Aron tweeted about Hip Hop's departure last month.
One fan even called for a total boycott in the hoops hare's honor. However, the general consensus seems to be simply that this trio will not do. The Philadelphia Daily News summed up fan sentiment in a front-page headline: "Fans Agree: Sixers' Mascot Proposals are Lame." A poll by the local ABC affiliate found more than half of voters opting for "None of the above."
THE PAGE 2 MASCOT SOLUTION
Page 2 has heard the complaints, so we've happily unveiled our four potential new Sixers mascots. Kurt Snibbe
Phil E. Moose has come under fire on Twitter for the fact that's there absolutely no connection between the City of Brotherly Love and the antlered animal. There's already a prominent in-state Big Ben. And B. Franklin Dogg is too reminiscent of crime fighting dog McGruff.
Yes, these are things people are debating in the Twitterverse.
A possible dark horse, err Muppet-like creature, also has emerged with fans calling for the return of the team's original mascot, Big Shot. In retirement since 1996, a social media campaign has been launched, including multiple Facebook pages and an online petition dedicated to Big Shot's return.
"We don't really know what Big Shot was and how he's ever related to the city of Philadelphia, but he is a symbol of a time when this franchise was great," said Philadelphians Devin McMillan and James Williams, the hosts of a Web sports radio show and the sponsors of the online petition. "Since the team has already gone back to the old logo, why not go back to a very entertaining fan favorite?"
Besides, they add, neither the moose nor the dog have any clear tie-in to Philly or the team and "the city has been riding the Ben train for far too long."
Of course, this dissention doesn't seem to be stopping voters. On Tuesday, Aron tweeted, "Mascot FYI: 16,000 votes cast in one day."
"We're thrilled with the buzz [this vote has generated] across all platforms, from our Twitter account to Facebook to the traditional media," Aron told Page 2, citing a major digital bump for the team.
Sixers.com has seen its traffic quadruple since the mascot vote opened. Multiple Twitter accounts have popped up for each candidate -- all run by fans. Both the team and Aron have seen their social media followings grow. And they're paying attention to what people are saying on those platforms.
"We're monitoring the sentiment," Aron said. "The ownership group has maintained from the outset that we would listen to our fans and we're certainly doing that via email, Web and our Twitter accounts. But we're also monitoring the volume of their votes, which reached over 16,000 in the first day. We had 6,500 responses for input about the team as a whole in a month, so clearly the fans are engaged and talking about the Sixers and the mascot."
Whether fan feedback will mean any changes for the mascot is yet to be determined. One thing that Aron said certainly won't change is the commitment to listening to its fans and their input.
"When fan voting for these mascots concludes at the end of this week, we'll assess where we are and go from there," Aron said. "But we will always encourage our fans to reach out to us and let us know their thoughts, whether it's through traditional or new media outlets."
Having a voice a far as the Sixers are concerned is something Philly fans have to like -- whether or not they "like" the team's proposed mascots.