Commentary
Ruettiger reminds us of sappy 'Rudy'
Updated:
December 18, 2011, 4:19 PM ET
By
Jerry Greene
| Page 2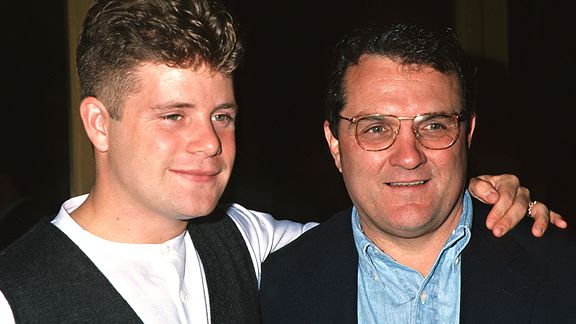 Ron Galella/WireImageSean Astin (who played Rudy) stands next to the real Rudy, Daniel Ruettiger.
We need Tim Tebow more now than ever before.
Why? Because one of our famed sports' "feel good" stories has taken a blow. If you haven't heard, Daniel "Rudy" Ruettiger has been charged with improving on reality -- which reminds us of the movie "Rudy" and why all of you think Ruettiger looks just like Samwise Gamgee from "Lord of the Rings."
Ruettiger reportedly is paying more than $380,000 to the Securities and Exchange Commission because of charges that he artificially inflated the value of stock for Rudy Nutrition, his sports drink company. It's called a "pump-and-dump," which sounds like a football play just as Ruettiger has always sounded like a football player.
Scott Friestad, a member of the commission's enforcer branch (which sounds intimidating), said: "Investors were lured into the scheme by Mr. Ruettiger's well-known, feel-good story but found themselves in a situation that did not have a happy ending. The tall tales in this elaborate scheme included phony taste tests and other false information."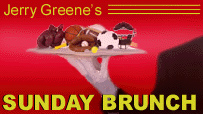 Do you think he used "tall tales" intentionally when talking about the 5-foot-6 Ruettiger? Or maybe it just meant Friestad had seen the movie?
By the way, what are your three sappiest movies of all time? After all, this is the week that almost all of the "saptaculars" are on TV. Which ones put you into a diabetic coma? Here are mine:
• "Field of Dreams." It's not a holiday flick but it feels like one. At least it was placed in an appropriate setting -- a field of corn.
• "Rudy." Ask Joe Montana about the reality vs. the fantasy. If Rudy's one moment for Notre Dame is worth a movie, what is Tim Tebow's career worth already?
• "It's a Wonderful Life." Look carefully at those closing scenes of George Bailey reunited with friends and family. Do you see that terror reflected in his eyes? It's because, deep down, he knows he's insane and has been hallucinating the whole thing. Happy holidays.
Uh, didn't really mean to be such a drag on the start of Christmas week. Let's touch on a few more topics while our holiday literary chefs prepare the main dishes in this festive Brunch.
[+] Enlarge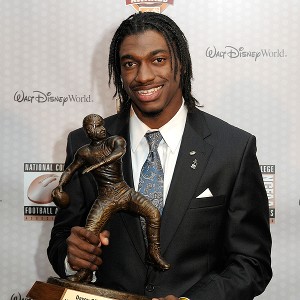 AP Photo/Phelan M. EbenhackRobert Griffin III, we hear your phone ringing.
• Bravo to Rays pitcher David Price. Not for stopping a man that was urinating on Price's car but for saying afterward, "I was relieved with how it worked out." Anyone who can throw out a pun under any conditions is worthy of praise.
• Your NHL Panthers are now selling plastic rats in their gift store. If a rat-infested Panthers fan somehow runs into a Green Bay Cheesehead, there's bound to be trouble.
• A French soccer club is making an 18-month offer worth $18.7 million to David Beckham for when his Galaxy contract ends Dec. 31. In other news, David Stern has said Beckham may not join the Lakers.
• To Robert Griffin III: "Please pick up Line 3. Kim Kardashian on hold."
• Warning: Kobe Bryant is in a bad mood. Under no circumstances should you ask him if he can help you get Clipper tickets.
Ding ding. The dinner bell tells us it is time for the main courses of this Holiday Brunch. And we may have to leave some great ones on the cutting-room floor as this has been an exceptional week for sports writing. See for yourself:
• We start with sad but warming news in that George Vecsey is stepping away from his "Sports of the Times" column for The New York Times. His final column under that title (he will write occasionally for the Times) reflects on a superb career along with linking us to some of the columns he liked best. He also reveals the one column he wishes he had never wrote. We salute you, Mr. Vecsey. See for yourself here.
• We have a self-imposed rule that we do not link more than one story from the same source in any given Brunch. We're breaking our rule by taking you right back to The New York Times for Michael Schwirtz's sympathetic story of the small Russian town of Yaroslavl that is coping with the death of its beloved hockey team by plane crash and the attempt to resurrect the organization by turning to the youth of the town. You don't want to miss this true story of rebirth.
• NBA gets started on Christmas Day. LeBron James tells Linda Robertson of The Miami Herald that the Heat must win a title because nothing else will do. And Robertson tells us that James is ready to soar with a lighter heart. Get ready to cheer or boo here.
• Nothing the NBA can do Sunday afternoon, short of folding, that will top the New England-at-Denver game wisely left by the NFL in the late-afternoon time slot. Ron Borges of the Boston Herald looks at the purity of Tim Tebow and wonders why anyone should hope that he fails. See his testimony here.
• We're not finished yet. Berry Tramel of The Oklahoman asks the question everyone else is skirting around: "What if God is on Tebow's side?" Think about it here.
In conclusion, we can neither confirm nor deny that Albert Puljos secretly dreamed of being a Laker but David Stern said, "No way." We'll see you next on Christmas morning so have a merry trip getting from here to there.
Jerry Greene is a regular contributor to ESPN.com and can be reached at osogreene@aol.com