Commentary
'Any given Sunday' -- cliché or truth?
Originally Published:
December 19, 2011
By
DJ Gallo
| Page 2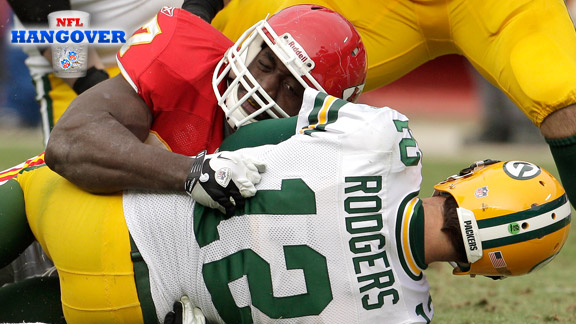 AP ImagesAllen Bailey and the Chiefs sacked the Packers, proving anything can happen on any given Sunday.
On any given Sunday, the Chiefs can beat the Packers, the Colts can win a game, Tim Tebow can fail to orchestrate a miraculous comeback, Chad Ochocinco can catch a touchdown pass and Ndamukong Suh can go an entire game without committing a personal foul.
That's why we watch sports. Anything can happen. There are no guarantees.
Who knows what the next "any given Sunday" will bring.
Eli Manning could throw an awful, late-game interception and respond by keeping his head up and his body language positive. Or, just as likely, he could ride off the field on his pet unicorn.
Andy Reid could give a news conference after a loss and refuse to accept any of the blame: "I did a great job. This one is completely on my in competent players."

The Raiders could decide to not be content with a 60-plus-yard field goal attempt.

The head coach of the Cowboys could get more camera time than their defensive coordinator or owner.

James Harrison could decide to extinguish the flames if Roger Goodell caught on fire.

Santonio Holmes could get a first down and pretend it's not the first one ever achieved. (Although the Jets should probably treasure first downs. Scratch this one.)

The Cincinnati Bengals could sell out a football game.

You could meet someone who liked the movie "Any Given Sunday."

Sam Hurd could receive the Ed Block Courage Award. See? Anything can happen on any given Sunday.



---
Quote of the Week
"It's terrible. It's terrible. I don't have any kids; my parents are still living. I don't really have anything that's much more important than football. This is one of the worst things that could happen to me personally, and that's how it feels."
-- Raiders safety Mike Mitchell, on Oakland's loss to the Lions
If anyone is Mike Mitchell's Secret Santa, get him a puppy. Or a hermit crab. Or a pet rock. Anything, really, to give the guy more balance in his life. No one should go through life taking every Raiders loss as a personal tragedy, for that person would have the most tragic life of all time.
Stat of the Week: 305
With two games left in the season, Drew Brees needs to throw for just 305 more yards to eclipse Dan Marino's 27-year-old record for passing yards in a season (5,084). So he needs to average 152.5 yards per game to break the record. Considering Brees hasn't thrown for fewer than 152 yards in a full game since Christmas Eve 2006, when he threw for 132 yards in a loss to the Giants, Marino's record is probably safe. Brees is obviously due for some bad games.
This Week's Horrible Fantasy Team That Could've Won a Playoff Game
Matt Moore, QB, Dolphins -- 10-for-20, 217 yards, 2 TDs C.J. Spiller, RB, Bills -- 167 total yards, 2 TDs Donald Brown, RB, Colts -- 16 carries, 161 yards, TD Lance Moore, WR, Saints -- 5 catches, 91 yards, 2 TDs Darrius Heyward-Bey, WR, Raiders -- 8 catches, 155 yards, TD Anthony Fasano, TE, Dolphins -- 2 catches, 28 yards, TD
Pictures of the Week
"No, it's not real. But as you know, it's embarrassing to own the Jaguars, so I wear a disguise."
"All right. Let's get out there and not get me fired."
"Whaddaya say this week we don't blow a lead? You know, just to screw with everyone."
MORE GALLO PHOTO CAPTIONS!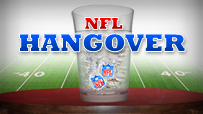 Your Monday isn't complete without bonus NFL photo captions!
DJ Gallo's NFL Hangover photo gallery

"Well, I'm a genius, so it's hard for me to explain my offense to someone like you."
"Activate Human Show of Joy Mode."
"I'm just going to slip off your imaginary belt, loser."
"I heard we're on some really good fantasy teams together."
"Got my nose! Ah, even that doesn't cheer me up today."
"Cheer up, bro. I've got a really hot date tonight."
"If you could beat us and help put me out of my misery, I would be eternally grateful."
"I'll stop as soon as you stop making turnovers."
"God, how do you let me and Tim lose in the same day? Your ways are very mysterious."
News Conference Questions Someone Should Have Asked
To Packers coach Mike McCarthy: "Have you been contacted by Brett Favre about playing offensive line?"
To Patriots coach Bill Belichick: "How much joy does it bring you, especially in this holiday season, to have killed magic and wonder for millions of people?"
To Raiders coach Hue Jackson: "Why didn't you have someone untie Ndamukong Suh's shoes before Sebastian Janikowski's game-ending field goal attempt?"
Five Things I'd Like To Think I Think
1. Every time an undefeated team loses late in the season, there are some who try to make the argument that a loss can somehow be valuable. The argument never seems to get much traction. This is sports. Athletes wear T-shirts with sayings such as "Second place is the first loser." A T-shirt with the slogan, "You know, sometimes you can really learn a lot about your team and yourself through defeat" would probably not sell very well.
2. Former Chiefs coach Todd Haley probably had mixed emotions Sunday. On one hand, he was hungry and needed to eat whatever he could. On the other hand, eating a rat on a stick cooked over a barrel fire isn't exactly fine dining.
3. Tom Brady may have defeated Tim Tebow and clinched the AFC East, but UGGs are not selling well. Analysts blame warm temperatures and the shoes' high prices. The more likely problem is the company's choice for the face of its men's line. If UGG wanted to expand its market, the company should have picked Patriots tight end Rob Gronkowski, not Brady. Men won't wear women's shoes if it gets them more quality time with their dog. But some might wear women's shoes if it results in more quality time with a porn star. UGGs: For men whose women wear clear heels.
4. Packers tight end Jermichael Finley last week on Tebow-mania: "I sit at home, start watching TV and all I'm seeing is Tebow. That's kind of disturbing. We have a guy here that's breaking records every week and you have a guy in Tebow that's saying 'God' every word and he gets coverage. ... He's telling everybody what they want to hear. You see him and he's patting everybody on the back saying, 'You're going to make this catch. I promise because God said,' and he makes it happen. Stuff like that. It confuses people. People that don't know the game outside of the fans, of course they're going to hype it up. But guys that see a good player and a good quarterback, they know what kind of guy he'll be down the road when he gets exposed. Everybody who knows the game knows what kind of player Tebow is going to be."
Finley had four drops Sunday and the Packers lost to the 5-8 Chiefs. An effective, yet merciful, smiting.
5. Cardinals quarterback John Skelton now has five career game-winning drives. He has played in only 10 NFL games, and he's a year younger than Tebow. Perhaps we have been worshipping the wrong quarterback all along. I try to be ahead of the trends, so I started "Skeltoning." Last night I went out in public and absolutely no one had any idea who I was. Nailed it!
DJ Gallo is the founder of SportsPickle.com. His first book, "The View from the Upper Deck," is available from only the finest bargain-book retailers. His next book project will be released soon. You can follow him on Twitter at @DJGalloESPN.